Sydney is a place spoiled for Lebanese food. There are so many places to enjoy this cuisine and some fairly close to us. However urged by M's reliable food taste, we're lured to somewhere a little further afield, in Greenacre. It's a hot 33 degrees today in Sydney and all we can say is thank god for air conditioning on the drive. We are hungry, made hungrier by the knowledge that delicious food will soon touch our lips and settle in our stomachs.
It's on a street lined with Arabic signs which M reminisces reminds her of a holiday to the Middle East. We're visiting in the bright sunshine of midday and walking into the simply decorated restaurant we see crowds of not just Lebanese but other nationalities, all enjoying their food.
The menu is large with some pictures of the platters but of course we steer away from the fish and chips and calamari and chips and go for more traditional Lebanese fare. I leave the ordering up to M as she has been before and whilst we are waiting, we are offered a large plate of complimentary pickles, freshly sliced tomato and olives to go with the thick sheaf of complimentary fresh Lebanese bread stacked like crepes.
Complimentary pickles and bread
We're pleasantly surprised at these additions, surely it must make one fuller and therefore order less. Still, we enjoy the plate of pickles and the salty olives, M and my husband particularly enjoy the zingy yellow chili.
Baba Ghanouj $6
It's not long before our selections arrive. First come the dips, the smokey Baba Ghanouj is lovely, even though I usually find Baba Ghanouj too smokey to my taste this one is delicious with the oil, parsley and tomato in centre an inspired touch.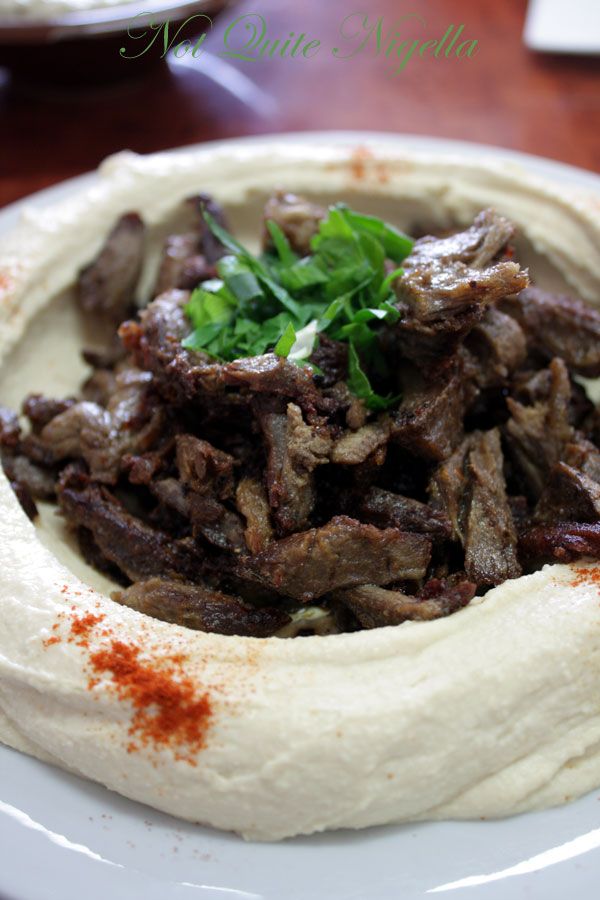 Hommos and Shawarma $12
The Hommos and Shawarma are exactly to my taste, the Hommos incredibly creamy, probably the nicest Hommous I've had and the Shawarma, shaved meat are delicious and a little crispy on the outside. I find myself going back to spoonful after spoonful of this delicious dip and the seemingly modest serve is deceptively sized as it goes a long way between the 5 of us.
Felafel $6 for 6
The felafel, one of my favourite items is piping hot and crispy and hard on the outside but gorgeously green and soft on the inside. In a word - gorgeous, and I wish I lived closer so I could buy these more often.
Fried Kibbeh $8 for6
I've had Kibbeh a few times before, the last time at Claude's but obviously here it's different. It's decent, with the same crispy hard outer but with a dryish mince inner. Although if I had to choose between the felafel and the teardrop shaped kibbeh I would side with the felafel.
Mixed Meat Platter Medium $34
We're full by now but they set down the last of our meals, the Mixed Meat platter featuring chicken, lamb and shish kebab. I find the lamb too chewy (it reminds me of the heart that we had in Tokyo in smell and chewiness) so I leave this behind. But the chicken and particularly the Shish Kebab are deliciously tender and flavoursome and divine when dipped in the fluffy garlic dip. It's a tangy dip that we all love so much that we ask how it's made and we're told its made with potatoes, oil and garlic.
With 5 of us, we've barely managed to make a dent in the meat platter due to our full to the brim stomachs. S tried to convince his mum M that he has room for dessert but she's not fooled. They give us plastic containers to take the leftovers away. Meanwhile S and In come back from the male bathrooms and report excitedly that there is a giant toothbrush behind the toilet. M tells them that it is a toilet brush but when my husband goes in to use the facilities he confirms that whilst it is probably a toilet brush, it does actually look like a giant toothbrush!
Al Aseel Lebanese Restaurant
4/173 Waterloo Road, Greenacre Sydney
Tel: +61 (02) 9758 6744
Open: Sunday-Thursday 9am-9pm, Friday and Saturday 9am-10pm
Vegetarian options: several