The one advantage of having a birthday dinner is being able to choose where you want to eat and when Mr NQN asked me where I'd like to dine for my birthday this year for the Elliott family dinner, I decided that Holy Basil in Canley Heights was worth a trek. I wasn't completely selfish, it's near to where Amaya and Laporello live and we'd be driving Tuulikki there. Sadly Manu was fighting the flu and opted to stay in bed. Which meant more deep fried ice cream for us! ;)
One good thing about my in laws was that they didn't question why we didn't just go to the Holy Basil in the Shark Hotel rather than the one here. The reason why we were here was that friends had told me that the Canley Heights one was worth the travel and so ninety minutes after we set off from home and two near accidents with complete hoons, we arrive at Holy Basil.
Holy Basil's presence on Canley Vale Road is marked by the crowd thronging about outside. It's a cold night, the temperature showing about 12 degrees and people are standing around warming themselves underneath the heat lamps. Diners put down their name and number in party and queue and there are about fifty people standing outside. Once you get in the welcome is warm and there are long wooden communal tables. Families and young groups congregate, the music is eclectic with rap, jazz and soul barely being heard about the clatter and bustling and we squeeze in between a partition laden with floral arrangements and slide into a banquette. "This is not the place for a romantic night" one of the staff tells us laughing.
Avocado shake $5.50
The menu is long with a few pictures to help you decide. Our attentive and friendly waitress recommends some dishes and we start the whole process with some of their frozen fruit drinks. Amaya at first refused to try this but it was the fact that her husband Laporello fell quickly and deeply in love with this avocado shake that convinced her. Yes it does taste like avocado and yes it's not very sweet but it also just tastes right. The fruit drinks are well priced as they're large.
Lychee & custard apple fruit shake and coconut water $5.50 each
You can mix up the fruit choices in the shakes and I decided to order a lychee and custard apple fruit shake. The lychees do taste tinned but fresh ones would perhaps be cost prohibitive and out of season and it's refreshing, very sweet and strong in lychee. The coconut water is refreshing and also very sweet with thin slices of slippery, white young coconut flesh-a spoon would have been great with this to help retrieve the pieces.
Nok Tod (Marinated Quails) 6 pieces Deep Fried crispy marinated Quails.$10.90
The marinated quails came three whole quails to the serve, each cut in half. The quail was crispy and full of flavour particularly when dipped in the nuoc cham. Some of the bones were so tiny that they could be crunched on although it does require a bit of finger licking action as the quail halves are approached with hands and eager teeth rather than fork and spoon.
Satay Kai (Satay Chicken Skewers) 4 pieces Marinated grilled Chicken skewers served with Chef's special peanut sauce. $8.90
The satay came as four wooden skewers of marinated grilled chicken which were tender and the peanut sauce on top was thick and generously applied to keep the chicken moist. These were Mr NQN's favourite.
Poh Pi (Spring Rolls)  $8.90 and Curry Puff (Vegetarian Curry Puffs)  $8.90
I tried one of Amaya and Tuulikki's spring rolls which interestingly had little cubes of taro in it. At first they thought them quite dry inside and when I tasted one I could see that the dryness came from the taro which can often draw moisture from the palate.
Ox Tongue: Marinated grilled Ox Tongue thinly sliced and served with Holy Basil's special dipping sauce. $10.90
After they cleared the entrees, they asked us if we were ready for our mains and they came out minutes later. The ox tongue was a favourite with Mr NQN, Laporello and I. It was thinly sliced and char grilled. The flavour was from the nuoc cham and we all enjoyed this (well except for the vegetarians naturally ;) ).
Tam Mak Hoong (Papaya Salad Laos Style)  $10.90
I made the rookie mistake of taking a piece of salted crab not realising how absolutely salty the little crabs were. So salty that I had to do that inelegant thing of spitting it out. The papaya salad is fresh and the Laotian version is different to the Thai version because it uses fragrant anchovies called padaek which give it that strong, distinctive smell whereas Thai papaya salad uses a milder fish sauce.
Gang Ped Yang (Red Curry Roast Duck) $17.90
Our other favourite main was the red curry roast duck which had a very generous amount of mostly boneless roast duck and sweet, slippery lychees, pineapple, cherry tomato with plenty of sweet or holy basil deep fried on top and the distinct tang of kaffir lime leaves.
Pla Sam Rod (Deep Fried Fish with 3 Flavoured sauce: tamarind, sweet basil, fresh chilli) $ 44.90
The fish divided us and whilst it looked absolutely magnificent, Laporello thought that the sauces were too sweet on it while Mr NQN thought that the fish was a bit too dry. He rarely orders or enjoys fried fish and I had to agree somewhat with them on both counts. The fish was great when I got a slippery lychee or a crunchy cashew with it but the pieces without the sauce were a bit dry and the pieces drenched in the sauce were too sweet.
Gang Kiew Wan (Green Curry) $10.90
Pra Ram Long Song (Stir Fry with Peanut Sauce) $10.90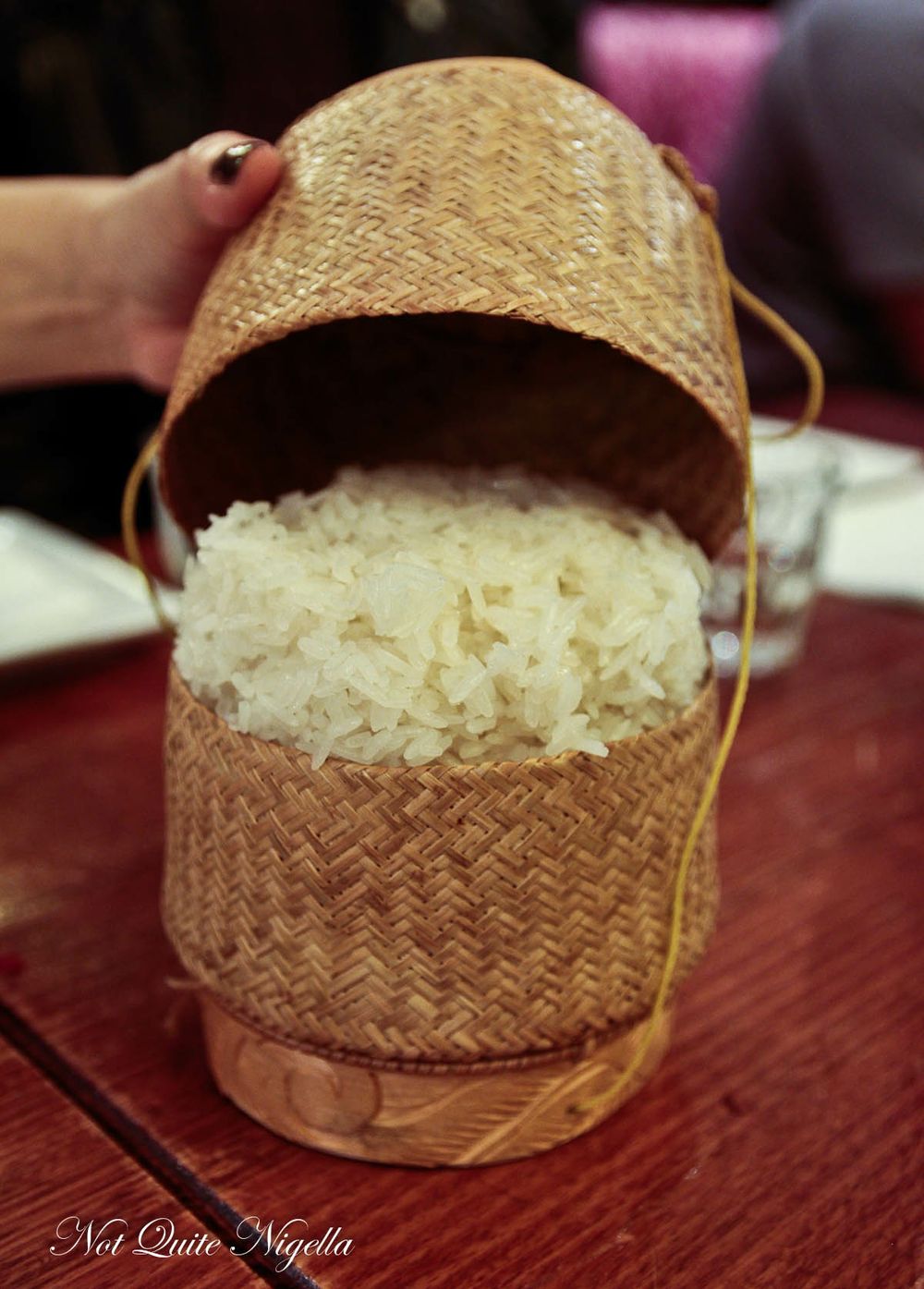 Sticky rice (Glutinous Rice) $3
Whenever I see sticky rice offered instead of regular, I always order it. Sticky rice is cooked not by boiling but by steaming the rice in baskets like these after first soaking it. The rice has a sweet flavour to it and sticks together which makes eating it much easier.
Holy Basil Fried Ice Cream (Famous and most sought after) $13.90
The item that Holy Basil is perhaps most known for is the fried ice cream. It is so popular they opened up Le Caravelle Ice Creamery next door so that people could order it without queuing. Chef Tony created the dish two or three years ago after a late night in the kitchen and after eating a heavy meal where he wanted something sweet and savoury. The only thing in their fridge was ice cream and pastry. Completely unlike other fried ice creams, it's an enormous triangle of very good vanilla ice cream wrapped in paper crispy paper thin pastry like a filo. Salted caramel sauce is drizzled over it and there's a mound of toasted shredded coconut and sultanas. It's big enough to feed all of us and it's a good thing because it's an instant hit at the table. We start on theories on how to make it and Mr NQN offers the suggestion that the ice cream isn't in fact fried but the frozen ice cream is wrapped in crispy pastry that sets once it is wrapped. And when we asked we were told "It's a secret!"
Black Harbour $13.90
The table next to us lean over and ask us"What is that black stuff?" and our answer of black sticky rice seems only to confuse and fascinate them. One even shakes his head in wonderment  The black harbour is a large mound of sweet black sticky rice sitting in a bed of coconut cream with toasted shredded coconut and sultanas. A scoop of vanilla ice cream sits on top. And even though black sticky rice is heavy, I can't help but go for a few spoonfuls of this.
So tell me Dear Reader, do you stop eating when you're full or do you sometimes keep eating because you want to taste more? And if there were two branches of a restaurant, would you go to the closer one or the one that is supposed to be better?
Holy Basil
233A Canley Vale Rd, Canley Heights NSW 2166
Tel: +61 (02) 9727 7585