I am staring absolutely wide eyed. I have never been as fascinated with a menu in my life. In front of me names such as "Rou Wings", "Russian Package", "Beer Duck", "Pig Leaves", "Kidney with spicy sauce in Monolithic", "Great Lunch Meat" and the unfortunately spelled "Vage Meal" dance before me tickling my funny bone and igniting my curiosity. These items sit in sections titled "Gruel" and "Inquisitor Series". We are in Harry Potter land, we are actually in Auburn, at Taste 101 Chinese restaurant, a place that David had found purely by chance a few weeks before.
In fact we are so fascinated by the menu and deciphering its contents that we spent an inordinate amount of time contemplating our choices and asking each other whether "Choke lamb kidney" is perhaps a warning or whether they mean choko and whether "bad fish slide" (both under the "Inquisitor series") is just the staff talking plainly and that any inquisitiveness will be rewarded with a whallop to the stomach.
After a few prompts from the waitress we manage to order a few things although some of the more interesting items are not actually available (the rack of lamb and pig feet rice box). I look at Belinda and when the third thing we want to order isn't available I ask her "Why don't we try the bad fish slide to see what happens?" and she pauses for a second before laughing and agreeing that it's certainly worth a try. We watch as steamed buns the size of plates come out from the kitchen destined for the white rectangular plastic displays at the front.
Another casualty are the drinks. Most of the interesting ones on the menu are not available so we open up the fridge and make a selection. There seem to be an abundance of milk and fruit flavoured drinks so we grab a couple of those along with a mysterious looking tall can that has a cucumber on the front but is marked "pumpkin" on the label.  "Take a photo of my Diet Coke too!" David says cheekily. The milk fruit drinks are not to anyone's taste-Belinda finds that they taste like shampoo smells and I just find them completely artificial tasting. Surprisingly the pumpkin or cucumber tea is the best of the lot with a sweetness and a pleasant if not particularly discernible flavour.
The cucumber/pumpkin drink
_Pork bun _
Now the reason why there aren't prices here is because in some cases it was very hard to match the photo to the item on the menu and we couldn't read the Chinese on the bill. But most items are incredibly cheap here with the average price of a main meal being $8.50-$10.50. I think the rack of lamb at $20something was the only thing that exceeded $20. There were two buns, a pork and a lamb one so we order one of each. There is spiced mince inside with plenty of garlic and spring onion in both but the slightly sweeter pork meat is the pick of the two. It's like a perfect sized tasty sandwich. In fact it's about lunchtime when I'm writing this story and I'm craving one of these sandwiches right now!
_Lamb bun _
The lamb bun is good with the same bread outer that isn't too thick and it's nicely toasty in the pan. Oh and a word of warning, the filling does spill out as it did all over us so use the plates to catch any strays bits so that they don't hit your clothes. There aren't napkins here to protect your lap, only tissues.
Pork chop with rice $7.50
_
_
I know, how enormous is this serve and how fabulous is that price? This was Mia's dish but I got to try some of the crispy pork chop which was tender and coated in a very crispy, crunchy batter. It came with some seasoned rice and some tofu and vegetables as well as a clear soup but I didn't try those. But in terms of value I don't think you could really do better than this dish.
Salt and pepper calamari
The salt and pepper calamari is ordered for little Ruby although she finds it too peppery so she doesn't want it. It's not bad and the calamari is tender and quite well seasoned with slices of green onion and chilli on top.
_Bucket _
You know I have a weakness and that is for slightly oddball presentation. And when I saw that this was called simply "Bucket" I had to order it wondering if elaborating on a meal by ordering it was a wise decision. She tells us that there is a choice of chicken or pork spare ribs inside and we choose the pork spare ribs. We open the bucket (thankfully looking very un-KFC bucket) and open up the lotus leaves to find a treasure trove of goodies. There is a very generous serve of pork spare ribs in black bean sauce, some soy sauce flavoured rice, two batons of lup cheong (Chinese sausage) and a soy sauce boiled eggs and steamed bok choy. I really enjoy this dish as I love black bean and lup cheong and the pork spare ribs on the bone remind me of a dish that my mother makes.
Chong Qing spicy chicken $8.50
The vividly shaded and generously portioned Chong Qing spicy chicken comes as small chopped up pieces of drumsticks on the bone coated in chilli flakes and with dried chilli. The skin is crispy and it's a bit dry in texture and reminds us of kebab meat sprinkled with chilli flakes.
Bad Fish Slide $15.80
We never quite got to the bottom to the name "bad fish slide" and as soon as we saw this and the amount of thick sauce we needed to reiterate our order for steamed rice. There is a generous amount of white fish n this along with black fungus wood ear mushroom and spring onion and ginger. The sauce is thick and gingery and the whole thing is actually delicious-not bad despite that name at all!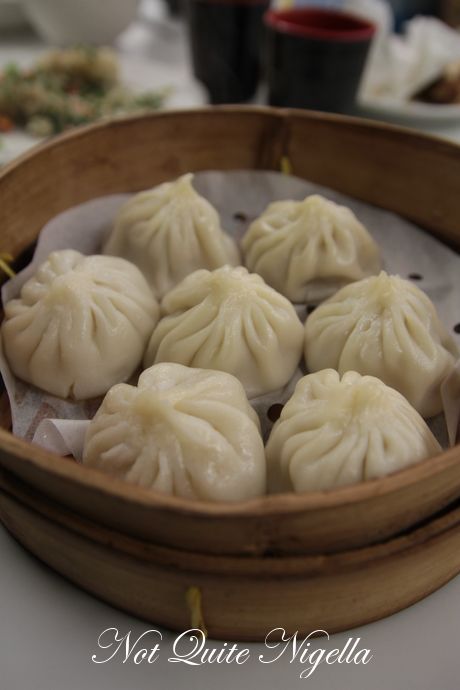 Shanghai dumplings $7.50
We were only just able to revisit the Shanghai dumpling after our last incident with them and so we dug into the Xiao Long Bao. They gave us an ashtray sized bowl to place the vinegar in and we dip in the dumplings. They aren't quite as gingery as I like them, in fact compared to the gingery fish preceding it they don't appear to have much ginger in them or much soup but the skin is delicate and there is plenty of pork filling inside them.
Ruby making her own congee
Mia and the chilli
And a trip to Auburn isn't complete without a stop at Mado cafe for stretchy dondurma Turkish ice cream. We couldn't think of a better way to spend a weekend day!
So tell me Dear Reader, do you  have a compulsion to order dishes with intriguing names or do you tend to stick to safer names?
Taste 101 Chinese Restaurant
124 South Pde, Auburn NSW
Tel: +61 (02) 9649 3218
_A little stall outside a shop selling fresh bunches of fresh herbs for $1. You've got to love Auburn!
_