As I walked up towards the Ocean Room still high from my interview with Fergus Henderson and the strong coffee I had just sipped, I spied a gigantic black ship with Steve Irwin written on the side. I checked it out and it's a Sea Shepherd anti whaling vessel. As a whale lover I'm interested to go on board and take advantage of the free tours while they are docked here. Reem arrives shortly after and she is interested in going on board too. First things first, we girls need to eat.
The Ocean Room is a beautiful space with a high ceiling. Looking up I see wooden batons suspended from the ceiling (my first thought, French rolling pins) all in different sizes to create a wooden wave feel. Apparently there are 42,458 of the suspended Javanese wood batons. In the centre of the room there are winding banquettes and at the front there are dark wooden tables where we are seated to take advantage of the view. Normally the view is of the Sydney Opera House, however today the view is of the ship Steve Irwin which is docked today.
I ask for the speciality and there are two items, tuna done 5 ways or the tuna wing which takes 40 minutes. We're running out of time as we want to go onboard the boat so we order a few dishes and do what food bloggers do best. Share and dissect everything. Maximum tasting opportunites you do understand... Service is polite and the meals are brought out quickly as per our request.
Complimetary Tomato Somen
The glass of chilled tomato somen is delicious with a clear taste of tomato in it despite the somewhat clear look of the broth. It also has a touch of bonito flavour to it and the noodles are silken and slippery and styled prettily.
Chotto Collection Raita's collection of five assorted Chotto $23
A tasting platter is a food blogger's nirvana, after all this means that we can try more. At one end there's the Tuna Cornet which is a curious cone indeed as it has a biscuity sweet taste - we expected something more savoury as it's said to be a rice cracker cone. The blue fin tuna inside is delicious and spicy with chili and sesame.
The soft shell crab taco provides a lovely crunch and the soft shell crab is covered by a deep fried piece of taco shell and is accompanied by pickled bean sprouts. It's a little too salted for our taste though.
The chicken wing Nagoya style is all mine as Reem doesn't like chicken wings. It's soft and the meat comes off the bone easily and it's marinated in a sweet soy and dusted with a three peppercorn blend which is tasty giving it an almost sweet salt and pepper flavour to it.
The Kushikatsu is panko breadcumb coated pork pieces on a stick deep fried which is served with Japanese BBQ sauce and a mustard aioli which lifts it and makes the deep fried morsels sing.
Our favourite was the anchovy and tomato sorbet with a piece of thinly sliced toast cracker topped with a marinated anchovy and a small quenelle of cooling tomato sorbet with the flavours marrying incredibly well together.
Blue fin Tuna Five Ways $23
Our plate of Blue Fin Tuna Five Ways is brought out and my initial reaction is "thank god I didn't bring Mr NQN here to order it". On the plate are 5 cubes of tuna blue fin tuna sushi. It starts with the leaner Akami then the "chutoro" which is one of the types of toro belly tuna which is found between the Akami and the tuna afficianado's favourite the "otoro" which is so fatty that it falls apart and melts in the mouth so easily and there is one cube of this otoro tuna. They are flame seared, fresh raw, oil blanched and marinated.
There is a legend that comes with it showing each type of tuna and how it's prepared and its accompaniments. They're all delicious but the stand out for both of us was the Fresh Raw Akami with black salt, Jalapeno and yuzu zest. The marinated akami with truffle salt is an unusual combination - with the truffle salt being quite strong against the delicate tuna.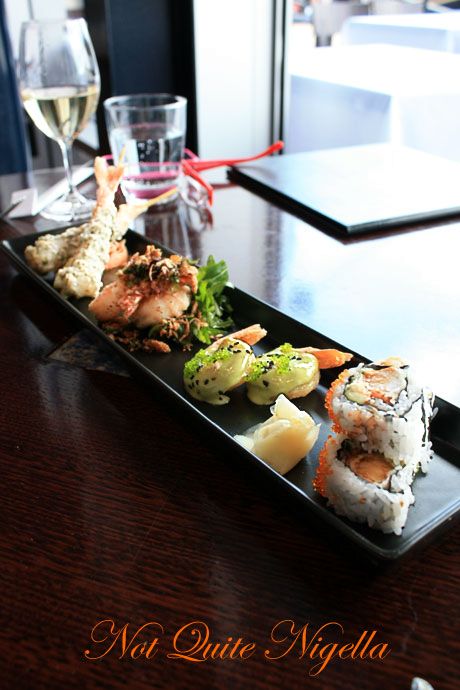 Let's do Lunch Prawn Four Ways $35 with a glass of wine
The rectangular plates seem to very much feature here and our Let's Do Lunch deal of King Prawn four ways comes out with 3 pieces of prawn sushi roll which is delicious, two tempura prawns on daikon radish kim chee which is so fresh it's an absolute delight to eat, two crispy fried prawns with wasabi aioli which I was a little wary of at first as I fear a lot of wasabi but in fact it's absolutely in perfect proportion and the wasabi lends it more taste rather than any sinus clearing properties and there's also two salt and five-peppercorn prawns wok-tossed on a rocket salad which is on the overly salted side.
Dessert Assiette Plate for two $34
OK we're girls so when they ask us if we'd like to take a look at the dessert menu we nod in agreement. They all sound rather fabulous and we can't resist the dessert assiette plate. Restaurateurs, please do more assiette plates! We start off with the classic crème brûlée which is rich and vanillaey with the requisite hard toffee crack that is our kind of addictive crack. We then sample the ice cream: there's a strawberry ice cream which is creamy and singing with true strawberry flavour as well as an apple sorbet which is wonderful and like eating sweet, fresh apple. The delicate crisp, dried perfect round of apple on top is lovely too.
We then try the warm mini pink lady apple almond gateau which is curious, we can't put our finger on it at first but i's not like your usual apple tart and feels like it's missing something. We realise that there's no cinnamon in it which is one element that is so often paired with apple in cakes that it seems like there is something missing. To me, I can almost taste a savoury flavour to it too. The sugar coated pastry sticks are wonderfully crunchy though.
We then move onto the Chocolate desserts. They're not quite as exciting as the other desserts on the plate. They're essentially variations on chocolate, ganache, sponge and some nuts and whilst they aren't bad, the fruit desserts call out more. The white and dark chocolate parcel was beautifully constructed though.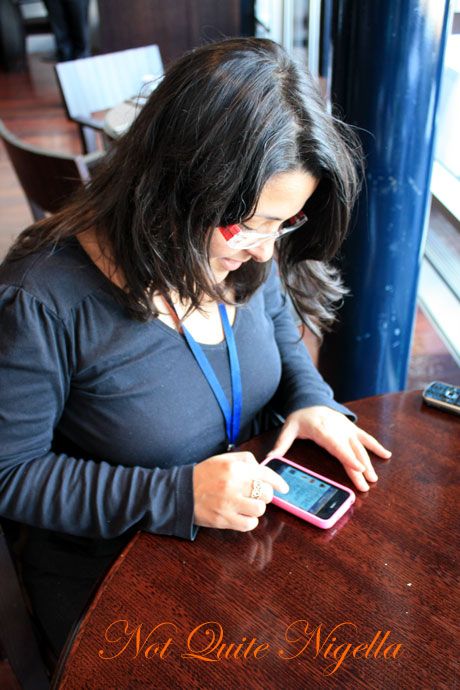 Reem most definitely tweeting
We then step onto the Sea Shepherd owned Steve Irwin which is docked at the Overseas Passenger terminal until today (I believe, don't quote me on that, they seemed unsure). It's a fascinating tour of the boat which was named after Steve Irwin as he was a supporter of their work and was supposed to go on one of their trips before his demise. There are between 20-60 people on board at anyone time and they rely on donations of practical things such as batteries to vegan food. If you happen to be in the area or want to donate it's worth a visit.
So tell me Dear Reader, do you Tweet while you're out and about?
Ocean Room
Ground floor, Overseas Passenger Terminal
Quay West, Sydney
Tel: +61 (02) 9252 9585
The Let's Do Lunch offer is available during the month of October. For $35 you can get the Prawn 4 ways, a glass of wine or sparkling mineral water and tea or coffee.