I must admit that for the first two weeks of January I was in an unnatural state. I was mostly at home and not travelling. Which meant that I was cooking furiously and frantically and testing out dishes but it also meant that I was feeling a bit stir crazy cooped up at home. And I feel sorry for anyone that has met up with me during this time because I may have talked your ear off in excitement about being out and socialising. Oops, sorry about that!
One outing that had me excited all week, actually for several weeks ever since the invitation was issued was the Sydney Festival. Now I know events are popular and many of the ones that you want to go to sell out quickly. This evening we are going to see the performer Meow Meow in the incredible Spiegeltent (Queen Viv adores it and has described it to me in luscious detail). And before that we are going to hit one of the relatively new restaurants Sokyo, where Californian Japanese chef Chase Kojima  creates modern Japanese food. Chase is the former worldwide chef of the Nobu restaurant chain.
Chase Kojima (left)
Part of The Darling hotel, the restaurant is dark, I was warned this although we are dining relatively early so that it isn't pitch dark. There are lacquered surfaces, an expansive gleaming sushi bar where the freshest of fish glisten under the lights and ropes seem to be the predominant decorating theme. Service is very deferential as befits a Japanese restaurant and there is the requisite "Irasshaimase!!!" welcome greeting when we enter.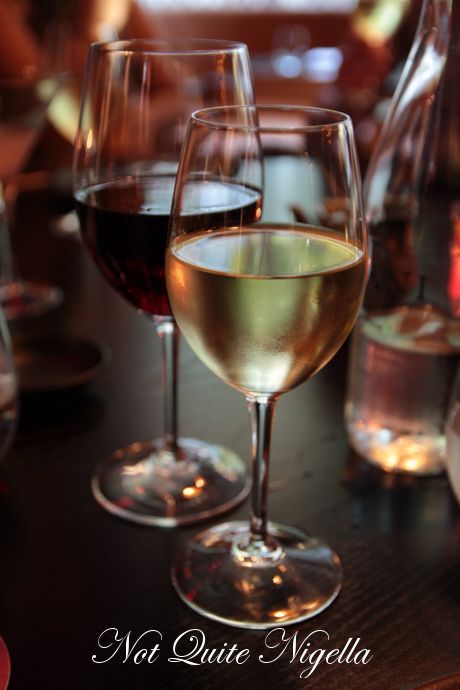 We're dining from the festival menu and for $55 a head you get a choice of 2 courses out of a range of entree, main and dessert. A tip: desserts can be added for the a la carte price between $9-$12 each with the dessert platter at $25 so the best value is had by ordering the entree and main and adding on dessert if you want it. All come with a beverage, a wine from the festival sponsor McGuigan's who are sponsoring the festival for the first time. The wine comes from their list of five premium limited release wines called "the Shortlist" or you get also get a bottle of still or sparkling Tasmanian rain water. The entree and main courses are from the regular menu whilst the dessert is created for the festival menu.
Tuna Umeshu served with McGuigan's 2005 Riesling
The courses come out quickly to ensure that everyone makes their festival booking and we start with the tuna umeshu which has two parts to it-the tuna and a salad. The tuna has six luscious pieces of tuna sashimi topped with red vein sorrel and tiny cubes of lightly bitter choya umeshu. There is also "garlic soy umami" drizzled on top but the star is the tuna which is so lusciously good. I have an embarrassing time with the double ended chopsticks and struggle to pick up the jelly pieces. The simple mixed leaf salad with sesame salad dressing is another favourite at the table with many wondering how to make the dressing.
I always thought that everyone were red wine drinkers (or perhaps that's just my friends) but here most people order the 2005 Eden Valley Riesling with the dark golden shade from the ageing process. So that we could try both, I ordered the McGuigan's 2009 Barossa Valley GSM (grenache, shiraz and mourvedre) which is a popular Rhone Valley blend.
Lamb Chop Maple Miso 
Now sometimes set menus are not good, as you don't get to choose what you want to eat. However, sometimes they are good in that they offer you something that you wouldn't necessarily order but you enjoy. This was a case of the latter. I don't think any of us envisaged eating lamb chops that evening for dinner. These are given the Japanese treatment with a maple miso basting and they sit on a bed of silky smooth eggplant puree. Given that we only have a pair of chopsticks we just pick up the lamb chops with our hands, dip them in the eggplant puree and eat. The chops are buttery and soft and without a trace of muttony flavour. The eggplant is good enough to lick the plate for. It's said to be burnt baby eggplant but it is to sweet and creamy to truly be burnt and I'd say more caramelised. On the sides are three colours of heirloom carrots thinly sliced and sweet braised.
Toro Toro purin Japanese flan
OK dessert time! We had a bit of a dessert ordering frenzy and we start with the dessert that is part of the festival menu. The pudding and to be honest I didn't expect much, was my favourite dessert of the night. It was simple but the texture of the milk pudding and the caramel at the bottom was superb and slipped down the throat easily. The warm baked pumpkin madeleine in a financier shape accompanying it was a textural contrast sticking to the tongue and palate.
Dessert sampler
The dessert sampler had four of the desserts included including one that was made up on the night. There is a green mochi sticky rice dumpling folded over like a won ton and filled with strawberry milkshake ice cream. There is also a black sesame dessert which I liked for the contrast in flavours, moderate sweetness and rich black sesame aroma. The Yamazkai caramel macchiato is a light dessert with a caramel espresso flavour to it and I didn't really go for this as the predominat flavour was unsweetened coffee and it was given bitterness from the cocoa nibs and whisky foam and the texture was a bit wet. The last one was one that was done for the night a fluffy cheesecake that was light but had an unusual accompaniment-the darkest of dark chocolate pieces that looked hard but melted in the mouth.
Chocolate Peanut Butter fondant $13
We both love the chocolate and peanut butter combination so we try out the fondant. I'm presuming that the chocolate peanut butter combination is within the fondant itself and while it has a lovely oozy chocolate centre there isn't much of a peanut butter flavour to it. It is mostly just the chocolate which is a bit disappointing as I really like the peanut butter and chocolate combo. It comes with a scoop of vanilla ice cream with some peanut brittle on top.
We can't resist looking at the regular menu before we leave. Everything seems quite reasonable (the online menu doesn't have prices which led me to believe that things might have been rather scarily priced (you know that old adage, if you have to ask, you can't afford it).
We make our way to Hyde Park and the famous Spiegeltent which are magnificent travelling tents that travel the world. Originally made in Belgium in the late 19th centruy they are a sight to behold and are perfect for smaller, more intimate performances. Like Meow Meow's Little Match Girl!
Even Mr NQN enjoyed this-it was his first cabaret show and I was worried quite frankly! Meow Meow is a Melbourne cabaret artist known for her delightfully quirky shows. Her show "Meow Meow's Little Match Girl" is a mixture of intentional but charming chaos (a blackout complete with audience members helping her light herself), singing and dancing. There are themes of environmentalism and street kids (aka the real life match girls and boys).
And of course no night is complete without someone coming out of the enormous chandelier!
So tell me Dear Reader, have you attended any Sydney Festival events? And do you like set menus or do you prefer to order a la carte?
Image removed at the request of Meow Meow who wants to surprise patrons with her show.
NQN and Mr NQN dined at Sokyo and saw Meow Meow's Little Match Girl as guests of McGuigan's Wines
Sokyo
The Star, The Darling
Level G, 80 Pyrmont St, Pyrmont NSW 2009
Mon to Thu 6pm - 10:15pm
Fri to Sat 6pm - 11pm
Tel: 1800 700 700
Meow Meow's Little Match Girl
Plays at the Sydney Festival until January 29th, 2012