This restaurant has now closed.
"There's no such thing as too much pork" Yas says with authority and I know he's right. We're ensconced in a leather booth in Tokonoma Surry Hills which is the bar and restaurant right next to Toko next door (Noma means "small space" although this is not really a small space). Having walked in in possession of a booking (yes thankfully they take them here unlike Toko next door) we're deciding what to order from the menu when Benito the bartender comes up to us and explains the tasting we'll be having this evening.
For those unfamiliar with Shochu, it is is a Japanese distilled beverage made from rice, barley or sweet potato and there are two types of Shochus fermented with the yeast Koji.. There are the mass produced Shochus that need some infusing for flavour and then there are the artisan style Shochus that feature on the menus by name, the base ingredient used and the area it comes from. Each glass of shochu is between $8-$10.  Benito shows us the big jars of the homemade shochus in the display at the entrance. Fruit bobs within them and there are combinations like nashi pear and pistachio, buckwheat, goji berries and green papaya, and peach and lemon and each one takes about 3 months.
A drink I recall seeing a lot when I lived in Japan is Chuhai which is Shochu mixed with a fizzy drink and is more palatable for those (like me) that don't like bitter alcohols and strong alcohols. A selling point is that there are 15-20 calories per serve for Shochu (up to one quarter of other alcohols) and that is is said to leave the body quicker meaning it's less likely for hangover. Benito says that he likes recommending the sweet potato shochu for the entree as it's a nice smooth, introductory shochu, the barley shochu for a main as it's more robust and the sugarplum for dessert as it's similar to a dessert wine.
Edamame $6.30
"Is that the Awamori?" Yas says with excitement and a touch of trepidation. The Awamori is one type of Shochu from the Okinawa region and is said to be known for its strength. Benito confirms it is indeed and that they have a lot of trouble getting the Awamori and Torikai shochus. He starts us off with two chuhais without alcohol while we are waiting on our food and they are agave and pink grapefruit soda (my favourite) while Yas's favourite is the aloe vera, peach and citrus soda. We nibble on the salty but moreish edamame beans while we peruse the menu.
Watari-gani no kara-age $16.90
The deep fried soft shell crab is crunchily good when dipped with the mild wasabi mayonnaise and the salad is dressed in a wafu dressing.
Dengaku Nasu $12.80
"Oh. My. God. I want to marry this" I say. I'm not prone to declarations of marriage. Well I am already married and having two husbands seems like a foolhardy existence but this innocent looking eggplant is so soft and delicious and definitely marrying material. There are two kinds of miso on top, a red miso and a black miso and scooping the softer than soft flesh out is pure pleasure. I prefer the red miso a bit more than the black miso which is reminiscent of hoi sin sauce.
Go Ten Sashimi $36.20
The Chef's selection of five types of sashimi is at first a bit surprising as the portions are rather small. The fish it has to be said is divine though and there is scallop, salmon, kingfish, tuna and bonito, a slightly stronger tasting fish than what I've tried before (and the fish that they make bonito flakes from).
Our Shochu lineup
Benito comes by with a range of Shochus and we start with the Honkaku Imo Ikkomon from Kagoshima. It's incredibly smooth and Benito tells us that its the connoisseur's shochu. It has legs and they're long and thin and it's actualyl quite nice indeed and is Yas's favourite. We then try a rice based shochu Hakutake Shiro from Kumamoto which smells very sweet, like pears to me and is a very dry shochu-a big contrast to the sweet potato one.
Our third shochu is the Mugi Zen Ikkomon made from barley. I sniff it and the first thing I think of is Vegemite. I ask Yas if he smells the same thing and he does! Now this is the bit where I sound a bit bizarre but it tastes like toast to me. Benito shows us how to dilute it slightly using an ice cube rubbed between fingers and using the drops of water which chills it a little without diluting it too much.
Our fourth shochu is the sweet sugarplum shochu Umeman Mugi from Oita which is as sweet and viscous as a dessert wine with a maraschino cherry flavour to it. We try the fifth shochu, Awamori shochu and it's strong, almost like pure alcohol and just a bit too much for us.
Spicy maguro maki $13.80
The maguro maki comes out and we we take a look at it and poke at it. There is an unusual texture on the top which turns out to be tenkasu which are tempura crumbs on the outside which give it a really nice crunch. It's filled with coarsely chopped raw tuna and chilli mayonnaise and packs quite a punch.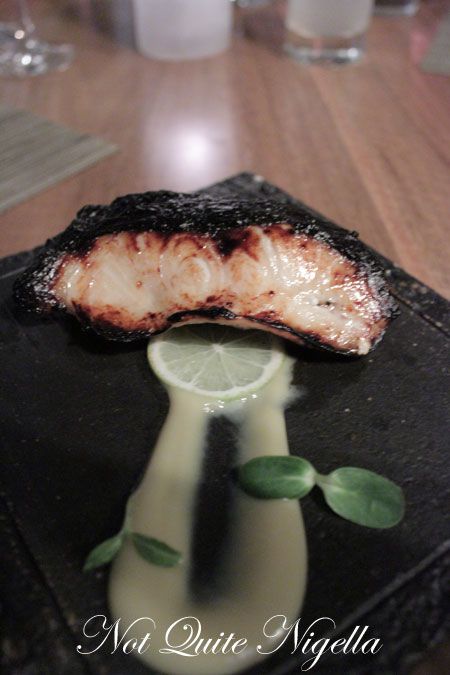 Hata no Saikyo Yaki $30.80
This was a no brainer choice for us-black cod is one of those dishes that I just have to order if I see it on a menu. The cod is buttery soft with a subtle saikyo miso flavour to it.
Pirikara Buta Bara $12.20
This is the dish that we couldn't pass up: double cooked pork belly was enough to send us both into a quivering mess. They arrive on sticks. It comes with a slightly spicy mayonnaise that we dip the pork in. I slowly savour each layer prying the soft, jellied meat from the fat and eating it slowly. Oh yes it's good. Small but good.
From left to right: Citrus Sake $10, Dassai Sake $12 Hana No Mai Sake (Sweet Plum) $9
Benito introduces us to Yoshiko who is Tokonoma's Sake sommelier who shows us three types of sake. She serves the Dassai Sake from the Yamauguchi prefecture which is like their house sake and she serves it in a Honoki Masu wooden box which is used for special occasions. It's interesting sipping it from the corner of the wooden box as it's not as easy but it feels rather special doing it. I smell a banana aroma to it. Yoshiko shows us a packet of the rice where we see how it is milled down to 23% of the rice grain. Dassai use "Yamada Nishiki" rice which is said to be the best for sake brewing and in this rice, most of the outside of the rice contains fat and protein so they mill it down to 23% of its original size to get as much of the precious centre which holds the starch. The shot of Hana no Mai Junmai Gingo ume shu from Shizuoka is a sweet plum sake similar to the sugarplum shochu.
We've left room in our stomach for dessert and we ask for some suggestions. They recommend the chocolate fondant which we were intrigued with as it is served with a vanilla miso ice cream as well as the yogurt pannacotta which is served with "Lockmeron" which is rockmelon, a cheeky play on the pronunciation of the word rockmelon in Japan. Yoshiko recommends a Citrus Sake from Kyoto (Kyo no Nigori yuzu shu $10) to go with it with it and it is a cloudy sake with a yuzu flavour and is rather gorgeous indeed with the strong yuzu flavour (like an orange and grapefruit) strong in it. And a random fact? The President of Dassai visited here a few months ago and tried the sake here!
Dessert: chocolate fondant with vanilla miso ice cream $15.80 and Yogurt pannacotta with rocklemon $13.20
Our dessert comes out on an large platter. The chocolate fondant is good with a somewhat flowing lava centre although the vanilla miso ice cream is not particularly miso-ey. The taste is more vanilla with a nut or wattleseed (without the wattleseed grains present). The yogurt pannacotta has a bottom layer of tangy greek yogurt pannacotta, a rockmelon sorbet, honeydew balls, green apple straws and on top a pistachio brittle. They recommend us scooping a spoonful from the bottom to the top taking in all the layers with a bit of the brittle. It's refreshing and a good contrast of textures and sweetness as the pannacotta itself is quite tangy but is sweetened when paired with the sweet brittle. Out of the two desserts, we preferred the pannacotta as it went well with the Japanese food that preceded it better than the chocolate fondant.
We finish off with a final nightcap (counting 12 drinks thus far) with two infusions: a peach melba shochu and a nasi pear and pistachio shochu. The peach melba comes with some lemonade and the nashi pear and pistachio comes with a ginger ale.
Twelve drinks (sipped) later we walk out. And did I have a hangover the next morning? Surprisingly no but my beautician might have tsked at my complexion! ;)
So tell me Dear Reader, what's your favourite drink?
NQN and Yas dined as guests of Tokonoma.
Tokonoma
This restaurant has now closed.
490 Crown Street, Surry Hills, NSW
Tel: +61 (02) 9357 6100
Open Wednesday to Sunday 5:30pm-Midnight