On Wednesday the 13th of February, Mr NQN and I looked at each other and panicked. You see, the following day was Valentines Day and both of us assumed that the other had planned something to do. Neither of us had however. We were both getting over illnesses, I was busy with the book editing and Mr NQN was working later than usual and well, Valentines Day had woefully slipped past us. So on Valentines Day after a quick sushi dinner, I rang a restaurant that my friend Ute had recommended to us. They had one table for two available the following night at 8:30pm.
"I think this is the latest that we have eaten, in about five years" Mr NQN said. It was true, to get better light, we like to eat early and our stomachs were growling by the time that we were seated. I didn't want to spoil my appetite snacking on food at home.
On the quieter, residential side of Bourke Street, Ume serves modern Japanese cuisine. Chef Kerby Craig started as an apprentice at Tetsuya's when it was located in Rozelle and was head chef at Koi in Woolwich. Service is Japanese style: deferential and lovely. There is an eight course dinner available but we want to try as much as possible so we choose a la carte.
Snapper $17
The snapper was beautifully and simply presented and dressed with white soy, rice wine vinegar, shredded cucumber, shiso leaves and black sesame. The fish was fresh and this was a beautifully clean tasting dish.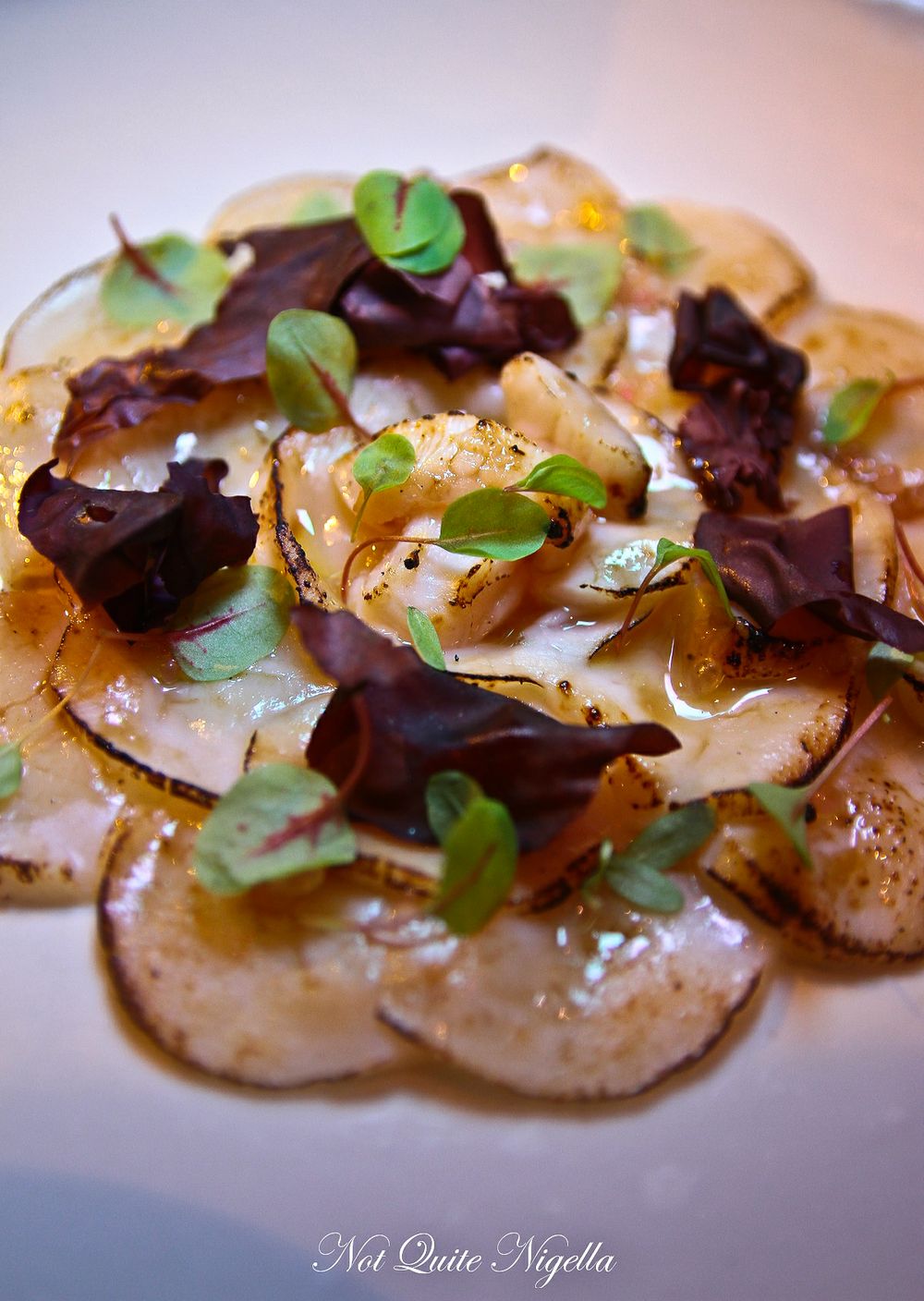 Seared Scallop $19
I know that this is one of their signature dishes but I have to admit that we both preferred the snapper over the seared scallops. Thinly sliced scallops were dramatically presented as a flower, their edges lightly burnished. They were flavoured very lightly with soy brown butter, young sorrel, dulse and native finger limes. The predominant flavour was of the scallops which actually reminded me a lot of the flavour and aroma of dried scallops while the texture has a slight chewiness to it, much like cuttlefish.
Shiki no Salad $17
The shiki no salad had perfectly cooked purple, white and orange heirloom carrots served alongside sections of baby beets and thin slices of celery. The dressing on this was one of those heavenly sesame and ginger dressings and this combined with the hen's egg miso meant that I had to run my finger along the bottom of the plate a few times (I didn't pick up the plate and lick it, but I wanted to! ;) ).
Nasu Dengaku $18
I am a complete nut for nasu dengaku and I was curious to see how this would be done. It was a large section of eggplant topped with a dengaku glaze which is usually made with white miso but this is dark and tastes almost like a hoi sin sauce. Next to it is pickled eggplant, toasted rice, Warrigal greens and dried spices like ginger which look like gold dust. The eggplant is soft and good, especially when you get some of the glaze on it although I struggled to eat this with just chopsticks. And with this, you definitely want to order the scented rice which I really liked-it was a short grain rice with soy and dashi.
Kisetsu no Sakana $34
Our mains came out next and the first was the shiro Dashi Butter Poached Seasonal 'Whitefish'. Each course comes out separately so things are best ordered to share. This was a tender, slender piece of whitefish with Jerusalem artichokes, crisp wakame seaweed, a softer, slippery brown seaweed and a soy & yuzu dressing. To finish it off were "sea flora" which was sea blight and sea parsley which they forage themselves from Woolwich Pier in Rose Bay.
Riverina Lamb $34
We saw this go to another table and couldn't wait to try it. The Riverina lamb was charred, soft lamb shoulder that fell apart to the touch and sat on a bed of wasabi pea sauce, yaki-nori seaweed, radish and nasturtium leaves. It was soft and had a lovely velvety soft texture. And I'm so sorry but there's no picture, I accidentally deleted it while doing a bit of housekeeping-oops!
Sake-Caramel Braised Pineapple $15
I chose one dessert and Mr NQN the other. This was his choice with sake caramel braised pineapple, mango sorbet, frozen green tea mousse, a small sheet of dehydrated cocoa, crunchy bee pollen and freeze dried raspberries. It was good but the flavours were quite tart in this and the green tea mousse pulls no punches, so perhaps ideal for those that don't like their desserts too sweet.
Dark Chocolate 'Terrine' $15
Me? I was more smitten with the very rich dark chocolate terrine made with Michel Cluizel 70% Dark Chocolate, white chocolate crumble, matcha soy ice cream, blackberries and soy crisp. The terrine was a slender slice, just the right amount as it was thick like chilled ganache. The white chocolate crumble looked like crumbs but had that sweet white chocolate flavour, the matcha soy ice cream also strong and the soy crisp was a thin wafer sheet that just melted on the tongue.
So tell me Dear Reader, what time do you prefer to eat dinner? And have you ever licked a plate clean?
Ume
478 Bourke St Surry Hills NSW 2010, Australia
Tel: +61 2 9380 7333