I'm very familiar with Manna's Lemon Polenta Cakes. I first tried one  years and years ago and as a bit of a lemon fiend I fell for them instantly. They were almost bite sized (although I'd make them last for 2-3 bites). I'm good at making food last. When  was young we rarely got potato chips and when we would (chicken, crinkle cut of course) I'd eat the chip crinkle by crinkle trying to prolong the flavour whilst simultaneously trying my mother's patience as I'd take a good 10 minutes to eat a bowl of chips. So making these petite baby cakes last 2-3 bites long is child's play.
These lemon cakes are sold at cafes and delis everywhere an are as ubiquitous as the other symbol of Australian cafe food, Portuguese custard tarts. When I was contacted about reviewing the book the first question I asked was whether the lemon cake recipe featured and sure enough, it was and better still it was a simple recipe! The other  great thing is that I can imagine you could do this cake with all other types of citrus like orange, lime, blood orange or mandarin or even other tart fruit like passionfruit. It's a sturdy, easy to bake recipe as as Rachel says freezes well and is very firm so it can withstand all sorts of decorations on top as well as being gluten free.
As for the rest of the book, her story writes like a dream. Whilst living in North Bondi, Rachel Grisewood started making her now famous chocolate crunch slice where it would be sold out of the back of her small Volkswagon. Years later her goods are now sold in cafes, delis and in stores nationwide and on Qantas First and Business Class flights. Now she is onto her fifth kitchen and has a staff of 30 that lunches together every day.
Her love of colour carries through the whole book with pinks and oranges, and icing sugar doily imprints stamped throughout the book. Recipes are of course rather sweet based (she apparently starts her daughter Olive's day with chocolate and ends it with marshmallow) with an emphasis on biscuits. She generously shares her recipes for Chocolate Crunch and emon Polenta cake, her two outstanding sellers. Measurements are given in metric and imperial-even egg weight is given in quantities, then metric and then imperial so exactists will appreciate that.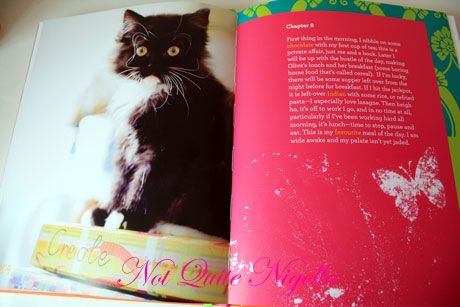 Chapters are organised into things such as "Once Upon a Time" and and "Everything but the Kitchen Sink" and each chapter opens up with a page from Rachel with an explanation. Some sections are self explanatory such as "Cooking for family and friends" and "Having my cake and eating it too" but some are less easy to decipher the logic of. Many of the recipes are sweet so perhaps it was a way to organise a lot of sweet recipes into whimsical chapters. A quote of hers that appears in the book reads "That's how Life is-all higgledy piggledy and certainly not perfect" and I assume some chapters are organised in a similar way. There are savoury dishes and items such as Duck Ragu with Papardelle look particularly good along with other cafe or bistro style savoury dishes. There's a sense of humour there too with recipes such as "Stick It Up Your Date Cake" which I wanted to make just for the name and should I ever be required to make a cake for someone I don't particularly like I'll just call it "Lovely Date Cake" in a passive aggressive fashion.
The Chocolate Crunch bar
The only thing that I didn't lust for was the photography as some of the photographs seemed almost blurry or oddly focused which is strange as I've loved photographer Adrian Lander's photographs in other cookbooks. It's all rather home style styling (see Simple Sponge and Olive's Leaning tower of Pisa cake)  which is nice as it's all achievable but I prefer a bit of aspiration to photographs. More importantly, there's also not enough photographs to keep me interested which is possibly why there are less post it notes that usual.
Chocolate bars with hazelnuts and prunes; raspberry and passionfruit coconut ice and white chocolate, frangelico and hazelnut truffles
Still, there's a huge assortment of sweets and goodies and the ones that interested me particularly were items that I could bake and give to friends with Christmas coming up. They're not overly fussy or delicate items so they're ideal to pack up and give to people but they are the kind of things that will have your friends praising your Domestic Goddessery. And Dear Friends of mine, it is very likely that you will receive some of these goodies for Christmas!
Summary:
Achievability: 4.5 out of 5
Usability: 4 out of 5
Degree of difficulty: Easy-Medium
Food porn score: 2.5 out of 5. I didn't go for a lot of the photography and there weren't enough photographs to keep a food porn enthusiast like me happy.
Post it note tabbed recipes: 7
Gift book: Yes, if you like biscuits particularly and are already a Manna addict. The recipes feature items that are perfect for Christmas baking gifts if you like to bake your presents.
And I know I promised you a giveaway and this one's a goodie. You can flick through the pages of the Manna from heaven cookbook whilst nibbling on some Manna from Heaven cookies from their Cookie Jar! Life doesn't get much better does it? All you need to do is tell me the name of your favourite biscuit or cookie and why it is your favourite.
The giveaway ends midnight December 19th AEST. Enter as a comment on this story and this giveaway is open to Australian residents only.
The Lucky Winners of the Manna from Heaven giveaway are:*
Alison S.
Stefania M.
Kristina G.
Sara *
_
_
Manna From Heaven  is published by Allen & Unwin $59.99RRP
Lemon Polenta Cakes
225g/7 1/8 oz butter at room temperature
225g/7 1/8 oz caster or superfine sugar
3 eggs (165g/5 1.2 oz) lightly beaten
110g /3 3/4oz ground almond
110g /3 3/4oz shredded coconut long thread
110g /3 3/4oz fine polenta
finely grated zest of 2 lemon
2.5 tablespoons lemon juice
1 teaspoon vanilla bean paste or extract
Icing
225g/ 71/8oz icing confectioner's sugar, sieved
2-3 teaspoons lemon juice
Sugar flowers to decorate (optional)
Step 1 - Set the oven to 150c/300F. If making this as a large cake grease and line a 24cm (9.5 inch) round cake tin or if you are using mini muffin trays, butter them well and place a little square or circle of parchment on the base as shown to prevent any sticking. Cream the butter and sugar in an electric mixer for 2 minutes or until lump free (the mixture does not need to be light and fluffy). Slowly beat in the eggs, the fold in the ground almonds, polenta, lemon zest, lemon juice, baking powder and vanilla.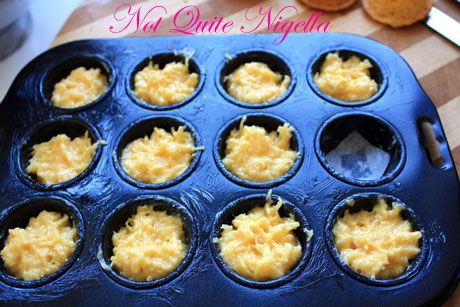 Fill them 2/3 or 3/4 of the way up
The baked cakes
Step 2 - Pour into cake tin. If you are using a mini muffin tray fill them 2/3 of the way up. Use the back of a spoon to flatten the top. Bake for 20-25 minutes for mini muffins or 30-50 minutes for a whole cake until they are just coming away from the side of the tin. Remove the squares of parchment.
Step 3 - To make the icing,  mix the sieved icing sugar and lemon juice in a bowl until smooth. Spoon over the cake/s letting the icing dribble down the sides a bit. Leave the icing to set.