"Oh they're just photographing the celebrities over there" the smiling hostess says "So you can go _that _way" she says pointing in the other direction. I laugh, yes we're not famous and apparently the left side is for the celebrities and the right is for the non celebrities. At tonight's Ferrero Rondnoir event is Jade McRae who is tiny and wearing a column dress and tousled curls, Michelle Bridges from The Biggest Loser and Celebrity Masterchef who is thin with an amazing bottom (yes I noticed!), Charlotte Dawson who is friendly with amazing cleavage (yes I noticed!), Australia's Next Top Model winner Demelza Reveley who is gorgeous and amazingly tall (it's hard not to notice that), designer Wayne Cooper, Sarah Marsh, newsreader Natarsha Belling, Konstantina Mittas and Adriano Zumbo and of course Tobie Puttock. Did I mention him? No, well Tobie is putting together a degustation for us based on the Ferrero Rondnoir. And read on later for my Q&A with chef Tobie!
The view from the restaurant
The walls are like liquid chocolate, so much so that we ask if the walls were put up for the event. Not so they say although the walls were part of why they ended up going with 360 restaurant on top of Sydney Tower. Mr NQN and I were to meet the 2 winners of the competition, Carm and Maria whose answers were selected by the PR agency as the best use of chocolate.
Demelza Reveley and Charlotte Dawson
We are given our cocktails, a Belvedere Orange Negroni which is Belvedere Orange, stirred lightly with Campari and a light charge of home made pink grapefruit soda served short over freshly chipped triple frozen ice. It packs a punch and a couple of  sips into it and I'm feeling a flush on my cheeks.
Tobie comes out with his microphone and has a little banter with the crowd plugging his new book for good measure. He's energetic and different to what I expected. Perhaps it's the ingestion of many Rondnoirs which are abundant throughout the space and we see well dressed people gathered up handfuls of them in an upmarket version of chocolate looting ;)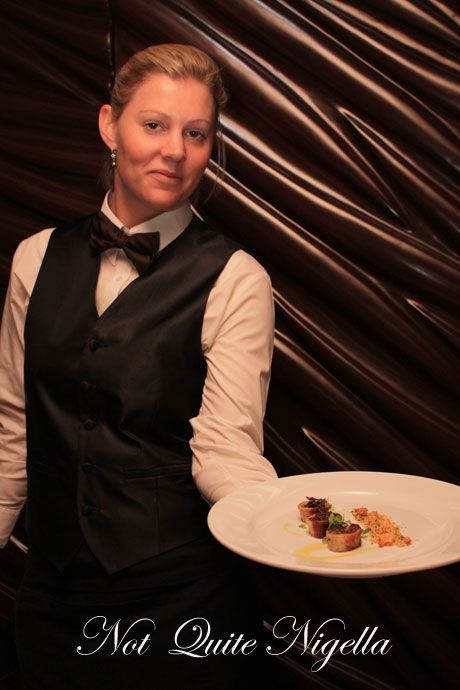 Amuse Bouche: The First Impression
We are seated and Tobie explains that he has devised this menu based on the look of the Rondnoir and our first dish is the Scallops fried in squid ink batter which are served in their shells with caviar and a micro herb salad tasting strongly of thyme. The waitstaff stand in front of us with a cloche covered plate and reveal the dish with a flourish. The blacker than black squid ink light tempura batter is fascinating and striking and I enjoy the little morsel. Mr NQN gulps "Are they all going to be this size?" he asks.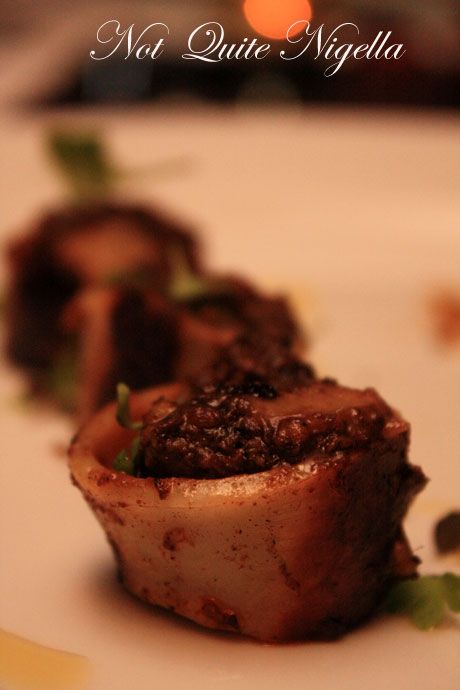 First Course: The First Mouthful of Rondnoir
Our first course arrives and it's a Baby squid filled with black pudding and bread served with pangratatto and a baby herb salad. I enjoy the tender stuffed baby squid although the black pudding (blood sausage) is quite coarsely ground so there are larger pieces of meat in it). The pangratatto is like a finely sliced crouton-ish salad.
Second Course: Discover The Dark Pearl
Bfeore out second course Tobie comes over for a quick chat which he does with all of the tables. Before each course comes out he introduces it and our next course is a ravioli filled with braised lamb with a celeriac pearl in the middle, served with thyme and jus sauce and finished with freshly grated pecorino cheese. It's terribly hard to photograph well although Mr NQN does his best. The ravioli is delicious and the celeriac pearl is a nice salute to the Rondnoir without feeling forced. The thick jus is delectable but a bit of bread would have been great to help mop up the jus.
Carm and Maria
Tobie chats to guests
I go over and chat to Carm and Maria and their respective partners Bernard and Tom. Carm I have met on twitter and she is a lot of fun and the life of any party. Maria bakes stunning cakes and is a devoted reader whose daughter knows the acronym "NQN" only too well. Maria even shows me a picture of the spaghetti and meatball cupcakes that she made using Rondnoirs!
Third course: The Taste Experience
Our main is next and it is a Beef fillet rolled in herbs and prosciutto, horseradish and thyme mashed potato, braised cavalo nero and seasoned creme fraiche. The mash is gorgeous and I enjoy the herb wrapped beef which is tender and  flavoured with the gorgeously salty proscuitto and is lightly lemony. The seasoned creme fraiche is warm and is a nice sauce for the whole dish.
Jade McRae then takes to the stage and sings classics such as You're Just too Good to be true and we orbit around her.
Dessert: Discover Ferrero Rondnoir
Mr NQN is a bit worried about the state of his stomach, you see it's still a little empty so he is hoping dessert will fill him up. It's a three part dessert platter consisting of a bitter sweet chocolate tart, white chocolate mousse with praline and of course the Ferrero Rondnoir. The bittersweet chocolate tart is a bit too bitter and we'd hazard a guess at the use of 70%+ dark chocolate which can get a bit dry. The white chocolate mousse tastes like a whipped cream with a pistachio and honey praline which is the half we all prefer (and mixing the mousse with the tart doesn't help). Mr NQN wolfs down his and then eats the rest of mine.
After dinner cocktail: Belvedere 'Rondnoir' Café
Our last cocktail of the evening is a chocolate concoction that is topped with a creamy chocolate mousse type of foam wafer and sprinkles to resemble the Rondnoir's texture and outer. It's Belvedere pure briskly shaken with a crisp shot of espresso and a suggestion of creamy dark chocolate with a sweet dark chocolate foam topped with dark chocolate flakes and crunchy wafer biscuit. Again they're generous with the alcohol and it hits us with a wallop. The bottom half underneath the canopy of mousse taste Tiramisu-like.
We're then invited to the bar to watch Jade sing some more and imbibe on more cocktails.
And now for the Q&A with Tobie!
1. Tell me about Tobie as a child, what were you like? What did you like to eat?
Well I was an only child until the age of 11 and my mum and dad were young parents of an artistic nature. They ate at restaurants often as many of there friends were in the restaurant business. I would often sleep under tables in restaurants while my parents were eating. I liked and still like to eat rich food like braised meats and rabbit, chocolate was always important. I was never allowed to eat junk food and so after school snacks consisted of smoked salmon, cream cheese and caper bagels or anchovies out of the tin. When I was young I was always busy building things like cubby houses or skate board ramps.
2. You are obviously Italian focused, what is it about Italian food that appeals to you? Are you sure Italian blood doesn't run through your veins?
When I was at school I really didn't feel like I belonged there, I struggled from the beginning to the end. I had no intention on making a career out of cooking but ended up looking for a job washing dishes to make money. Once I stepped into the kitchen it was like the rewind button had been pushed, a fresh start with fresh people who didn't judge me on grades. I would start at 6am everyday and I worked super hard to make money to go snowboarding. I ended up living in Italy for some time and snowboarded almost every day. After several years of cooking to make money I decided to quit and ride snowboards full time and it was then I realised it wasn't about money any more. I like Italian food because it's part of the culture I love, a way of day to day life.
3. You are well known as a fellow Head Chef and friend of Jamie Oliver (and godfather to Daisy Boo). What is it that bonded the two of you? How often do you speak now?
The truth is we bonded over both being giggly chefs, I work hard but I like to have fun while I work and Jamie is the same. I think my time in Italy played a part in our first chats as well. Jamie and I still chat all the time.
4. Fifteen was obviously a challenge, were there differences in setting up Fifteen in London versus Melbourne?
Fifteen is still a challenge. Both restaurants were really hard to set up but not as hard as the ongoing running. Starting with 15 fresh trainees every year is really hard work but so rewarding. I think I would get bored running a normal restaurant.
5. With the Ferrero Dinner of Discovery, I had visions that I'd be treated to a 6 course meal of chocolate (ok that wouldn't have been so terrible) but was pleasantly surprised to see that you had used the Rondnoirs as an inspiration. What was the process there and was it difficult to theme savoury courses on a sweet item?
To celebrate the launch of Ferrero Rondnoir, I was invited to deconstruct the chocolate and create a five-course menu. At first I thought I was going to have to make every dish look like the chocolate itself but decided to play on the layers, textures and colour of the chocolate. Each course was inspired by, or represented an element of Ferrero Rondnoir whether it was the first impression, the texture, or the dark pearl in the middle, so including chocolate in each course wasn't really necessary. But we had to make sure the dessert included chocolate of course. It was difficult but was also a lot of fun.
6. What and where do you eat when you're not in the kitchen?
I like to eat simple food. I live in Prahran in Melbourne and I eat breakfast at Globe on Chapel Street, lunch at Dukes on Chapel Street, and I love the pizza at Pizze e Vino on Malvern Road.
7. By now, you must be used to being on TV and cooking for critics and challenges. What makes you nervous now?
Strange things make me nervous these days and normally only if I am tired. I have done cooking demo's for up to 3000 people and then in the same week do a talk on the Fifteen Foundation for 30 people and get nervous. When you are on TV people assume you are a public speaker, the two are very different in my opinion.
Step 8 - What is your next dream? That is, where do you want to be in 10 year's time?In ten years I would like to be living in the country with a small farm and a restaurant on the property that would serve food I grow. I will open the restaurant only a few days a week and get the Fifteen trainees to start there training on the farm so they understand the ingredients and respect them before they cook them.
_Carm gets caught with Rondnoirs in her bag! _
9. Who would you love to cook for? And hate to cook for?
Love to cook for anyone that is having a good time and I hate to cook for people that are there simply to judge.
10. What is your Death Row meal?
Rose Gray and Gennaro Contaldo can cook my last meal. I would eat anything they cooked for me as long as its not squid, I'm allergic to it.
NQN and Mr NQN attended the Dinner of Discovery as a guest of Ferrero
So tell me Dear Reader, which is your favourite kind of chocolate? Dark, milk or white?_
_
Ferrero Dinner of Discovery
360 Bar & Dining
Sydney Tower
100 Market Street
Sydney NSW 2000
Tel: +61 (02) 8223 3883