Myriam: the pied piper of chocolate
"It's a Provence tradition where for Christmas Eve dinner, you eat thirteen desserts" my friend Myriam said and I have to confess that I scarcely heard anything after that. You know that I love dessert - this blog is pretty much a testament to my utter love of them, and the idea of eating thirteen desserts for a Christmas lunch seemed like the best excuse to move to France. Ever.
Pastis aperitif
Held at Tastevin bistro, a place that I had visited for my birthday last year and had a to-die-for gnocchi, dessert lovers assembled on sunny December afternoon. It wasn't all dessert, we were to have an entree and main before our dessert extravaganza. While we're mingling, and I chat to twitter stars @frombecca @hollingsworth @champagnejayne and @helencrozier and we sip a Pastis aperitif from the South of France. It is a deceptively aniseedy drink that looks like a lemon drink but is pure rich aniseed (too much for me I'm afraid!). Myriam tells us that  there is a saying from a French actor Fernandel that says "Pastis is like boobs, one glass is not enough but three is too many"!
Personalised menu
The 13 desserts of Provence tradition starts as a recreation of a religious scene of the Last Supper with Jesus Christ and the twelve apostles with each course representing each attendee.  Today's meal would feature traditional Provence cuisine with an Australian twist. Despite the timing being so close to Christmas the event was a sold out success and we took our assigned seats at the table. We're sitting next to Myriam and her husband Jean who will present a talk about Cognac.
Tastevin chef Martin Webster
We start off with a mixed Provençal antipasto plate to share. Chef Martin Webster comes out and explains them to us and says that the  triangular slices of country style pork terrine are made from the pork shoulder and back fat with some liver and duck liver and Armagnac. It is hand chopped in order to get the pieces of pork fat in larger pieces. There is also an absolutely divine duck liver pate which is flavoured with Grand Marnier, pork and Armagnac. He makes this by pan frying it instead of baking the liver and it has an incredibly gorgeous texture-light but buttery and easily spread. Because it isn't baked it also doesn't oxidise and keeps its pink cheeked exterior.
Mixed Provençal antipasto
The last item, apart from the cornichons is the pork rillette which is gorgeously smooth. Usually rillette is pulled apart by forks and retains the texture of the meat but this is blended and smooth and easily spread still with that telltale rillette flavour. Also on the plate is a saucisson sausage which is brought in from a sausage maker Jean Marc who sells at Fox Studios markets. The house baked bread is excellent.
Easy Rose from St Tropez
We have a little break where they pour us a glass of "Easy Rose" Rose from St Tropez. This is to go with the traditional bouillabaisse which is paired with a sauce rouille and croutons. Myriam explains that the origins of Bouillabaisse go back as far as 6000BC where it originated at the sea port of Marseilles. The best fish was sold at the markets and any leftovers or cheaper fish were made into Bouillabaisse so whilst it's features in good restaurants now it had rather humble beginnings.
Traditional Bouillabaisse
Sauce rouille and croutons
The word Bouillabaisse is broken up into bouil which is "to boil" and baisse refers to the cooking method. Every time a new fish was added to the soup, it slowed down the boiling process and abaisse means to "lower" which presumably means the fish into the pot. The word for rouille means "rust" and it is a mayonnnaise based garlic and tomato mixture.  The Bouillabaisse here is lovely, a rich broth fragrant in rich prawn head stock and the fish is tender. There is also an enormous prawn and two mussels and the garlic crouton spread with the rouille provides a crunchy, creamy contrast.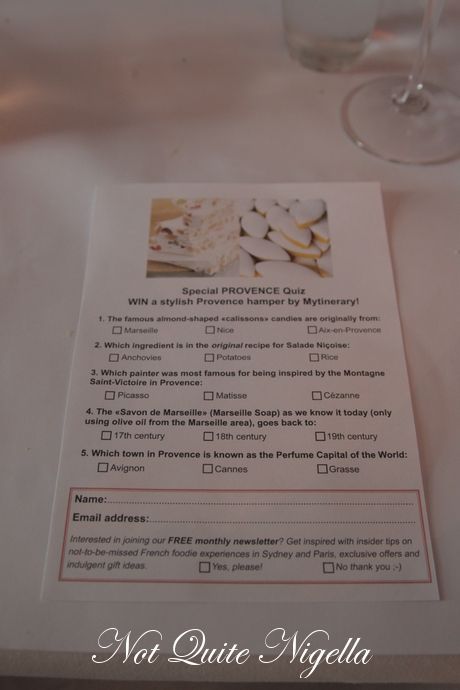 Quiz time!
There's a  little break as Myriam gives us a little five question quiz about Provence where the winners will receive prizes. And then it's dessert time! Actually no scratch that, it's thirteen dessert time! I suspected that since it was a French tradition and they have some enviable self control, it wouldn't be a dessertapalooza where we would be groaning and clutching our stomachs. I pictured civilised, dainty, chic morsels.
The 13 desserts have landed!
13 desserts are bound to coax the cameras out
And that's what we got. I had to tweet "The 13 desserts have landed!" in my excitement. In the centre of the room plates of sweets are brought out and thank heavens they are petit four sized desserts as Mr NQN are supposed to go out for dinner that same night. Myriam explains that when choosing the desserts for this tradition, there are four key components:
Step 1 - Something from Africa to represent the Three Wise Men (dates)
Step 2 - A nougat-usually a dark and a white nougat to signify evil versus good (in this case just the one dark nougat)
Dessert #1: Chocolate nougat
Step 3 - A brioche which signifies breaking bread with others
Step 4 - Mendiants which feature four nuts and dried fruit representing the monastic orders of the Dominicans, Augustinians, Franciscans and Carmelites. The nuts and fruit that are used represent the colour of monastic robes. Traditionally the have raisins for the Dominicans, hazelnut for the Augustinians, fig for Franciscans and almonds for Carmelites but these ones have walnut, orange peel, goji berries, freeze dried raspberries and sunflower seeds.
Dessert # 2: Almond "calissons"
Dessert #3: Violet Dark Chocolate
Citrus is also featured as that is a popular item in Provence and today it comes in the form of an orange sorbet. Flowers like lavender and violet are also featured and today it comes in the form of a lavender panna cotta and a violet and lavender chocolate. Herbs such as fennel and tarragon are also used. Calissons are an item that are new to me and these come from Aix de Provence. These little diamond shaped morsels are made up of ground almond, candied melon and a glaze of icing sugar and originate in the 15th century of Provence.
Dessert #4: Blood orange milk chocolate with rosemary and tarragon
Dessert #5: Chocolate mendiants
Dessert #6 &7: Fresh melon and watermelon
We try the morsels-the chocolates are delicious and are a mixture of Kakawa and Boon chocolates, my favourites being the chocolate mendiants with a lovely combination of textures and the dark chocolate ganache with violet flowers. The blood orange milk chocolate with rosemary and tarragon features a jelly pate de fruits layer on top and is an interesting mix of flavours.
Dessert #8: brioche with sultanas
Dessert #9: grapefruit marmalade
We try a slice of sultana studded brioche with a moreish, thick grapefruit marmalade (divine) and the almond calissons are rich in almond flavour and oh so chic. I must admit that I gave the dates and fresh fruit a miss (my stomach's priority is other sweets).
Dessert #10: dates
Dessert # 11 and 12: Lavender panna cotta with orange sorbet
The lavender panna cotta is wobbly with two layers and very strong in lavender. Perhaps too strong for me but I absolutely adore the orange sorbet which is just the right amount of citrus and sweet and is very refreshing. It's so refreshing it spurs on some bravado from others who feel like they could go for another round of desserts.
Dessert #13: dark chocolate with cinnamon and orange peel
Our very last course is a taste of Hennessy XO Cognac with a dark chocolate and cinnamon and orange peel chocolate which is a very judicious pairing. I admit I'm not really a cognac drinker but it pairs wonderfully with the chocolate. Jean explains the process of cognac making. Cognac is made from a grape variety called Ugni Blanc and is only produced in the South West of France in the Charentes region as no other region in the world has the correct soil environment and characteristics. Cognac starts from white wines which are slow double distilled. 9 litres of wine produces 1 litre of eau-de-vie (water of life). The eaux-de-vie is then aged in oak barrels in Limousin in the centre of France for at least three years. Cognac is then made from a blend of several eaux-de-vie from different cru and years.
Jean Conrie explaining about how cognac is made
And the bottle was an innovation in itself when it first came out. Did you know that it is supposed to look like a bunch of grapes when it is tipped upside down? And with that he tells us about My Itinerary's next lunch, one celebrating the Basque area in February.
With that, we've spent a leisurely four hours lunching on two savoury courses and thirteen desserts. Why can't every day feature thirteen desserts?
So tell me Dear Reader, what would you just have to include on your 13 desserts list?
And a little chocolate encore in our goodie bags!
NQN and Mr NQN dined as guests of Myitinerary
The Thirteen Desserts of Provence
292-294 Victoria Street, Darlinghurst, NSW
Tel: +61 (02) 9356 3429
Open 12noon-2am
Closed Tuesdays
http://www.tastevin.com.au/
http://www.mytinerary.com.au/