I remember the first time I tried a Chinese banquet. The first two courses came out and I was hungry so I ate my fill with both of these courses foolishly ignoring the fact that people were only trying one or two pieces of the dish. I filled up before long and then regretted my eagerness to consume when eight other courses came out in quick succession afterwards. Thus was my lesson learnt in Chinese banquets - brace yourself for an onslaught of dishes!
Tonight's would be no exception. It was a Chinese New Year buffet organised by my uncle and his girlfriend. It was at the Souths Juniors Club in Maroubra-my uncle and father have long ago given up on competing for parking in Chinatown. As Chinese are very superstitious people, the number of 10 guests wasn't lost on everyone and many agreed that 10 was a good number for 10 courses. We'd be dining from their Chinese New year pre-set banquet.
Prawns and Scallops
When everyone arrived, five dishes landed on the table almost instantly. One of my favourite dishes was the simple stir fried prawns and scallops with a light ginger sauce. The scallops and prawns are that wonderful soft consistency and I resist the urge to go for seconds as it's not a huge plate and is quickly gone.
Beef Hot Pot
The Beef hot pot is full of dark, sweet flavours and tender thin slices of beef and a rich sauce that just begs to be eaten with rice.
Deep Fried Pork Ribs
I always love these chunky pork ribs which alternate between meaty and fatty. Cut different from American pork ribs, I love the gamble of not knowing whether you'll bite into a piece with bone or one with melt in the mouth meat and fat even though I know they're not terribly healthy for you. These are very good and although we usually order them quite spicy, these  are milder pork ribs.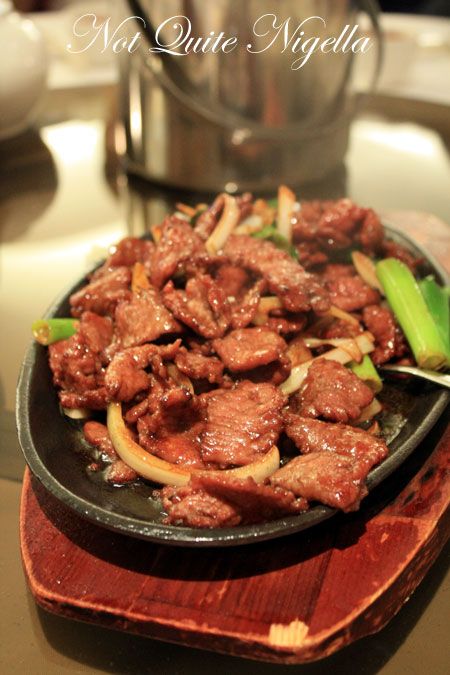 Mongolian Lamb
We hear the familiar sizzle of hot plates. I know, Mongolian Lamb is one of those maligned suburban Chinese restaurant dishes along with sweet and sour pork, spring rolls and honey king prawns (all which I happen to secretly love) but we are in a suburban Chinese restaurant after all. They're good although I do think that they're a bit too similar to the beef hot pot.
Mixed mushrooms with abalone
As a bit of a mushroom freak my eyes light up at the sight of this mixed mushroom plate braised in oyster sauce. I love the slippery texture of some and the meaty texture of others as well as abalone which is one of those things that whilst is nice, I don't often order as I always think that the money is better spent on lobster or Peking Duck.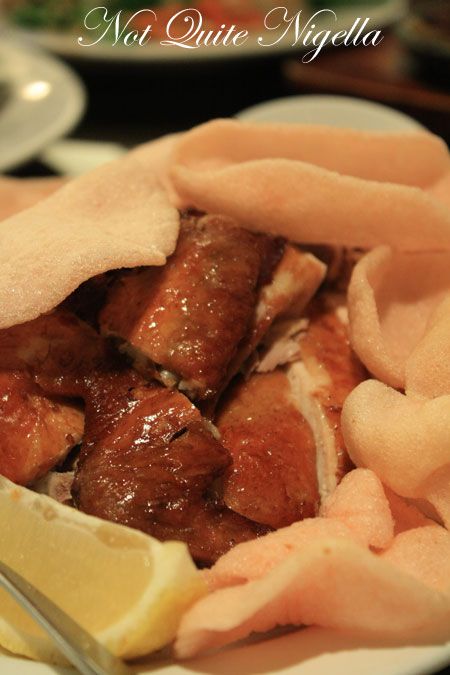 Roast Duck
Despite the fact that only a week earlier I had partaken in a Duck Off Peking Duck crawl, I eagerly pick up a piece of roast duck. The flavour is quite good and the duck is meaty.
Steamed Coral Trout with ginger & Shallots
A rather impressive dish is the beautifully shaded whole coral trout. The word for fish is "Yu" which sounds like the words wish and abundance or plenty so eating whole fish means that you are wishing for plenty for the upcoming year (haha I told you Chinese are superstitious! ;) ).
Peking Duck
The Peking Duck was running late and whilst it should have been served at the beginning it is coming at the end. We get 12 pancakes in total and it comes with a hoi sin sauce. I peek under the folded over pancake and smile. There's a large piece of just skin. It's not quite crispy enough though although the flavour is quite good.
The sang choi bao however is a bit woeful, tasting of just onion and more onion and not much duck or anything else and it is missing water chestnuts and bamboo shoots.
Glutinous rice dumpling in red bean soup
My favourite dessert is the red bean soup that comes at the end of a banquet and controversially it is one of those dishes that seems to be given to Chinese families only. I've eaten banquets with caucasian friends and never been offered this soup. This soup has a little bonus, stretchy glutinous rice dumplings filled with a sweet black sesame liquid. Everyone gets two of these balls and I savour mine and go looking for more of those delicious little balls to no avail.
Chinese cookies
Sometimes, Chinese cookies can be a huge disappointment to me. They can be dry like those baked bready puffs that taste like nothing except for sesame seeds but tonight we have those but also some sticky deep fried balls with a lotus filling and sesame on the outside. There are also little lotus filled discs which are flakey and warm.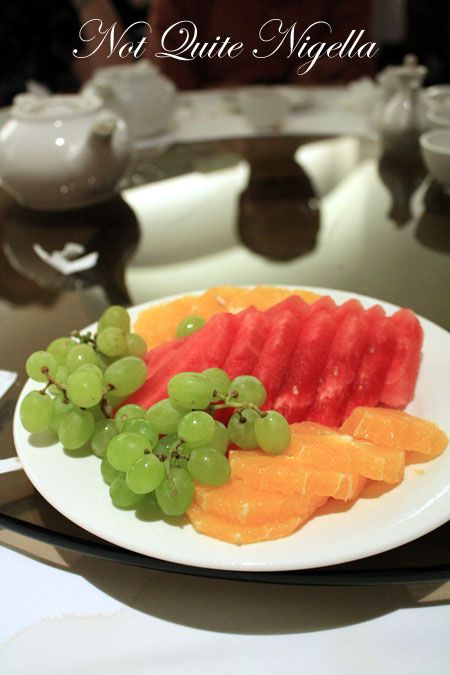 Seasonal Fruit plate
Fitting in fruit at the end of the meal might seem foolhardy but either the air conditioning is on the blitz or there are so many people that the air conditioning just can't handle it. Either way we are schvitzing like mad and the sight of cool, juicy fruit is too tempting.
Another year, another Chinese New Year!
So tell me Dear Reader, are you superstitious?
Imperial Peking
558A Anzac Parade, Kingsford, NSW
Tel: +61 (02) 9314 4258
He doesn't look happy