The XXX wall
There is one thing that all of my close friends have in common. They are fabulous people - gifted people even and when my friends meet my other friends the common remark is "Your friends are really nice!" It's absolutely true, I hand pick all of them and they are the brightest and sweetest cherries in the box. One of them is The Second Wife who upon learning that it was my birthday put her hand up to organise a food trivia night for my birthday. Yes any invitee to a birthday party or Halloween or even dinner at our house will know that after the food and drinks are eaten, games are aplenty whether it be Murder in The Dark for Halloween, Sardines for Christmas or simply Charades for after a dinner party.
I racked my brain trying to think of places to hold my birthday. I wanted it to be central to everyone to get to and when I saw LL Wine and Dine's website and the magical words "Private Room" coupled with the fact that there wasn't a minimum spend to have the room I looked further. The private room was all red which was very Twin Peaks-I could easily imagine the dwarf and giant hanging out there (which really was my prerequisite for choosing a room). Plus it was also a former adult bookstore so what's not to intrigue? But beyond that, the building has such a fascinating history that it was the perfect choice for a birthday.
See that little room up there? That's where they discovered the p*rn stash!
The front of the restaurant was originally where the adult book store sat but in the back, through one of the 650kg secret steel hydraulic doors was a steel walled room gambling establishment and swingers room where the real action happened. It took 2 weeks to strip all of the steel out once they moved in. Whilst they knew of it's provenance as an adult book store, the owners didn't realise what else lay hidden until it came to renovating it. The unexpected prize? A steel fronted secret attic space hiding bags and bags of XXX magazines and tapes!
Where the hydraulic door would have slid back to lead patrons into the inner sanctum aka the gambling club and swingers club
In fact the room that we have booked has some hooks from the ceiling that were used to suspend swings and harnesses from and plastered and painted over is the door that leads to the tank stream underground passageway where patrons could slip out unnoticed. The police used to watch the place with interest from the front where they would see men disappear into the store but never come out and it was through these secret doorways that patrons would leave. It's a modern day maze a la Alice (admittedly though, a children's book wouldn't be set in Kings Cross). And you know I wouldn't choose just anywhere to have a birthday right? ;)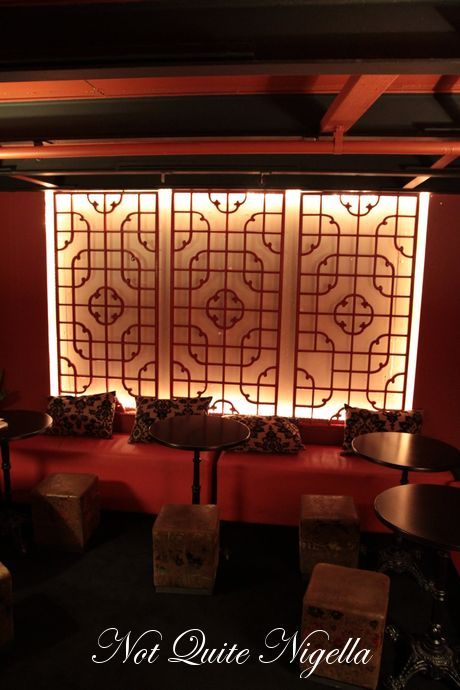 Where the owner of the adult book store would have sat in the booth looking out onto the store
So with the venue decided we chose the Sapphire $50 banquet menu so that it wouldn't be too expensive for everyone and put down the $10 per person deposit. I have a slight obsession with the TV series Twin Peaks and David Lynch and it was only when we sent out the invitations that I realised how few of my friends had seen the series. Ah well! After sending off the guest list to the The Second Wife, she and her husband Gravy Beard weaved their magic from there and put together a list of questions including trivia questions and blind tastings. People would split up into teams of three and the prize? Well that's a secret! ;)
I decided this year as it was so close to Mother's Day and I was busy baking for that that I wouldn't make my own cake. So I called upon Buppa from Buppa's Bakehouse to make it for me. The Bakehouse has sadly now closed but I knew that she was doing private orders and I knew that she would think up something quirky and fun with a Twin Peaks theme.
The table of vegetables
Mr NQN and I arrived that evening at 7:30pm. I do love dining out in this area but parking is a beast so we had to cab it (warning for drivers, there is only one parking station for the whole Potts Point/Kings Cross area and scarce 1 hour parking everywhere!). We walk downstairs to the private area. It's dark, in fact very dark so please excuse the shots as we were in the darkest part of the restaurant right down at the bottom with just two lamps lighting up the whole area and we forgot to bring the flash. Mr NQN set up a time lapse camera that would take a photo of the room every 10 seconds and The Second Wife set up her little table of unusual vegetables.
Prawn and pork wontons
The staff that were looking after us introduced themselves and asked us what order we would like things to do done in and we decided to start on the entrees and then have the games before and after the mains. The food started to come out quickly and we started with bowls of delicious slippery prawn and pork wontons that sit deep in a bowl filled with chilli oil and aged dark vinegar sauce, topped with thin slices of silk egg which is like a thin scrambled egg, pickled mustard and shallots. The wontons are good with a flavoursome filling and a smooth, slippery thin pastry. Miss America leans over and confesses "Do you know I haven't touched a dumpling since our dumpling escapade?"
_LL san choy bau _
This was many of our favourite-the san choy bau here is quite different from the ones that you may find with pieces of duck and water chestnut. This one is filled with minced chicken with a spicy lime dressing and it has toasted pine nuts and croutons to give it an even greater crunch to match the crunchy iceberg lettuce.
Crispy tofu
Even though there were five vegetarians (one that didn't eat egg and one that eats fish) they accommodated them well, particularly with one last minute RSVP. There was enough of the crispy tofu to go around for everyone and we got to try these crunchy little cubes of tofu that sat atop a thick, dark slick of moreish sauce made out of black sesame and tahini. The ones at the top were finished with seaweed and nanami togarashi seasoning and there was talk of licking the plates clean of the sauce. But we didn't I promise!
OK game time! The Second Wife hands out sheets of paper and she and Gravy Beard take control of the questions. She asks questions like "A green gelatinous substance known as calipee is used to make which favourite amongst gastronomes?" and asks what the Scoville scale measures.
Queen Viv: my what a large smile you have!
An array of vegetables are passed around with Teena calling "unfair advantage" to the vegetarians. A giant and it must be said rather phallic looking daikon gets passed around as does a gourd along with a bunch of saltbush and a jicama and a lotus root that looks slightly different from a regular lotus root with all of the holes. Little bites are taken out of them and people ponder what they may be.
Trying the lotus root
Mr NQN tries rosewater
Ambrose doing the taste test
And then comes...the taste test! The Second Wife had selected a range of goodies for everyone to try. Each team nominates one person to be the taster. There were items such as rosewater, tequila as well as the ungodly smelling pickled mudfish. Now this is said to be a Thai ingredient and would probably fall into the same category as fish sauce and shrimp paste in that by itself it is a rather foul smelling concoction that would have the devil himself reeling back in horror but I'm sure it's an essential ingredient in some Thai dishes (som tam is said to have the juice of pickled mud fish in it). Just not by itself and not by the spoonful.
Miss America offers poor Ambrose a drink to help soothe his palate
As soon as Gravy Beard hands it to me to feed to Ambrose my eyes widen in horror. It smells like...well vomit. I silently hope that Ambrose forgives us for this and put the spoon to his mouth. The reaction is instant, he recoils and around us the tasters revolt. There are cries of "What IS that?" and "Oh my goddddd." The testers deserved a medal.
Pickled mudfish and Korean chocolates
Moving on and in an effort to cleanse their palette of the offending pickled mudfish (no offence mudfish) we gave them some chocolate to taste test. These weren't ordinary chocolate though. They were brought back from Korea by my parents who were recently on holiday there. There were four flavours in the box and they were: kimchi, red pepper paste, laver seaweed and chestnut. They didn't do too badly with the chocolate although the flavours were quite subtle with Ambrose guessing the red pepper paste and chilli and guessing hazelnut instead of chestnut which is not too bad a guess.
Crispy pork belly
Our mains then arrive just as Round 1 of 2 finishes up. The crispy pork belly was a welcome change to cleanse the palates of the poor taste testers their taste buds surprised and beaten down with all manner of Asian supermarket shelf oddities. The crispy pork belly comes as small cubes with a crispy crackling and a sweet palm sugar, kaffir lime leaf and rice vinegar syrup. It is topped with crushed peanut and fresh coriander. It is moreish and perfectly paired with the fried rice for a more substantial dish.
Fried rice
Chilli and garlic crumbed soft shell crab
The soft shell crab was fresh and crunchy and crispy without tasting oily at all. It was served with wasabi mayonnaise and slices of lemon although there wasn't much chilli but there was garlic. OK I admit I have quite a few pieces of this...
Wok fried garlic shoots with bean curd, preserved black bean, chilli and garlic (vegetarian's dish, I didn't try this)
_
_
Steamed gai lan with vegetarian oyster mushroom sauce
_
_
Sichuan style green beans
The long green beans were packed with flavour from the dried shrimp (which is probably a distant cousin to the pickled mudfish) and it is flavoured with a ginger and garlic sauce.
Before dessert there is the second round with some easier questions including an interesting question "What is the name of the item whose name stands for 'twice baked'?" Can you guess that? We were given a hint that it is something that is popular in England and you have in  the afternoon. After some deductive reasoning we figured out that the answer was indeed "biscuit". Bi for the number two! Apparently biscuits were first baked and then dried out in a slow oven many, many years ago. And if you are interested in giving the questions a go, Gravy Beard has kindly sent them onto me and I've put them at the end of the post.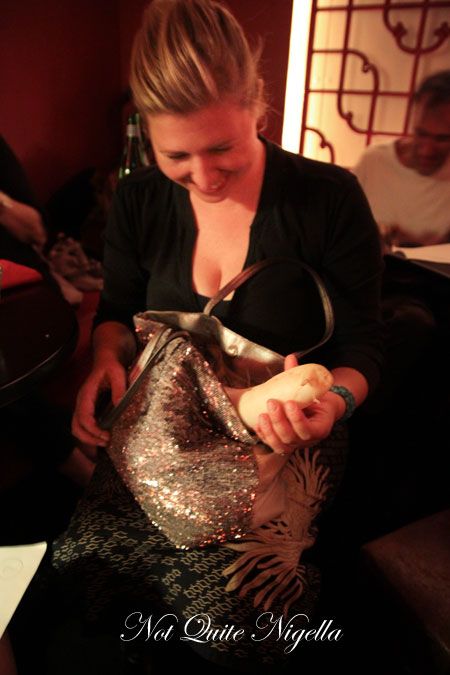 Teena slips the daikon into her bag
The winners are announced and out of the three teams, ours won. And the prize? Well the very best prize of all, the vegetables and the pickled mudfish! :) A gal couldn't be happier with that.
Queen Viv loves her prizes
It's time for the birthday cake and Gravy Beard attempts to light the candles while a waiter tells him "You do know that there's a ghost down here don't you?".If there is, the ghost is doing a very good job of blowing out the candles. And what sort of cake did I have? Well Buppa told me that she was going to make a three part cake. The cherry 'pie' was Red Velvet cake, Morello cherries and cream cheese frosting. The RR Diner cup was made out of wire and flower moulding paste and the 'coffee' in the cup was a flattened Tootsie Roll. The 'donuts' were cherry pie and it was fried pie crust with cherry filling with icing and decorations.
The red velvet cake was moist and delicious and I loved the fact that the whole cake was a bit of a mind trick. My favourite part however were the donuts. I know deep fried pie crust is not exactly a healthy option but when you stuff it with cherries and then put donut icing on top of it and sprinkles, well you have something rather delicious and special indeed.
Cinnamon & honey panna cotta, ginger sugar coated dough nut balls; pineapple sorbet; caramel ice-cream and cinnamon sugar swirls and hot Belgian dark chocolate pudding served with fresh strawberries and hazelnut
_ ice-cream_
Because I tend to cut people giant slices of cake as if they had been lost at sea for months the desserts came just as everyone had filled up on mind trickery cherry pie red velvet cake and faux donuts and coffee cup. They were dessert platters which were meant for two people with cinnamon & honey panna cotta served with caramel ice-cream and cinnamon sugar swirls and ginger sugar coated dough nut balls filled with coconut custard served with pineapple sorbet and lastly a hot Belgian dark chocolate pudding served with fresh strawberries and hazelnut ice-cream. I tried a bit of everything and the favourites were the pineapple sorbet and the caramel ice ice cream with cinnamon sugar swirls as well as the ginger sugar dusted doughnut balls which has an oozy centre of coconut custard. I didn't much go for the the dark chocolate pudding and to be honest I couldn't have fit it in if I tried.
The clock soon strikes midnight and we realise that we are the last to leave. There's no prompting from staff to do so which is nice and they pack up the rest of the cake in boxes for us. I think everyone had fun and we all seemed to enjoy the food. I don't know if I would call the banquet particularly great value though and I think if you added up the number of plates that you get individually it works out much better if you dine here a la carte without the banquet option. We did need to speak to one of the owners to get some more food for some of the hungry menfolk which was accommodated without extra cost.
However the service is really wonderful and the food is different from the usual Chinese fare. It was great that there wasn't an room hire charge for the space and there were no issues with errant drinks charges as each table was billed individually.  If I had to do it again I might have asked for more savouries instead of the dessert which wasn't really needed as the cake was so enormous. And it was an utterly wonderful birthday with friends, food and cake. What more could one ask for?
So tell me Dear Reader, if you had to theme your birthday around a TV show, which show would it be? And did you watch Twin Peaks?
The trivia questions as promised (answers are at the bottom after the last picture)
Round 1
Step 1 - On what vegetable did an ancient Egyptian place his right hand when taking an oath?
Step 2 - What is the most widely eaten fish in the world?
Step 3 - A green gelatinous substance known as calipee is used to make which favourite amongst gastronomes?
Step 4 - The Scoville scale, which is quoted as a number from 0 to 16,000,000 SHU, is a measurement of what?
Step 5 - In the TV show Twin Peaks, who found Laura's dead body?
Step 6 - What is the name of the pan in which one makes paella?
Step 7 - HP Sauce is a popular brown sauce by HP Foods, now produced by H.J. Heinz. What does the HP stand for in HP Sauce?
Step 8 - Which cocktail's name translated means 'pearl'?
A - Caipirinha B - Martini C - Julep D - Margarita
Step 9 - In which film is corn bread, meat loaf, mashed potatoes with gravy, okra and peach cobbler the last meal request of condemned prisoner John Coffey?
Step 10 - What was the name of the boy in 'About a boy' who accidentally kills a duck with a loaf of his mothers homemade bread?
Step 11 - Which seed has been used for centuries to colour cheddar cheese?
Step 12 - What was Twin Peaks population as stated on the "Welcome to Twin Peaks" sign?
Step 13 - The name of which very popular edible product translated means 'twice cooked'?
Step 14 - What is the name of the Spanish soup served cold?
Step 15 - Which is the most eaten fruit in the world?
Step 16 - What is the name of the two-coloured oblong cake covered in almond paste?
Step 17 - In what state of the US is Twin Peaks set?
Step 18 - In Italy, if you were served pesce martello, what would you be about to eat?
Step 19 - Umbles can be made into a pie and gave rise to the expression 'to eat (h)umble pie'.
What are umbles?
Step 20 - Who actually killed Laura Palmer in Twin Peaks?
LL Wine & Dine
42 Llankelly Place, Potts Point, NSW
Tel: +61 (02) 9356 8393
Answers:
Step 1 - The onion. Its round shape symbolized eternity.
Step 2 - The Herring
Step 3 - Turtle soup. Calipee is found beneath the lower shell of the Green Turtle
Step 4 - The heat of a Chilli Pepper
Step 5 - Pete Martell
Step 6 - Paella (Paella means 'pan')
Step 7 - Houses of Parliament (They served it in the restaurant in the Houses of Parliament)
Step 8 - D – Margarita
Step 9 - The Green Mile
Step 10 - Marcus-the movie is also known as Mr NQN's life growing up, except for the suicidally depressed mother bit
Step 11 - The annatto seed
Step 12 - 51, 201
Step 13 - Biscuit
Step 14 - Gazpacho
Step 15 - Banana
Step 16 - Battenburg
Step 17 - Washington
Step 18 - Shark
Step 19 - Edible entrails
Step 20 - Her father