There's a shop sign-painted with the words "The Fortune Teller" and just opposite, at a pub, there are racks of vintage clothes being sold on the street alongside patrons having a Sunday afternoon drink. A group of four guys look around self consciously which causes us to notice that they're absconding with a "keep left" road sign. Erskineville is just one of those suburbs where something interesting is always going on.
Mr NQN and I are on our way to brunch, well actually lunch at this hour at Fleetwood Macchiato on Erksineville Road. A tiny cafe seating about 22 people, it's full when we arrive but they tell us it won't be long. We end up coming back an hour later around 2pm once we've run some errands and there are two tables free. We're seated near a come hither display of luscious cakes, brownies and breads. A stack of cookbooks including the Momofuku and Movida ones sit above the open kitchen where everything is cooked in front of patrons. I had first heard about it from the lovely Gucci and Gyoza. It looked like a good combination of good food and relaxed service and just the sort of place to have something to eat-if you can get a table that is. I almost expect Fleetwood Mac to be playing (although, would this be too much?).
Macchiato $3.50
There is a separate menu for drinks and food and my eye is drawn to the home made cordials-today has a choice of three on the blackboard: ginger, lemonade and pink grapefruit. I go for a combination of the first two while Mr NQN orders a macchiato-a departure from his normal long black but it seems the way to go when you're at a place named after a macchiato. The coffee is by Golden Cobra and he reports it as being a good coffee (he downed it before I could try it).
House made ginger and lemonade cordial $5
The ginger and lemonade is fizzy and is strong in lemon although less so than with ginger which I don't really taste at all. It is tart and refreshingly fizzy although I would have loved a bit more ginger and sweetness to it.
Smashed egg breakfast roll with avocado, mustard aioli, sriracha, pickles and mushrooms with ham $14.50
Once, when Mr NQN tried to get me to ride a bike, he was dismayed to find that there was no way that I was going to fit on an adult's bike. For a good two minutes, he looked at me and then he looked at his bike completely perplexed at how a seemingly normal looking adult could not fit on an adult's bike. What does this have to do with the sandwich? Well as I was nibbling on this enormous sandwich packed with avocado, mustard aioli, pickled radish, miso mushrooms and good quality ham, I couldn't fathom how I could get my mouth around it, try as I might. But then Mr NQN picked up his half and ate it easily. So the point again? I found it delicious but hard to eat all of it at once but Mr NQN didn't -it's a sandwich for those with big mouths. And it's not often that I get to call him a big mouth :)
Herb and black olive rolled poached eggs, saffron pickled eschallot, blood orange hollandaise and carta di musica $16.50
What lies under that super crunchy round disc sheet of carta di musica? Why this:
Too pretty not to take a picture of underneath the bread. Taken on a Sigma 17-50mm F2.8 EX DC OS lens, focal length 17 mm, ISO 200, 1/25s.
I know, this doesn't really look like what you might find at a typical cafe does it? The kind of pretty doesn't usually come out until around dinner time. It's two poached eggs rolled in herbs and black olive with two thin layers of saffron pickled eschallot and a dollop of blood orange mayonnaise and plenty of herbs and flowers. The egg is appealingly runny and while I really do appreciate an alternative to eggs benedict we both felt like there might have been something missing from this. The carta di musica is very hard and some softer bread would have been great to mop up the gooey, creamy yolk and mayonnaise. Although apparently one customer said that this dish made her day better so who knows?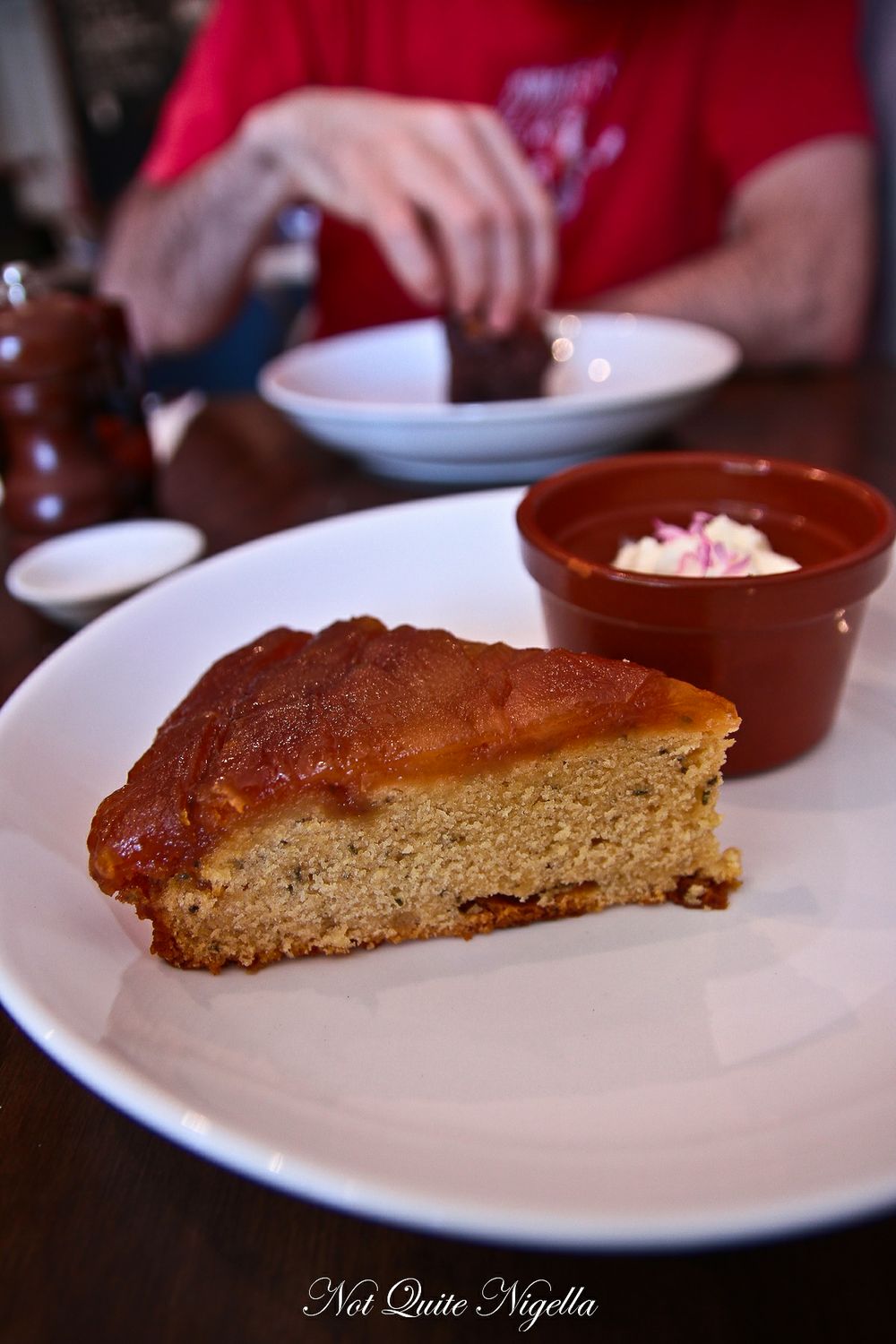 Pear, ginger and rosemary cake $5.50
Served with their own house made lemon myrtle yogurt (divine stuff) this cake is like a cross between a rosemary cake and a tarte tatin but somehow, it is so much more. When I was paying the bill the pastry chef (whose name I didn't catch but he was lovely), asked me which I preferred. It was hard but this one just slightly pipped the chocolate brownie, mainly because I usually take a forkful of cake and pass it on but this divine rosemary scented cake with a touch of ginger was so moreish I stopped at 66%. Yes I measured it because I knew I'd be in trouble.
Chocolate brownie $4.50
I love it when people toast nuts before cooking with them. It makes them beautifully crunchy and brings out the flavour of the nuts. There are lots of crunchy hazelnuts in this crunchy topped rich brownie which according to the pastry chef "is pretty much all chocolate" (magic words!). It's so dense and comes in a generous large, thick slice.
It's 2:30pm and everyone seems to have cleared. Across the road, a homeless man who Mr NQN points out looks just like his father goes through a clothing bin. I wonder where the boys are going with their street sign...
So tell me Dear Reader, what do you think they were up to with the street sign? And when you find that a cafe has a wait, do you wait around or do you find somewhere else to go?
Fleetwood Macchiato
43 Erskineville Rd, Erskineville, NSW
Tel: +61 (02) 9557 9291