"I've been looking for this place for over half an hour!" Blythe wails telling us that she had even asked the convenience store next door for directions here having overlooked China Beach. Located right on the esplanade on Manly beach in prime position with the beach across the road the room it still manages to elude those searching for it by foot or by car. The room is long and eyecatching in tones of red and white designed by Iain Halliday.
The menu here is similar to the menu at sister restaurant China Doll at Woolloomooloo wharf - some Chinese, Japanese, Thai and Vietnamese. This should technically sound warning bells but we were assured by friends that this worked. The mains actually sound a little more enticing than the entrees which is a change so we order a couple of entrees and plenty of mains. They explain to us that the dishes are designed to share and that for entrees there are usually four pieces of each but they can be upsized to suit the number of people dining (at extra cost of course).
We start with the betel leaf topped with a smokey house smoked trout which still retains a good amount of juiciness and isn't smoked until it is dry. There's some grilled eggplant which also adds to the silky voluptuous texture and a green chilli nam jim to give it a little punchiness as well as lots of fresh herbs.
The five spice prawns come with a little five spice powder and a lemon wedge which we squeeze onto the five prawns (upsized from four). They're tempura battered and served hot and crunchy although if you are looking for a similar dish but larger the squid might be your choice.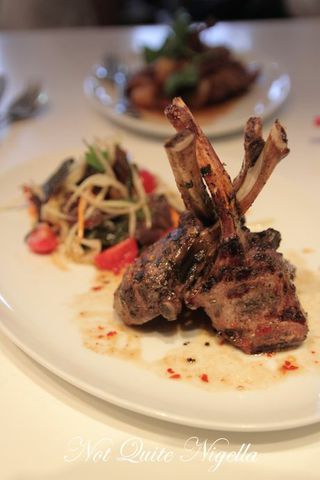 The grilled lamb cutlets end up being everyone's favourite dish of the night. The grilled lamb is buttery soft and tenderly pink in the middle and the piquant green papaya salad redolent in fish sauce and Thai basil suddenly makes perfect sense to cut through the rich, buttery lamb.
I had had a similar dish at China Doll and it reminds me somewhat of Kylie Kwong's duck dish. It is a generously sized portion (indeed prices are very reasonable considering the proximity to the beach) and the sweet tamarind goes perfectly with the juicy duck pieces whilst the crisp eschallot give it a savoury aspect.
The flavours for the pork belly dish were spot on and it's the kind of sauce that we wanted to order extra rice for to soak it up but the pork belly itself was a little too chewy and perhaps needed a bit more time in the oven. The slender vine like snake beans were also very crunchy.
We are all huge fans of massaman curry, the thick, sweet peanut based coconut curry and this one has three large, soft pieces of wagyu shin and three large chunks of roasted kumera or sweet potato. It goes really well with the crispy roti and the sweet richness of the sauce prompts us to order another round of rice and roti.
The goat curry divided us. It has a strong aroma of bamboo shoots, in fact an all enveloping aroma of bamboo shoots and so Mr NQN and Blythe didn't go for this curry at all. The goat was tender and it was served as a dry curry in a rendang style. It had a lot of spice to it and the accompanying salad was, we guess, supposed to dampen any fire from the curry. There were small Thai eggplants and those tiny slightly bitter vegetables that resemble green peas but larger.
Despite our feast, we had room for dessert. Of course right? ;) We started with the cold sago pudding mixed with a vanilla coconut cream, caramel syrup and fresh passionfruit which gives it a tangy lift.
The warm black sticky rice is always a favourite dessert of mine and this one is scented with what they call an "Asian bouquet garni" of cinnamon and cardamom and other spices which give it an unexpected depth of flavours. It's surrounded by some coconut cream and slices of mango.
The crispy pancake is cut into four pieces and is filled with a sweet caramelised coconut and is topped with pomegranate seeds and lashings of coconut cream. It's good although I don't know if the pomegranate suits it and besides which I'm smitten by the black sticky rice.
So tell me Dear Reader, do you find that your opinion of a dish differs from that of your dining companions?
China Beach
43-45 North Steyne, Manly, NSW
Tel: +61 (02) 9976 0050