First of all I'd like thank everyone that voted for me for the Well Fed Awards. I was nominated for Best Food Blog-City and Best Food Blog-Post for my Freeganism story. I didn't win either (check out Well Fed's announcement of the winners here) but congratulations to the winners and thankyou to Well Fed for creating the awards!
I can genuinely say that it was truly an honour to be nominated -for I didn't realise that I would get nominated in a single category let alone two. I was too scared to see if anyone would nominate me (I'm a chicken that way) but my husband would read out the lovely comments where readers suggested my site never thinking that I would even make the final cut when compared to the other sites discussed, nor did I ever think I would get 2 out of 4 Australian nominations (unfortunately no Aussies picked up an award this year). Perhaps I am destined to be the Kate Winslet of the food blog award world ;) I joke!
But seriosuly, again I'd like to thank everyone that nominated and voted for me. Your support means a great deal to me and motivates me to make this even bigger, better and more creative every day. This blog is a testament to how much I value you.
Lots of love,
Lorraine
xxx
And now onto the story...
As I've mentioned there was a bit of clash this year with Chinese New Year and Australia Day. So because of this, we were celebrating Chinese New Year on Tuesday the 27th of January instead of the 26th. No matter, more meals and more spread out. It was a win win! We chose Ginger & Spice because we wanted to have some Singaporean and Malaysian food without trekking out too far (my father and uncle dislike traveling for their food, in fact getting them to cross the Harbour Bridge was far enough as far as they were concerned). It's freezing inside with the air conditioning being turned up to Singapore shopping mall levels.
Ginger & Spice is also interestingly a favourite place of uber chef Tetsuya Wakuda, his image on the wall.
_Yusheng Raw Fish Prosperity Salad $78
_
We've ordered this dish ahead as it's a special Chinese NY dish that A told us about at the Multicultural Australia Day party the day before. They had told my mum about it when she booked but she dismissed it as it was a Raw Fish Salad. However after a bit of convincing she was interested again. We ordered the small as my parents and my uncle dislike raw fish.
Its' brought to the table on a large platter and consists of shredded radish, sweet potato, carrot, sashimi salmon, ginger, chili, coriander and spring onions. They scatter a peanut sesame mix over it, then a sweet plum sauce and then finally some crackers (deep fried dumpling wrappers).
Flurry of salad tossing!
The whole idea is that you grab your chopsticks and toss the salad together digging your chopsticks deep and getting salad from the bottom.  The higher you toss the better and more luck. And despite their initial fear, my parents and my uncle enjoy this salad.
Whole Hainanese Chicken $34.80
I adore Hainanese chicken and rice and we've ordered a whole one, mostly deboned and cut into pieces. It's expertly cooked here and served with a choice of kecap manis, ginger sauce (my favourite) and a chili ginger sauce. The chicken is so soft, probably the softest chicken I've had and slippery and melts in the mouth when combined with the chicken rice.
Squid in Kecap Manis $19.80
Having had this dish before, I don't mind it but it's a little too verging on a burnt taste to me but others enjoy this. The squid rings are chewy whereas the tentacles are tender.
Ngoh Hiang $16.80
The dried tofu skin (yuba) wrapped rolls are deep fried and stuffed with pork mince, prawns and water chestnuts which give it a crunchy texture. It's not bad at all and reminiscent of what you might get at yum Cha.
Belachan Kang King $14.80
We've order the Kangkung (water spinach) with Belachan, an aromatic shrimp paste. I adore Kangkung and I try some and it's beautifully soft and perfectly spiced. My mother's Kangkung is more stringy and hard to chew on but my cousin says that this is the younger Kangkung which is more tender. I want a plate of this to myself.
Pig's trotter $38.80
I enjoyed the pig's trotter last Chinese New Year at Kensington Peking but this one isn't quite as good. The pig's trotter is just a bit too fatty and gelatinous which sounds silly as that is what pig's trotter is I suppose but I recall falling apart soft meat and not so much fat to it. As it turns out it doesn't matter as the boys hungrily devour it.
Durian Chendol $8.80
Half of us are full and the other half (the boys) are hungry for dessert and there's no other dessert for them except for Durian Chendol. Yes Durian, the super stinky fruit that I run screaming from is on the menu although I am assured that it is the frozen version which is less potent and scarring to the olfactory senses (I can't imagine the mostly Caucasian clientele here reacting well to the smell of fresh Durian). Chendol are the wriggly green worm-like starch noodles and it's served with shaved ice, coconut milk, palm sugar and Durian.
Ice Kacang $4.50
My favourite dessert is the Ice Kacang. It's a bowl of shaved ice with palm syrup, sweetened condensed milk and a treasure trove of goodies underneath. There is Nata de Coco (clear chewy jelly), sweetened red beans and cubed grass jelly.
Bubor Chacha $4.50
I always like Bubor Chacha as I like the sweet coconut flavour. It's a very simple dessert made up of sweet coconut milk and cubes of boiled taro and sweet potato. Tonight it's good but the taro is a bit too firm.
Cheng Teng $6.80
The Cheng Teng, my husband's choice is a bowl of sweet, cold soup with shards of shaved ice, slightly herbal in flavour with gingko nuts, longan and sago. It's refreshing and good although I am always loyal to my Ice Kacang. Gung Hei Fat Choy everyone (and a late one at that!)>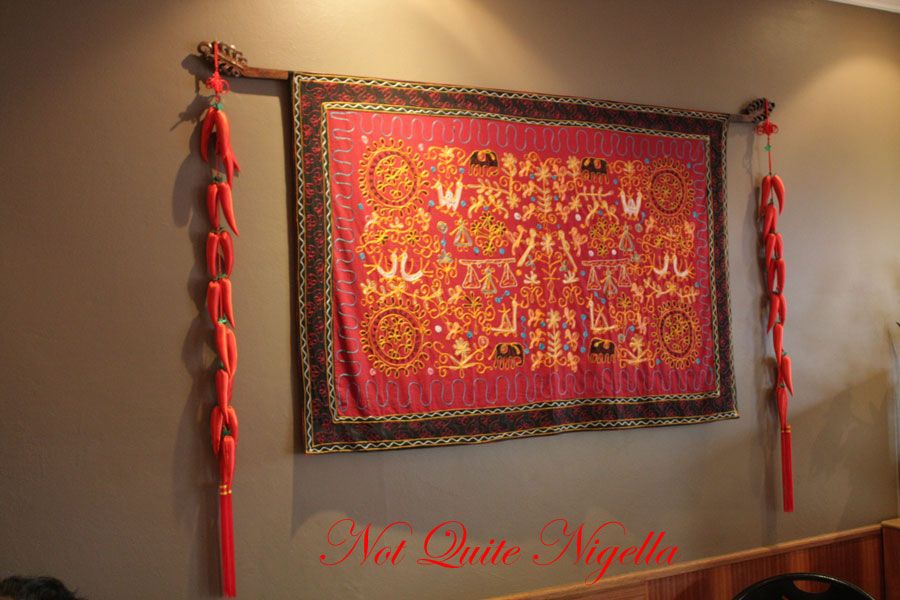 Ginger and Spice
240 Military Road, Neutral Bay, NSW
Tel: +61 (02) 9908 2552
Open 7 days: Tuesday to Sunday 12:00 - 15:00, 17:30 - 22:00
Monday: 17:30 - 22:00
Cash Only, no credit card of EFTPOS