Oh how life changes and evolves. One minute you're a teenager during the 80's with crimped hair fastened in a side ponytail, iridescent leggings and an oversized tshirt. Then suddenly you find yourself some years ago, hair curled rather than crimped, the oversized jumper is still there, the leggings have been replaced by leather leggings and heels. And your attitude to a once shunned establishment has changed vastly.
I will be honest, when we were younger, the Bourbon and Beefsteak was not somewhere that we wanted to go. It was notorious for a roughish crowd, underworld criminals and cheap $10 steaks and being open late at night. Cut to 2013, it has now taken on a different identity now called The Bourbon that is about two months old. It sits in the heart of Kings Cross, adjacent to the El Alamein Fountain and the trading hours are lunch, dinner going until 5am seven days a week.We're dining here one Saturday evening with Dave and his lovely girlfriend Santana who is a nurse slash pole dancing teacher (and even your friends get more interesting as you get older! ;)).
The head chef at The Bourbon  is James Metcalfe, from the now defunct Etch restaurant. Unlike the Etch kitchen which was tiny, this space features a large open kitchen-perhaps the most open I've seen a kitchen as patrons entering the restaurant wander past while some even weave in between the island and the kitchen dodging chefs deep in concentration. The restaurant design is masculine with bright teal seats, dark woods and leather from Sydney based designer Paul Kelly with a Fleur de Lys motif echoed throughout.
So what is the menu like? Well there's a bit of this (seafood) and that (steaks) but there is also a shout out to a cuisine not often seen in Sydney, Creole or New Orleans cuisine. However purists be warned, these are James's interpretations of gumbo, jambalaya and deep fried oysters and they're very good indeed but if you're looking to relive memories of a holiday or home town there, it may not happen exactly as planned. James visited New Orleans to research the cuisine and and is due for another visit shortly.
The best seats or at least the ones that afford you the best view people watching are unfortunately the ones right near the smoking section. And along with views, comes loud live music every night from 9pm. We're sitting in the back section of booths opposite the open kitchen which is more conversation friendly but of course this means that any people watching is restricted to the kitchen. When I called to make a booking they were very friendly and asked if we would prefer the smoking section and whether there were any food allergies or if there was a special occasion which left a good first impression.
Crackling $5
Inside the kitchen are trays of pork skin that resemble slabs of toffee. These are ready for deep frying. I've had pork crackling at a few places and it's ok but quite light. This has some weight to it which I like but also a blanket of spicy Cajun spice. I find the spice level on these just perfect and could disappear into a corner and eat a whole bowl of these.
Olives and spiced mixed nuts $5
The olives come in a variety of sizes in green and black and are accented with lemon, garlic and chilli while the spiced mixed nuts are absolutely moreish with the almost sweet spiciness.
Hiramasa Kingfish $11
The Hiramasa kingfish reminds me of James's time at Etch where fresh fish would be ceviched with tangy citrus and flavours. It's fresh, pretty and light.
Terrine of pork $8
Made from pig's head, they had to change the name of the terrine because nobody was ordering it! These four neat little rectangles are topped with a sweet watermelon rind pickle  and  and a creamy garlic emulsion atop a buttery, velvet soft pork terrine.
Bread $12
The bread is a crunchy crusted baguette style bread which is soft and dense inside with a fine crumb. It's served with chow chow images which is a popular accompaniment to Southern dishes and Hopeful Ranch olive oil. And I know to save a piece of bread for what's coming up-the crab!
Clam and corn chowder $22
The kitchen was kind enough to portion this into four bowls as we all love to share and I guess they pictured a rather strange scene with us sharing out of one bowl. It's fortuitous that they did because this is a creamy smooth soup with plenty of sweet, luscious corn and given a briney kick from the clams in their shell.
Grilled Alaskan Crab Clusters 500g for $38
Oh my...this is a simple enough concept but executed perfectly. It has all of us drooling and I could have sworn we were moaning while eating these. They're grilled Alaskan crab legs grilled perfectly so that they're still meaty and juicy inside. On top of this, and this is where things get a little bit crazy good is nutty aromatic spiced browned butter. The butter itself is sweet with star anise, smoked paprika and cayenne among others and the nuttiness from taking the butter to the browned butter stage sweetens it and gives it even more aroma.
I should confess that I usually find Alaskan crab legs a tad uninspiring to eat by themselves-the texture reminds me of seafood extender but grilled and served with this browned spiced butter is the way to eat them. I think I could quite happily polish off a 500 gram serve of these! And thankfully, we saved the bread to mop up the butter. The only feedback we'd give was that the crab was quite buttery so we needed the legs cracked on both sides (we were all quite dressed up and got a few splotches of butter on us) and cracking it on both sides would have meant that the spiced butter would have gotten in deeper into the fatter legs. And a spoon and bread would have been great to scoop up all of that delicious browned butter.
Grilled jumbo shrimp $24
Another beauty that hit the table at the same time as the crab clusters these were also good with lime and chilli being the predominant tastes. The prawns are split in half lengthways and served with a generous amount of creole butter and spiced salt.
Scotch fillet 250g $28
By 9pm the live music starts and other diners turn to drinkers. We decided on the grass fed scotch fillet from Ralph in the Gippsland region of Victoria. It's cooked exactly as ordered and sliced up and on top is a melting quenelle of bourbon butter (they like butter here yes!) which is flavoured with Worcestershire sauce, liquid smoke and shallots among other ingredients. It is accompanied with smothered greens which are swirled on the plate underneath a blanket of butter and bacon sauce. It's nice to see a beautifully done piece of steak that comes with a side for a price like this.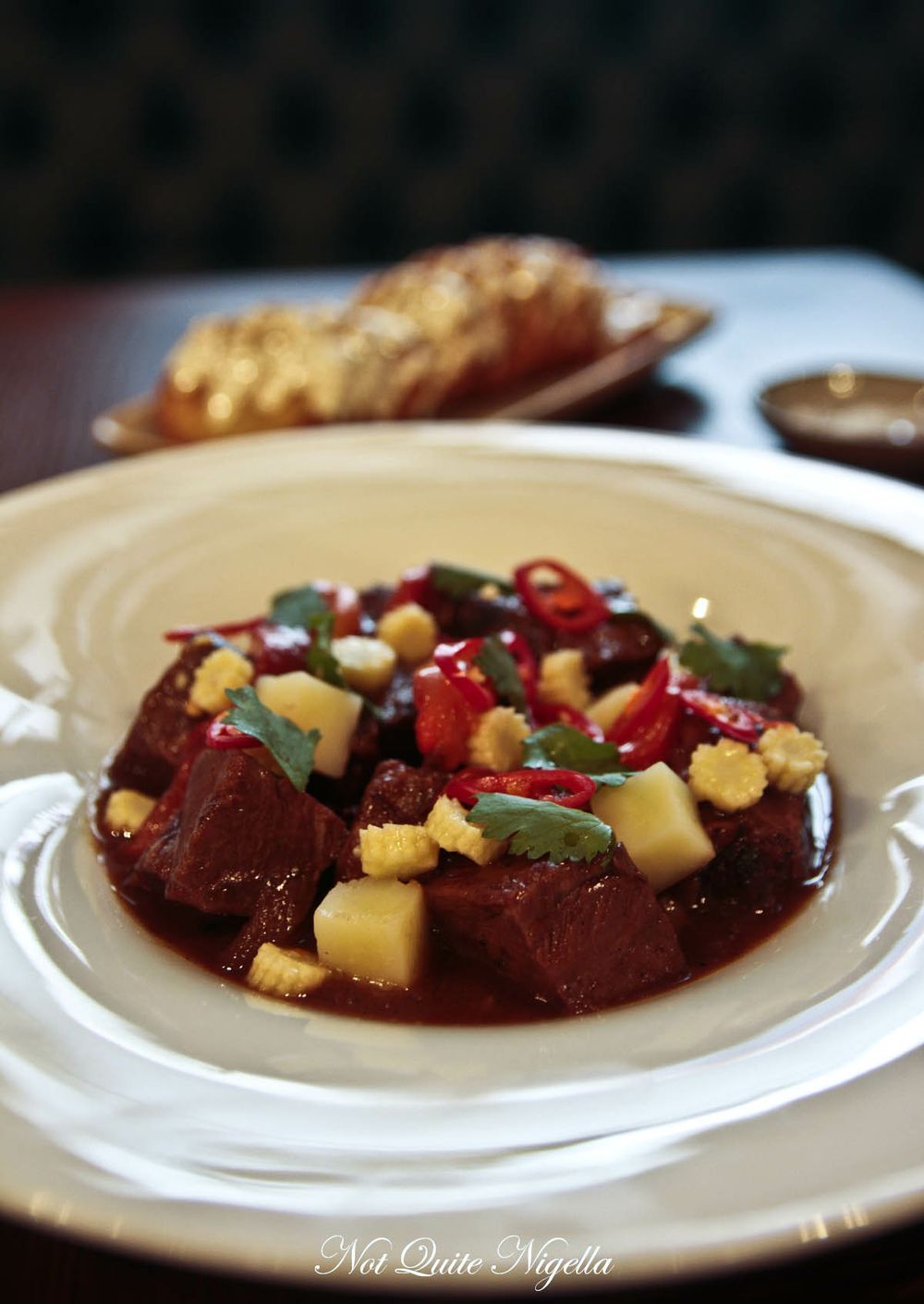 Estofada $24
The estofada is a marinated, charred and braised beef dish in one. Spanish, specifically Catalan in origin, it was brought over to New Orleans where it has become a popular dish. James uses David Blackmore wagyu beef shin and he starts by marinated it in a heady spicy mixture with nine ingredients including star anise, white pepper, cumin, ground coriander and cayenne pepper. After marinating overnight, it get a good char from the charcoal grill. "If doesn't get the char, it doesn't get flavour" he says. After this it is cooked in a flavoursome braising liquid for several hours until soft. The meat is surprisingly soft and having gone into the kitchen to see the spice mix up close I'm surprised that it's not stronger in flavour. The thinly sliced chillies add heat and it's a comforting dish, designed for colder weather and snuggles.
Jambalaya $25
Yes, I know, how much did we order? That's the problem with eating late, we were absolutely starving but with two hungry boys and girls there was little food that actually went back to the kitchen. The Jambalaya is another interpretation of the classic Louisiana Creole dish and James starts with the holy trinity of Cajun and Louisiana Creole cuisine, celery, capsicum and onion. This is a spicy risotto with cubes of bacon and smoked sausage and tender perfectly cooked prawns, watercress and chilli on top. Despite how much we ordered, not a single grain of rice goes back to the kitchen.
Fried green tomatoes $8
The menu references food from all over America and these fried green tomatoes end up being an excellent side and are a great substitute for those of us that love to have fries or chips with red meat. The green tomato slices are breaded and deep fried and served with a drizzle of tangy and garlicky buttermilk dressing that I could have on anything. If you haven't tried a green tomato, I'd describe it as having the texture of a slice of tomato without the sweetness - still entirely pleasant. Plus breading something and deep frying it is always going to be good.
The Bourbon Tasting Plate $30
For the terminally undecided (that is, us!) the  tasting plate offers a taste of all of their desserts. Starting from the first plate is the pumpkin pie which has a layer of pumpkin brulee, crumbly biscuit, maple syrup mousse and ginger ice cream. It's perhaps a touch too gingery for us as the hit of ginger takes you from the first bite and doesn't relent. The next item was the very popular beignets which were feather light balls of donut with a peppered strawberry caramel which was really like a rich strawberry sauce and this came with a jar of whipped cream.
For sweet tooths, the next plate had an ice cream version of S'mores which was almost like an ice cream chocolate bar with vanilla ice cream sandwiched with a layer of fine crumbled biscuit, a thick blanket of milk chocolate and a rectangle of toasted marshmallow and a scoop of citrus sorbet. There was also a small slice of classic pecan pie which was a favourite for me-all luscious thick bourbon spiked caramel and nuts and the last item in the centre was the deconstructed tangy lime cheesecake with tangy jelly, aerated puffs of cream cheese, dollops of meringue and a trail of biscuit crumbs. Forget any sort of late night shenanigans in the Cross, this was our version of decadence.
So tell me Dear Reader, has your city or town changed much from when you were younger?
And just a lil' reminder, my book "Not Quite Nigella" comes out tomorrow in stores!! :D
The Bourbon
22 Darlinghurst Rd, Potts Point NSW 2011
Tel: +61 (02) 9035 8888
Open 7 days for lunch and dinner until 5am