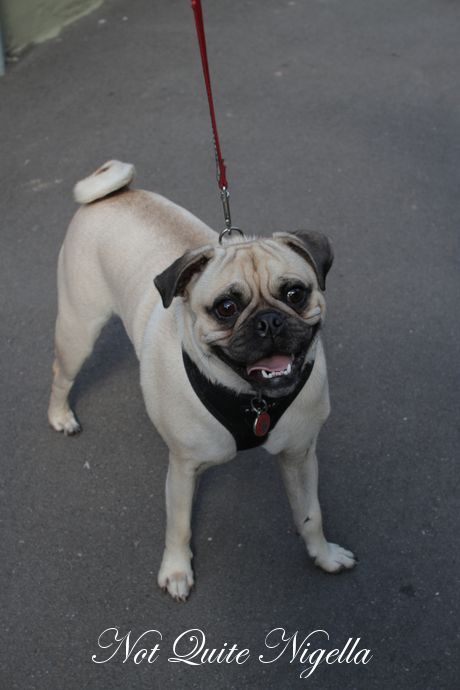 Oh hai!
It's a Dog Day Afternoon. Literally. The sun is shining, there is a cool nip in the air and  Mr NQN and I look to our left and right and we're surrounded by a happy jumble of dogs. Where am I? Outside the Chew Chew Dog restaurant in Wollstonecraft where dogs can dine on goodies such as doggie cappucinos and doggie cup cakes.  And the rules? "There are no rules at all here! Dogs can do as they like!" Chew Chew owner Naoko says happily.
Naoko
I hope you'll forgive the slight departure from our human restaurant reviews to something more for our canine friends but I thought that this was the cutest idea I had heard in a long time. Naoko has been making healthy dog food for dogs for three years already. She started  her business off making organic, healthy food for sick and ailing dogs and it is has since grown into a restaurant which has been open for one month. Here little furry creatures have their choice of a one of six main meals which can include fish soup, chicken mince with sesame, grilled salmon with herbs and spaghetti bolognese. All of the meat used is organic and Naoko helpfully gives dog dietary advice to anyone. And before anyone starts going on about spoiled pooches eating designer dog food the prices are very reasonable here with a main starting at $3.80 and a dog cupcake being $2.20.
Lucy
Dash
Joining us today is The Second Wife's main man Gravy Beard (she's busy jetsetting overseas) and their two adorable poochies Dash and his older sister Lucy. They're also joined by a gaggle of other dogs and their owners who stop by to buy a special meal for their four legged buddies. There's a man who is opening up his own dog hotel in Chatswood and his seven very well trained poochies (the top pic) and his girlfriend who has two of her own.
The restaurant itself is quite small, one room really and Naoko prepares all of the meals fresh to order. As it is small you may have to wait your turn while other dogs eat their food (but let's be honest, dogs eat quickly and they don't really linger to chat) or they can eat outside al fresco on the grass. There are also ready made foods and dog snacks available for purchase.
Dining doggies
We take the recommendation of other friendly owners whose dogs have just eaten. Owners order quantities according to the size and breed of the dog. Some choose to have their dogs dine in but others take away the food.
Spaghetti Bolognese $3.80
They start with the mains. Elegant eater Dash has the spaghetti bolognese to start off with which he enjoys.
Lamb mince with vegetables and rice $3.80
Lucy devours the lamb mince within seconds
Lucy, who is more of a ravenous eater quickly tears her way through her spaghetti bolognese. She then sniffs around for some of Dash's portion.
Doggie cappucino $2 each
Lucy sniffs around for some of Dash's cappucino
The doggie cappucino which is made up of goat's milk sprinkled with liver chips is an undeniable hit being licked up within seconds tongues flapping inching out and seeking every little morsel.
Doggie cupcakes $2.20
The doggie cupcakes are also popular and Lucy eats hers in one bite and then proceeds to lick both plates clean. They're made with organic wheat flour and Chew Chew vegetables.
All clean!
Yogurt jelly $1.80
The yogurt jelly is eaten quickly by Lucy but Dash is either too full or doesn't like it and in a "You snooze you lose" gesture, Lucy grabs Dash's share within seconds. It is made using goat's milk yogurt and seasonful fruits and set with agar.
There's a rather interesting Doggy Love triangle when Lucy is fancied by Japanese Spitz Kobe who is in turn hugely fancied by Dash. Ahhh just like a typical human night out!
For more human sustenance, you can grab a coffee at the coffee shop next door where you can sit outside with your well fed dog.
Dash pines for his lost love
So tell me Dear Reader, how many of you thought that it was a restaurant serving dog when you first saw the title? ;) And would you  take your dog to Chew Chew?
Chew Chew
3 Railway Parade, Wollstonecraft station, Wollstonecraft, NSW
Tel: +61 (02) 9460 7111
Monday - Closed
Tuesday / Wednesday - 8:00 - 4:00
Thursday - 8:00 - 6:00
Friday - 8:00 - 4:00
Saturday - 9:00 - 2:00
Sunday - By appointment only