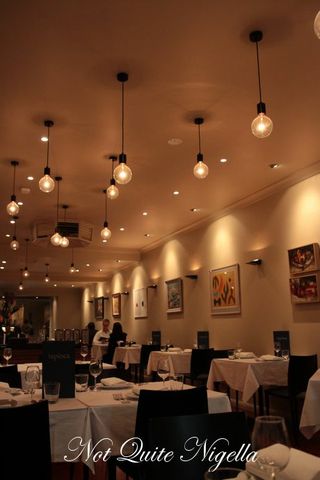 "I want to order the betel leaves, the quail's eggs and let's see the wagyu, the fish and the pork belly and let's also get the whole snapper too" I declare to Mr NQN.
"Is that all? I think you left off one dish" Mr NQN says raising an eyebrow.
"Well we'll order that too" I say, purposely ignoring his sarcasm. "Have we only just met honey? You know I always want to order everything!"
When one turns up inadvertently early to a restaurant one has little choice but to take a good look at the menu and tick off the menu choices that they want in the hopes that their dining companions want to do the same. We were in luck, Louise and Viggo having dined here before have already honed in on the same things and because of this ordering is done without fuss and within minutes. Tapioca is the newest Thai restaurant in the Cremorne stretch of Military Road. With chefs from Sailors Thai it has become a fast, solid favourite with locals.
The deep fried quail's eggs come out halved so you get six pieces in total although the menu says that there are three pieces. They're coated in a prawn mince and then rolled in crunchy egg noodles and served with a sweet tamarind sauce which gives it a sweet and sour aspect. They're addictive with the crunchiness and sweetness and the prawn mince is juicy and packed full of herbs and flavour.
Smoked trout, roasted coconut, peanuts, chilli, lime, ginger and caramel sauce served on betel leaves (4 pcs) (v) $18
The betel leaves are a favourite of practically every one that has visited here. And we can see why. They come out topped with roasted coconut, peanuts and large flakes of smoked trout. On top is a sweet chilli, lime and ginger sauce which runs down hands when you pick up the betel leaves but it's so lovely and crunchy and zings with flavour that you simply lick your hand clean.
The crispy wafers are filled with prawns, turmeric, coconut and kaffir lime leaves and have a fresh quality to them along with a crispy thin wafer and are terrifically moreish if somewhat messy to eat.
After the high of the entrees the mains aren't quite in the same league. The pork belly is very sweet and quite dry - Louise does remark that this is drier and more cooked than when they last had this. The flavour is there, it's just the pork belly pieces being overcooked.
The deep fried snapper, suspended in animation and I should add looking rather furious is served with a three flavour sauce which is sweet and tangy and reminds us of a sweet and sour sauce. The fish is a little dry but the pieces with the thicker flesh are the pick.
The green curry with wagyu beef is served in  a fondue pot to keep it warm. It is flavoured with Thai basil and features halved Thai eggplants and chillies and large chunks of tender wagyu. It's not as rich as we've had it and the coconut milk splits in the curry rather than being emulsified and creamy, perhaps from being continued to cook over the fondue heat.
Sticky rice with caramelised coconut, Tapioca pudding with young coconut and coconut cream, strawberry and lime sorbet with berry compote $12
The dessert platter was an extremely well priced three parter and if we thought that the mains were sweet they've got nothing on the desserts. My favourite was the tapioca pudding which were served with lashings of coconut cream. The strawberry and lime sorbet was simply just too sweet.
Well we'd be telling the truth that it was a sweet ending and indeed it was with the desserts. There was a lot of sweetness in the food, more than what I've had at Thai restaurants and of the three courses, the entrees really impressed the most.
So tell me Dear Reader, does it often take you a long time to decide what to order or  do you know what you want quickly? And do you research a restaurant beforehand?
Tapioca
318a Military Road Cremorne, NSW
Tel: + 61 (02) 9908 1588
http://www.tapioca.net.au/
Open: Tuesday - Saturday 6.00 - 10.00 pm.
Sunday 6.00 - 9.30 pm.
Monday Closed