Never smile at a crocodile...pie?
Mocka's Pies
"It's cold. I've brought my fur coats with me for tonight" Mia says to me and I look at her like she might have taken leave of her senses. To me, it's a lovely 20 degrees but for the Port Douglasian the weather is best described as arctic. I'm quite lucky I live in Australia where we get a whole lot of natural light and I know that if I lived in Scandinavia I would probably fall victim to SAD (Seasonal Affective Disorder). So when the sun is shining and the weather is warm I almost feel like I could do anything. And by anything I don't mean scale mountains of course, this is me, but I mean get up after only a few hours sleep the night before and make my own around Port Douglas.
Port Douglas's main street is called McCrossin Street and if you're after a breakfast with a difference you can join locals in having a crocodile pie for breakfast from local institution Mocka's pies situated just off McCrossin street. It's so well known that there's a little street sign pointing people in that direction. If you do go, go early as the pies sell out quickly and we do mean quickly. If you go around 2pm all you'll find is a couple of pies to choose from.
There are of course the usual suspects to choose from with steak and chicken pies but the signature pie is their crocodile pie. If you've never had crocodile before it's a very mild tasting meat, much like chicken (and I know what a cliche it is saying that it tastes like chicken but it really does!).
I take my pie and a Bundaberg sarsparilla drink (yum!) and sit outside and smile at the little crocodile on the top. I lift the lid and inhale. It all smells wonderful and I cut the pastry with a knife and fork. There's the crunch of the pastry, as electric as a fizzle and I raise a bite to my mouth. It's a very good pie indeed the filling mild tasting and creamy like a chicken pie but the texture of the crocodile in the pie is like the dark meat of the chicken with a breast meat flavour if that makes any sense.
Mossman Markets
There's no time to dawdle today we're off to Mossman markets. It's a cute market about 15-20 minutes drive outside of Port Douglas. It's an outdoors market and there are fruit and vegetables stalls as well as home made goodies and crafts. It's a bit hippie with a lot of tie dye as well as a bit country and it reminds Winsor of Bellingen markets.
There are all sort of home made goodies and I buy some macadamia, chocolate chip and chilli cookies for my mother (She Who Loves Butter) for a steal at $3 a bag as well as a little onion tart which smells heavenly and is the stallholder's version of a pissaladiere (although as no meat or fish can be sold she drizzles over some anchovy oil instead).
Pineapple crush $2.50
We see some lovely linen teatowels with birds and nearby to this stand we pass by the pineapple crush man who delivers us a cup of icey cold pulpy sweet pineapple crush. Just the thing for the lovely, warm weather.
What also interests us is the unusual tropical fruit like this lemonade fruit which is a cross between lemon and orange or grapefruit and orange. Mia buys one and opens it up and inside it looks like a grapefruit or pomelo and when we try it is refreshing and well balanced with sweetness and tang. Just like...you guessed it! Lemonade!
Inside the lemonade fruit
Grumichama jam
The friendly woman (and let's face it everyone at these markets are friendly) behind the stand shows us some grumichama jam which is a type of cherry and then what do we spot but paw paw scones! I had the pumpkin scones earmarked but I've made those before whereas I've never tried the paw paw scones before so I quickly grab the last tray of these.
"Are those okra?" I ask the gentleman behind the Earth Food stand. They look like okra except they are dinosaur sized."Yep things grow quickly here!" he says. At Earth Food they supplied the herbs from last night's Taste Paradise Food fight as well as the upcoming dinner tonight at the Audi Palates of Port. His wife shows me a galangal root which people can buy as a natural fence. They grow up to 2-3 metres high and thick and are edible too.
Galangal root
And one final purchase from the Mossman markets, a shell necklace for the princely sum of $2!
Blood Orange
Mia tells us that many families that visit Port Douglas choose to self cater and Blood Orange and the fish shop next to it cater well to these people s well as locals. Items are portioned for holiday makers in smaller bottles to avoid wasting food and there is an excellent range of gourmet goodies and everything a gourmet loving holiday maker would want and possibly more. Just take a look at these bananas!
Next door at Seafood House we see scallops, cooked mud crab, prawns, oysters and marinated calamari in vacuum packed pouches with prices starting as low as $2 for a vacuum packed snack sized portion of smoked mackerel to $45 a kilo live mud crab.
Wharf Street
Mia stops by to pick up her lunch which is fresh local prawns from the marina and if you're a seafood monster like me you may weep at the prices. A 5 kg bag of scallops is $35 and the sign tells buyers that all of the seafood is caught between Port Douglas and Cooktown.
$10 prawns (tiger and endeavour)
The tiger prawns are excellent and I prefer these to the endeavour prawns which are slightly smaller and softer.
Harrison's
It's round about lunch time so Winsor and I decide to try out one of the restaurants from last night. Harrison's is Port Douglas's only starred restaurant in the Courier Mail food and wine guide and although the chef from here Hardy Suangin didn't win his heat but that was mainly due to the mystery box ingredients. Whilst he had excellent technique and a great idea of balance there wasn't quite enough use of the mystery box items.
On offer today is a two course meal for $34.50 but I was hankering for some seafood so we go for the a la carte meals and order a couple of entrees as we know that there is an eight course meal waiting for us tonight within a few hours. The entrees are lighter with more seafood options whereas the mains feature duck, beef, lamb and heavier items like Chateaubriand and a nine hour roast. Prices start at the high $30's around $38 and $39 and bread is a tad pricey at $9.50 although it comes with olive oil and dukkah.
The setting for Harrison's is on Wharf Street which is around the corner from the main street. It is a colonial style bungalow and is welcoming and chic in neutral white and dark browns with some splashes of colours in the palm leaves on the walls and cushions.
Moreton Bay bugs $23.50
The Moreton bay bugs came beautifully presented with grilled, caramelised witlof, celeriac puree, smoked bacon, parsley & truffle veloute. The bugs were expertly cooked and sweetened with the grill but still tender inside and the caramelised witlof was an excellent accompaniment along with the creamy celeriac puree and slender baton of bacon. Surrounding it was a light green parsley and truffle veloute soup which was poured on at the table.
_Queensland spanner crab cannelloni $23.50 _
I was recommended this dish by my friend Alison from delicious. magazine and knowing that I love seafood pasta and especially crab this was a no brainer. The pasta is actually made of thinly sliced and lightly cooked carrot so that it has a wonderful al dente texture to it and resembles pasta. It is filled with spanner crab, scallop, ginger & chilli mousse and complemented with a lick of carrot & lemongrass puree, thinly sliced radishes and coconut veloute foam. It was delicate and just how you'd want a crab dish to be.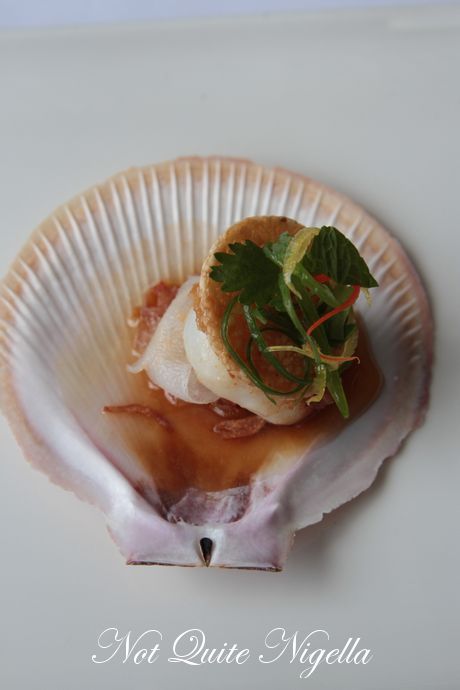 Hervey Bay scallops $7.00 each
Hardy was lovely enough to send out a scallop each for us which was fortunate as I was tossing up whether to order this or not. This is a Hervey Bay scallop, seared, and paired with marinated daikon, black sesame seeds, lime caramel, Vietnamese dressing and topped with sesame brittle. I try some without the sesame brittle and it's ok but not wowing but when I try some with the sesame brittle as it is supposed to be eaten, it really balances the whole dish perfectly and sings.
Caramelised pork belly $22.50
I try some of Winsor's caramelised pork belly and it was quite a good size for an entree. The pork belly is twice cooked and caramelised and split in half and filled with black pudding. There is also a pineapple & white bean puree, quail egg, honey mustard seed glaze which brings a lovely sweetness to the pork belly. Again, you cannot fault the technique here it was very well executed and we're glad we came here after the Food Fight to see what the chef could do in his own kitchen!
Thrice cooked chips with rosemary salt & vinegar $9.00
I couldn't go past the thrice cooked chips. The presentation is gorgeous in some faux newspaper and it comes with a balsamic vinegar spray and rosemary and lemon salt. They were piping hot and moreish and crunchily good. And I ate more than I really intended to...
McCrossin Street
It's time for some more browsing of the main street and I can't help but take a photo at this pub that has cane toad racing! Although we were told there was nothing but resort wear, I manage to find myself a gorgeous boutique called Attitudes that I adore which has the Nookie Trail Blazer dress that I've been looking for for ages and a whole lot of great designers including Natasha Gan, Blessed Are The Meek, Magenta and Samantha Wills Jewellery.
I figure Mr NQN won't mind if I buy a couple of dresses and when I tell him that I almost bought these earrings but didn't because I was trying to be a good shopper than he will be very happy with me dress purchases. He will be, right? ;)
Four Mile Beach
_Apparently the balls are from the sand crabs-see the crab holes? _
I manage to get a quick visit into four mile beach in the afternoon before I get ready for the 6pm pick up by bus. I'm not used to the friendliness of the locals and when someone on the beach says hello and waves I am surprised and assume that they're talking to someone else but no, they're just friendly. And intriguingly the sand is covered in little balls of sand. Apparently the sand crabs empty out their burrows and roll out the sand in balls. Some also say that they glean nutrients from the sand and so they roll it up so they know that they've gone through that sand. Fascinating creatures! Someone make a crab movie!
Palates of Port dinner
This evening's Palates of Port dinner is one of Carnivale's "glamour" events where for $160 diners are treated to an eight course degustation meal with matched wine created by the eight chefs from last night's Food Fight i.e. the top chefs in Port Douglas. This year it is being held at the amazing location at the Flames of The Forest which is a restaurant located within the rain forest under a marquee.
Previously open only to corporates who hosted retreats and incentives here it is now open to the  general public. The location of the restaurant is quite secret though and people can't drive in and instead all diners are picked up by bus from the centre of Port Douglas which is what is happening with all 160 of us tonight!
In a strange sort of arrangement, there are said to be 20 pick ups at different hotels at the same time so our bus inevitably turns up late much after the 6pm pickup. And even stranger, all three buses have to stay together so even once our bus is full, we can't go ahead to the end location. There is some gristling among the passengers who don't see why this need to be the case.
But it is one of those instances that once you get off the bus you're wowed by the setting. The warmth of the orange flames beckon and wax dripping candles and lights lead the path to the forest area and to maximum effect all 160 people descend at once. I was looking forward to trying the canapes by Goran Zonai and Dominik Uhlig of Salsa Bar & Grill. Now this dinner was dark, and no amount of flash will help in an outdoor setting so I was able to capture three out of the four canapes and I'm very glad that I did because these were lip smackingly good.
Tuna tartare with wasabi foam
These adorable little cones had just the right amount of flavour and wasabi hit with a lovely creamy texture. I could have easily sat down with a whole plate of these and eaten them and been very, very happy.
Smoked Crocodile spring roll with Davidson plum chilli sauce
_ _The smoked crocodile flavour was light but present and came in a crispy spring roll with a tangy, thick Davidson
plum chilli sauce. This was another favourite and I liked how different it was from regular spring rolls. After all, the best part of eating while travelling is trying the local food and flavour.
Coral Trout Nemos summer roll with candied coconut dipper (not photographed)
Another delicious little morsel, the summer roll had plenty of flavour and herbs. The candied coconut dipper looked
like a regular chilli sauce to me so I'm not sure where the candied coconut came in but perhaps I didn't have good
enough a look!
Tableland Pork Belly with dragonfruit and scallop salsa
The spoonful of pork belly with a sweet dragonfruit and scallop salsa was a nice accompaniment to the soft pork belly although a touch more seasoning would have been lovely.
Course 2. Bucci Pomodoro by Shaun Malone of Bucci Ristorante
Large LCD screens are set up and they've filmed each of the chefs in their restaurant introducing the dishes and explaining a little about how they're made. The screen flickers and chef Shaun Malone of Bucci Ristorante appears. I've had this tomato soup many times and it is a great way to get the palate going. Shaun explains that  they drain off the tomato water from the tomato in a muslin cloth and what remains is a clear, strongly flavoured sweet, intense tomato water. The first time I tried a tomato water soup like this I loved it. This one comes with a little smidgen of concentrated tomato puree and basil leaves which I did see and we weren't quite sure if we were supposed to stir it in or eat it straight from the teaspoon but down the hatch it goes!
Course 3. Smoked Kangaroo mousse on a lemon myrtle infused pancake by Jannica Forssman of Flames of the Forest
The dinner's only female chef, Jannica Forssman is from the Flames of the Forest restaurant so this was her territory. Her course was a smoked Kangaroo mousse on a lemon myrtle infused pancake served with horseradish cream and aged balsamic reduction and Julatten herbs. I've never had a kangaroo mousse, let along a beef mousse or a lamb mousse and this one is more like finely blended pate that an really airy mousse but it is an absolutely delicious and unusual course. The kangaroo mousse comes as a quenelle of mousse between two lemon myrtle infused pancakes which are strong in that distinctive flavour. There was a little horseradish cream which gave it a lift and on the side was a tart sweet balsamic reduction.
Course 4. Salad by Chris Lonergan of Bistro 3
Although those around me were quite smitten with this and whilst I always appreciate a fresh fig I found that this
was very, very strong in vanilla, too strong for me whereas I prefer a little restraint with vanilla in savoury
dishes as too much can turn it bitter. It was a salad of marinated local figs, green asparagus, Julatten rocket and
goat's curd in a vanilla and sherry vinaigrette.
Course 5. Yabbies by Andrew Jones of Harrisons
Only this afternoon at Harrison's did we have a variation of this-two in fact as they mixed up our order so this is really our third go with this dish. We're not complaining - it's a goodie with grilled redclaw yabbies, caramelised witlof, celeriac puree, smoked bacon parsley and truffle veloute. The presentation is slightly different to what we had at lunch and less refined given the number of mass servings needed but the flavour is excellent and the yabbies end up more tender than the Moreton Bay bugs.
Course 6. Barramundi by Tommy Young of 2 Fish Restaurant
There was no doubt that chef Tommy Young was going to do a fish dish given his restaurant is called 2
Fish. His course was a lime butter brushed barramundi with a salad of pickled coconut, miso poached palm heart and a chilli date puree. Now a chilli date puree is not your usual accompaniment to fish and the other elements are also different so perhaps he was trying to be experimental. I enjoy the fish by itself simply brushed with a lime butter and grilled.
Course 7. Wagyu by Ricky Jordan of Port Douglas Catering & Events
Chef Ricky Jordan was the chef that we had met only that afternoon who also happens to own Blood Orange. His dish is the last savoury dish and is charred Tablelands wagyu beef fillet with blue cheese-filled fried zucchini flowers, Shannonvale black sapote jus and crisp potato rosti. Whilst the aroma and flavours were there, the beef was medium to well done which wasn't to many people's liking. I ate the bits that weren't as well done and the blue cheese stuffed zucchini flowers and the potato roesti. I realise that doing beef for 160 all at once is a hard task (and the reason why we didn't have beef at our wedding dinner).
Course 8. Pavlova by Vikas Chandra & Jarrod Silver of Sheraton Mirage
The theme of this dessert was a tropical island and when we see the palm tree made out of coconut tuile it is
immediately obvious. There is a pineapple & lime pavlova which actually tastes like a regular meringue sitting on top of a two layered disc of white chocolate mousse and strawberry jelly and pineapple and lime jelly although I find the jelly a bit firm and I prefer softer jellies. The white chocolate mousse is fluffy and light and the coconut tuile is a favourite too.
Tasting the chef's food, their skill comes to the fore especially since there is no mystery box involved. We're stuffed full from a whole day's grazing and it's a late night finishing at 11pm and we get the first bus to the hotel. Of course it's a long trip and we are the last to get off but the adage from Virginia Woolf on Harrison's menu this afternoon echoes in my mind.
So tell me Dear Reader, have you ever tried crocodile? Or what is the most exotic meat you've tried?
NQN travelled to and the Taste Paradise Food Fight with Taste Paradise, Tourism Port Douglas Daintree and Tropical Tablelands Tourism.
Mocka's Pies
9/34 Grant Street, Port Douglas QLD
Tel: + 61 (07) 4099 5295
Mossman Markets
St David's Church, Mossman, QLD
Blood Orange
Warner St Port Douglas QLD
Tel: (07) 4099 4989.
Port Douglas Seafood House
11 Warner Street Port, Douglas, QLD
Harrisons
22 Wharf Street Port Douglas Qld
Tel: + 61 (07) 4099 4011.
Attitudes Boutique
Shop 6, 56 McCrossin St, Port Douglas QLD.
Tel: +61 (07) 40994522