Allow me to introduce you to my Spring shoes. Every year I take them out and this signals the beginning of Spring. It's like a yearly ritual. I think they're perfect for picnics, shopping and pretty frocks. Except of course the cone shaped wooden heels mean that you end up sinking in the grass. Let's not spoil that moment with reality shall we?
Spring shoes
I was thinking about what I should do with pineapple, actually eight pineapples. I mean it's not every day that a courier knocks on your door and delivers you eight lovely specimens of pineappledom. These Queensland pineapples are called "The King of Fruit" Pineapples and they are a particularly sweet breed of pineapple that doesn't give you that awful reaction in your throat and mouth that others can. I tweeted about it and shortly after the lovely Bronnie from Nowhere like Queensland blog suggested that I make a pineapple meringue pie.
I thought that there was no better way to usher in Spring than with this gloriously golden concoction. She was kind enough to furnish me with her mum's recipe. I expanded on it a bit and added vanilla as I think that pineapple and vanilla go together better than my shoes and Spring. I decided to use the buttery almond pastry recipe from the Italian Ricotta cheesecake.
The result? Heaven. Quite honestly it was probably one of the best pies I have ever tasted. The pineapple filling was just the right amount of sweetness and it was lightened with the fluffy, sweet meringue on top. The pastry was soft and yielding and the whole thing was like tasting a golden sunshine day.
So tell me Dear Reader, what is your favourite part of Spring? What are you looking forward to doing during Spring the most?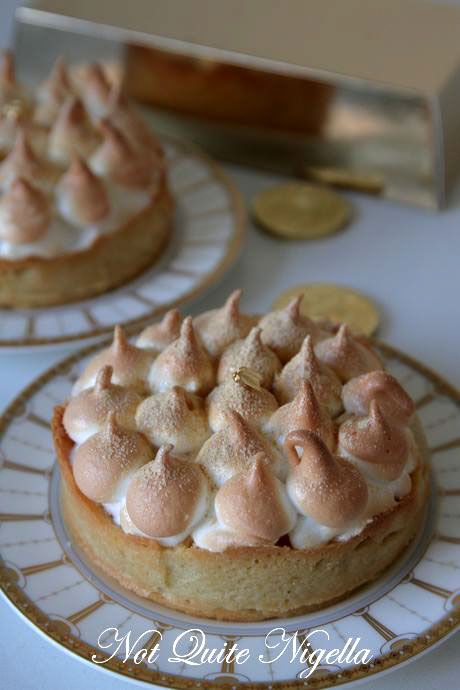 Pineapple Meringue Pie
Makes 4 individual 11cms pies or 1 large pie
For base:
1 egg (55g) (The pastry can be made without egg)
For filling:
1/2 cup-1 cup caster sugar (I used 1/2 a cup as the pineapples I used were very sweet)
250grams/8 ozs pineapple, blended (or you can use a tin of crushed pineapple, undrained)
1/2 cup cornflour mixed with 1/4 cup cold water
2 teaspoons vanilla extract or paste
For meringue topping
1/4 teaspoon cream of tartar
For presentation (optional)
Buyer's tip for pineapple: Choose fruit that is free of soft spots, bruises and darkened "eyes", all of which may indicate a pineapple is damaged or past its prime. Look for skin colour that is right for the season. In winter look for more coloured fruit, while in summer, look for greener fruit with a ring of colour at the base.
Step 1 - For pastry, cream the butter and sugar in an electric mixer with a beater attachment until light and pale. Add the egg, and continue creaming until absorbed. Stop mixer and add the flour, mix only until combined. The dough will be very sticky, wrap in plastic and chill for 30 minutes. Roll out or press into 4 x 11cm individual tins with springform sides or loose bottomed tart tins. Preheat oven to 200c/400F and bake for 15 minutes until golden. Don't worry if the pastry falls down the side slightly. Cool. Or you can always buy a pie base or use pre-rolled shortcrust pastry, just ensure that you bake it through completely. I just prefer this buttery, eggy pastry.
When first stirring, it will start to thicken...
To become this!
Step 2 - In a small saucepan, place the sugar, salt, pineapple, lemon juice and lemon zest and heat until simmering. Remove from heat and add egg yolks and cornflour water mix and stir thoroughly. Place back on a very low heat and allow to thicken, stirring to ensure that it doesn't catch on the bottom of the saucepan. Add vanilla.
Step 3 - Remove the sides from the base and fill with the pineapple meringue filling.
Step 4 - Preheat oven to 200C/400F. Ensure that your electric mixer and whisk attachment is very clean and free of any grease. Whip egg whites with the cream of tartar until soft peaks form and then gradually add the caster sugar until it becomes glossy. Spread a layer of meringue on top of the pineapple filling and smooth it flat covering up any gaps or holes.
Spread a layer of meringue to smooth the surface for the piping
Then pipe away remembering to keep the piping bag vertical for this effect
Step 5 - Place meringue in piping bag and snip a small hole at the top. Pipe meringue as you like, I was inspired by the Zumbo cloud dessert from a few years back. Place in the oven and bake for 5-8 minutes watching it so that it doesn't burn. Remove from oven and sift lustre dust on top and a bit of gold leaf is desired.