I have always found rainbows beautiful. Usually because when I see them I'm usually out and about and cursing the rain and its effect on my shoes but then a rainbow suddenly appears and instantly everything is all right with the world again. I think "Oh yes that's right, _that _was what we were all waiting for!".
I was snapping a picture of a rainbow while shopping on Oxford Street and a group of chic fashionistas walked past me holding bags that weighed more than they did. They paused and looked at what I was photographing. They looked up and stared in wonder stopping for about 10 seconds to admire the rainbow and coo over its beauty. Nobody hates a rainbow and I'm convinced people that hate rainbows also want to punch soft toys and run over pandas.
I was inspired by the Zebra Cheesecake that I made a few months ago. I didn't want to make it exactly like the vertical patterns as rainbows are really sort of curved more than vertical. I wanted each slice to look like a slice from a rainbow with layers of colours. The actual cake recipe itself is a plain vanilla pound cake (based on the Daring Bakers cake we had last month) but you could of course add whatever flavour you like as long as it doesn't change the colour of the batter-obviously chocolate is out unless it is white chocolate. You could also use another vanilla cake recipe if you don't want to use that much butter. I was kindly given these Wilton colouring gels by the people at Little Betsy Baker and I only needed the tiniest 1/4 teaspoon to colour the batter vividly. I prefer using gels to liquids as it doesn't change the consistency of the batter.
I almost wished that I hadn't iced it because the effect of the cake by itself is pretty enough as it is. And please be judicious and if your child has ADHD tendencies due to food colourings, this is perhaps not the cake to serve them. Please refer all complaint letters to the government.
So tell me Dear Reader, do you stop and admire rainbows?
Rainbow Cake
19 oz or (275g) unsalted (sweet) butter
1 cup granulated or caster sugar
1 teaspoon pure vanilla extract
4 cups (400g) sifted cake flour (to make cake flour, place 2 tablespoons cornflour in a 2 cup measuring cup and top fill up the rest with plain flour)
2 teaspoons (10g) baking powder
Food colouring gels in: Royal Blue, Violet, Sky Blue, Green, Yellow, Orange and Red
To decorate
Fondant in the colours of your choice
Step 1 - Preheat the oven to 325°F/160°C and put a rack in the centre. Butter and line a 21cm round springform pan. Weigh the bowl of your electric mixer and record the weight-this is important.
Step 2 - Beat the butter and sugar in an electric mixer until light and fluffy, about 2 minutes. Beat in the eggs one at a time, mixing well-it may look curdled but it's ok, it will come together once you add the flour. Then add the vanilla extract. Stir in the flour mixture and baking powder at low speed until just combined.
Don't forget to mix it up really well!
Step 3 - Now comes the tricky part. Get your food colouring and get 7 bowls or containers. Figure out how much your batter weights. To do this, you weigh the bowl with the batter and subtract the weight of the bowl that you recorded. Mine weighed about 2 kgs (4 pounds). Divide into seven which was just less than 300grams/10.6 ozs per container. The last colour that put in it will dominate so gradually put a little less for the last colour (which for me was red). I started with 280grams for the Royal Blue and ended up with about 220grams for the red.
The first shade
Then the second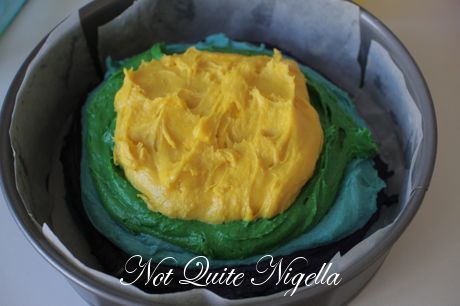 Then adding more
Step 4 - Take your lined pan. place a circle of the royal blue batter in a circle shape. Then in the centre of this place another circle of batter of the Violet. Keep doing this with the rest of the colours until you reach the last colour red. My dough was a bit too thick so I pressed it down with a sheet of parchment so that it reached the sides. Place it in the oven being careful not to tip the tin sideways.
Flattening it down a little
Ready for the oven
Step 5 - Bake until a toothpick inserted into the centre comes out clean, about 55-60 minutes. Cool in the pan 10 minutes and then cool.
Vanilla Buttercream
125g/4 ozs butter, soft at room temperature
3 cups icing sugar, sifted
Step 1 - Beat butter in an electric mixer fitted with a paddle attachment. Gradually add the icing sugar 1/2 cup at a time along with milk to help it bind. Beat for about 5 minutes on medium to high speed. Add vanilla extract and beat until incorporated. Spread onto cooled cake.
To assemble
Step 1 - Roll each fondant colour into a long sausage shape and then flatten out with a small rolling pin. With a sharp paring knife or a pizza cutter, trim it to make a rainbow shape and place on cake.