I don't usually make it a habit of writing about restaurants that have only been open for a few weeks. They're usually finding their feet and finding their style and things often change as they settle in. But when Anna from the South Australian Tourism Commission suggested Celsius on fashionably funky Gouger Street in Adelaide and I was told that the chef Ayhan Erkoc was ex Noma (yes the top restaurant in the world according to the Michelin guide) as well as The Manse, Marque and Pier, well some rules are just made to be bent ever so slightly.
Inside is quite stunning indeed. On the right hand side are little alcoves where tables for two sit down. On the left there are soft velvet booths and they are yellow glowing lit from within marble tables and the bar is given the same treatment. It's sleek looking but warm at the same time. Service is friendly but a little unsure on some details - this might be the newness of the place being only two weeks old.
Rye Bread with whipped parsley and regular butter
The rye bread is fresh, soft and the quennelles of parsley and regular butter are light and melt easily.
Bubbled Pork crackling, yogurt fennel pollen $6.50
At first I was all fine with having an entree, main and dessert. Until duh duh duh dum... I saw the bubbled pork crackling on the menu! It comes out looking like a sculpture. The pork crackling is earth shatteringly crisp and we find ourselves simultaneously trying to eat it without causing too much of a ruckus and without spilling dehydrated yogurt all over ourselves (bring a bib! ;)). There is some fennel pollen deep fried within the crackling and then a tangy, salty dehydrated yogurt on top that is pure umami.
"Vegetable patch" snails, herbs, soil, flowers, raw and pickled vegetables $18
OK I ordered this more for the curiosity value. I knew it would be pretty as Anna had mentioned that the chef liked using nasturtiums and flowers in the dish. It comes out on a tile and looks just like a pretty garden. The snails are lightly battered and deep fried and there is an assortment of baby vegetables including orange and purple heirloom carrots, flowers, carrot tops, paper thin carrot slices, radish and cherry tomato. Some of the carrot was pickled which I  preferred (I'm nonplussed about raw carrots) and whilst this was pretty and creative, I think this would have been appreciated by Mr NQN who loves his raw vegetables more than me.
Cured and smoked bonito, kohlrabi, dill, cream, fennel, potato $20
I preferred Anna's dish which was cured and lightly smoked bonito fish, kohlrabi strips, dill sprigs, fennel strips and crunchy potato that was like delicious potato crisps on top of the delicious bonito.
Caramelised lamb sweet breads, seaweed, radish, beetroot $19
Chef Ayhan Erkoc was kind enough to send us out an extra entree, the lamb sweetbreads served with a strand of beetroot puree coated seaweed and half a radish and some golden beetroot. I do love sweetbreads and they're soft, tender and squishy with the earthy beetroot seaweed.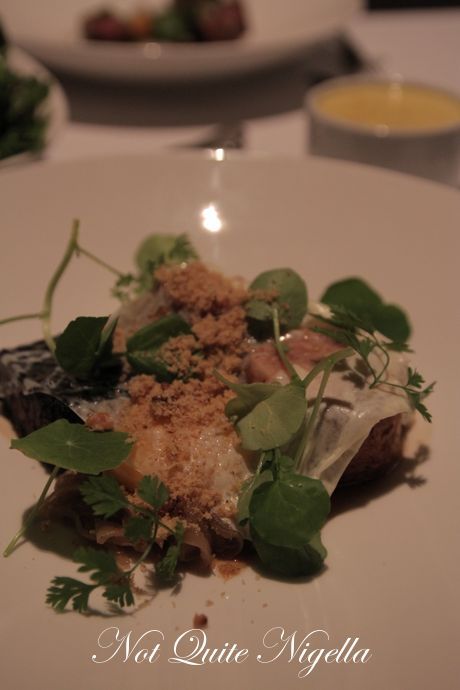 Barossa Valley chicken, boudin noir, yolk, milk skin, walnut $28.90
Our mains come out shortly after and I decided on the local chicken, from the Barossa Valley. It is paired with a boudin noir (black or blood sausage), a yolk, milk skin and walnut powder.Milk skin you ask? Yes this was why I ordered it. I've always had a secret fetish for the skin on top of milk.  The combination of the chicken, yolk, milk skin and boudin noir is lovely but I find that I only need a bit of the boudin noir or it may overwhelm the chicken. Instead I eat the rest of the boudin noir with the creamed corn which I enjoy immensely.
Salt Bush lamb, lentils, black garlic, carrots, turnips $31
Anna's salt bush lamb is divine. There are loin pieces which are perfectly done and edged on one side with fat and then there is a brisket piece which has an interesting texture, quite dry and soft with an almost dessicated quality. And the black garlic which is such a costly and interesting ingredient, smeared on the side of the plate is the finishing touch giving it an intriguing smokey and sweet flavour.
Creamed corn $8
I love corn and this creamy lovely sweet corn is eagerly and quickly devoured by yours truly. Don't judge me.
Chocolate mousse, honey comb, peanut praline, banana $16
This reminded me of some of the dishes at Attica. It is chocolate mousse in tiny morsels which are firmer, almost like a ganache, honeycomb shards, peanut praline with pieces of soft banana. On top is a banana ice cream which tastes like pure, smooth, sugar banana. I really enjoy the textures and flavours to this dessert.
Star anise custard, caramelised pineappple, pain d'epice, rum sorbet $14
The star anise custard comes out as a squat squirt of fragrant custard with some dark caramelised pineapple which is sweet and delicious, some gingerbread crumbs and a rum sorbet.
In this case, I'm very happy I "broke the rules"! ;)
NQN travelled to and explored South Australia as a guest of Tourism South Australia.
Celsius Restaurant & Bar
95 Gouger St, Adelaide, South Australia
Tel: +61 (08) 8231 6023