"Hi honey,
I had a lovely bath last night and watched Miami Ink while lying in the bathtub which had lots of people with tattoos. They actually looked really interesting but don't worry I'm not getting one.
I have to get up bright and early for the Barossa Farmer's markets tomorrow morning so have fun sailing! Call me at The Louise.
Love,
Me-me-me
xxx"
I start the day off with my breakfast in the suite. I knew I'd be nibbling a lot today so this was eating light. I had a glass of premium cloudy Adelaide Hills apple juice (I adore cloudy apple juice) and a plate of locally cured smoked ham with Ballycroft fresh cheese and house baked rye bread. It's perfect low carb food and the rye bread is sliced super thinly. The cheese, soft, ripe fresh cheese and thin bread are just ideal for a day of snacking and feasting.
That was the grand plan at least but when the bed is this comfy and the wind and rain are beating down outside rocking you to sleep. I look outside the window while having breakfast and it is still bucketing down. South Australia is the the driest state in Australia-yes even drier than the centre of Australia which was news to me! So this torrent of rain is an anomaly. I'm afraid I had a bit of a late start. And I start the day off in style when my fantastic tour guide John picks me up in this beauty! "Instead of driving Miss Daisy I'm going to be Driving Miss Lorraine" he says smiling. Aww why can't life come with a  tour guide like John?
There are only six of these Daimlers in Australia and John owns three of these. This beauty was found in a paddock rusted out with chickens living in it in country Victoria. John himself has lovingly restored it and I get to be a passenger in it. The car itself lets you have 180 degree views as your seat is far back to allow you to see more. They were also built to be royal cars so that these windows open and you could wave to the people outside! I refrained from doing so ;)
It's cold and wet but despite the late arrival it is still buzzing. These farmer's markets are undercover and held every Saturday and are where locals do a lot of their regular weekly food shop. To qualify for a stall here, you  must be a primary producer so that this is a true farmer's market. I meet Jan Angas who is part of one of the most well known families in the area. The Angas family settled the nearby town Angaston.  She has her own stand which is the Hutton Vale Farm which grows pasture fed lamb.
For a state as dry as South Australia, most of the livestock is fed on grain as the pastures do not allow for it. Jan prefers to keep it small and keep true to making pasture fed lamb done as naturally as possible. Jan tells me that she gets feedback that celiacs and gluten free eaters have reported having some issues with grain fed lamb but not with grass fed lamb. South Australians are the first and so far only state to have banned plastic bags at the supermarket checkout and they have a rather nifty idea to make newspaper bags to help recycle the newspapers.
We start with the pastry brand Carême. OK all of you pastry aficionados in Australia are probably familiar with the Carême premium puff pastry using real butter. What you may not have known (and I admit I didn't know) is that Carême also bake tarts, pies, galettes and all sorts of other pastry goodies.
There are some absolutely luscious looking apple tarts, some chocolate tarts with gold leaf on top and the piece de resistance, a lemon meringue pie. It's clearly calling my name. You hear it too don't you? Interestingly some brands don't have shop fronts and they only sell at these markets. Carême is one of them-I guess they're too busy making pastry! :)
We start off at Ellis orchards. They previously had three orchards where they grew fruit figuring that if conditions or weather affected one then the others would help in that regard. They've now sold two of the farms but have kept one.
Everyone behind the stalls is from the company itself and Carmella is another example of this. She makes three products in Angaston, a Kasundi which is a versatile wet curry paste that can be used for curries but also for things such as marinades for fish and meat. Each jar can make up to ten curries.  She also does a dry curry spice blend which is intoxicatingly fragrant and a chutney. And Carmella was kind enough to give me a jar of her Kasundi paste! I'm suddenly the best wife for bringing this home.
The man who was the face of the Barossa farmer's Markets and a favourite of the French journalists that visited is John from Cornucopia Olives. He's strumming a guitar when we arrive at his stand. His speciality is seawater olives that are said to have a milder salt taste than regular olives but this also means that they have a stronger olive flavour to them. They're so popular that they've sold out by now. He uses Lecchio olives from 20 year old trees that have never been fertilised or irrigated and they were planted wide which means that they survive the drought.
I stop by Bite The Biscuit where Melting Moments take on mammoth proportions. As Jan says they're not melting moments, they're melting hours. They've been making biscuits for three years now and the woman behind the counter hands me a Melting Moment "to enjoy later at your own leisure". How lovely! I've got my cup of tea already planned for this (oh and by the way it's delicious with a lovely tangy icing in the centre of the biscuits!).
We stop by the award winning honey placed Turner's Honey. Their creamed honey, barossa valley pasture honey and their cup gum honey have all won awards. He is an ex accountant of all things!
We meet Rosemary at Four Leaf where I instantly recognise those packets as the same ones that sit in my pantry. When she first started making certified organic products people told her that she was mad and that no-one would be interested in them. Fast forward to several years later and now there is a big demand for organic produce. Her husband had an interest in engineering so he built the stone mills which meant that the cash outlay for the equipment was lower. The company have just celebrated their 40th birthday.
We pass by Fleming and Ware who make several types of muesli using Four Leaf's organic oats and South Australian only fruit and almonds "The worst thing I can hear is when a Turkish apricot is in muesli" she says defiantly. Oops, better not tell her that I happen to love Turkish apricots then!
Among the businesses there is also a mix of cottage industries. There is a small grower that sells the produce from her farm.
We suddenly bump into Mark McNamara who is doing today's shopping for supplies for tonight's dinner. He is talking to Michael Voumard who is well known for having his own garden  and for striving for fresh and natural ingredients while doing things like growing his own paprika. He has five biodyanmic acres on which he grows produce and on Thursday and Fridays he holds Stonewall society dinners in the Rockford Winery on a table that seats twelve people only. And it's for Stone Wall Society members and their friends and is booked out months in advance.
I try some delicious little morsels at the Steiny's stand. Jan tells me that every town has a butchers and a smokehouse and that people buy their Mettwurst (a smoked sausage similar to salami) from their favourite supplier and everyone has their own favourite.
Another cottage industry is Elaine's relishes, chutney and pickles. She has both a standard line and a seasonal line which reflects the fruit of the current season.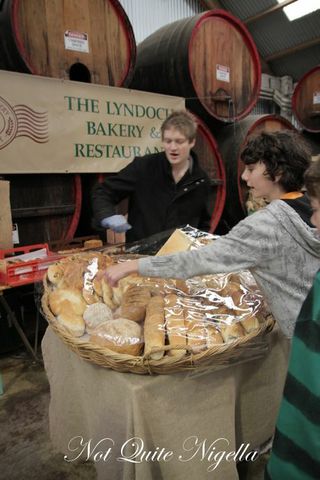 The Lyndoch bakery sells all sorts of German based breads, rolls and twists as well as as sourdough, white and wholemeal leaves.
The carrot juice man!
Jaci had told me to look out for the carrot juice man. The Lowke family grows carrots, parsnips and potatoes and sell cups of the refreshingly good carrot juice. I try some and it's fantastically fresh and zingy and sweet.
Next to them is the Kurianda stand that sells some absolutely fabulous products. Everything that I tried there I wanted to bring back with me on the plane. First there is the wild olive olive oil where they use wild olives from 80-90 year old trees. They also make  stunning bush dukkah with pistachios and bush spices as well as a shiraz sauce. If my luggage wasn't already bursting with lovely gifts from the generous South Australians I would have bought all three to take home with me. Well if I could as most of it had sold out! Good for him, not good for my hungry tummy (although good for the scales) :(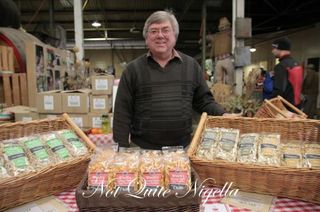 We then stop by Wiech's egg noodles. The orignal Mrs Weich started making these egg noodles in 1935 and since then the range has expanded to include spelt egg noodles and varieties such as chilli. John's daughter is a big fan of these noodles and Jan explains that these were known as the "breast pressed" noodles as the sturdy German women that used to scoop up the noodles once they were cut were rather well endowed and would gather up the strands and hold them to their breasts to carry them!
We pass Jersey Fresh milk from Greenock. The Louise supplies guests with Jersey Fresh's milk from jersey cows which is a lovely non homogenised milk. It is pasteurised as they have to do that  by law and that is done within 24 hours of the cows being milked. However it is not homogenised which means that it hasn't got a lovely layer of cream on the top.  Homeogenisation is a process that breaks up the fat globules and distributes them evenly throughout the milk.
We go to the other shed which is separated by a wall of port barrels from Yalumba. The shed itself is a weekly donation from the Hill-Smith family of Yalumba. We pass by Pewsey Vale who have a full hereford beef which are raised just near Rowland Flat. All of their livestock is reared, killed and packaged there which means less food miles for the beef.
next to them is Nina from the Barossa Plains Black Angus beef. Here they raise the Angus on grass near the Barossa valley ranges but finish them off with grain to give them marbling but also teh flavour from grass fed and they are  afmily breding operation.
Alex from Thornby grain fed lamb is a new entry here into the markets and they raise a lot of their lamb in Sanderston but also buy in some but all of these lamb can be traceable back to their origins and all are antibiotic and hormone free.
Eleni's makes a very popular foccacia from  an olive and rosemary one to an olive oil and salt one (which is so scrumptious). Sadly she has sold out of her summer cake which is I suppose the punishment I must take for getting there late.
Ricky from Garden Gully was a farmer who used to sell to Angus Park and other large dried fruit manufacturers. Up until six years ago, dried fruit farmers were not allowed by law to sell directly to the public unless it went through a regulation packing shed. When they went to sell their fruit, there was a size requirement for the companies to purchase it and if any didn't fit the size requirement, they weren't allowed to sell it  and it was fed to the pigs-an enormous waste and just so heartbreaking for the farmers. Now since the law has changed, they sell directly to the public and they no longer to these large companies!
Yhe Ballycroft cheese was started by two sisters Tracey and Sue. Tracey is the cheesemaker and Sue takes care of the rest of it. They operate the cheese making business on the vineyard property of Sue and her husband in Greenock. They only use the milk from one farm which has freisian and jersey cows and make 40-50 kilos a week. I was lucky enough to try some of the soft cheese this morning and it is delectably good. There are five varieties that they make from Greenock Gruth, Fresh, Broch, Annwn and Annulet.
One of our last stops if Matthew from the Waetcher duck stand. They sell two varieties: Peking (which they buy in at 1 day old) and Muscovies which they hatch themselves. The peking ducks are fully grown and ready at 12 weeks and the muscovies at 14 weeks. As the pekings have more fat on them they are better for roasting (in say Peking duck etc) and muscovies can be better for duck breast dish. Matthew is an ex roofer who literally fell into the business when he fell from a ladder and broke his neck and had to find a new vocation.
And with that last tidbit, that was the famous Barossa Farmer's Market!
"Hi honey,
How was your day at work? Don't forget to eat tonight. I know you sometimes do. As for me I'm going for 1918. You know I never forget to eat.
Love,
Lorraine
xxx"
When a similarly food obsessed local Heather told me that 1918 was her favourite place to eat ever, I knew it would be good. She was one of my fellow students at the Sticky Rice cooking school and she and I were similarly utterly besotted by food. And when you travel one of the most enjoyable things is eating somewhere that locals eat. And it seems that 1918 is the local's choice for where to eat.
I'm dining with Jaci from South Australian Tourism tonight and we are seated in front of the roaring fireplace. I suspect that if I lived in South Australia, I'd learn quite quickly how to start a log fire! We start with some fluffy, thick Apex Bakery bread with parmesan oil. Parmesan oil? Yep, as good as it sounds, the flavour is pure reggiano and our little supply of it is quickly soaked up by the huge slices of fluffy, soft bread. Choosing is difficult, everything sounds very good indeed so I ask for the friendly waitress's recommendation.
Jaci from had let me know that the open vegetable lasagne was more like a vegetable stack and she is right. There are two layers of pasta which sits some asparagus spears and tallegio and for the other layers are large, grilled field mushrooms. It is accompanied by a sweet pumpkin emulsion slicked down the centre and a mushroom duxelle on the side. It is very tasty although not very much like a traditional lasagne if you are looking for that sort of thing.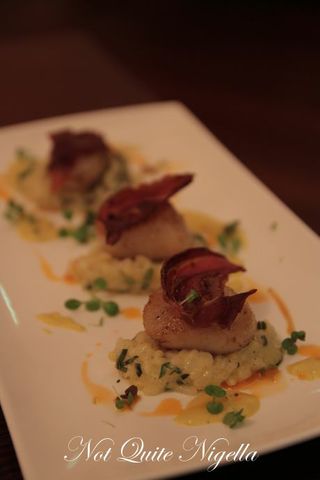 I try some of Jaci's scallops and they're seared on the outside and very soft on the inside. Each scallop comes on a little pile of corn and basil risotto and a crispy piece of pancetta. It is good although the pancetta is a little too crispy so that it is a bit hard to cut.
Ahh I was very happy when the waitress said that this was their signature dish. I do love me a pork belly (or pork belleh!). It came with a beautifully crisp crackling, a soft magical layer of fat underneath it and soft meat on the bottom. The prawn raviolo was filled with a finely mince prawn with spring onions and herbs and resembles one of those Chinese prawn balls that you can buy in shops. What we think at first are turned potatoes are actually sweet and sour turnips with are sweet and tangy. The pork is paired with an apple cider reduction which lends it the perfect sweetness.
I try some of Jaci's pink roasted duck breast with its distinctly Asian flavours. The coriander buckwheat has a good flavour to it and pairs well with the duck breast but I have to admit I'm in love with the pork belly. Sorry duck!
My banana and kahlua brulee had a lovely crack on the top and was served with a confit pineapple. Instead of being twice cooked in fat like a duck confit, it appears cooked in a sugar syrup making it super sweet. It came with a macadamia praline and a honey biscuit
There was a table next to us that had ordered this and it came to the table with a flourish delighting all of us around them. This is a round tower of sesame tuile filled with mandarin mousse and topped with saffron pashmak (Persian fairy floss). The gingerbread soil and mandarin sorbet sat on the side. I didn't try this but Jaci seemed to like it although perhaps the gingerbread and mandarin sorbet would have been better elements to be enjoyed separately rather than together.
A food day like this is hard to top and we're off to our last stop tomorrow to meet more producers and explore some more of the shops!
So tell me Dear Reader, do you shop at markets very often?
Barossa Farmer's Markets
Every Saturday from 7:30am-11:30am
1918
94 Murray St, Tanunda, South Australia
Tel: +61(08) 8563 0405
Open 7 days
LUNCH 12pm to 2.30pm
DINNER Monday to Saturday 6.30pm to 9.00pm, Sunday 6.00pm to 8.00pm