After the thrill of exploring  Kangaroo Island we arrive at Kingscote airport for our short flight to Adelaide airport where we'll stay the night. The flight is a mere 20 minutes and after arriving in Adelaide, we check into the Medina Grand Treasury, a heritage listed sandstone building which was originally the office for the State Treasury. And did you know that the Beatles ran through the courtyard of the building in 1964 to elude fans?
The location is very good, right next to the Town Hall and opposite the GPO and Mr NQN and I go upstairs to room 56, a lovely suite overlooking King William street and Victoria Square. More of an apartment than a hotel room there are nice touches reminiscent of Parisian apartment with large windows, elegant colours and Louis XVI style chairs. There is also a kitchen and mini bar. The bathroom has a shower bath combination and toiletries like shampoo, conditioner, body wash and lotion. Internet is fast although pricey at $24.95 for 24 hours and you can connect up to two devices. But no time to explore as we're expected downstairs for dinner!
We all craved something casual, spicy and lighter for our final night so Philip sought the advice of Ann Oliver who recommended the Chinese at Citi Zen. Now a Chinese restaurant inside an Irish pub might not be what you would expect. This one has a striking Chinese lantern lighting feature in the centre of the room and a walk over fish pond underneath it.
We take a seat at the enormous table with the lazy Susan in the centre and the task falls to me to order. I'm worried about choosing  because I've never been here before so I don't necessarily know what to order and there are so many tastes to cater for! I want to order everything from the back pages (i.e. the freaky exotic selection) but we come to a mix of items that would hopefully please most.
No meal is complete without dumplings of some sort and we go for the yum cha selection with steamer trays full of scallop, chive and spinach dumplings. The prawn dumplings, pricier than at lunchtime yum cha are nevertheless excellent. The prawns in them generously portioned and juicy and fresh although the outer skin was a tad floury.
The chive dumplings are always a favourite of mine and these don't let down and surprisingly the outer skin on these aren't floury at all, they have that appealing thinness and light stickiness. The filling is well seasoned and moreish.
The square spinach dumplings weren't bad although out of the chive and the spinach I preferred the chive.
With so many of us sporting colds and flu, a big serve of the won ton soup was ordered. It is usually served in a large pot but these were ladled out into small bowls by the kitchen with a half a boiled chicken that we fished out and pulled apart and ate-waste not! The won tons inside were excellent and full of flavour.
A request for chicken and cashew nuts was made by Dick who said that he loves cashews and it's a nice dish with tender chicken pieces, carrot and celery (perhaps a bit too much celery for me) and a sprinkling of cashew nuts on top.
We thought that we'd order two types of vegetables as we had been eating so richly and we fell upon both vegetable dishes. They are well cooked and simply done with a good variety. No complaints here.
There's something about gleaming green Chinese greens that is so soothing and welcoming when just served simply with oyster sauce. I enjoyed these on top of the rice.
There were a few kinds of fried rice and we chose the special one which had prawns although I would have preferred a bit more char siew or Chinese sausage.
OK this was my controversial choice - not controversial in itself because salted egg batter is delicious but I didn't realise that they would be serving these head and shell on and battered which was a tad too much for some. I really liked them, especially the heads which were packed with flavour but I felt bad because some didn't like these as much (and to be honest I think salted egg yolk batter is best on crab.
Two tofu dishes were chosen in an effort to select lighter choices (classics like crab and Peking Duck voted out as we wanted a quick, light meal). The fried tofu was stuffed with prawn meat and fried and served as squares with a glossy, sweet sauce on top.
Pipa tofu is my favourite tofu dish and every time my parents buy in takeaway, it is my one request. Pipa tofu is soft tofu mixed with Chinese sausage and scallops and then fried and covered in a delicious sauce. And I must say that the serve of this is enormous and the pipa tofu hits the spot like no other dish.
There's complimentary dessert, a fruit plate and some delicious sago and coconut jelly wedges and some mango jelly wedges too. It was just what we needed and we take the quick walk back to the hotel where we collapse into bed and sleep like babies. A most fitting and nice way to end our South Australia trip!
So tell me Dear Reader, when you order, do you choose from the "freaky exotic" back pages or the regular mainstream list? And do you like the free fruit at the end or do you also order dessert at Chinese restaurants?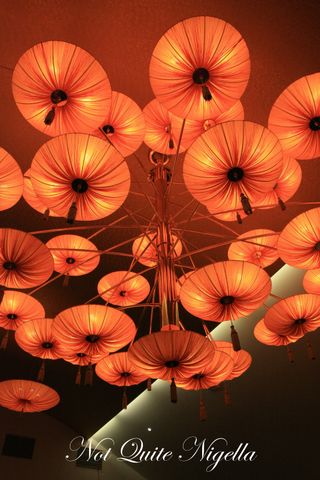 NQN and Mr NQN travelled to and explored South Australia as a guest of the South Australian Tourism Commission and Audi
Medina Grand Adelaide Treasury
2 Flinders St Adelaide SA 5000
Tel: +61 (08) 8112 0000
CitiZen
401 King William Street Adelaide SA 5000
Tel: +61 (08)8212 8383