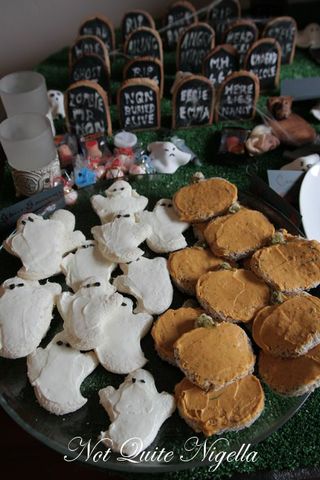 BOO!! These Halloween open sandwiches are so easy to make but so effective! I made my own labne (yogurt cheese) as it is incredibly easy to do (mix a teaspoon of salt into a tub of natural yogurt and strain through muslin for two days). The only thing you do need is foresight as it does require a couple of days to drain all of the whey out. If all of this sounds too stressful use cream cheese!
Did you make this recipe?
Share your creations by tagging @notquitenigella on Instagram with the hashtag #notquitenigella
Ghost Sandwiches
An Original Recipe by Lorraine Elliott
Preparation time: 25 minutes
Cooking time: 0 minutes
Makes 28 sandwiches
500g/1.1lb labne or cream cheese
1 loaf white sandwich bread
1-2 pitted black olives
Step 1 - Using a ghost cookie cutter, cut out bread ghost shapes. Spread with cheese with an angled spatula and then chop up olives finely and place two black olive eyes on each ghostie.