This restaurant has now closed
All images taken on a Sigma 17-50mm F2.8 EX DC OS lens
Sundays or the weekend is supposed to be a time for resting but for me, it's the busiest two days of the week where I try and get in as much recipe testing and eating out as possible. However one Sunday morning I found myself staring at my calender. There were a few appointments, a radio interview with the gorgeous Dominique Rizzo and errands to run but there was a huge gap of time and the sun was shining so beautifully I could have almost convinced myself that springtime was creeping closer than it actually was and I said to Mr NQN "let's go out for dinner tonight!"
However, it was Sunday and my grand plans came to a crashing halt when I realised that most of the restaurants that I wanted to eat at were in fact closed on Sunday night. But there was one that was open-all Sunday in fact from the morning to the evening and when Mr NQN asked Louise and Viggo whether they'd like to catch up over an early Sunday dinner plans were quickly made.
Rainford Street Social is located where Bird Cow Fish used to sit on the corner of Crown and Rainford Streets. The exterior is welcoming and the glass doors look into the restaurant that appears warm and cozy. By each side of the entrance there are potted herbs and two bowls of food and water for customers with dogs. The interior is about warm coloured woods and there's an open kitchen and the ultimate hipster accessory a Penny Farthing sits by the pot plant dotted window.
Booking, well this can only be done online which didn't work on my phone so I tried calling to get an answering machine where I left my booking. However we later learn that this isn't manned on weekends so it's lucky that we're visiting early on Sunday night and not on a busy night where we would have been turned away. I'm don't mind online booking systems but they really need to work and I think it's useful to be able to talk to a human at times.
We take a seat at a table and I look around in wonder. By George, we're sitting a table for four with plenty of room on it! Perhaps we're just used to squishy tables but this one is set for four and at another place, it would be set for at least six people. Viggo spies the pork roast on the chalkboard and is delighted-one thing that I've learned about Danes over the years is that they love roast pork so we order this and it's a good thing that we do as we get the last order of it. They only make a limited number of portions of the Sunday roast and it can run out at any time. Our waitress tells us that it's best to call ahead to reserve one (although given my experience with the answering machine, I'm not sure that they'd get the message). We order drinks and Viggo goes for a locally brewed beer called The Grifter which is made at a brewery just nearby. Louise goes for a "Whiskey in a Yuzu Jar" and Mr NQN orders a cider.
The Dude Shake $9 and Whiskey in a Yuzu Jar $12 (right)
There are three milkshakes on the menu and I go for the Dude Shake as recommended by the waitress. It has vodka, Kahlua, espresso, vanilla ice cream and milk and it is exceptionally drinkable, even for someone that doesn't really drink entire milkshakes or alcoholic drinks. It's only when I start to get flushed that I realise that I probably should eat something before slurping down the entire thing.
The Iman Fainted $4 each
These toasts were much bigger than we had anticipated, in fact we were thinking that because they were under the "bites" section that they would be literally a bite's worth or a canape size. These are large crunchy bread slices topped with spiced cumin eggplant and yogurt. The eggplant had a nice tingle of heat to it and it was a good dish to start with.
Meatball throwdown $4 each
We weren't quite sure what the throwdown entailed-a part of me wondered if they'd slap something down dramatically on the table while wearing Mexican wrestling masks but it turns out a throwdown is simply a slider that I guess you "throw down" your throat. Our first choice of the barbecue pork one was not available so we went with the meatball throwdown. It was a herby meatball served medium rare (or in Louise's case, hers was rare) covered in Swiss cheese, wedged in rather thick bread rolls. I think slightly lighter less dense rolls would have been nicer but it was a pleasant mouthful or three.
Beetroot, feta cheese, watercress and gingerbread $12
The roasted beetroot salad had tiny specks of feta cheese, some watercress and crunchy gingerbread croutons which I really enjoyed. It was a tasty salad although a bit more feta would have been nice but the sweet roasted beetroot, little flecks of black olive and sweet aromatic gingerbread toasts went well together.
Roast pork and trimmings for 2-3 people $80
The roast pork belly comes with a bottle of a red or white wine (St Hallet 2012 Shiraz or a Tussock 2012 Sauvignon Blanc) which makes it a really good deal because the wines by the bottle are $45  and $42 respectively making the roast and trimmings great value. It is said to serve three but I'd say that it wouldn't really serve three hungry boys, perhaps just two along with an entree. Still, the pork is divine-each slice is unctuous and yielding. The crackling is a bit sticky on the teeth but I'm being picky here because we all enjoyed it so much.
It arrives with a pot of gravy and some of the sides too. There is a caramelised grilled pumpkin with a moreish garlic yogurt and aromatic browned butter which I could have eaten a lot more of, a cauliflower cheese which was decent, a rich, thick mashed potato and an apple gel. The roast changes weekly and ranges from a whole chicken, t-bone steak to a lamb shoulder and pork.
Classic fish pie $19
The other mains look quite small and I don't know if it was just in comparison to the enormous pork dish. The classic fish pie comes with plenty of mash dotted with carrot, peas, spinach and salmon and there's also some prawn in there too. It is topped with a burnished mashed potato on top.
Duck confit leg $26
The duck confit leg is also quite small but rich and you might want a side salad or something to round it out if you were just ordering this. The soft, flavoursome, twice cooked duck leg sits atop a creamy white bean puree and a burgundy lick of spiced cherry sauce.
Rainford Street Trifle $14
If the mains were small the desserts were generously sized and the trifle was a mix of flavours and textures including pop rocks, chocolate crumbs, custard, biscuit crumbs, halved grapes and a rich pool of cherry sauce at the bottom. It's a dessert that I swooned over because I do love whipped cream and it's fluffy, light and no two spoonfuls are ever the same. It's everyone's favourite except for Mr NQN who likes the cheesecake. Yes, he's always contrary...
Chocolate torte $12
The chocolate torte is rich and dense and a little dry in texture. It is served with a sweet citrus whipped cream.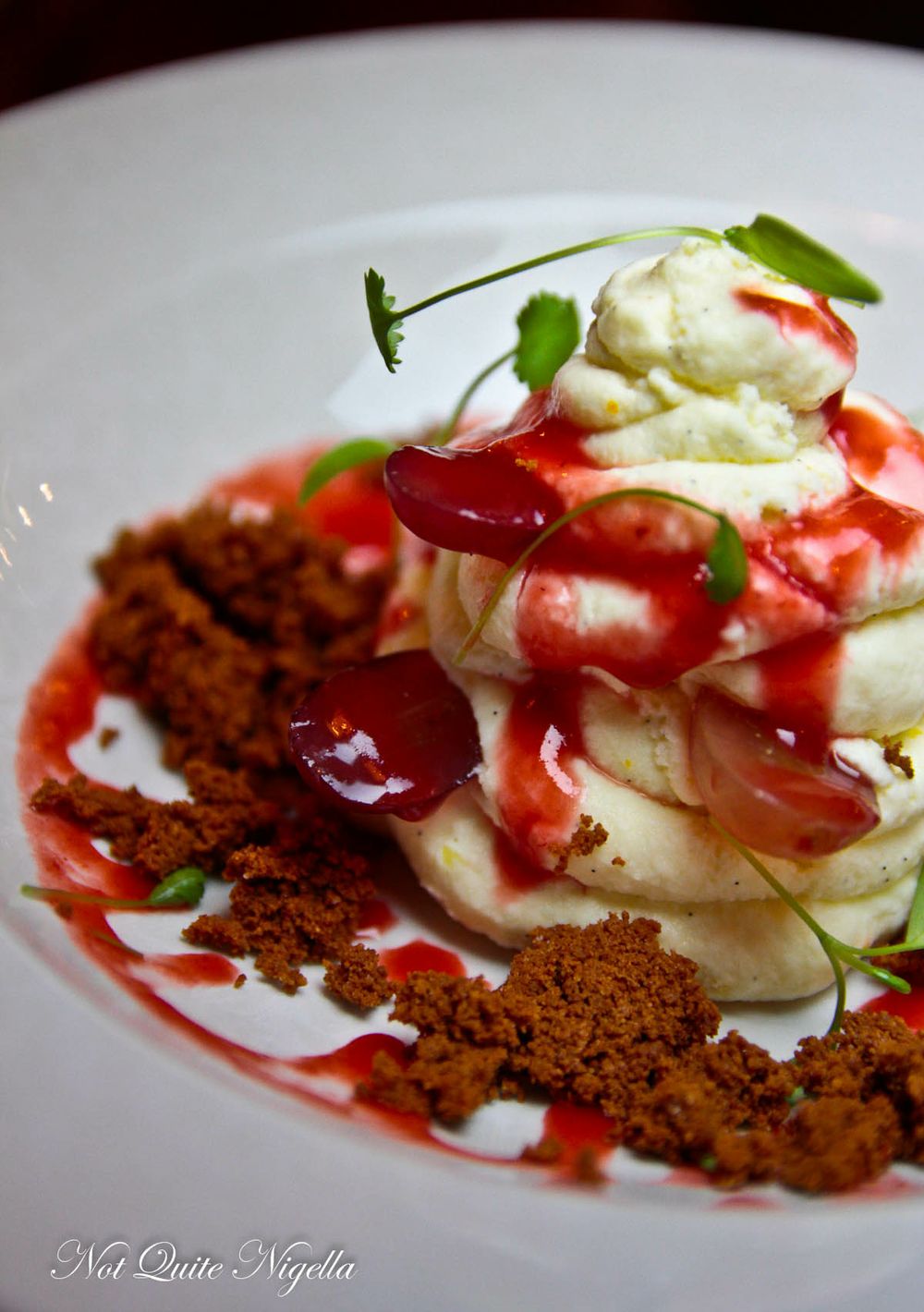 Upside down cheesecake $14
The cheesecake is a squirt of thick cheesecake with crumbs sprinkled on top. The components are a little similar to the trifle in that there are crumbs, grapes and cherry coulis but this one is thicker and heavier than the light trifle. I'm still busying myself with the trifle though...
So tell me Dear Reader, are the weekends busy for you or do you get the chance to relax? Do you still do Sunday roasts at home? And do you like online booking systems or do you prefer to speak to a person?
Rainford Street Social
500 Crown St, Surry Hills NSW 2010
Tel:(02) 9357 2573 This restaurant has now closed
Tuesday to Thursday 5pm-11pm
Friday 11am-12am
Saturday 9am-12am
Sunday 9am-10pm
http://www.rainfordstreetsocial.com.au/