Four weeks is the time I usually wait before visiting a place because I always find that for the first three weeks at least, they're still finding their feet. Menus change, service becomes more assured and processes smooth out. And it was smack bang on four weeks when we visited Mojo, a converted warehouse space on Danks Street opened by Luke Mangan. I've only had great meals at Glass Brasserie so I was curious to see how a tapas concept would turn out.
Admittedly the night isn't off to the best start. When friend Gerri Bear orders a martini she's told "Madame, we don't serve martinis. We're a Wine Bar." She asks if there's a prosecco to order. The waiter tells her "We have a sparkling and it's $9 a glass". "I guess I don't look like I can afford the $20 a glass champagne..." Gerri Bear says, slighted. Sure it's a wine bar but there are only about ten whites, a dozen reds and two sparklings which is less than many restaurants would have. The attitude from that same staff member is served again when Florizal walks in. She told him that she was looking for her friend and he said to her "Well I don't know what your friend looks like so perhaps you might want to take a look". Which she was doing...
I look around the space which is very much on message and on brand with the Luke Mangan logo everywhere. There are displays aplenty of his products from nuts to dressings, oils etc and wooden boards show the businesses that he ships these to. His sparkling water at $9 a 750ml bottle is the water served. It's about half full this rainy Friday evening with some perched at the long bar while others are at bar tables. There is one sit down eating table that we can see as well as a large table in the back. We are at one of the bar tables although we want to sit down and eat and Florizal has asked if they have a table free. We're told that once the diners leave we will get their table.
Marinated olives $5
While waiting we order some olives and they come in a glass jar with toothpicks. The olives themselves are good but picking a soft fleshed green or black olive up with a toothpick proves difficult and we end up excusing our fingers as we use them pick the olives up.
The other table shows no sign of leaving so we ask if we can sit at the big table out the back that we can see through the metal curtains. This table is apparently only for private bookings so apparently we can't sit there although there is no private booking that night. After waiting one and a half hours they give us a table around the corner which we hadn't seen - we're not quite sure why we had to wait that long if a table was there all along and we finally settle in to order food as we're getting peckish and it's getting late.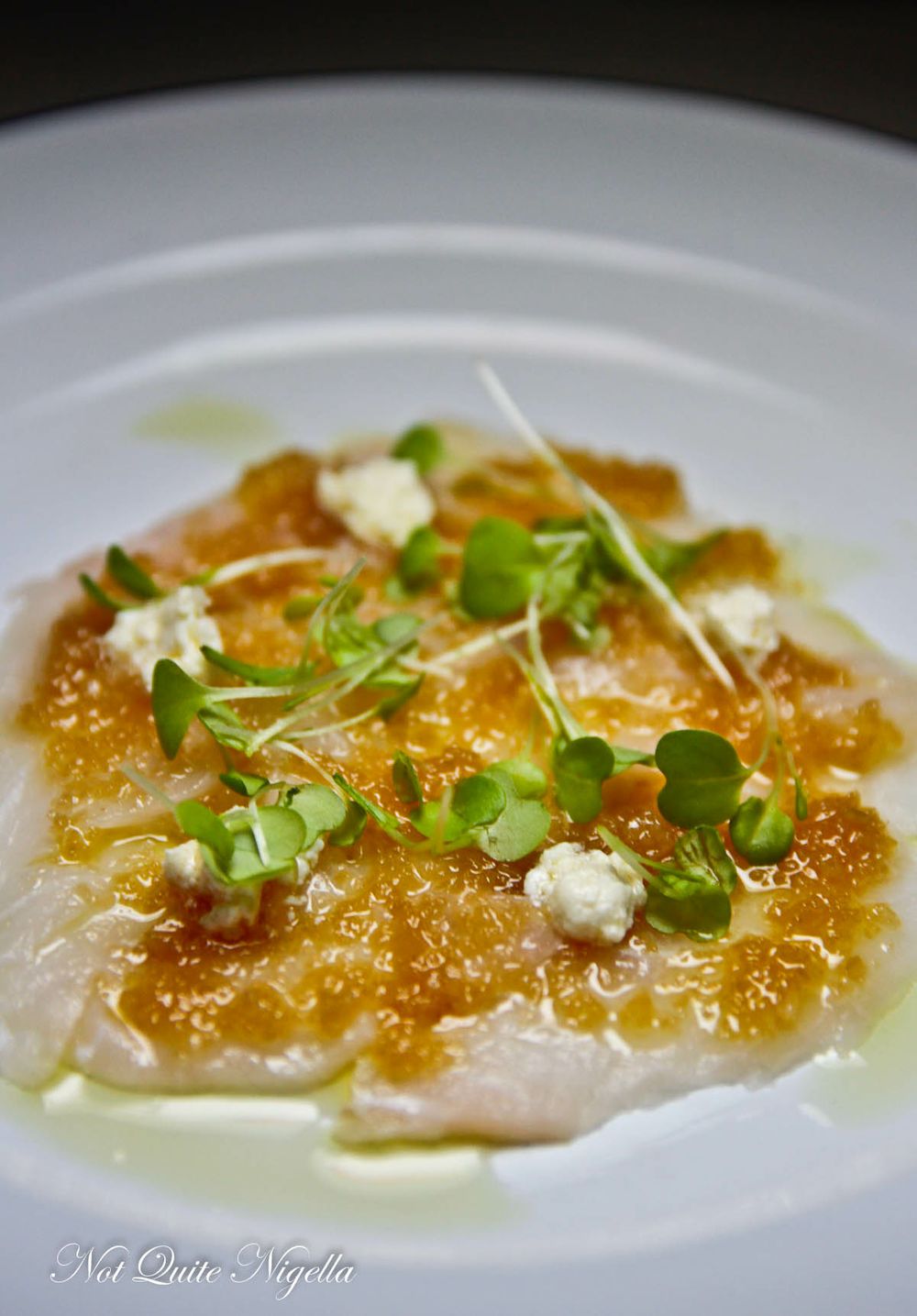 Raw kingfish, ginger, shallot & Persian feta $14
Service is really a bit confused and we're handed menus that are just too dark to read in our corner so we get out our phones to make them legible. They put down our plates and then take our menus without actually taking our order and we have to ask for them back so that we can order. It's the kind of service you'd almost expect during a place's first week of opening as staff find their way. We're relieved that since there are five of us they can make orders for five instead of having to buy quantities of six. We're told the specials and one of them has sold out and the kingfish is selling out so we ask if we can have those while we choose the rest. This is a version of the fabulous kingfish served at Glass and here the kingfish is served with ginger, shallot and little puffs of creamy Persian feta. I could have eaten ten of these plates!
Lobster & Vietnamese salad, bao bun $19.50 each
We asked how big the lobster buns were and our waiter indicated that they are the size of a dinner roll. Surprised at the price he points out "Well lobster is a very expensive ingredient you know." And when they were set down our eyes widened. Apparently lobster is much more expensive than any of us thought because the buns were incredibly small at 6 centimetres or 2.3 inches in diameter and at $19.50 each we were a little shocked. They were served in a sweet, deep fried bao which was good and not greasy at all and it was stuffed with lots of fresh Vietnamese salad and lobster leg meat. It wasn't that it wasn't enjoyed but for the price it was the kind of thing that you'd order if you didn't have to pay the bill.
Freshly shucked natural oysters with nam jim $4 each
GroovieGal and I both really enjoy the briney oysters-I often find that oysters lack the briney taste of the sea as they're often washed out under water but these give a good salty kick and the sweet nam jim brings a lot of additional flavour.
Pork belly taco, pickled cucumber, herbs $16 for 2 pieces
These pork belly tacos were simple but tasty and I think after the lobster roll, we were quite glad to have something a bit filling. This was served with pickled cucumber, herbs and salad.
Devilled snow crab on garlic toast $7 each
I liked the light spiciness in the devilled snow crab on the garlic emulsion topped Melba toast. Lady Coleman found the toasts too hard which I can see although I think that it needed to be or the snow crab might have made the bread too soggy.
Tinned chilli sardines, pico de gallo, toast $15
The tinned chilli sardines pack a nice punch and it's a favourite at the table. Although the sardines come from a tin, the pico de gallo and toast are good accompaniments to it. An extra piece of toast would have been a thoughtful gesture since everything was ordered in multiples of five.
Roasted pumpkin, feta, coriander & curry dressing $14
The roasted pumpkin salad comes as cubes of caramelised pumpkin with soft feta, red capsicum and coriander with a creamy curry dressing.
Baked spicy chicken drumettes, romesco $16 for 5 pieces
The spicy chicken drumettes were crunchy and almost like fried although we really needed the capsicum and garlic romesco sauce to flavour these.
Slow cooked duck and mustard fruit cigars, tomato relish $17.50 for 3 pieces
What ends up being the favourite plate of the night is the last savoury plate which are crispy cigars filled with a good amount of soft, slow cooked duck meat and mustard fruit. This goes well with the tomato relish and there's a nice crunch and softness from the outer and the soft filling.
Chocolate & jam lamington $11
It's dessert time as the crowd thins around us. The chocolate and jam lamington is a two layer lamington coated in desiccated coconut with a sponge inside. It's given more moisture with chocolate and a vanilla custard sauce drizzle on top.
Soft Swiss meringue with fresh berries $12
Although simple, we all enjoyed the fluffy, soft meringue roulade and cream with plenty of fresh raspberries and blueberries. The texture of the meringue was soft and cloud-like and the fruit gave it a tartness.
Salted chocolate almonds $2 and caramel chocolate macadamias $3
We ordered the almonds and macadamias and were surprised to see them packaged up just as you would if you were on a plane, perhaps driving home Mangan's involvement with Virgin Australia. Inside the box are two macadamias and inside the packet are two salted chocolate almonds. They're both coated in thick milk chocolate and the almonds are very salted.
Tiramisu ice cream $4
The tiramisu ice cream isn't made on site and we're told that it's made by a business associate of Mangan's (we're not quite sure what that means, perhaps they mean a supplier). It's flavoured with Baileys although there isn't any Tiramisu mixed into this and the nod to the much loved Italian dessert seems to be mainly in the use of Baileys.
At 10pm we're the last table to leave although they tell us that they don't close the doors until 10:30pm. And whilst the food that we had was very good but pricey, we did have to go elsewhere for food afterwards.
So tell me Dear Reader, how often have you had to go elsewhere after dinner for food? And what are your thoughts on the size of the lobster rolls? Are they a fair price or do you think they need to revisit this? And who is your favourite celebrity chef?
![AnnabelLangbeinTheFreeRangeCook (https://images.notquitenigella.com/images/mojo-waterloo/AnnabelLangbeinTheFreeRangeCook-1sml.jpg)
And speaking of celebrity chefs, I have a unique opportunity for one reader! On the 13th of July I will be visiting cookbook writer Annabel Langbein at her home in the Eastern Suburbs of Sydney and I'd love to take one reader along with me! We will all go to a nearby market where we'll shop for ingredients before going back to Annabel's house to cook with them. If you are a fan of Annabel and love fresh, home cooked food then leave a comment on this post telling me why you'd like to come along! The competition will close at midnight AEST on the 6th of July. This is open to all readers but transport to and from the venue is not supplied. Good luck everyone! xxx
The winner is Wendy P. of NSW!
Mojo
8 Danks Street, Waterloo, NSW
Tel: +61 (02) 9002 5346