Although I'm not what one would consider a goth (I mean really, do goths tan or more accurately fake tan?), I am not really surprising anyone when I say that I do all of the accoutrements of the gothic world. That doesn't mean that I also don't like the girly but I get similarly excited when I see the Hallowe'en decorations filling the stores. Not only do I get to create some creative food, I also get to dress up. And you see Dear Readers, that is what girls do best.
My Hallowe'en parties are costume only affairs. I admit that when guests don't dress up, I get a little upset inside and somewhere a unicorn dies (ok not really). Costumes don't have to be elaborate or costly. Case in point, my friend Miss America made an awesome costume where he stuffed a pillow under his shirt and wore a retro shirt and hat from a vintage store. So when people don't bother dressing up, like Franck Eggelhoffer would do, I strike them off my invite list for the next year. Yes I can be ruthless that way. The guests that tend to not get dressed up are the boys. Mr NQN is a prime example. He will do anything to try and avoid getting dressed up.
As you can see I delighted in getting dressed up as Little Red Riding Hood. OK my costume was a little shorter than I wanted. Queen Viv was going to make it for me but she was called to South Australia for work so with no time left, I bought it on ebay. And I warn you if you go that route, they only seem to sell sexy adult costumes and I spent to whole night pulling down my skirt trying to ensure that I wasn't mooning my guests. And along with dressing the part, I also like making the food. The more ghoulish and blood like the better and I tend to use a lot of black and red food colouring for this holiday.
I got the idea for these directly from Linda's lovely Bubble and Sweet blog where they were more of an ode to Twilight but of course the timing wasn't lost on me. She was kind enough to email me tips on how to do it. I did the lazy route and made pops out of white Tim Tams rather than cake. One thing that I would suggest is to buy the Wilton red chocolate melts which is what Linda suggested as painting the white chocolate was a) fruitless b) stupid and c) time wasting. I'd like to save you from that fate but still enjoy these gorgeously vampish treats.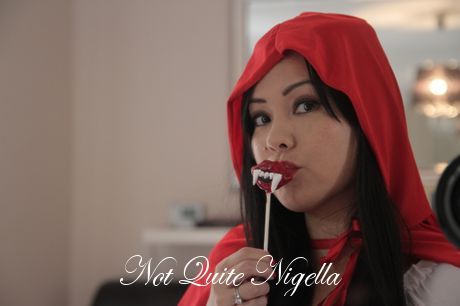 Sure there is some food colouring involved and when Teena brought little Annabel to the party I didn't give her any for fear of her turning into a head spinning toddler. But they are surprisingly easy to make, especially the lips. Plus they can help give you the vampire teeth look while providing you with a snack at the same time.
So tell me Dear Reader, do you like getting dressed up for costume parties or Hallowe'en?
DID YOU MAKE THIS RECIPE? Share your creations by tagging @notquitenigella on Instagram with the hashtag #notquitenigella
Vampire Cookie Pops
Makes 16 Vampire Pops
1 packet white chocolate Tim Tams
50grams/1.7 ozs light or regular cream cheese (I used light)
3-4 tablespoons almond meal
red food colouring gel or liquid
250/6ozs Wilton red chocolate melted
a small batch of black royal icing (see recipe below) or you can use chocolate fondant
white fondant for teeth and fangs
Step 1 - In a food processor, process the biscuits, cream cheese and red colouring until it becomes a smooth paste. You may need to stop and scrape 2-3 times to do this. Add almond meal if it becomes too sticky. Scrape the mixture into a bowl and refrigerate for 30 minutes until it becomes firmer.
From a ball, to a flattened ball..
To a diamond
To lips!
Step 2 - With a melon baller or small spoon scoop out truffle shaped balls and rolls these into balls between your palms. If you have hot palms like me, run them under cold water and quickly towel them dry. Shape them into lips but making a diamond shape and then fashioning lips-this is surprising easier than you would think :)'
Step 3 - Melt red chocolate in a double boiler. Dip a lollypop stick or a small wooden skewer into chocolate and carefully and gently insert it into the base of the cookie pop. Allow to set firm. Then dip each ball in the chocolate making sure that excess chocolate drips off-this is very important. Place back on parchment lined tray to set firm.
Step 4 - When set, add a little black royal icing in a long oval shape in the centre of the lips. Then shape some fangs with the white fondant and some teeth and affix these to the royal icing which will set hard and adhere them.