"You're Not Quite Normal are you?" my friend says staring at my practice brain for Halloween. I'm not offended and agree. I'm a Halloween girl, there's no doubt about it and I've been planning this year's Halloween party since let's think... November 1st last year? The one item I really wanted to make was a bloody brain jelly but alas I didn't have the time to buy a mold last year. This year I was determined to do it though and nothing was going to stop me. I was more determined than Tracy Flick from Election or Rachel Berry from Glee. If I rode a fitness bike, I would have had a picture of the brain jelly in front of me while working out furiously to music. Thankfully no such props were necessary and a purchase of the brain jelly mold was easy.
At first I wanted to make a glowing green jelly brain a la Dr Frankenstein's lab but when I saw the effect of a creamy vanilla pannacotta jelly with faux blood clots on top of it I was sold on the latter. And like all of my Halloween food, it's entirely edible and it tastes just like a regular vanilla pannacotta in a thicker jellied red sauce. The idea of slicing this up did frighten my friend and remind her of that surreal scene in Hannibal involving Ray Liotta but once she tried a slice of it, any protests were quelled with a murmur "Mmm brains" she said. I think I turned my friend into a zombie...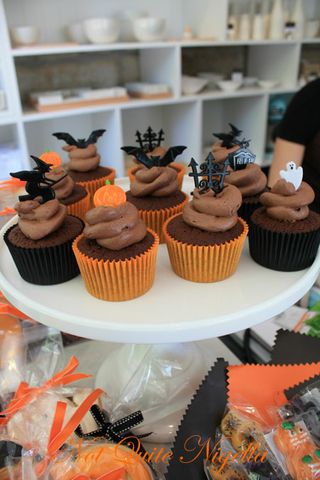 And I was excited to see two of my favourite stores also share an interest in the Halloween theme. Donna Hay's General store in Woollahra has a window devoted to Halloween where you can order cupcakes and buy boxes of pumpkin, witch and ghost cookies, lollies and trick or treat bags.
I bought some lollies for my Halloween party and was offered a Gift With Purchase of a box of Donna's Cookie mix (I chose oatmeal and cranberry) which comes with a purchase of $80 or over (while stocks last for this coming week).
Then Buppa from Buppa's Bakehouse in Newtown emailed to let me know that she had some Halloween food including Pumpkin Pie (of course!), a rat treat, a mummy cupcake, a ghost cake and a skull cookie. I knew what I had to do with this box of Buppa's goodness. Share it with my mum who is addicted to them.
The Mummy Cupcake was a moist chocolate cupcake topped with buttercream and jaffas for eyes. Ingenious!
The rather realistic rat was made of smooth, rich ganache like chocolate coated in finely ground cookie crumbs.
The Pumpkin Pie had a lightly spiced pumpkin and a slightly wet crust probably due to the pumpkin.
The Ghost cupcake was a light and fluffy vanilla cupcake taken out of it's sleeve and coated with a rich buttercream.
The Skull cookie was my favourite with a crumbly chocolate cookie filled with cream cheese icing.
Happy upcoming Halloween fellow creepies!
So tell me Dear Reader, are you celebrating Halloween this year? And if so, what is your costume?
Bloody Brain Pannacotta