"The weather in Melbourne folks is well... terrible" the pilots voice says laughing. It's a cool seven degrees this evening in Melbourne and I'm severely under dressed. Mr NQN and I pick up our rental car and are off! To where? Well you've heard of cattle country right? Well we are headed off to Spa Country! Yes my dreams have come true! I've always said that if I weren't a food blogger I'd be a spa blogger such is my love for facials and massages.
We take the drive to Daylesford and the Macedon ranges. "Is that snow?" I ask Mr NQN when I see the white flakes fall towards us. It's a beautiful sight with flurries hitting the windscreen. We arrive shortly after midnight and park our car. Grabbing our bags we run towards our villa called Desire and open the door. A roaring fireplace greets us and we rush towards it. "Oooh it's gorgeous!" I tell Mr NQN in my excitement forgetting the time and the nearby neighbors and am promptly shushed by Mr NQN.
Happiness is being greeted by snacks at midnight
The room is absolutely beautiful. A gorgeous emerald green velvet lounge sits facing the fire place. A large range of supplies sits on the kitchen bench with all sorts of local goodies including a caponata, crackers, fudge, muesli in apple pie flavor (how good does that flavor sound?), bottles of Hepburn sparkling mineral water and there are two televisions, one in the lounge room and one in the bedroom.
This is spa country so the bathroom goodies are fabulous. There is a range of MOR items as well as a cosmetics bag so that you can take them with you and gorgeously soft plush spa robes. And there's the huge spa bath. Whenever I go somewhere and there's a bath I must take one. I empty the fragrant bath salts provided in the bath and run a bath. It's a tad slow to fill but Mr NQN and I gratefully hop in and relax and warm our bodies. After a relaxing bath I try the body butter-it's perhaps a little too cold for the body butter as it has quite hard. I fall asleep straight away to the beautiful sounds of silence.
The next morning we rise and it's spa treatment time! We head across the road to the Hepburn Spa and Bathhouse and are enveloped by warmth. Kim greets us and asks if we saw the snow this morning-so it wasn't an illusion after all!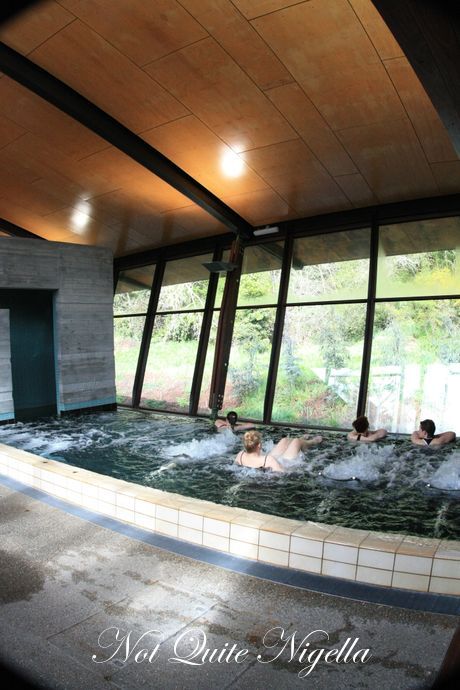 We take a little tour and she shows us the two sections. The first one is the sanctuary where people relax and make use of the spa where they use 50% mineral water. It is heated to 34 degrees and is said to be good for arthritis and joint pain. There are also the spa couches where we see a couple relaxing before getting married. "I hope that it warms up! " the groom says. The spa was devised by a German doctor in the 1940s.
There is also a saltwater therapy pool which has a high salinity and is heated to 36 degrees and people can relax at night and watch the stars above through the skylight. Next to this are the monsoon showers which have three different temperatures cold, tepid and warm. We walk past the aromatherapy steam room which has three blends depending on the time of day revive, contentment and reset easy.
We then walk through to the spa area which is a historic building built over 100 years ago. There is also a chimney that was used years ago to heat the water as it comes out cold from the ground. We look up and see the vaulted ceilings-this was a practical measure of yesteryear as the spring water contains such a high amount of CO2 that they need it to ventilate the room. Apart from other treatments, there are also 100% mineral Baths where people typically relax for 30-45 minutes. There are 15 treatment rooms and some with showers so that you don't have to leave the room. There are also three couples treatment rooms but I must bid Mr NQN adieu as his inner Finn emerges and he is off to the steam room and the pool and I am off for a treatment!
My therapist greets me wearing a one piece swimming costume. I'm having a Vichy shower treatment which involves being dry brushed, wrapped in a mud mask and then a scalp mud mask and massage. It is finished off with a Vichy shower where multi shower heads pulsate over the body and the temperature goes from warm to very warm.
And where does one eat when they're hungry for some lunch? Daylesford has no shortage of good places to eat and we're off to Mercato's at Daylesford where chef Richard Mee presides over a very locally based menu. Formerly a wine bar in the 1860s when Daylesford was a wealthy gold mining town. It is country chic inside with a roaring gas fireplace to keep us warm from these unseasonably cold temperatures. On the menu is a list of a dozen local businesses and producers that Richard uses and supports.
We start off with a freshly squeezed orange juice and a look at the menu. There are a few things that are signature dishes so we order those-this includes an emu carpaccio!
Carpaccio of Romsey Emu  $16.50
The paper thin slices of carpaccio of Romsey emu looks like a rosy red flower and it is topped with shaved pecorino, baby herbs, Kyneton extra virgin olive oil and thyme. The emu despite preconceptions isn't very gamey at all, it's rather mild tasting and the predominant flavour is the lusciously grassy olive oil, pecorino cheese shavings and thyme.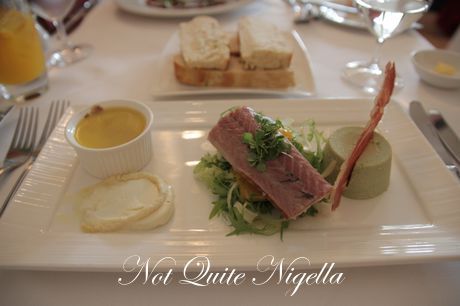 Regional Tasting Plate $26.50
The regional tasting plate had five local goodies: a Skipton silver lake smoked eel on an orange and fennel salad which is good when combined with the salad as the smoked eel is quite strongly smoked and the burst of orange goes well with it to cut the rich smokiness of the eel. There is also a duck liver and port parfait which goes well with the house made foccacia bread and is strong in port. There is also a broad bean custard which is airy like a mousse and is utterly fantastic and moreish and it is accented with a crispy slice of Istra prosciutto. There is also a slice of Holy Goat "La Luna" goats cheese, that famous and fantastic local goat's cheese.
Rainbow trout en Papillote $36.50
I love it when fish is cooked en papillote (in paper) as it's always moist and it's usually very healthy too. This whole rainbow trout from the Tuki Trout Farm is gorgeous. Simply stuffed with herbs including plenty of thyme (I'm trying to get over my thyme prejudice) it sits on a bed of creamy mash which has the roasting juices poured over it. Simple but stunning.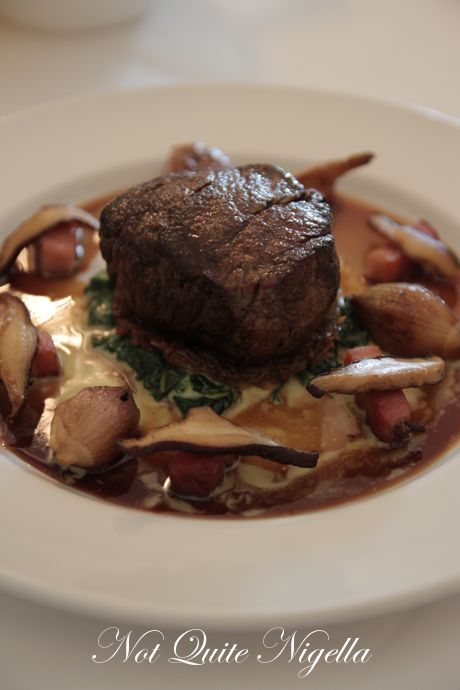 Eye Fillet of aged Kyneton Black Angus beef on a potato roesti with bacon lardons, creamed spinach, mushrooms, shallots an cabernet jus $42.50
This was Mr NQN's favourite (I went for the fish) and it is a medium rare tender piece of Black Angus eye fillet paired with inch long bacon lardons topped with fresh shiitakes, creamed spinach, a potato roesti and whole eschallots and  a cabernet jus. I spear a bit of everything onto my fork and happily tuck in. We watch the other tables receive their mains and they are enormous: the rack of lamb has six whole cutlets!
Roasted pumpkin with Persian fetta, pine nuts and thyme $10.50
This side dish is a huge serve (well actually everything is a huge serve here!). Despite being very full I can't help but keep going back for more and I fish out the prized pieces of persian fetta and smile contentedly only to look up and see chef richard Mee looking over at me smiling. He comes over for a little chat and we discuss how this Melbourne bred boy ended up moving to Daylesford seven years ago and opening up Mercato's six years ago.
Chef Richard Mee
Lemongrass Creme Brulee with home made biscotti $15.50
Mr NQN was excited to try this  dessert as he loves lemongrass and as it is set down in front of him Richard tells us that this is an item that along with the emu carpaccio, they are just not allowed to take off (although he switches around the flavours). Mr NQN cracks the toffee top and plunges into the sweet, smooth lemongrass flavoured custard. I get to try some too as he's a good hubby and gives me exactly half. I enjoy dipping the nutty homemade biscotti into it.
So tell me Dear Reader, what is your favourite spa treatment? A facial? A massage? Or a manicure or pedicure?
NQN and Mr NQN travelled to Victoria as guests of Tourism Victoria and the Daylesford and Macedon Region.
Hepburn at Hepburn
2-8 Range Road, Hepburn Springs, VIC
Tel: + 61 (03) 5348 4422
Hepburn Spa and Bath house
Mineral Springs Reserve Road, Hepburn Springs, VIC
Tel: + 61 (03) 5321 6000
Mercato at Daylesford
32 Raglan Street, Daylesford, VIC
Tel: + 61 (03) 5348 4488