My room, No. 3 at The Stirling Hotel
"Hi honey, I am at The Stirling Hotel in room # 3 but I don't know if I can speak to you tonight as I'm going to a cooking school and after that I'm going to have a bath. They have a TV in the bathroom and a huge tub I can fill with bubbles and you know how much I like that. So you won't hear from me tonight.
Love,
Lorraine
xxx"
So I wrote Mr NQN by way of explanation why I wouldn't be speaking to him that evening. It has long been my dream to have a bathroom at home with a television in it-sadly it doesn't look like it will happen in our current apartment so I am determined to enjoy the huge bath at The Stirling Hotel in the Adelaide Hills.
The Stirling Hotel is part of a pub and I have to admit I'm nervous as I am not much of a pub girl. I should have probably entered through the left hand side which is the beautifully decorated restaurant. I needn't have worried. We go upstairs and through the private entry door to see a separate area for the five hotel rooms. On the way to the room they show us the guest pantry which is where you can make tea or coffee (although there are tea and coffee making facilities in the room).
You know that bit where they open the door and you feel like you're home, except you're not home, but in a room that you would have as your home if you had a designer?  Well this was it. There a fireplace (easy one button, gas), a comfortable king bed, lovely furnishings and a bathroom that is as big as a bedroom with a massive tub with said television. There are also Molton Brown toiletries and it is outfitted using designer furnishings and fittings (Kartell, Rogerseller etc). OK the wifi is a little slow which is probably the only minus but the mini bar is well stocked and very reasonably priced, the bathrobes are beautifully plush and the most genius part of all is the light switches. Light switches you may say? I haven't taken leave of my senses honestly! These light switches are labelled and illuminated. There's no ambiguity as to what switch goes for what and if I press one the bedside or room lights simply fade in or fade out. Light switches are the bane of most hotels rooms and I have wasted precious sleeping time trying to figure out which switch does what.
Genius! No more fumbling with strange switches! Could every hotel in the world install these pleeeease?
I settle in and wrestle a bit with their slow and fading in and out internet connection before I realise I am to go to the Sticky Rice cooking school. The taxi that has been ordered hasn't arrived and I am about 10 minutes late in leaving because of that. When I go to the restaurant downstairs to check on it (there isn't a lobby, that is one difference although staff in both the pub and the restaurant are happy to help), the man there calls and leaves a message with them to let them know that I am running late and then offers to drive me there myself. The Adelaide Hills people are nice! :)
The taxi driver arrives just at that second and we take the short drive to the Sticky Rice cooking school. Said to be one of the top three things to do  in the Adelaide Hills, despite the name, it offers cooking classes in all sorts of cuisine from Asian, Spanish and tonight's Moorish Moroccan class. Owner Claire is there to greet everyone along with Bif who is our facilitator and Katrina Ryan, a chef from The Spirit House in Brisbane. Katrina was Neil Perry's Head Chef at Rockpool and former personal chef to Nicole Kidman and Tom Cruise (when they were together obviously ;) ). The classes are so popular many are booked out and Claire says that she wanted to make sure that she had chefs that were a) great chefs and b) could communicate well with students.
Chef Katrina Ryan
There are two large groups and some groups of friends as well as people that have been given vouchers to the classes by friends or family for mother's or father's day. Claire starts off by introducing us to Katrina and we are handed out the recipes and menu for this evening.
We take a place around the large table where we all have a chopping board, knife and chux in front of us. Katrina starts off by showing us some basic skills with the knife. There are a total of seven dishes tonight.
Katrina starts off by explaining all of the food that she has started preparing this afternoon. Whole ducks have been roasted using a salt and cinnamon rub and saffron is being infused as we speak-she tells us that saffron is best infused for 24 hours to allow for the colour and flavour to develop fully.
She explains some of the ingredients including the differences between eschallots and onions and the two chilli sizes. And did you know that the hottest part of the chilli is actually the white membrane that the seeds are attached to? I had heard that it was the seeds but apparently not! She then shows us some basic skills with the knife including, crucially, how to dice an onion and how to segment an orange (a task I am terrible at!).
Cut off the top and base
Cut strips off the side
Find the area just next to the pith segment and cut alongside this
Then cut out the orange segment leaving behind a thin "leaf" of pith._ Like a page of a book, fold it over and keep cutting the rest of the segments out_
You cut the top and bottom to get a flat surface, then like a peeler, gradually take off the skin in several motions and then trim any white pith off. You then cut right next to the pith and then and slice out a segment and turn the page with the leftover pith and do the rest of the orange folding the white pith bits over and over like a book.
She then gets everyone to practice the rocking and cutting motion and the "claw" on pieces of parsley stem. We then split up into four groups with each group tending to a different recipe. Once we get to a crucial stage, Katrina will then have us gather around to watch.
Adrian and I pair up to make the harissa. I have a tube of Au Cap Bon harissa in my fridge and it is a spicy Moroccan paste. This harissa however is very easy to make and involves blitzing chillis, garlic, caraway seeds, coriander leaves, mint leaves, salt and olive oil. We all taste it and it's gorgeous, a clear favourite with everyone, the garlic is pungent (and yes I can still taste it the next day) but oh so good. Everyone makes plans to make this at home.
Flaming an eggplant
We watch as they smoke the eggplant on an open flame to make baba ganoush and this too is amazingly good. Katrina explains that that the eggplants can take anywhere from 10-30 minutes on the flame-30 if it is an eggplant with a lot of seeds and sometimes you can get a dud one. Then they drain off the bitter liquid.
We then make the lamb shank soup and she explains how to shred the lamb shank and remove the skin. We then learn how to cut apart the duck (which should always be roasted breast side up).
Adrian and I make a quick tomato paste based sauce for the Moroccan pizzas. Katrina then shows us a very useful tip for cooking rice. After washing the rice cover it with cold water up til the first knuckle on your pointer finger-a little less for basmati as that is better when a little drier.
Pinch off the pointer part of the tail shell
Flip the prawn upside down and dislodge the head and pull the head carefully apart
There is another tip (this class is worth it just for the tips alone!) on how to remove the trail of "poo" from the prawn easily. You simply take off the pointer part of the tail that sticks up (like a little blade). Flip the prawn upside down and slide your thumb under the head dislodging it and then pull the head carefully and slowly and the poo trail will come out easily. This works really for fresh prawns, once they start to get old, the vein itself breaks down.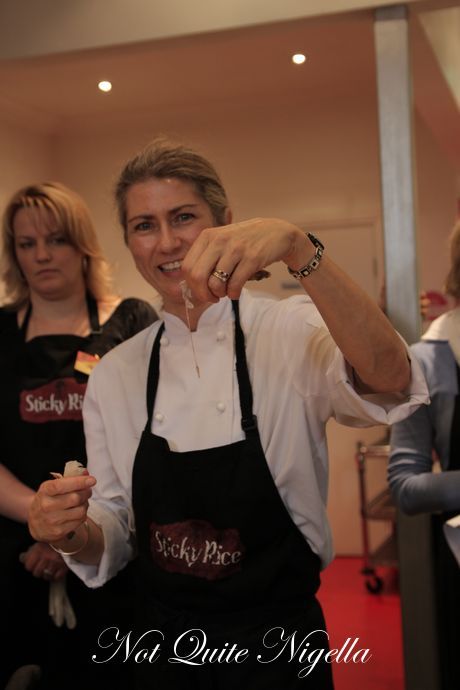 Ta-da!
It's soup time! They dish up the spicy lamb shank and lentil soup and we take a break with a glass of wine and top it with a slice of lemon and some parsley. It's thick and rich and very good, especially with the added zing of lemon and herbs.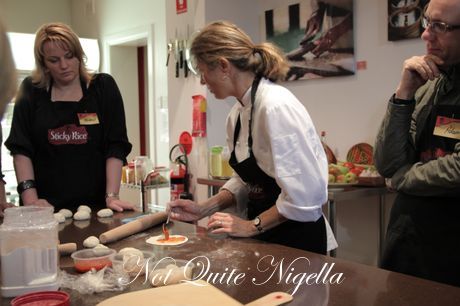 Spreading with tomato sauce
Pizza!
It's now pizza time and we all roll a round of the dough and top it lightly with seafood -the scallops have been cut in half to make them cook better and there are pizza stones in the oven which is set to the highest heat. And the piece de resistance? We top it with baba gannoush and the harissa! Katrina and her husband used to own The Pig and The Olive pizza place in Potts Point and they were one of the first to do gourmet pizzas with really interesting toppings (I have eaten many a carb there).
We're getting to the mains now and we start cooking the chermoula coated barramundi and finish off the carrot pilaf. The twice cooked duck is laid out in a tagine for presentation and before we know it, the table is magically set with our main courses.
Twice cooked duck with pomegranate and walnut sauce
Lentil and parlsey salad with seared chermoula fish
Both the mains are delicious but I can't eat too much of them having had so much already to eat. We all leave, with plans to make dishes and with garlic on our breath and stomachs satisfyingly full. And I didn't have to struggle with the lights when I got back to the hotel room. Win!
So tell me Dear Reader, what do you wish all hotels room had?
NQN travelled and explored South Australia as a guest of the South Australian Tourism Commission.
The Stirling Hotel
52 Mount Barker Road, Stirling SA
Tel: +61 (08) 8339 2345
Sticky Rice Cooking School
96 Old Mt Barker Road, Stirling. S.A.
Tel: + 61 (08) 8339 1314