Merry Christmas my Dearest, Darlingest Readers! I hope you had a wonderful Christmas full of love and laughter and that you have had a chance to rest and recuperate from the crazy year that was 2010! In previous years I haven't really written much about our Christmasses as we were often away without an internet connection  but this year I thought I'd throw the doors open and invite you into our Elliott family Christmas. We decided to theme it in a Finnish theme-as you may know Mr NQN is half Finnish and they are very proud Finns indeed. We merged my own family with Mr NQN's and his aunt, uncle and cousin and before we knew it, we had over a dozen sitting at the table.
In the past we have gone away for a holiday and rented a house but this year, due to a multitude of reasons, we decided to stay put in Sydney. Unlike Halloween where I prepared all of the food, Christmas was a bring a plate affair with everyone bringing a plate for each person. The theme was red and white right down from everyone's outfits to the red and white wax straws from Lovely Little Parties. Mr NQN and I made the red and white pompoms and hung little wooden Nordic birds from them.
This was the book that got me started on the whole Finnish theme for Christmas. I was lucky enough to receive a copy of the Moomins Cookbook from the lovely Catty from A Catty Life. She had reviewed it on her site and because I consider myself part Finn insofar as Mr NQN is half Finn and I'm Finnish by association, I got very excited about the book. Lo and behold Catty kindly sent me a copy of it in October which I considered an early Christmas present!
Sisko with Aura Lily
As a compulsive feeder, I couldn't help myself and went a little overboard making a crispy roast goose stuffed with mashed potato,  braised sweet red cabbage, Danish Christmas caramelised potatoes and finishing it off with some slightly sweet soft buns heady in cardamom with slivered almonds on top and sugar pearls on top of stollen, Swiss roll cottages, cinnabread cookies and cranberry and oatmeal cookies. And when I woke up on Christmas morning I thought "Oh no! The vegetarians won't have enough to eat!" and quickly made a caramelised onion pie. It's a sickness I tell you ;)
We were literally overflowing with food and despite the fact that we had over a dozen people at a table meant to seat eight, we pretended that we were in a Finnish cabin in the middle of Winter snowed in. Except that it was actually Summer and we were really hot :P
We had enormous, plump, sweet cherries sent from our friends at Harris Farm. It's not Christmas without cherries and these ones had everyone in raptures. They were huge, sweet and meaty and the whole box pretty much disappeared instantly.
And Lindt sent over a lovely range of their Christmas goodies-Lindor balls...drool my favourite. I'd like to bathe in the liquid filling....I kept saying to myself "Share them with others, don't hog all the milk Lindor balls". And I'm quite proud of say that I did. Although psst don't tell them but I have a stash of the peanut butter ones that I'm keeping ;)
We had delicious Danish Caramelised Christmas potatoes-yep they're as good as they sound! Although not strictly Finnish, what's a border or two and a sea when it comes to good food?
One of my favourite side dishes is red cabbage. Plus it's low fat and good for you! I know, I know, Christmas is not exactly the time to think of low fat but trust me, it's good...
Karelian rice pies
Sisko, Mr NQN's aunt made these Karelian Rice pies which are served with egg butter. I ate about half a dozen of these as they are among my favourite Finnish foods and she was kind enough to humour my pleas for these. The pastry outer is made of rye flour and she tells us the traditional Finnish food was often using a limited range of ingredients as there wasn't a wide variety of food available in Winter. These rice pies are simply made of rye flour, water, rice, milk and salt and the egg butter is eggs and butter mixed together.
Amaya and Laporello brought along a fragrant sweet potato box with nutmeg which was sweet and moreish.
Tuulikki brought along beetroot salad called "Rosolli" which was flavoured with dill gherkins and is a very traditional Finnish salad. It's served with a light cream and beetroot dressing and was a big hit with people.
My mother made the Lighthouse Keeper's Fish Pie from the Moomins cookbook which was very tasty and filled with fish and prawns whilst...
I made Moominmamma's Best Buns which were buttery buns flavoured with cardamom and topped with pearl sugar and flaked almonds. It was lovely to see that Tuulikki was lost in a sea of nostalgia.
And of course the guest of honour, the roast goose stuffed with mash potato! The skin was wonderfully crisp and interestingly it eats quite differently from when I first had it in Austria. Since it is a summer bird there wasn't the layer of fat that surrounds a winter bird.
The Assman made a rich, sweet rice pudding made with organic milk which was served with Sisko's delectable kissel (a sweet, fruit soup).
Sisko made lovely traditional Finnish pinwheel pastries with a prune filling
While Tuulikki made a "Lanttulaatikko" which is a turnip or swede bake made with cream, breadcrumbs, honey and butter. It is really delicious. If anything the flavour slightly reminds me of Chinese radish cakes.
_
Amaya's fantastic rhubarb cake (which I will make so stay tuned for this recipe if you love rhubarb! ;) )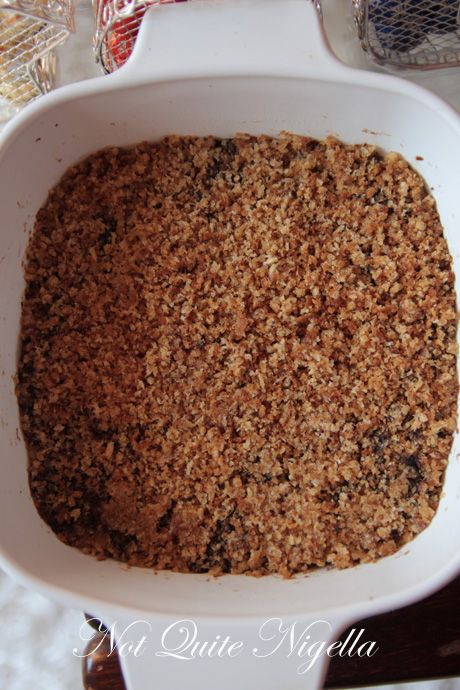 My mother made the Muddler's Favourite Pudding which is made with prunes and topped with breadcrumbs. It's best served with cream.
There's nothing like pulling open a Christmas cracker!
And for presents, I was very lucky to receive everything that I wanted (minus the Blue Jean Birkin ;) ). Mr NQN got me just what I wanted because errmm...I bought it for myself (it's easier that way, he finds shopping harrowing the poor dear).
This heart shaped measuring cup set was a gift from my lovely reader Maddie who has been reading NQN for 2.5 years!
Clockwise from bottom left: cinnabread stars, Donna Hay pistachio oatmeal cookies, biscottini and ciambellette
Not only that but I received these delicious biscottini and ciambellette from fabulous reader Matilda along with some chocolates! And I also got some lovely chocolate fruit from the lovely reader Chauntelle from her very own garden!
Now onto the recipes!
Goose Stuffed with Mashed Potato
I'm not sure why I've always had the urge to roast a goose. Even though I've only experienced a Snowy Christmas once in my life I always think that snow, roast goose and roasting chestnuts is the way Christmas should be. I'll probably have to give up my Australian citizenship now that I've said that. Goose is best eaten in winter when the goose is fat and plump but of course our Christmas is during summer so the birds are smaller. Even if it is a big beast, it is quite cavernous so it only really feeds six people which was just about perfect for our Christmas dinner as we had vegetarians to feed. Luckily for Mr NQN's vegan mum there wasn't a head attached to it or there might have been a terrifying scene. I was lucky enough to score a fresh free range goose from Tim at Urban Food Market and since I'd placed my order early enough I got it at a discounted price (it's $70 for a 2.75 kilo goose).
Adapted from Feast by Nigella Lawson
1 goose, dressed weight about 4.5 kg/9 pound or so with giblets  (I could only get a 2.75 kilo/5.5 pound goose)
1.5 kilos/3 pounds potatoes, peeled cut into large chunks and rinsed
4 onions, chopped coarsely
50g butter or goose fat (rendered from the fat of the goose)
2 cloves garlic, peeled and chopped finely
1 tablespoon fresh chives, chopped
lots of paper towels to dry the goose
For the gravy
4 rashers streaky bacon, chopped
25g goose fat (rendered from the goose)
1 goose neck bone and gizzard, cleaned, chopped coarsely
2 sticks of celery, chopped
1 onion, peeled and chopped
1 carrot, peeled and chopped
300ml strong chicken stock
1 scant tablespoon redcurrant jelly
1 heaped teaspoon cornflour
Pulling off the gobbets if fat
Step 1 - First prepare the goose. The day before you want to eat it, remove the gobbets of pale fat that lie just inside the goose's cavity that are attached to the skin. You'll make some precious goose fat with this. Put them in a pan and on a very low heat allow it to melt. It might take about 20 minutes all up to do this. Set aside.
Stabbed skin
Pouring boiling water over the goose
Drying off with paper towels
Step 2 - To get acripsy skin like a Peking Duck, put the kettle on. Put the goose on a rack in its roasting tin and think of the most annoying person you can think of and stab at it lightly (resist the urge to stab deep) with a skewer or sharp knife.  Then pour the boiling water on top of the skin and tip the water out of the tin making sure to tip out any water from the goose cavity. Now you want the skin to get as dry as possible so wrap the goose in paper towels-I put two on top and two on the bottom. Change it when the paper towels get damp. It usually dries out overnight or you can hang it if you have access to a friendly butcher or you have room. Nigella even suggest pointing a fan on it to dry it out even further.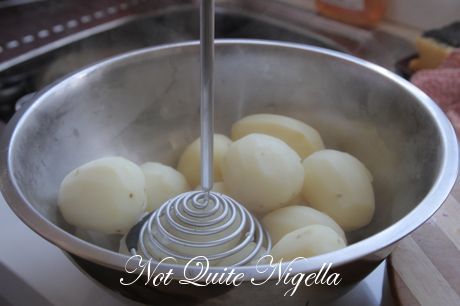 Testing out the Dreamfarm potato masher
Satisfyingly squishy
Step 3 - Preheat the oven to gas mark 7/220C/440F. Boil the potatoes in salted water until tender, drain well and mash coarsely. We tested out the new Dreamfarm Smood potato masher that we were sent. It has collapsible coils plus a silicon grip on the bottom coil. It was very easy to mash, one press and a whole potato was mashed which is a very obvious upside. However it does require potatoes to be peeled whereas a ricer doesn't so I guess it's up to you whether you find peeling potatoes a more cumbersome task than using a ricer. I prefer to get Mr NQN to peel potatoes and then smash it with this to get out any latent frustraation ;).
Fry the onions in the goose fat until golden brown and add the garlic and stir them both into the mashed potato. Then add the chives, lemon rind and some salt and pepper. Rub more salt and pepper over the goose and inside the cavity. Then feeling a bit dodgy (or is that just me?), pack the cavity with mashed potato. Place the goose back on the wire rack and place in the oven.
Stuffing the goose. Not surprisingly I overstuffed it despite the voice in my head telling me not to
Step 4 - Roast for 30 minutes and then turn the temperature down to gas mark 4/180c/350F. Cook the goose for a further 2.5 hours if you have a 4.5 kilo goose (adjust for the size of your goose). Don't baste it if you want a crispy skin but every half hour carefully pour away the fat that comes out of a goose to avoid an accident every 30 minutes or so, particularly in the first hour (best to avoid emergency wards at Christmas).
Step 5 - Make the gravy while it is roasting as it takes a while to make. Fry the bacon in goose fat in a heavy bottomed pan until crisp and brown. Add the neck bone and gizzard and cook until well coloured and then do the same with the vegetables. Pour off any excess fat and add the Calvados and Marsala. Bring to the boil and reduce until syrupy. Pour in the chicken stock and redcurrant jelly and simmer for 30 minutes.  Strain through a fine sieve and allow to settle and skim of f any fat from the top. Add 2 teaspoons of cold water to the cornflour stirring it well and bring the gravy back to a summer until clean and slightly thickened but do not boil or it will separate and thin the gravy. lace the lid on the saucepan to keep warm.When the goose is ready, rest it for 15 minutes before serving.
Braised Sweet Red Cabbage
'Twas the night before Christmas Eve and Mr NQN and I had just gotten home from buying last minute Christmas ingredients. I originally had bought half a red cabbage in confusion before realising that I absolutely love braised red cabbage and it was good way to feed vegetarian guests who would be missing out on the goose. I was about to park the car in the garage and Mr NQN said "Isn't that Queen Viv there driving away?". My dear friend Queen Viv had popped in to do her Santa present drop off and he so flagged her down and she came in for a cup of tea and a present exchange. She picked up the bag with the red cabbage in it and asked what on earth we had in there. It was only a red cabbage but it was heavy enough to masquerade and function as a medicine ball. Also I wanted to make this as Mr NQN has several bottles of red wine on the go at one time and they're cluttering up my kitchen benchtop so I wanted to cull them. I'm ruthless that way.
One thing Nigella didn't quite communicate was how big a pot you will need or how small a cabbage her recipe specifies for this. My largest pot could only fit in half of this cabbage which meant that I had to do it in two lots and I was a bit frustrated juggling the two pots. Whilst this cabbage was quite nice I gave this recipe with some additions-most importantly the addition of a vinegar which it needs to give it some acidity and I upped the brown sugar level.
Adapted from Feast by Nigella Lawson
1 tablespoon olive oil (I would have used some of that goose fat but I was feeding vegetarians here)
1 onion, halved and peeled
1 red cabbage about 1.5-1.8kgs
5 tablespoons light brown sugar
2 tablespoons red wine or balsamic vinegar (I used a morello cherry vinegar)
1/4 teaspoons mixed spice
2  eating apples (Granny Smith will do)
Step 1 - This is best made the day before. Finely shred the cabbage with a food processor or a knife depending on how much washing up you want to do. Peel, core and quarter the apples and chop them into small pieces. Heat the oil in a large heavy bottomed saucepan. Finely slice the peeled and halved onion into thin half moons and add to the pan with the salt. Fry gently until the onion is translucent but not coloured.  Sprinkle over the sugar and add the wine, vinegar, orange juice and mixed spice. Add the apples and cook in low to medium heat until it has wilted down a bit and stir. Cook for two hours and add salt and pepper according to taste.
Danish Christmas Caramel Potatoes
Mr NQN came home from work the other day and he told me about a Danish colleagues Christmas tradition. It involved singing at least three songs while they are dancing around a Christmas tree. I knew my tightly trussed conservative parents would completely eschew that idea (although Mr NQN's family would love it) but what really interested me was the Danish caramel Christmas potatoes. It involves boiling potatoes and then cooking them in a sweet caramel. I was sold instantly!
1 kg/2 pounds of baby chat potatoes
2 Tablespoons of butter, unsalted
Step 1 - Boil and peel the potatoes until just done but not mushy.
Step 2 - In a large heavy bottomed frying pan or pot, cook the sugar on moderate heat in an even layer until completely melted-most importantly do not stir it. When it has melted, add the butter and stir until combined
Step 3 - Add the potatoes and turn them gently with tongs so that each side is covered (the caramel is very hot!) with the caramel. One batch of potatoes takes about 10 minutes until they become lovely and glazed. Add some salt at the end.
Moominmamma's Best Buns
Receiving the book prompted the whole Finnish theme for Christmas and one thing that delighted me was the recipe for Moominmamma's best buns which contained the tempting line "Press your thumb into the top of each bun, leaving a shallow hole and spoon a knob or butter into each hole". Swoon
Sadly I think I came across a bit of a recipe typo when I saw that there was basically equal parts milk to flour which meant that it was a sloppy cake batter mixture. I added more flour and crossed my fingers hoping that the dough would still come together as it should and it did. And my oh my these were good fresh from the oven slathered in even more butter (of course).
350ml/12.5 fl ozs. warm milk
23g dried yeast (or 50g fresh yeast)
1 teaspoon ground cardamom
600-650g (21 ozs-23 ozs) plain flour (approximately)
To glaze and decorate
Step 1 - Measure the warm milk into a mixing bowl and crumble in the yeast and whisk in the butter and the egg. Fold in the sugar, salt, cardamom and flour and knead either by hand or with a dough hook of the electric mixer until the mixture becomes elastic. Add more flour if necessary.
Step 2 - Cover the dough with a cloth and allow it to double in size, around 30 minutes (I did a slow fermentation overnight in the fridge as I wanted to do as much ahead of time as possible).  Divide the dough in half and roll each half into a long sausage shape. Cut each sausage into 12 pieces and roll them into buns.
Step 3 - Line an oven tray with baking parchment and place the buns on the oven tray and allow them to rise for another 15 minutes.
Step 4 - Preheat oven to 200C/400F. Once risen press your thumb into the top of each bun, leaving a shallow hole and spoon a knob or butter into each hole. Glaze the buns with the beaten egg and sprinkle with the granulated sugar and slivered almonds.  Bake for about 10-12 minutes.
Austrian Orange Punsch
Recipe from Kochen in Wien cooking school in Austria
sugar (if needed to taste)
curled orange peel for decoration
Bring all ingredients to a boil and simmer for 5 minutes. Taste it, if it needs more sugar add it to taste. Decorate with curls of orange peel.
_
_ As we have every year, we held a Secret Santa. And of course you know that Santa comes from Finland right? ;) _
Tuulikki opening up her present-I think she was worried that she might have gotten a box of shortbread as her Secret Santa psyched her out with a large empty shortbread tin.
Amaya opens up her presents-these Elliotts love fruit!
Laporello gets excited over his favourite: Eumundi sausages
Whilst my mother unwraps her gift from The Assman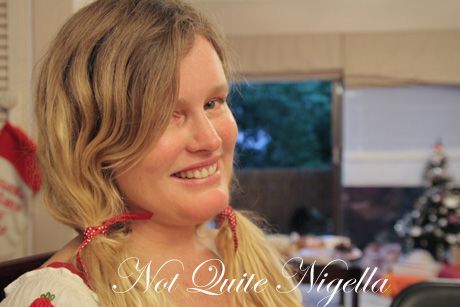 Araluen
Santa Seppo
Happiness is...the new Dexter book!
Sam
The Assman and Laporello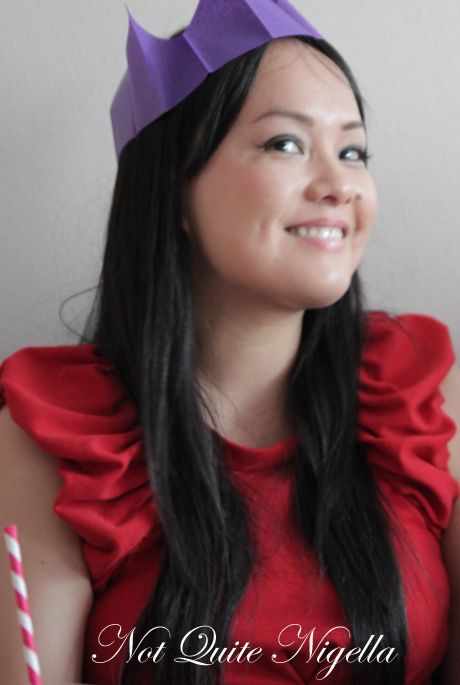 Thanks for stopping by our little Finnish Christmas (in a Southern Hemisphere summer)! I hope your Christmas was full of fun and frolicking :) So tell me Dear Reader, what did you get up to for Christmas? I want to hear everything! :)
Red and white straws from Lovely Little Parties, Lindt chocolates from Lindt, cherries from Harris Farm Markets, bird napkins by Citta Designs, Smood potato masher by Dreamfarm.