These pillowy soft potato bread rolls are perfect for a Thanksgiving or Christmas dinner! Potato and potato water are the secret ingredients that work to make these delightfully soft buns that last fresh for longer too! There's a reason why some of the softest bread is made using potatoes and you have to give these a try at least once! This is a pushy recipe Dear Reader.
Picture it: you're having Christmas or Thanksgiving and your favourite memory is of these deliciously soft and pillowy buns. They've got a luscious buttery honey garlic glaze and they're delicious eaten on their own, for sandwiches or to soak up delicious sauces with. Best of all, these potato buns can be done ahead of time and frozen (once baked) or you can make them the day before and they'll stay light and fresh.
How does Potato Work to Produce such SOFT BUNS? It's the starch in potatoes that gives potatoes a high water-binding capacity as potato starches attract and hold more water than regular wheat flour. Boiling potatoes enlarges the potato starch molecules and prevents flour proteins from forming gluten (too much gluten produces tough breads and cakes). The results are really similar to what you would get with a tangzhong bread. The bread itself is so soft and tastes like it came from a professional bakery. Potato bread also lasts longer as the potato starch molecules help prevent the wheat starches from crystallising which dries out the bread and results in staleness. The potato doesn't add any flavour to the bread but an extra bonus is that it boosts the nutritional value of the bread as potatoes contain potassium, fibre, vitamin C and protein.
Some Tips for Making Potato Bread Rolls
1- Use bread flour or a high protein flour. This will give your bread a better rise and structure. I use Provenance spitfire flour but you can find bread flour or high protein flour at the supermarket or specialty stores.
2 - Boil the potatoes and keep the water. I do this the night before or even a day or two earlier. I made a batch of potato salad and added in extra potatoes for the bread. I make sure to cook the potatoes until they were very soft though.
3 - Puree or mash the potatoes until very smooth.
4 - This may not work as well with prepared mashed potatoes that have butter and cream mixed into them as this may change the balance of the moisture and flour.
5 - Flavour variations: Use 3 tablespoons finely chopped rosemary or chives in the dough. Replace the sugar with honey in the dough for a more pronounced honey flavour. Omit the garlic and add cinnamon to the dough for something sweeter.
Shaping the Buns: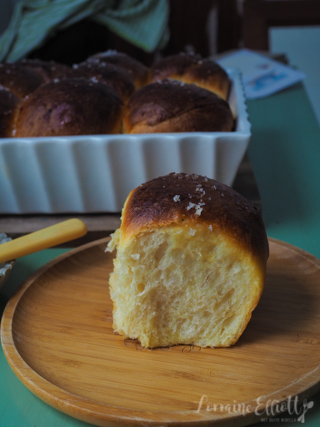 Shaping the buns is an important part of the bread making process. You don't want any cracks on the dough ball as this will prevent proper rising in the oven. It can be time consuming though but here are my tips:
No cracks
1 - Don't flour the surface of your countertop. You need the tension between the countertop and the dough to roll away the cracks. This dough is springy and has some fat in it so it shouldn't stick to the counter (the potato also makes the dough easier to handle).
Rolling into a ball against the countertop using two hands
2 - I have found the easiest way is to roll it between your hands like this. I used to cup my hand around the dough but it took longer this way. This way you use both hands which cuts the time.
The old way I used to shape buns
I first made these buns just before we went away to Hawaii. I wanted to practise them in time for Christmas and I thought that American readers might like to try these potato buns for their Thanksgiving spread. This is a crazy house just before a holiday when you're busy cooking, renovating and getting loose ends tied up. Having two dogs also meant that Mr NQN's mother Tuulikki wasn't able to look after them as she recently had eye surgery. However as soon as we had our travel dates we looked for sitters for Teddy and Milo.
At first we were going to have people house sit and look after the dogs but we both liked the idea that our builder Peter could renovate the upstairs bathroom and painters could paint our bedroom and kitchen/living while we were on holidays so we booked stays with dog sitters at their homes. It was hard to find a sitter that could take both and we thought that the separation might make the heart grow fonder (on Teddy's end, Milo follows Teddy around like a fervent disciple). The first sitter we booked for Milo was a woman called Paris who had looked after Teddy in the past. She was fine although Mr NQN and I wouldn't call her friendly or personable and she was very particular about certain things. When we were a bit late (we had to rush as she switched times for a meet up) she got very terse but she was good with Teddy so we put up with it and Milo was locked in to stay with her.
Then we found another woman in the same suburb as us to look after Teddy. Maria was the polar opposite of Paris. She was warm and accommodating and she also had a toy poodle Coco that was the same age as Teddy. She and her family could not have been lovelier.
Two days before we went away Paris messaged me saying that I needed to pay a puppy surcharge of $10 a day and that Milo would be home during the day by himself as she works. The latter concerned me the most. Milo would be miserable being alone in an apartment for 9 hours. Prior to this stay she had always brought Teddy to work in the art gallery she managed but she had changed jobs and now Milo would be alone all day having no enrichment or company. Also puppies need to go outside to toilet regularly and I could just see Paris giving us her carpet cleaning bill. I wasn't cool with little Milo being alone all day so we cancelled Paris and asked Maria if she could possibly accommodate Milo too. She was only too happy to help and we felt better that she worked from home.
On the second day we received a message from Maria. We had given them a huge box of dog treats, maybe around half a kilo or so. It turned out that the three "kids" had somehow engineered a heist when Maria had taken her daughter to school. She returned to find a completely empty box of treats. It was all done within the space of 20 minutes but somehow they'd managed to climb onto the kitchen table and open the container and gobble up almost half a kilo of dog food! We still don't know who did it or whether it was a team effort. Maria did tell me that she didn't think it was Milo because he saw Coco steal a snack once and barked at him which made them dub him "Milo the snitch". And what do you do when they all look so innocent and cute?
So tell me Dear Reader, who do you think stole all the snacks? Was it a team effort? And do you bake bread for Christmas or Thanksgiving? Have you ever tried potato bread?
Did you make this recipe?
Share your creations by tagging @notquitenigella on Instagram with the hashtag #notquitenigella
SOFT Potato Bread Rolls
An Original Recipe by Lorraine Elliott
Preparation time: 20 minutes plus 2.5-3 hours rising time
Cooking time: 25 minutes
Serves: 12
110ml/3.9flozs water (ideally the water you've boiled the potatoes in)
1 teaspoon sugar

2.5 teaspoons instant dried yeast

750g/26.4ozs bread flour

110g/3.9ozs. white sugar
2.5 teaspoons fine salt
210g/7.4ozs smooth mashed potato
2 eggs, room temperature, beaten
90g/3ozs. butter, softened
For glaze
70g/2.5ozs melted butter
1 teaspoon finely diced garlic
1 teaspoon honey
Pinch of salt
The yeast mixture from this...
To this!
Step 1 - Heat the water until lukewarm/room temperature and place in a bowl. Add the sugar and yeast and stir. Cover with a plate and then allow the yeast to bloom for 8-10 minutes. It should transform into a fluffy, airy mixture.
Pulling the dough apart without it breaking (the window pane effect)
Step 2 - Place the flour, sugar and salt into the bowl of an electric mixer and stir to combine. Add the yeast mixture, mashed potato and eggs into the bowl along with the softened butter. Knead on low speed for 8-12 minutes or until elastic and you can pull the dough apart with your fingers and it doesn't break.
Step 3 - Place in a large greased bowl in a warm area. Cover and allow to rise for 1-1.5 hours. Punch down and weigh the total dough. Mine was 1442g/50ozs. which is 120g/4ozs. per bun when divided into 12.
Step 4 - Oil a 22.8x33x5cm or 9x13x2 inch baking tray. Shape these buns into balls rolling them on the counter surface - you want the dough balls to not have any cracks (see notes above re shaping buns). Place these in the tray; they should be touching but not squished together as they'll expand.
Buns expanded in size after second rise
Step 5 - Make the glaze. Mix the melted butter with the garlic, honey and salt and brush over the buns and then cover and place in a warm area to rise (it was cold that day so I placed them in a 35C/95F oven). Allow to rise for 1 hour or until very tall, puffy and touching.
Step 6 - Preheat oven to 170C/340F. Brush again with the glaze and bake for 25 minutes. Once baked add more glaze and a little salt on top and serve.