I scared you there for a minute Dear Reader didn't I? Don't worry I haven't gone over all healthy on you although I do have my moments and post Christmas is my inevitable moment. The time where I scramble to find healthy ways to make food in a kind of schizophrenic but well intentioned bid at losing any kilos that Christmas hath giveth (although alternating it with a rich cheesecake the other day might not be the smartest idea...).
Mr NQN asked me why I was making healthy food but then going out for pizza, pasta and ribs and I answered him that it was a carefully balanced and orchestrated way of eating that he simply wouldn't understand. Ahem. But look  isn't that a famous sportsperson over there*?
*subject changing, I do it often.
One meal that I just love but is not considered a low fat or low calorie affair is the afternoon tea. It is usually seen as a chance to legally eat copious amounts of cupcakes, cakes and pastries in the tiresome lull between lunch and dinner. I received a book in the mail called "The Complete Food Makeover" from ABC books which lo and behold held an afternoon tea section! Curious to try out a few recipes I reasoned that I should invite the girls over so I sent out an invitation to some lovely lasses for a New Year's Resolution friendly afternoon tea. I raided my darling friend The Second Wife's teacup and teapot and travel spoon collection-if a friend lends you her precious Limoges Legle tea set you know she's a great friend!
I made a range of things including Portuguese custard tarts (not from the book) using reduced fat puff pastry and skim milk instead of full butter and cream, chocolate truffles, blackberry matchsticks, chocolate and banana muffins, scones, profiteroles, little stuffed sandwich rolls,  iced Turkish apple tea, Pimms and lemonade and caramel black tea.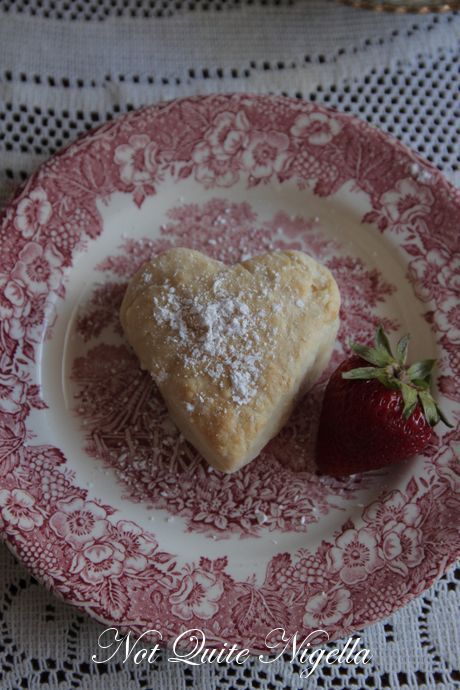 After trying half a dozen recipes from the book everyone assembled liked the taste of most of them except for the chocolate banana cupcakes which were in Sisko's words "Just not right-like the banana and chocolate are battling each other". And I made the brownies but didn't even serve them as they were as hard as a rock. The author likes to use raw sugar which as most bakers know, does not cream well and remains as hard, crunchy crystals.
_My favourite tea cosy-I actually bought this as a gift for Queen Viv but couldn't bear to part with it. I'm so mean!
_
I also tried the book's recipe for faux cream which is made by whipping up a chilled tin of evaporated milk but there were no instructions saying that this had to be used straight away or it would dissolve and break down-in fact it told us that the cream kept its volume which it didn't. I made it the day before and stored it in an airtight container and found a strange, half deflated holey creation in the fridge. I passed on serving this as it tended to dissolve on contact with spoons and heat (it was a hot weekend).
Flowers from Queen Viv
The favourites were the chocolate truffles, Portuguese custard tarts, matchsticks and the heart shaped scones. I found the recipes a bit hit and miss and some recipes were just not very good-not only did the chocolate banana muffins taste "funny" the recipe also said that it made 24 muffins. Using my standard muffin tray I could only make a meagre 6.5 muffins!  Quantities seem a little odd in many of the recipes that I tried. On the plus side there are some clever ideas for saving fat-I thought that splitting the baked puff pastry rectangles in two and using each half to sandwich the ricotta cream and berry was very clever and a way to lower the fat. And the ricotta cream is a nice substitute for cream and the faux cream is interesting and perhaps quite good if you want to use it straight away.
A gift from Myriam
Besides the food, every now and then you need to have a sports free zone, a chance to get together with the gals and discuss the important things in life. Who bought what shoes, which celebrity has new boobs and conjure up new and bizarre dinner party ideas. Vive la girlfriends!
So tell me Dear Reader, are you trying to eat healthier at the moment? If you are, how is it going?
Chocolate truffles
These chocolate truffles don't use any chocolate itself but cocoa powder and are a ground up mixture of dried dates , sultanas and coconut and almond meal. They're very quick to make and are about half the calories of a regular truffle. Although they aren't going to match a luxurious hand made truffle they are very good at satisfying a sugary, chocolatey craving and had Mr NQN baying for an invite to the afternoon tea. I told him no unless he wore a dress.
Approximately 35 calories, 1g fat each
Makes 40 truffles
Adapted from The Complete Food Makeover
Preparation time: 10 minutes
3/4 cup (90g/3ozs) sultanas
3/4 cup (135g/5ozs) pitted dates
1 tablespoon unsweetened cocoa powder
1 tablespoon boiling water
1/2 cup (125ml/4.4 fl ozs) skim milk powder
1/4 cup (25g/1oz) almond meal
1/4 cup (25g/1oz) desiccated coconut
100g/3.5 ozs chocolate sprinkles or 1/2 cup dessicated coconut for rolling and coating
Step 1 - Place the sultanas and dates in a food processor and blend until finely chopped. Add the cocoa powder, boiling water, skim milk powder, almond meal and coconut and pulse until just combined. The mixture should be a firm, shapeable dough. Add a little water if needed (I added another tablespoon or two).
Step 2 - Line a baking tray with parchment.  Take a teaspoon of the mixture and roll it into a ball and place it on the lined baking tray and do the same with the rest of the mix. Then place chocolate sprinkles in a bowl and roll each one in them and place back on tray and refrigerate. Store in an airtight container in the fridge for up to 2 weeks.
Heart shaped scones
I'll take any excuse to make something heart shaped. Of course you need only to look at my wardrobe to know this-I've got heart shaped earrings, rings, necklaces and dresses with hearts on them. So rather than make these plain round scones I thought that the gals might like heart shaped scones.
Makes 10 heart shaped scones
Adapted from The Complete Food Makeover
2 cups self raising flour
1.5 tablespoons low fat spread
2/3 cup buttermilk (I sour regular milk with a tablespoon of lemon juice)
plain flour, extra for rolling
What better time to use my heart shaped measuring cups from reader Maddie?
Step 1 - Preheat oven to 200C/400F and line a baking tray with parchment. Sift flour twice in a bowl and and with your fingertips, crumble the spread so that the mixture resembles fine breadcrumbs. With a butter knife mix in the buttermilk and knead until just combined.
Step 2 - Roll out to 3cms thick onto a floured board using a lightly floured rolling pin. Cut out shapes with the cutter (if you haven't got a cutter use a knife to cut the dough into squares) and place on lined baking tray. Brush lightly with egg white. Bake in oven for 10-15 minutes. Serve with jam and ricotta cream.
Blackberry Matchsticks
Queen Viv adored these although to be honest I didn't know how these would fare. You see I had made these and set them up on the table but we were all too busy talking and it was only Teena's daughter hungry little Annabel that reminded us that there was food to be eaten. By this stage I was worried that the ricotta, which is quite wet, would make the puff pastry soggy. It did somewhat but the top remains crisp and the whole thing is light and lovely with a creamy sweetness from the ricotta and a slight tanginess from the blackberries
Adapted from The Complete Food Makeover
1 sheet reduced fat puff pastry
1 cup frozen blackberries
2-3 tablespoons sugar (to taste)
1 tablespoon cornflour mixed with 2-3 tablespoons cold water
3 tablespoons icing sugar plus extra to dust on top
Step 1 - Place the blackberries and sugar in a small saucepan and cook until thawed. When the juice becomes syrupy turn down the heat ensuring that it is not boiling and add in the cornflour and water mixture (be sure to give it a quick mix before you add it as the cornflour tends to settle). Stir until thick and cool then chill in fridge until needed.
Step 2 - Mix together ricotta, milk and the 3 tablespoons icing sugar. Chill in fridge until needed.
Step 3 - Preheat oven to 220C/440F and line a baking tray with parchment. Cut out puff psatry into rectangles. You should be able to get about 18 per sheet of pastry (but it depends how big you make them- I made mine 8cms x3cms). Bake in oven and do not dock with fork (you want these to rise). Bake for 10 minutes until light golden. You can do both these parts ahead of time and assemble them (step 4) just before serving.
Slicing in half horizontally to make two rectangles
Step 4 - Taking each rectangle, split them in half horizontally so you get two triangles (as shown-it should be easy as puff pastry has many layers). Spoon some ricotta filling onto one half and then spoon some blackberry filling on top and pop the other layer on top. Sift icing sugar over the top.
Profiteroles
I know, profiteroles using low fat spread. I can hear the protest from the pastry chefs around France right now. Low fat spread has a lot of water added to it-I only know this because I melted some and it separated but nevertheless you can actually make profiteroles out of it although I don't know if they will necessarily win any pastry awards. They're not bad though and actually do remain crisp if you finish them off in the oven for a few minutes on the day that you want to use them.
Adapted from The Complete Food Makeover
1/2 cup (60g) plain flour
1 quantity ricotta cream* see matchstick recipe above to make ricotta cream
2 teaspoons icing sugar to dust
Step 1 - Set the oven to 220C/440F. Place the spread and water in a small saucepan and bring to the boil. Add the flour and stir vigorously with a wooden spoon until the mixture forms a smooth ball. Transfer the ball into the bowl f an electric mixer fitted with a whisk attachment and beat in the eggs until smooth and glossy. It will go crumbly and separate while you are mixing but will come together after a couple of minutes.
Step 2 - Spoon the mixture into a piping bag or plastic bag with a corner snipped off and pipe small dollops of the mixture onto baking paper lined trays. Bake for 8 minutes. Reduce the temperature to 180C/350F and bake for a further 8 minutes or until the pastries are crisp.
Step 3 - Remove from the oven and make a small opening at the side of each pastry. Return to the oven and bake for a final 5 minutes. This will help to dry out the pastry.
Step 4 - Once cooled, gently fill with the ricotta cream. Dust with icing sugar and serve.
Butterfly sponge cakes
I tried making the original cakes as specified in the recipe but they were dry (as mentioned) and not as light as I wanted them so I am providing a recipe for an alternative sponge which you can use for this recipe. Apart from hearts I am also mad for butterflies and ever since I was small I have loved these jam and cream filled sponge cupcakes.
3 large eggs at room temperature
1/3 cup caster/superfine sugar
A little butter and flour to grease the tins
3/5 tablespoons strawberry jam
1 quantity ricotta cream* or faux cream* (recipe below)
Step 1 - Arrange oven rack so that it sits in the centre of the oven. Preheat oven to 180C/350F. Grease muffin pans with butter and sift some flour over the butter and shake out excess flour. Whisk eggs and sugar on a medium high setting (I used setting #6 on the Kitchenaid) for 5-6 minutes until it has turned very pale and very thick and has increased in volume to at least 3 times its original volume.
Step 2 - Meanwhile, sift the flour and custard powder three times. Each time do it at a bit of a height and tap the side of the sieve with the heel of your hand or use your wrist to shake it back and forth (rather than pressing down on the flour with a spoon).
Step 3 - When the egg mixture is ready, ensure that the oven is at the correct temperature. Sift the flour into the mixture and immediately fold in the mixture underneath. Use the up, down and under folding motion (do not stir). It folds easily and should be able to be incorporated easily. Quickly spoon it into the tins and bake in the centre row of the oven and bake for 10-12 minutes.
Step 4 - Cut out a cone from the top and reserve the piece. Fill with a teaspoon of strawberry jam and a little ricotta cream. Cut cone in half and place on top of the cream and jam like wings.
Low Fat Portuguese Custard Tarts
They are simply the lowest fat version of the fabulous Portuguese custard tarts here which are in themselves a reduced fat version of the original which uses cream and milk and double the amount of puff pastry. I've pared these back as far as they will go and I don't think they're bad at all. I wasn't quite willing to omit the egg yolks and just use egg whites and I get the feeling that it might not be very good at all. Sometimes you just need to know when to hold em and when to fold em. And that's all the country from me folks.
2 egg yolks and 1 whole egg
400ml/14 fl. ozs skim milk
2 tsp vanilla extract or paste
One sheet of reduced fat puff pastry
Method
Step 1 - Lightly grease a 12-hole 80ml muffin tray.
Step 2 - Put the egg yolks, sugar and cornflour in a pan and whisk together. Gradually whisk in the skim milk until smooth.
Step 3 - Place the pan over a medium heat and cook, stirring, until the mixture thickens and comes to the boil. Remove from the heat and stir in the vanilla extract. Transfer the custard to a bowl, cover the surface with cling film to prevent a skin forming and leave to cool.
Step 4 - Preheat the oven to 200C.
Step 5 - Cut the pastry dough sheet in half, put one half on top of the other and set aside for 5 minutes. Roll up the pastry tightly from the short end and cut the pastry log into 12 x 1cm rounds. Lay each pastry round on a lightly floured surface and use a rolling pin to roll out until each is 10cm in diameter.
Step 6 - Press the pastry rounds into the muffin tin. Spoon the cooled custard into the pastry cases and bake for 20-25 minutes, or until the pastry and custard are golden. Leave the tarts in the tin for 5 minutes, then transfer to a wire rack to cool completely.
Lower carb filled sandwiches
I remember reading in a trashy mag (so I don't know if it can be relied upon for accuracy) that Jennifer Aniston used to hollow out breads rolls of their soft bready interior and fill it back up with protein and salad thus lowering the carb content of her sandwiches without looking like a fussy eater who picks off the meat and salad and leaves the bread behind (guilty as charged). I figured I could apply the same technique to little individual rolls which I filled with chicken, smoked salmon and a labneh and cucumber.
300g chicken breast meat, chopped
1/2 cucumber, peeled and thinly sliced
50g baby spinach leaves, washed and dried
Step 1 - Bake the rolls in a 200C/400F oven for 4 minutes until fresh. Cool and split each roll along the top as shown and dig out the bread from the centre whilst keeping the outside intact.
Step 2 - For chicken sandwich: in a bowl add the chopped chicken breast and 1/3 cup of the labneh and chives and salt and pepper. Stuff the roll with a couple of leaves of baby spinach and then spoon in some chicken filling.
Step 3 - For smoked salmon sandwich: with the smoked salmon, stuff the roll with a couple of leaves of baby spinach and then 1/2 slice of smoked salmon. Top with chives.
Step 4 - For a vegetarian sandwich: spread labneh in the centre and stuff with a couple of cucumber slices.
Pimms and Lemonade
As I type, I am slightly tipsy on this lovely concoction. Darling readers, it's terribly hot and I couldn't help but gulp this down after the guests had left. Pimms is one of those drinks that is difficult to describe and there's nothing quite like it but suffice it to say that it makes a smashing drink for hot summer days when mixed with some lemonade. The foliage I find is quite fetching too and lends not only flavour but eye candy too.
A few slices of cucumber, handful of mint leaves, half a lemon cut into wedges and a couple of strawberries sliced in half
750ml-1 litre lemonade  like 7 up as opposed to a Lift (I used a sugar free lemonade), chilled
Step 1 - Place cucumber, mint leaves, lemon wedges and strawberries Add chilled lemonade and Pimms into the jug or carafe and serve cold.
Iced Turkish Apple Tea
I didn't expect my guests to gather in the kitchen (I should have really tidied up a bit better!) but gather they did to see me using the new Breville tea maker and kettle (RRP$299.95) which is designed to brew tea. It's all a bit space agey and similar to space shuttle landing on the launch pad but basically you fill up the jug with cold fresh water and you have a kettle if you want it to be that. Or if you want to make tea (and this summer I'm making loads of iced tea) you fill up the tea holder with tea and then snap it onto the magnetised column and tell the tea maker what type of tea it is (black, green, herbal) and how strong you want it and off it goes.
The reason you tell it what type of tea it is is because certain teas require different temperatures and telling it how strong you want it will mean that it will brew it for the necessary amount of time. So once the water reaches the correct temperature, the basket lowers which we were all gathered ready to watch, it plunges into the water and brews and once the time is up, the basket lifts up and it beeps letting you know that it is ready. It can also keep your tea warm for you for up to 60 minutes. Clever!
Landing on launchpad!
The only shortcomings I can see (well I've only had it a day) is that you need to make a few cups of tea at least to use it and considering I only have one cup of tea in the morning and maybe one in the afternoon I'll probably mostly be using this for a kettle which means that it is on the expensive end of the scale for a kettle only. Also if you are boiling several teapots full of tea, it is quite hot when you are removing the tea basket so I needed to use washing up gloves to empty the tea basket between uses. I will keep you posted on what it's like as time goes on-after all we are just new to each other.
_The Complete Food Makeover by Julie Maree Wood is $39.99. Red polka dot 3 tier cupcake stand from Lovely Little Parties.
_