I have an affinity with the Park Hyatt Hotels. For one, the Sydney Park Hyatt was the place that Mr NQN and I stayed on our wedding night and we loved the seamless and deferential service and the spacious spectacular rooms plus of course the incredible views. I was eager to see what the Melbourne Park Hyatt was like so when I travelled down to Melbourne for the launch of the new Cornetto campaign Mr NQN and I were lucky enough to stay a couple of nights there.
The driveway is long and imposingly grand. Unfortunately the porter didn't help us with our luggage although he did see us struggling with many bags which wasn't a great first impression. Thankfully things go up from there and we enter the lobby where it's all shiny polished enamelled woods and chrome with a beautiful ceiling in the centre of the room. Although we're unexpectedly early for check in, our room is ready and we make our way up to the 19th floor which is a club room which comes with access to an adjoining club lounge where snacks are served throughout the day.
We called this the "Time Travel Machine" or the Teleporter
Our room is very spacious and spotlessly clean and a noticeably large 48 square metres (space must be a key point of Park Hyatts as the Sydney room was spacious too). There are sliding doors partitioning off the bathroom and a Carrie Bradshaw friendly sized wardrobe. Out the window is a view of the cathedral and park. The Italian marble bathroom has a spa bath and what is that I see? Yay ! It's a television next to the bathtub-so you can either stare outside at the views or at the television (and they have excellent cable tv channel selection, as a tv addict this is important to me). The shower has non fogging shaving mirrors inside it and the toiletries range is extensive.
There is a his and hers sink, soft touch lights all with dimmers, plenty of towels and a nice leather work chair. I have to admit to a slightly strange prejudice against fabric desk chairs in hotel rooms as I always wonder if someone has sat naked on one the night before and leather is easier to clean off. See, I told you it was strange! There is also a delicious box of welcome chocolates in three flavours: hazelnut & pop rocks, cherry & coconut and coffee. The cherry and coconut is a firm favourite although they are all extremely scoffable. There is also a 24 hour gym in case you get the urge to do "gym things" at odd hours. As well there is a his and hers sauna and a spa and pool (where Mr NQN spotted a famous, very good looking Melbourne chef and his family! ;) ). As for me, I won't be working in the gym but working out with these chocolates below. I'm thinking that I like my home away from home for the next two days!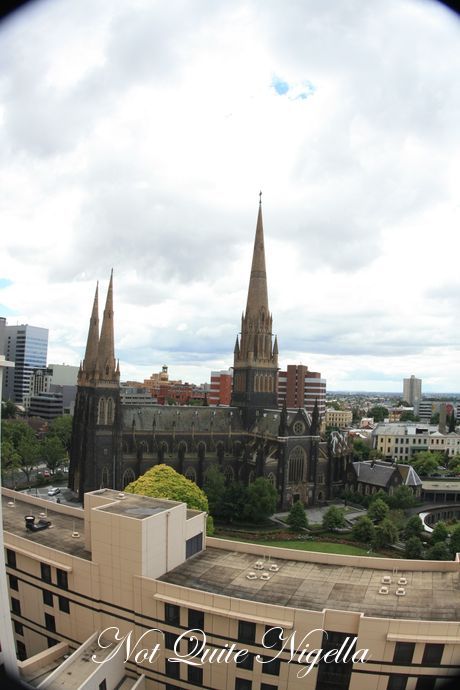 Le view from le room
After settling in, I meet my afternoon tea dining companion Nic for a spot of afternoon tea downstairs at the Radii restaurant. Mr NQN always begs off afternoon tea dismissing it as "tiny bits where I go hungry" and Nic is only too happy to take his place. We enter Radii which is quite an arresting sight. There are lit up floors, blue lights, glowingly warm lights and giraffe spotted cut outs snaking around two thick pillars. The first thing I think of is Las Vegas. We're shown through the large multi layered restaurant past the chefs preparing the food in the open kitchen to our table. We take a seat at a table next to the private dining room ( which we get glimpses of-very chic!).
Our waiter explains the high tea to us. He tells us that we have a choice of English Breakfast tea or coffee and we start with a glass of NV Perrier Jouet. Afternoon tea here is $60 with the champagne or $50 without it. When I ask if there is a menu where I can see the selection (just to save me writing it down) there is a slight misunderstanding and he tells me that I can't pick and choose what I want to order. I try and explain and they later bring us a printed out menu. We are also later offered a choice of teas as I don't want English Breakfast and I want Earl Grey.
Our three tier stand arrives and on the top stand are the sweets, in the centre a range of sandwiches and on the bottom tier the fruited and plain scones. The tray of two jams and whipped chantilly cream come separately. We start on the middle stand and there is a dinner roll with egg and mayonnaise which is fresh and soft with a nicely seasoned egg salad and watercress on it.
I then tried the mini smoked Huon salmon poppyseed bagel topped with salmon roe, cucumber and a chive cream cheese which is delectable and well balanced with flavours. The triangle sandwich bread is quite unusual-it is white bread but baked in a triangle shape! It's filled with gypsy ham and vintage cheddar cheese and it is nice albeit a bit plain compared to the rest of the savouries. Lastly we try the smoked turkey and cranberry which is a little too sweet and doesn't have enough smoked turkey so it tastes more like a jam sandwich.
We next try the scones and the plain scone is served warm whereas the fruit one isn't which is a little odd. I try both the raspberry jam and the apricot and lychee jam which is just heavenly with the vanilla cream. I do prefer clotted cream with scones but the vanilla goes so well with the apricot and lychee jam which has the very lightest accent of lychee and out of the two scones I prefer the icing sugar dusted plain as that is served warm.
Sweets tier view 1
The sweets tier is last for attack and I try the white and milk chocolate mousse in a shot glass which is appealingly silky (Nic prefers the white chocolate top layer). The lemon meringue tart has a buttery tart base and a nice lemon curd centre and the meringue appeared burnished with a blowtorch on top. The macaron wasn't quite as successful as they taste mostly of sugar and almond with a spread of caramel and a very light raspberry mousse instead of a buttercream which doesn't impart a lot of flavour.
Sweets tier view 2
The mini cupcakes are very good, especially the citrus one which is baked for them by an external bakery to their recipe. It is moist and citrussy tasting like it could be made with almond meal. However there was one each of each cupcake and perhaps one of each type might have been good especially as there was one of each of everything else. The other cupcake was a chocolate mud which was moist and rich.
Nic sit back and catch up on important things. You know what's happening with our friends and world news aka trashy mags! I go back upstairs to find Mr NQN contentedly resting. I fear he might not want to move out...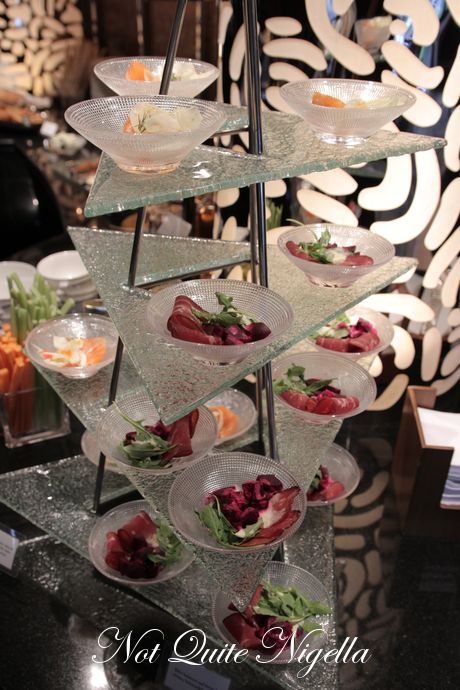 We do a bit of shopping in downtown Melbourne and catch up with another friend and before we know it it's dinner time. But before dinner there is the obligatory visit to the Club Lounge to take a peek at their snacks. I love club floors as they have extras during the day. Here they have drinks and some fruit and cookies during the day and around 6pm they have complimentary snacks and cocktail food. And if you know me you'll know I love snacks and cocktail food!
Hot morsels on offer
Dessert selection-I didn't ruin my appetite on these as I knew dinner was coming!
Smoked salmon salad
Beetroot and breseola salad with rocket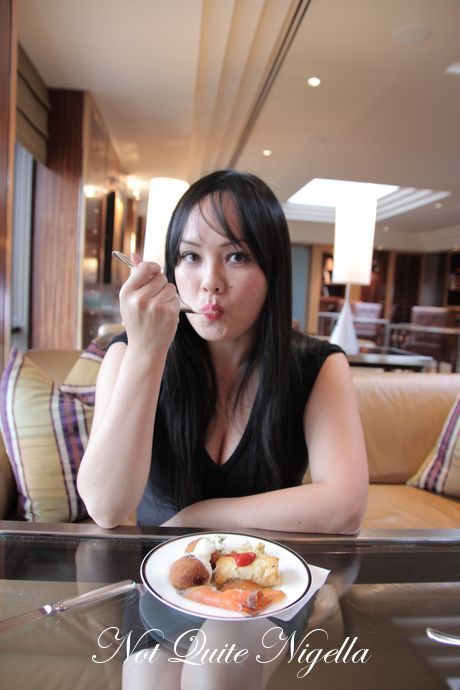 I look very serious but in all honesty I was contemplating the spinach dip.
Spiced lamb filo, pumpkin arancini balls with aioli, gravlax salmon, spinach dip and Medjool dates
The spiced lamb filo parcels were so, so good. The lamb mince was beautifully saucey and not dry at all and the tomato sauce goes really well with it. The pumpkin arancini balls were also fresh and tasty but I just want more of those lamb filo parcels! The gravlax was gorgeous and I may or may not have popped the dates into my bag for late at night snacking (I know, it's against the rules but I was getting quite full by the time that I got to these on the plate and Medjool dates should never be thrown out-ever!)
Time for dinner at Radii!
Wood fired bread with garlic confit $9
Ok you can just see how dripping it is with butter and you know that just speaks to me like a lover. The garlic confit is mellow but still garlicky enough and the butter soaks pretty much in between each side drenching it and the bread is appealingly crunchy. It just needs a little pinch of salt!
Amuse Bouche
A very generous amuse bouche this was a slice of imported foie gras from France pan fried and served with a triangle of bread and a confit of tomato stuffed with herbs sitting on the circle of bread that has been cut out of the triangle. The foie gras is luscious and rich. This portion is just the right size, any more and it would have been too much and less would be too little. And we realize that this is not the regular amuse bouche as others around us receive a different one.
Ravioli of slow cooked free range chicken, mushroom nage $20
The two ravioli are made with a slow cooked free range chicken that has been cooked for 12 hours and this is paired with a mushroom duxelle which is a blend of mushrooms. It is stuffed into the house made pasta sheets and then cooked and served with a mushroom soup flavoured with chanterelle mushrooms. The ravioli skin is delicate and the chicken is the predominant flavor in the ravioli whereas the mushroom is in the clear soup.
Harvey bay scallops with green pea purée, sue vierge, pancetta $25
The small scallops are delicious and well cooked with a lightly crispiness to the outside. They are paired with a pea purée, corn rouille which is a potato based mayonnaise sauce and two small pies of crispy pancetta.
Lemon sorbet with Midori liqueur
The palate cleanser came in the form of a lemon sorbet with some Midori liqueur. It's a tad medicinal for me, I prefer lemon sorbet on it's own but Mr NQN likes it and takes my share.
Crayfish with Lemon butter
The chef explains that on weekends they have some live tank seafood whether it be crab or lobster and today there is some large crayfish on offer. It comes with your choice of sauces and this one comes with a lemon butter and house made caramelized onion jam which takes about 6-7 hours to make but is sweet and delectable. The simply grilled crayfish is lovely and tender and not at all chewy as it can often be.
Rib eye on the bone 450 grams $52
The grain fed Vic Farms rib eye is on the bone has been dry aged for 28 days and you can absolutely taste how rich and concentrated the flavours are in this cut. It is paired with a red wine jus as well as that delicious caramelised onion jam and it goes very well with both, both really bringing out the robust flavour of the grain fed meat. It is however a very large serve and best tackled by the brave. Even Mr NQN, try as he might, can't finish it.
Thick cut steak fries $9
The thick cut steak fries are a little dry and could do with some double frying ;)
Sauteed white and green asparagus, hollandaise $9
The asparagus are perfectly cooked and covered in a hollandaise sauce. Whilst they're very good, I would have preferred the hollandaise on the side as I prefer to dip the asparagus in the hollandaise so that I don't get too much of it.
Manjari chocolate and raspberry cigars, hand made truffles $16
Now Mr NQN and I both prefer fruit desserts, especially when you've had a lot of rich food. But this dessert has us changing our tune. It is one long, dramatic word: faaabulous. Pthin chocolate cigars are filled with a Valrhona manjari chocolate mousse and the slenderer one is filled with a raspberry mousse. The milk chocolate truffle is sweet and the raspberry pate de fruits is tangy which covers both aspects of the dish. And we ate it all happily and greedily.
Lemon tart, pine nut crust, Persian fairy floss $16
Sadly, that left no room for the lemon tart which was just like a regular lemon tart with Persian fairy floss on top. I can't say that it wasn't good, it was perfectly good, but when you have the chocolate cigars, there really is no comparison. Especially when you're both busy fighting for bits of the chocolate cigars to the bittersweet end.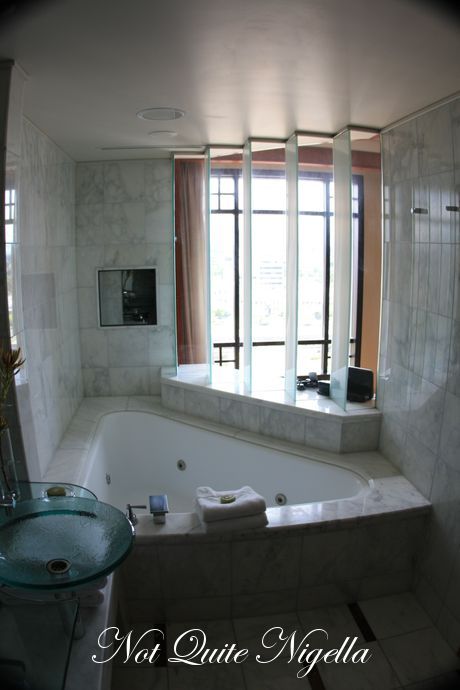 We roll back to the room and sleep well and I manage to sneak in the medjool dates while I'm busy writing later that evening. And that night, I sit in the bath and watch the skyline and the television. Heaven.
So tell me Dear Reader, do you have any strange or not so strange hotel likes or dislikes?
NQN and Mr NQN stayed and dined as guests of the Park Hyatt Melbourne
Park Hyatt, Melbourne
1 Parliament Square, off Parliament Place
Melbourne VIC
Tel: +61 (03) 9224 1234