Hello my lovelies! guess where I've landed today? Well no need to guess as I've put it in the title but I'm in Melbourne for the Melbourne Food & Wine Festival! I'm booked in to do some rather exciting things including seeing the very famous Ms Nigella Lawson in a Masterclass as well as indulging in some macarons at the Hearts Macaron High Tea at the Langham and some other goodies which I'll report to all of you at lightning speed. No waiting around for these stories to pop up!
My brutally early morning wake up call was soothed by some food - what else of course? After we touched down I was picked up by a driver  and shortly after I arrived at my hotel, the Intercontinental Melbourne The Rialto where I dropped my bags, slapped on some makeup to make myself look vaguely human again (I pity anyone that sees me on these early morning flights) and hightailed it in a taxi to the Langham where Japanese pastry chef Hisako Ogita, author of "I Heart Macarons" is overseeing the creation of some macarons and a macaron morning tea. She has even invented a special pink macaron for The Langham in the flavour of pink ginger just for the festival.
I enter The Langham foyer and spot a huge flower arrangement with some macarons among them. The lobby area and the walk up to the Aria Lounge are very Mad Men-I expect Betty Draper to swan past me at any moment. The Langham is famous for their themed afternoon teas and I recall having a lovely Alice in Wonderland one in the Auckland Langham hotel. Coming up soon is a kid's "animal farm" themed afternoon tea. Today there are three morning teas on offer: Hearts Macaron which come with a plate of macarons as well as a special appearance by Hisako herself, a classic morning tea and a chocolate indulgence morning tea. All have the same sandwiches and scones but only the sweet layer differs.
Can you spot the macarons?
Earl grey tea and sparkling wine
We start with a glass of sparkling wine and tea, Earl Grey for me which comes out in a silver pot with an extra jug of hot water for refilling. My dining companion Liz and I dither over which morning tea to have but settle on having one of the Hearts Macaron teas and one chocolate indulgence tea (both $43 per person). After all that means more to taste. I'm feeling the post flight tension leaving me already.
Chocolate Indulgence stand $43
We take a look at the Hearts Macaron three tier stand first. On the sandwich layer at the bottom are five types of sandwiches, one rolled and four types of finger sandwiches with two in white bread and two in brown. I start with the rolled smoked salmon sandwich on the top. Now if you know the story of afternoon tea you'll have read that the Duchess of Bedford the VII started the whole afternoon tea trend (bless her!). She has long since passed and we are now up to our 14th Duchess of Bedford and apparently she dined here at the Langham and partook of their afternoon tea. It was her suggestion that they include a rolled sandwich in the sandwich selection!
Even though I love wholemeal and grainy bread the white bread sandwiches are the pick. The chicken sandwich is excellent-so good that when they come around and offer to replenish it with more I eagerly nod yes (which when you see how much we have to eat you'll agree is a foolhardy gesture). The egg and mayonnaise sandwich is also moreish with the soft, downy bread. The brown bread sandwiches weren't quite as exciting, in fact we thought that the cream cheese and chive sandwiches could have done with some smoked salmon and the cucumber and cream cheese sandwich would have been much better with the white bread.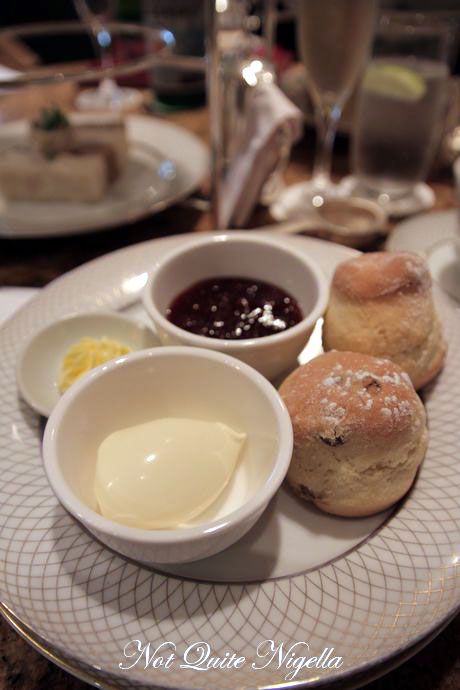 I next dig into the layer of scones. Even though we spent some time on the sandwiches the scones are still slightly warm. They smell lovely and I slather on some strawberry jam which is thick with chunks of fruit and some beautifully rich cream. The fruit scone has a good amount of fruit in it, not too much and not too little.
The lovely Hisako Ogita stops by and The Langham staff introduce her to everyone dining.
Hearts macaron stand $43 plus macarons and souffle
We next attack the third layer-dessert after the main if you will. Even though this looks like the chocolate afternoon tea it is in fact the hearts macaron tea. There is a very cute tuxedo styled chocolate dipped strawberry, a chocolate eclair with crispy choux pastry and a cake that they call a candied fruit tea cake which is more like a chocolate ganache cake coated in glossy chocolate ganache. Lastly there is a mixed fruit and custard tart which has a crispy tart base and a creamy vanilla custard and glazed berries. On a separate plate came a chocolate souffle with a jug of chocolate sauce. This came out last and I'm afraid to say that by the time I tried this, I had hit my chocolate wall.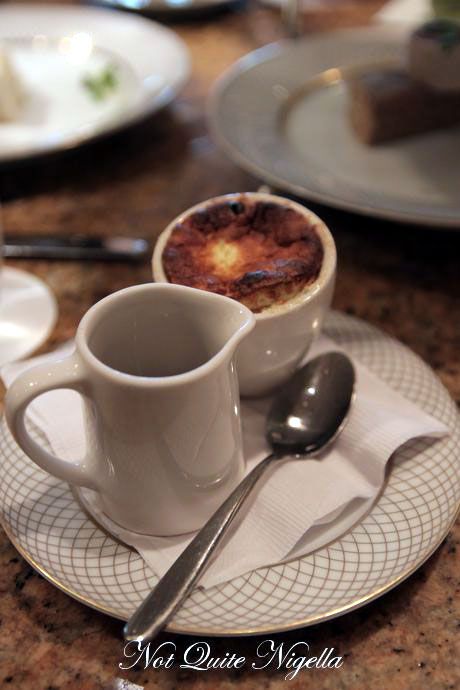 Chocolate souffle
And what were the macarons like? Well I do line up all macarons against the macarons that I devoured ... ahem tried at Pierre Herme in Paris which we so whisper light that when the sales clerk picked some up with tongs they just disintegrated. These aren't light and they also aren't smooth on top, in fact they are quite bumpy and you can see the piping marks which is not ideal at all.
From left to right: green tea, pink ginger and chocolate macarons
There are three flavours: chocolate, green tea and the pink ginger. I first try the chocolate and I'm first struck by the fact that it isn't very chocolatey. Perhaps chocolate ganache in the centre instead of vanilla buttercream would have been better to carry through the chocolate flavour. The green tea is good and very pronounced in green tea and the pink ginger is a lovely flavour and my favourite of the three with that slightly sweet pickled ginger flavour that contrasts well with the sweetness of the macarons. If they nailed the shells then they would have a killer macaron flavour here.
We're onto the sweet layer of the chocolate indulgence morning tea which is a very pretty plate indeed. The green glazed tart is a lemon, lime and bitter curd tartlet with a fresh blueberry on top which was Elphaba green in colour and lovely and bittersweet. The Jaffa chocolate shot was divine looking with a layer of orange jelly and two tone chocolate mousse accented with a patterned orange chocolate triangle. There was also a gorgeous crunchy almond florentine which was sweet with honey and gloriously crunchy (although the menu does say that it was dipped in yogurt chocolate, I think this was milk chocolate).
There is a light chocolate marquise which was like a mousse on a thin layer of sponge with candy striped white chocolate sides. Lastly there is an Amarascata (said to be the Rolls Royce of cherries) roulade with a light sponge with a glossy joconde imprime outer in a lovely wood pattern. Rolled up inside this was an amarascata mousse filling with a cherry gelee filling and a chocolate crunch on top dusted with iridescent powder. Now that was a mouthful and it was slightly tart and creamy. The menu mentions cocoa nibs in this last morsel but I couldn't find any.
With that feast done with, I brave the tram system. You know  me, I have no sense of direction and even though I've visited Melbourne a dozen times in my life, I have no idea where I am going. Liz shows me the way and I get on and find my way home without event or embarrassing myself or harassing a stranger. But first I  must show you something rather fantastic at City Square. The Edible Garden is a garden in the centre of Melbourne set up for the festival that shows urban gardeners how to make the most of their garden space. Three times a day people can watch cooking demonstrations from chefs such as the fantastic Michael Ryan from The Provenance and then eat the food at the communal table.
Garden workshops are held at 11am and 12:45pm and this weekend there is also a kid's gardening workshop held. The edible garden was designed by the Digger's Club which you may have heard of through Digger's Seeds who were pioneers with reclaiming the heirloom tomatoes. They specialise in heirloom varieties and in this display are all sorts of interesting plants being grown including chocolate capsicum (sadly only chocolate in colour and not taste), black pearl pepper, mountain pawpaw, deer tongue lettuce and a fruit called babaco which is similar to paw paw but can be grown in colder climates. They use recycled old printer cartridges as planter boxes. Their display shows that 4 planter boxes can feed a small family.
If you know me, you'll know walking really isn't my thing (is it socially acceptable to tell people that being carried is more my thing? Hmmm probably not...). I need to do some work so I head home. Home is the Inter Continental for this weekend and while I'm on my way they call me to let me know that my room is ready for checkin and that my bags are upstairs waiting for me.
I turn the corner on my floor and the door looks a bit different from the rest of them. Oooh a suite!  I do like a suite even if it's just little old me rattling inside it (Mr NQN is at home in Sydney because he has a sailing regatta which causes me to say "sucker"! under  my breath ;) ). The lounge room is enormous and modern and warm with a large leather pouf, an enormous plush rug and a big work desk. This might sound silly but I get excited at big work desks. I am blogging this sort of live so to speak so I need space for me and my cast of thousands of pieces of paper and cameras and those small little desks never do it. Plus ahem... I think this suite is bigger than our whole apartment at home!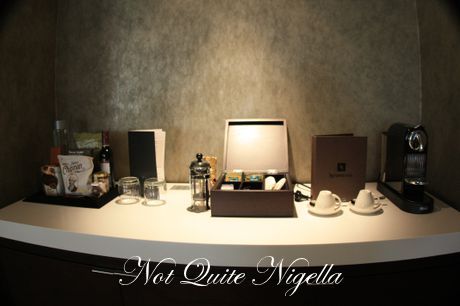 The double doors to the bedroom are slightly ajar so I open them and my I see the huge king sized bed which has these fabulous self explanatory lights next to it (no more fumbling to turn off the lights when tired and there are automated night curtains). Another thing of mine is big bedside tables-I sleep next to a lot of things including my iPad, phone, hand cream, lip balm, bottle of water etc so small bedsides never have enough room but this one does. The bedroom opens out onto the spacious bathroom, walk in robe, shower and toilet.
Chopard toiletries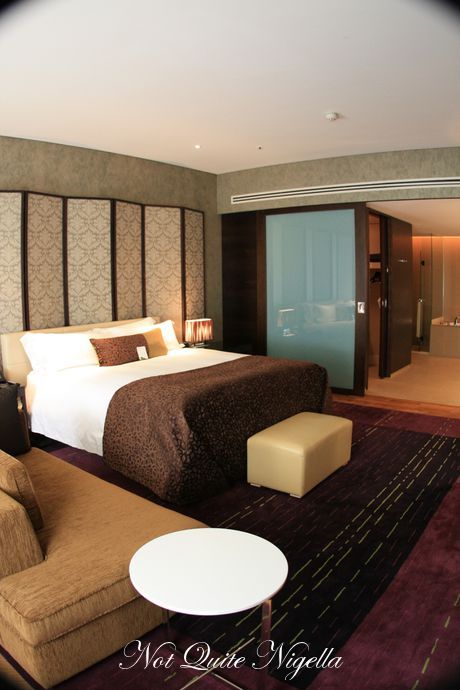 And I get a little too excited at the toiletries. I'm not a huge fan of generic hotel toiletries and I usually just use my own but there are Chopard toiletries. Plus there are two sets-for me and my (imaginary) husband! I have also forgotten to bring toothpaste so I am happy to see that there is toothpaste and the more comprehensive amenities like shaving kits etc included.
Gold seal toilet paper. Now I'm going to start expecting this everywhere you know? ;)
Honey from the rooftop bee hives
I wander back into the lounge room and spy a card and a jar of honey. Upstairs there are rooftop beehives! Do you want to see them? OK well then come with me!  I'm taken on a tour of the honey bee hives by Georgia and chef Nick Reade and his sous chef Chris Smith who tend to the bees. Started 3 months ago, they currently have 2 hives that have produced 55kg of honey for the 3 month period. They are about to purchase two more hives and each hive holds 8-16 frames so that means a lot more honey! The 30,000 bees (Italian honeybees as they are less aggressive) fly up to 2km around them to find pollen and there are also pots of French lavender available for them to pollinate although at present the lavender isn't mature enough.
Rooftop honey bees
It began as a hobby for the chefs and Nick tells us that sometimes he visits the hives 2 or 3 times a day. Initially they approached Melbourne City council as well as other bodies required to keep the hives on the city rooftop and they were given the green light straight away. Currently the honey is served to VIPs, at the breakfast buffet and for use in certain dishes and the eventual aim is to be able to sell bottles of it and to recoup the investment made.
Tending to the rooftop herbs and plants
One of the honey frames
I also have access to the club lounge which I know I'll be hitting up for dinner tonight when I'm busy writing up the stories (despite the fact that it is extremely fun, believe me when I say I am working on a Saturday night!). Club lounge rooms involves a private check in and check out, complimentary breakfast, afternoon tea, evening drinks and chef's tasting plate and refreshments as well as iPads for use within the lounge. And oooh what's that I see? Discovery channel? OK perhaps I'll have a little 20 minute break before my next appointment...I'm off to do a crazy, happy dance now that I have all of this space. I had better make sure that the night curtains are shut...
So tell me Dear Reader, what's the first thing you do when you arrive at a hotel?
NQN travelled to and explored Melbourne as a guest of  Tourism Victoria
The Langham
1 Southgate Avenue, Southbank VIC 3006
Tel: +61 (03) 8696 8888
The InterContinental Melbourne The Rialto
495 Collins Street
Melbourne VIC 3000
Tel: +61 (03) 8627 1400