I'm not a naturally early riser. Let me sleep in and I'll get up around 9 or 10am. Getting up for pastry however is never a problem. Judy from The Fairmont had mentioned the two magic words "double baked croissant" and suddenly I was setting my alarm early for a visit to Vancouver's Thomas Haas a chocolatier and purveyor of wickedly good croissants. I love a good almond croissant and to me it's not an almond croissant unless it is baked twice. First to bake the croissant itself after which it is dipped in a sugar syrup, filled with almond frangipane paste, covered in flaked almonds and then baked again to a crunchy goodness. Done well, it can induce a bliss like state of total time and space freeze. Done badly, it's a waste of calories.
Double baked almond croissant
And I'm holding a double baked croissant in my hot little hand. Before I take a bite I first offer some to Mr NQN who is quite frankly a non pastry lover. He likes juicy things like fruit and pastry is too dry for him. But then I watch him take a bite . And then another. Hmm I'm thinking this might be good. I take a bite and the I can hear the crunchiness in my ears. The sugar syrup and flakey, buttery pastry lulls me into a state of bliss. A car could have crashed into the shop and I would not have known.
Thomas himself is in the corner being interviewed by a local newspaper. The pastries are baked every morning at this location and Thomas's food philosophy is one which he strictly adheres to. Control over quality and sourcing the best ingredients from anywhere in the world (so really the opposite of the local movement). His vanilla beans are from Tahiti, his chocolate is from Belgium and he buys limes from Brazil.
We also try the macarons with my favourite being the caramel and the coffee which has a whole coffee bean in the centre.
London Fog tea $3.75
I take a sip of my London Fog tea. It's an Earl Grey tea that has been made with frothed milk and has a shot of vanilla. Oh my, can I set up camp here? And I haven't even gotten to the chocolates yet. I order a few chocolates to take with me which are the exotic, merlot and caramel fleur de sel which is made with smoked salt and the green cardamom. The individual chocolates are $1.10 each. But with no time and no stomach space we go for a bit more of an adventure around Vancouver. We're off next to Granville Island!
Just 20 minutes outside of downtown Vancouver, Granville Island has a great market that tourists and locals flock to. We arrived at Granville Market on time but spent the first 30 minutes wandering around trying to find our Edible BC guide. We walked around and it was only when we spotted someone in a chef's uniform that we realised that our guide was already giving a tour so we quickly joined it. And just in time too as they were handing out blueberry sourdough bread samples. The Granville market are busy this Thursday morning as a cruise ship has just docked and people are busy shopping and sampling.
Golden and regular beetroot
Precious garlic!
Blueberries galore!
We see huge stalks of fresh garlic that was literally picked out f the ground yesterday. Our guide Rohan is one of the chefs at Gotham restaurant in Vancouver and he is proud to show off the local produce and range. One of our fellow tour participants asks him about morels and he explains that they are great here but expensive at $20 a pound ($40) a kilo. He explains that morels are best after a forest fire as they need nitrous and phosphorous to feed them. A few years ago there was a huge forest fire that wiped out one twentieth of British Columbia and the following year they had incredible quality morels.
We enter La Baguette which is owned by French proprietors. It is operational 24 hours 7 days a week as they supply many of the restaurant trade with bread. We try some of their pain au chocolat and I spy macarons in vivid colours for $2. They also offer picnic baskets for $9.95 a person so people can sit on the boardwalk and enjoy their food.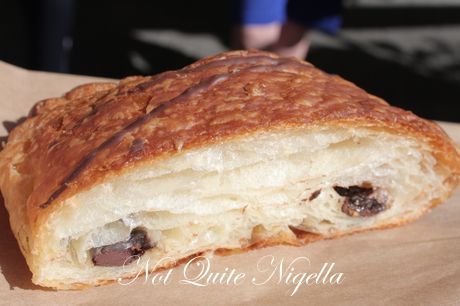 We see an heirloom tomato specialist who grows 21 varieties of heirlooms in their South Langley farm. These tomatoes are grown in soil, not hydroponically and they originally grew about 30 varieties but whittled it own to their current range of 21.
Guess what is under that cover?
_
_
It is donut dough from Lee's donuts!
We try a donut from the Lee's donuts stand. There is nothing like a freshly fried donut and these are very good indeed and are what real donuts are all about.
We enter one of the bottle shops and Rohan shows us the ice wines which are a Canadian speciality. Interestingly tax on wines in Canada are quite high so a bottle that might cost you $10 in the United States would perhaps cost you $20. One thing however is the markup on wine in a restaurant is usually capped at about 100% and not above that unless it's a particularly inexpensive wine which is marked up at 150%.
Rambutans on the stems
Mmm blueberries galore!
Wild rice
Lots of cherries including Rainier cherries
Rohan shows us a range of beef and explains that in Canada there are four grades of beef available to the general consumer, A,AA and AAA with AAA being the best quality. However there is an extra grade that is available at restaurant called prime grade. At the Amanados stand consumers can actually buy the restaurant grade quality prime beef and beef tenderloin here is priced at $55 a kilo. The grade depends the marbling, aging and the feed that the beef gets and most of the beef is corn fed here.
Exotic sliders-even Kangaroo!
ChocolaTas display
Time for a something sweet! We try a birch syrup caramel chocolate which the chocolatier ChocolaTas made for the 2010 Olympics. It's sweet but very nice indeed.
Cheese glorious cheese!
Elk and bison pepperoni!
One of our last stops is the Oyama Sausage Co. which produces artisan sausages and smallgoods for many of the Vancouver restaurants. The owner is from the South of France and we sample some prosciutto, Czech beer salami and a Milano salami which has black peppercorns in it.
Salmon portions
Or maple cured salmon-yum!
Fresh wasabi
Oh key limes, how I want to take you home with me!
The Tea House display
We end off the day at Granville Tea House where we get a fascinating run down on the different types of teas and how each one is produced. And did you know what makes orange pekoe tea orange pekoe? It's not orange or pekoe (whatever pekoe might be). It is the size if the tea leaf which needs to be 8-15mm long. As part of the tour we are offered a complimentary cup of tea which we are eager to take up after our early morning.
Chai tea
We try some of their very popular chai tea which is aromatically gorgeous with a strong aroma of cardamom. Mark, the owner of Granville Island Tea Company tells us the secret ingredients in addition to the usual flavours are black pepper, butter and cinnamon. We watch as they mix up some green tea with a whisk for another order and Mark shows us some of their other blends including a gorgeous cream Earl Grey tea. And how do you think they put in the cream aroma? With vanilla! We try the cream Earl grey which is absolutely ambrosial and he tells us that it is their number 1 bestseller.
White tea lemonade-good for you and delicious
Mark is like the tea a version of bartender, with some great stories and we watch a steady trade of tea drinkers order a variety of teas. He offers refills for $1 which is great idea and we leave off with a tall cup of white tea lemonade. All of their teas are served unsweetened but there is a sugar syrup that people can used to sweeten them. White tea lemonade is refreshing, like a lemonade with a touch of floral to it.
Only good can come from this sign. Trust me...
Are you ready?
One of my favourite ever items, the Montreal smoked meat stuffed bagel!
We continue wandering around the market until we see the sign that made my eyes widen. I see Siegel's bagels with smoked meat from Montreal! Apparently it is flown over daily. My greedy eyes spy a smoked meat filled bagel. It's not a bagel that has been cut into and filled with meat, the meat has been baked inside the bread and I become animated and excited at the thought of having found the perfect bagel filling ratio. I hand over my $4.95 for a warm bagel and sink my teeth into it. I am in love, I think I even pushed Mr NQN to the side as I was so in lust. The layer of bagels to meat is overwhelmingly in favour of the delicious smoked meat and the bagels is really a thin shell to hold the meat in which is just how I like it. There is also red peppers are other flavoursome goodies inside it. I wish someone would make this smoked meat in Sydney or maybe I'll try my hand at it.
An assortment of oysters
Duh duh duh dum-do you see what I see? He's making a break for it!
While walking around we take a peek into the lobster and seafood stands. Seafood here is plentiful and incredibly good and at very reasonable prices. It's enough to make a seafood monster like me want to live here!
The only time I will queue-for food
We take a wander around and walk toward the legendary local's favourite Go Fish. We were again slightly lost but we saw this guy making rock sculptures and a little off into the distance we saw a massive queue. Ah yes it must be Go Fish where the fish tacones are legendary - apparently you can wait in the queue for up to one hour for a fix of fresh fish. Here they believe in supporting local fishermen and they buy their catch fresh from the wharves every day. And the queues will attest to this as we wait in line for about 20 minutes and then wait another 12 minutes for our order to be made. As we are full of bagel and smoked meat we just share one salmon tacone .
And queue...and queue
The menu
Salmon tacone $5.50
Our salmon tacone comes with a small server of a sesame based coleslaw made with white and purple cabbage. The tacone has a fillet of salmon inside and more of this coleslaw and a creamy mayonnaise sauce and it is very good. I only wish we had more stomach space in which to try more.
We see people order fish and chips which come in bamboo Chinese steamer baskets. They take small containers of tomato sauce, malt vinegar and Frank's sauce which is like a Tabasco based chili sauce.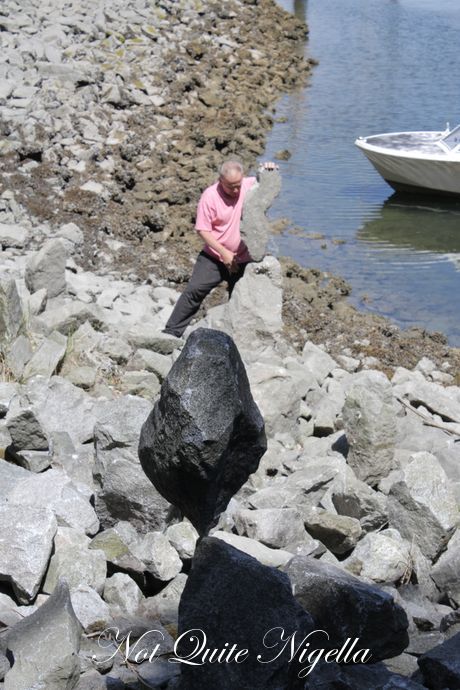 Rock man - a busker of a different sort. He balances rocks precariously on top of each other
We're back at the hotel now after our Granville Island adventure. Actually not our Fairmont Hotel which is the gorgeous downtown one  but the Fairmont Waterfront hotel which is a nearby branch. "Would you like to see the honey bee hives on the rooftop?" Judy from The Fairmont asks me. I nod an enthusiastic yes! After all how often does a hotel keep its own honey bees and produce its own honey? The Fairmont Waterfront is one of the leading green hotels and we're on our way to the rooftop herb garden and bee hives. The head beekeeper is actually the director of housekeeping at the hotel Graeme Evans.
They created the first green roof in Vancouver in 1991 and when trying to decide on the community contribution (each Fairmont Hotel must decide on how they will contribute to the community) they elected to make a green garden with bees.  The 600 pounds of honey created by the 500,000 honey bees has been used in dishes served in the restaurant, by mixologists and in guest amenities and of course, chocolates which we will try.
This is the third season of the honey bees and they travel a 26 mile radius reaching as far as Stanley Park. The colourful bee houses were painted by local art students. The bee season starts in May and ends in September and in Winter they usually pack up the bees as they like a warm temperature (92F). However the nearby convention centre has had success keeping the bees outside during winter so this year half will go to the convention centre and half will go to the storage place. The beekeeper Graeme checks on the bees at least twice a week and does so while wearing a suit and a tie. He smokes them which affects their pheremones and makes them less aggressive but this particular breed of Italian honey bee is by nature non aggressive.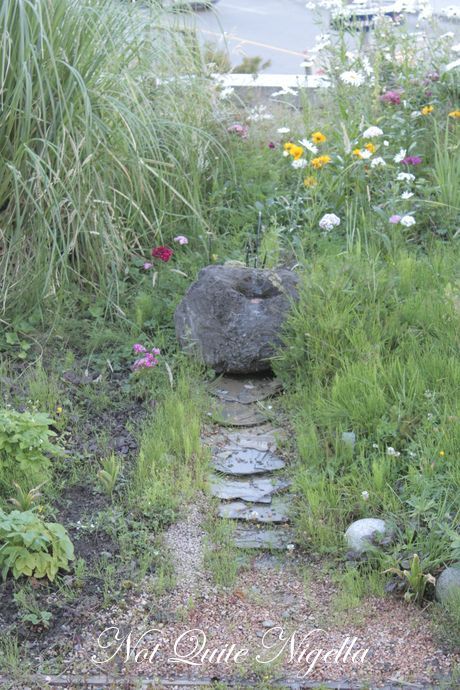 The bees own water supply
The flavour of the honey depends on the time of the season. As it is raspberry and strawberry season the honey from this part will have a distinctly different flavour to honey later in the season. And to avoid having any issues with guests and the bees they keep the bees away from the pool by giving them their own water supply nearby.
The Fairmont Waterfront's honey-there are also The Bees Knees chocolate truffles
After meeting the bees we head downstairs for dinner at Heron's restaurant. The menu features a lot of seafood (high five!) and they work together with the Vancouver Aquarium to ensure that their menu is completely sustainable. There is also a "local source" summer tasting menu with locally sourced ingredients including Dungeness crab, local trout and local cherries for a very reasonable $46 for 3 courses. You know I'm going to choose that one right? ;)
_Compressed tomato salad with Dungenesse crab (local menu)
_
The crab salad is beautifully delicate. I always appreciate a light, deft hand with crab as the meat is so sweet and delicate and this is paired with compressed heirloom tomatoes that are compressed with olive oil so that the olive oil infuses into the tomatoes. The creamy avocado is a great match for the crab and all flavours work well together.
Roasted baby beets, shaved fennel slaw, blue cheese fritter. roof top honey vinaigrette $16
I try some of Mr NQN's salad which comes with a roaring forties blue cheese fritter on top of quartered roasted baby beets and shaved fennel. The vinaigrette is made using the roof top honey and is a good balance of sweet and acidic.
_ _
Oysters on the half shell, jalapeno vinaigrette, fresh shaved horseradish, cocktail sauce $3.50 each
The oysters are from Fanny Bay in Canada and one thing that I've learnt is that they breed their oysters and scallops fat, juicy and big. These are no exception and they're wonderfully creamy and huge. We have them with the jalapeno vinaigrette and love them so much that we order another half dozen. Yes I know, we're so greedy for oysters and I feel a certain pride that I've converted Mr NQN to them.
Wild salmon, arugula, roof top honey bacon truffle vinaigrette $30
Mr NQN's wild salmon is beautifully presented. It comes with a stiff lacquered square of salmon skin which sits like a hat on top of the juicy, perfectly cooked salmon.
_Pan roasted Trout fillet (local menu)
_
My trout comes with a medley of vegetables, including corn peas, chanterelles. It comes with a creamy carrot and chive butter sauce which is subtle yet enhancing. The texture of the trout is sublime with a crispy skin and creamy flakes of moist fish underneath.
Prawns & Scallop, cream corn & applewood smoked bacon risotto $35
_ _
_Oliver Farm Cherry Trio (local menu)
_
The Oliver Farm Cherry trio suffered a little being transported to the table as the white chocolate mousse fell over as it was so light and flyaway that it couldn't sustain the chocolate dipped cherry on top. It comes with a fruity, sweet cherry shot and an icey cherry granita on a metal spoon which is refreshing.
Ice wine mulled pear
Oh my! Now this is the dessert for me. I get an inkling when Mr NQN starts wolfing it down while looking around furtively. We always share everything so when he does this and gets to three quarters of the way through it without any hint of slowing down I'm suspicious. "Are we sharing this?" I enquire. "Umm yeaaah" he says reluctantly pushing the plate towards me. Ice wine is wine made from grapes that have been frozen on the wine. Because they are frozen there is less yield meaning that the wine is quite expensive. It is similar to a dessert wine in sweetness and viscosity but it has a gorgeous clarity and purity to it. And poaching a pear in it is an amazingly good idea although expensive. The chef Patrick Dore uses Inniskillin dessert wine to poach the pears sparing no expense (it retails for just under $80 for a 375ml bottle!) which we also try it with. It's one of the best poached pears I've had and I've had many...
And fittingly, for two Australians that have crossed the globe to Canada, this meal brings our fabulous trip to Canada to a sad end! We travelled, we ate and we loved so much. And yet there is still so much more to see and eat in Canada. Perhaps one day we will be back!
So tell me Dear Reader, which country would you like to visit just for the food?
Petit fours
NQN and Mr NQN travelled to and explored Canada as guests of Tourism Canada
Thomas Haas
2539 West Broadway, Vancouver, BC V6K 2E9, Canada
Tel: +1 (604) 736-184
Granville Markets
Granville Island
http://www.granvilleisland.com/
Go Fish
1505 1 Avenue West, Vancouver, BC V6J 1E8, Canada
Tel: +1 (604) 730-5040
Heron's Restaurant
The Fairmont Waterfront
900 Canada Place Way, Vancouver, BC V6C 3L5, Canada
Tel: +1 (604) 691-1991