I'm on my second day at the Melbourne Food & Wine Festival and I'm not having a very successful morning. I had planned to to have some sort of breakfast but I slept in due to the repeated hitting of the snooze button due to the terribly comfortable bed and night blinds at the InterContinental which meant that my body doth resist the urge to wake as it believes, wrongly, that it is the middle of the night.
Harry Parr (left) and Sam Bompas (right)
I fly out of my room rushing and abandon all (flimsy) intentions to walk or catch a tram and catch a taxi to the Melbourne Convention and Exhibition Centre. The Masterclasses are held both here and at The Langham hotel and transport is provided between the two venues. The two Masterclasses that I specifically wanted to attend were of course Nigella Lawson but also Bompas & Parr. I have a strange relationship with jelly. Growing up my father worked as a food technologist for a company that made gelatine but they specialised in powdered gelatine that we never quite got to dissolve properly. So we had jelly pretty much every time we had dessert which drove my sister and I to quite loathe the stuff. "Jelly is not real dessert" we'd say. Cue several decades later and I'd find myself married to an absolute jelly fiend and I had somehow become again fascinated with the stuff. Enough to make several attempts on a underwater jelly cake and buy gelatine leaves by the bulk pack.
St Paul's Cathedral jellies
So Dear Reader, take a seat next to me throughout this day of masterclasses! One thing that I didn't quite expect when seeing Bompas and Parr, the jellymongers (aka jelly artists) was the posh voices coming out of Sam Bompas and Harry Parr. Sam is the more talkative of the two and the showman whilst Harry seems to be shyer member of the team. We do hear some sighs when Sam mentions a girlfriend. They've arrived in Australia from Britain where they've established themselves as doers of all sorts of weird and wobbly things with jelly (and yes they put "jellymongers" on their customs entrance form when entering Australia).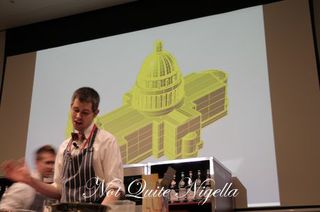 Harry shows a 3D model of St Paul's Cathedral
They start the show by explaining how they started at London's Borough Markets. Harry was an architect and Sam formerly a geographer and both former careers have helped them with their current vocation of jellymongers. Why jelly? The story goes that Harry held a dinner party attended by Sam. Harry spent many hours cooking the curries which people ate with a nonchalance but when they jelly was brought out, people became very excited. They brainstormed the idea in a pub and then approached the market organisers and we were promptly told to "get lost". Undeterred they continued with their jelly love and made jelly at home. At the beginning they didn't have any molds at all and used bedsheets and pillowcases to strain the mixtures.
How many things can you make into jelly? Let me count the ways...
Their focus is on proper jelly or fresh fruit jelly. With fresh fruit come a range of challenges such as balance and acidity. A fruit like pineapple has an enzyme called bromelain which is a flesh eating enzyme which can eat the gelatine in jelly which obviously is not ideal.
Showing expensive copper molds
The key to jelly is balance much like a cocktail. Harry begins to make a basic orange juice make jelly on a scale. They use 500g of water which is a good amount for four people and this requires 5 sheets of gelatin. And yes they only use leaf gelatin and warn us against using powdered gelatin as leaf gelatin will come up clearer and doesn't have that animal smell. The higher the grade of gelatin the clearer the resulting jelly will be.
Sweet jelly requires quite a bit of sugar as it is served chilled and chilled items need to be sweeter. They explain this by using the example of the more pronounced sweetness of melted ice cream versus frozen. The history of jelly dates back before Christ and for centuries afterwards, jelly, particularly sweet jelly as it evolved, was considered a high end item for the wealthy as sugar was costly as was the gelatin itself and refrigeration.
Striped jelly made in mandarins
They also tried making jelly from scratch the medieval way. "It took 20 long hours and it still tasted of pig" Sam confesses. Henry the VIII also served gilded blancmange at dinners. Jelly molds used to be made out of wood from sycamore trees but then in the Georgian and Victorian eras molds started to be made in copper and metal. Copper is the best jelly mold material as it conducts heat very well although it is the costliest type of mold. One needs only use lukewarm water to unmold a jelly and conversely it sets quicker over an ice bath. Ceramic is the hardest type of mold to work with and requires lining with a loosening agent like a vegetable fat. One also needs to pour in almost set jelly so as not to dislodge the vegetable fat.
_Flinders Street Station jelly
_
Harrys experience as an architect helps when developing molds in 3D which he does on the computer. While in Melbourne they recently made a mold of Flinders Street station made of Hendrick's gin, rose and cucumber jelly. Jelly bridges, jelly wrestling launches and working with Heston Blumenthal and funeral jellies make up their days now. Funeral jellies are popular as Sam says it a good way to get alcohol in people! Their most notorious project was making "occult jams"  made using a speck of Princess Diana's hair purchased on ebay as well as two other flavours: Absinthe and pineapple with sand from the Great Pyramids and plum and oak with wood from Lord Nelson's ship.
Gold leaf jellies
They show us how to make a few types of jellies starting with a simple fruit juice jelly.They melt the gelatine sheets in water and juice directly on the induction stovetop as induction can heat to a very low temperature. With gas, they don't recommended melting it directly but over a double boiler. They show us layered jellies made inside a scooped out mandarin (take the end of a teaspoon and hollow it out from the green end) layering it with orange jelly and white blancmange.
And despite  the fact that this isn't supposed to be a tasting session, the Bompas & Parr boys pass around some jellies for us to taste-all quite alcoholic I might add! ;) All of the recipes featured in these Masterclasses are given in the festival recipe book which is free with admission. A cardamom and honey blancmange and a violet, prosecco and gold funeral jelly are also demonstrated and they key to setting jellies or blancmanges with bits in them that can float to the bottom is to wait until the jelly is partially starting to set to add these.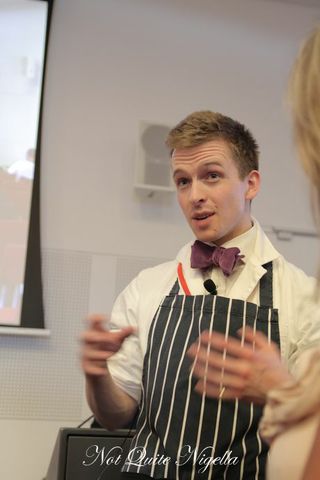 Sam Bompas
Harry Parr
Before we know it the hour is over and the boys sign books and programmes and charm the gathering of girls (and yes it's only girls in this line). They're enthusiastic and sweet and chat genuinely to their fans before they move up the back to catch our next act: the fabulous Elena Arzak (pronounced Arthak).
Elena Arzak
One of the three themes for this festival is women in food and Elena is a wonderful representation of women as a three starred Michelin chef. She is also incredibly down to earth and without pretense and before the show starts she asks Bompas & Parr if they wouldn't mind taking a photo with her and greets everyone that passes her station with a smile. She speaks English with an accent but apart from some words which she asks to be translated (which are actually just like the English word with a bit of Spanish accent to it) it is easy to understand her.
The restaurant Arzak
The Arzak restaurant is a fourth generation restaurant in the Basque region of San Sebastián that was started by her great grandfather in 1897. She now cooks there with her father and previous to that her grandmother was a chef there. She tells us that Basque culture is a matriarchal society. In her kitchen there are six female chefs. And speaking of staff, there are 45 chefs for the 60 person capacity restaurant. This prompts one festival goer to ask her how they manage to pay for so many staff with 60 guests. "Please don't worry madame" she says to much laughter before explaining that as they own the building and it is a family business they don't have to worry about things like rent.
The "bank of ideas" room
The average wait for a reservation at Arzak is 3 months although she tells people to try their luck and call and they may be lucky. It is located in the  ground level of a building and was originally a tavern that they turned into a restaurant. To illustrate the restaurant she shows us slides including ones of their "bank of ideas" with 1,500 boxes of ingredients. They have ingredients from all over the world including some Australian native items. Everything in this bank of ideas is organised in families on computer. 60% of all patronage is local and she is a firm believer in signature cuisine which is where a dish reflects the style of an individual chef.
A matriarchal society
Also important is Basque spirit which is in the mind of the chef. It is a result of history and aBasque child loves squid ink, garlic and parsley as they grow up on it. "I don't know how to cook without parsley. I can't" she says. She also tells us that Basque people are open minded and like trying new items but they adapt them to suit their palate. An example is coriander which is an Asian ingredient. They always mix it with parsley and never have it alone. They also prefer powdered ginger to raw ginger.
The last tenet that she believes in is research based on testing. Dishes are tested a multitude of times and as she puts it "testing a lot but with a small result".
Foie Cromlech dish
The first dish that she demonstrates, and understand that it is a 3 Michelin star restaurant with a focus on alchemy so it's perhaps not what you might whip up for a weekday dinner, is beautiful. It's a foie cromlech which looks like a big, inflated mushroom but is in fact made up of tapioca paste, turmeric and squid ink. She kneads the flavourings into the tapicoa and her chef Igor rolls it out between plastic and then deep fries it in a hot 220c oil and then a 149C oil where it puffs up.
Custom made molds holding tuna
The decorated glass bell
Another dish that she shows us is called "Wooden Tuna" and involves custom made silicon forms in which they place the tuna and very thin pieces of kyogi wood impregnated with a small amount of eucalyptus. There are eight components to this deceptively simple looking dish with a total of 39 ingredients and it is topped off with a brush of black mushroom mojo ( a marinade sauce) on the inside of a glass bell. As the ingredients are warm, steam and vapour are generated which "creates a microfauna with aromas of wood and the forest".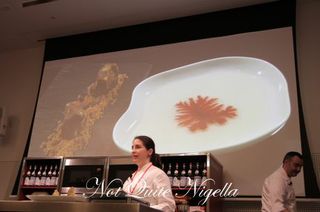 The fractal reaction
And she has a show stopping dessert which has a rather unusual name "Hydromel and fractal fluid" which sounds more at home in a science lab than in a restaurant. Here she creates a fractal (a repeating pattern in different direction eg a snowflake) by using a soup of honey and creating a reaction from the hot, viscous soup thickened with xantham gum with the very cold liquid coloured with cochineal. She even gives a member of the audience the chance to create their own fractal on a plate. The dessert is paired with a lemon sculptures and a spicy "broken base" of crumbs aromatic in tandoori spice, sweet paprika, curacao and apple liqueur.
But just one last demo with a recent project where they placed a screen under a plate and simulated the shoreline with monk fish (local, only line caught fish), curacao starfish, coral and pepper caviar made using spherification. It reminds me of Heston Blumenthal's Sounds of the Sea.
Now that I've got a huge urge to travel to Arzak I'm off to lunch. But not before I see the enormous queue that has already formed for the Anna Gare and Nigella show. People by now have realised that nabbing the best seat for the first session means that you get to keep the seat for the second session and queues started forming a couple of hours ago.
Taste of Victoria
There is a three course lunch with wine included in the ticket admission price and there is a preset entree waiting on the tables. It's a mini taste of Victoria with home made duck prosciutto which was a little on the oversalty side, cured Yarra valley salmon with yarra Valley salmon roe (divine) and Red hill Goat's cheese.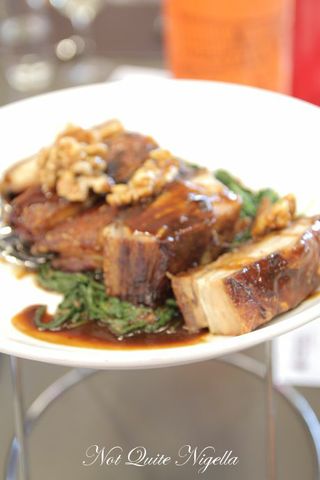 High country pork belly with green ginger wine sauce
The main course is huge and comes out in share portions with a roasted high country pork belly with green ginger wine sauce which is great although the crackling could do with more blistering. It comes with spiced spinach and candied walnuts which go well as the spinach is soft and the walnuts crunchy and sweet.
Green beans and asparagus
I adored the asparagus so much that had I more time to eat it I would have taken second helpings.
Honey poached sweet potato with chickpea ragout and natural yogurt
Green apple sorbet and mascarpone parfait
Dessert was a green apple sorbet and mascarpone parfait which was soft and light with a tang from the green apple and a creaminess from the mascarpone. Adorning it is a single paper thin slice of dried, candied apple.
Anna Gare
And with that meal hungrily eaten we're back! I'm lucky enough to get a seat in the front row to take photos. Anna Gare, who has one of the toughest gigs as the performer coming out before Nigella bounds out and proceeds to charm everyone with a wicked sense of humour. She asks the cameraman "Did you see my chopping technique?" and explains that once she was doing a demonstration and there was an overhead camera. Alistair suggests that there may have been another reason for that camera placement aka cleavage cam and she answers back "She's on next!"
Having been overseas for most of Junior Masterchef I didn't know much about this musician turned caterer turned celebrity chef/Masterchef host. Anna cooked as a caterer in order to supplement her income as a musician. In her Masterclass hour she is going to show us four dishes including a dessert which features three tarts.
Latino scallops
She starts off with Latino scallops in a silver spoon which is a nod to Peruvian ceviche which cooks while she is preparing the rest of the food. She and Alistair McLeod have an easy banter and when she asks if anyone knows which of a mortar and pestle is which. She answers the pestle aka the long bashing item is "papa" and the mortar is "mama" and then suggestively pounds the mortar with the pestle before suggesting that Alistair might be better at pestle duty due to practice. And she pre-empts everyone by saying that she "really shouldn't be on the children's show!".
Persian spiced fillet of beef
She makes a Persian spiced fillet of beef which comes our fragrant with cloves, cardamom, cinnamon, cumin and coriander and perfectly pink inside (although the lighting on the projection screens in this larger room is not great) and then demonstrates her signature dish, an upside down potato salad which is made by packing down some colourful layered ingredients in a cling wrap lined bowl and then upturning it.
Upside down potato salad
Fruit tarts
Lastly there are the three tarts that are made using the same frangipane base made up of almonds, butter, sugar and eggs. To a base she adds halved fruit such as pears and peaches (yellow peaches show up better than white) as well as cherries and spreads the frangipane over the fruit before baking. She remarks that the ones baked here look different from the ones that she makes usually but then proceeds to cover them in icing sugar. She ends off with a quip "Do you know what I hate? When someone eats and thanks the lord. Has he been cooking huh?"
And with that you know who is up next don't you? Why it's the Domestic Goddess herself, Nigella Lawson! Stay tuned for tomorrow's story my lovelies!
So tell me Dear Reader, who would you like to take a Masterclass from?
NQN travelled and explored the Melbourne Food & Wine Festival as a guest of the festival and Tourism Victoria
Theatre of Ideas at the Melbourne Food & Wine Festival
Melbourne Convention & Exhibition Centre, 2 Clarendon Street South Wharf, Melbourne