"I am completely ill equipped to give a masterclass" says that familiar voice. The disarmingly modest Nigella Lawson aka the Domestic Goddess enters the room. Everyone is atwitter and there is excitement in the air. Nigella's Masterclass, a coup for the Melbourne Food & Wine Festival and over a year in the planning comes at the end of a long day on the last weekend of the festival. For many it is the highlight of the 10 days with many travelling from all over Australia, myself included. I'm lucky enough to nab myself a seat in the front row with Nigella only metres away. Forget the haute couture front row, this is much better!
By way of explanation of her first point she explains that "I lurched into food by mistake". She's chatty and very funny and starts with an introduction promising "I will start cooking" but of course no one cares. She could recite a shopping list and everyone in the room would be riveted. Wearing a fitting black dress, her signature cropped cardigan in royal blue and  black and white striped kitten heels with bright red toe nails (I had to look, I wanted to see whether she cooked in Choos) she then changes to cook wearing leather thongs. She looks every inch as amazing as she does on television but still remains not excessively made up or overdone.
She starts off explaining that she is a cook, not a chef which is an important distinction and that for this Masterclass she will be cooking recipes from the women that she loves. These women are her friend and "cooking mother" Anna Del Conte, her mother and her grandmother. She illustrates the difference between a home cook and a chef using a quote from Gordon Ramsay where he says that to work in a restaurant kitchen everything has to look the same coming out. She tells us that because of this she could never be a chef because at home things don't all look the same. Recipes evolve and change all the time and sometimes things get tweaked according to mood or want and she likes cooking that gives you the freedom to fiddle about.
There is a classic Nigella moment when she says "I like a bit of brutality in the kitchen" with that gleam in her eye and she leans onto a raw, whole chicken to flatten it slightly to make it easier to cook. Food is about legacy and passing recipes on and along with recipes traits or style are passed on. She amuses everyone with a story of a woman who made a pot roast and to start she would cut off both ends of the pot roast. When asked why she did this she answered that it was what her own mother had always done so she did it. When they asked her mother why she had done it she said that that was her mother had done. When they asked the grandmother why she had done it she said that the reason whys he did it was because her pot was too small to fit the pot roast!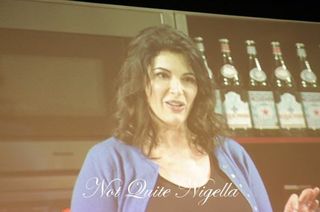 After browning the chicken she places it in a pot to boil along with celery, carrots which brings us to carrot coins. "I find circles of carrots make me depressed" she says citing school meals with carrot circles as the possible cause "But by all means if carrots don't make you depressed, use them... If you had to be an expert to cook, the human race wouldn't exist."
She adds herbs to the pot and suggests adding the ends of the parsley stalks which you buy wrapped in a rubber band to keep them together admitting that the rubber band "is a bit Bridget Jones". This chicken dish was a dish that her mother made and her mother's influence can certainly be felt (she always looks just like her mother). She feels that now she takes after her mother as a cook rather than her grandmother who was a more anxious cook. Her mother used to always say to her and her siblings "Stretch don't ask" so that the children wouldn't interrupt the dinner conversation by asking for someone to pass them something from the table.
Despite preconceptions, she is happy to have people shout out questions saying "I'm a politicians daughter, so heckling and all forms of abuse, I can take it!". Her famous father is Nigel Lawson whom she was named after who was the Chancellor of the Exchequer under Margaret Thatcher.
She proceeds to pour salt into the pot with the chicken and feels that salt is a maligned item particularly if you don't eat much processed food with hidden salt. Suddenly a glass bowl across the room shatters apropros of nothing and she quips " My powers!"
Onto the next dish, a most intriguing Vegemite spaghetti (and yes you had better believe I'll be making this!). It comes from Anna del Conte who she calls her "cooking mother". She adds some spaghetti, and a little messily it is a relief to see, and thinking that she has splashed someone in the front row apologises to them. "My children know to stand right back."
She describes Vegemite as intensely savoury and exemplifies what the Japanese call "unami" which is a fifth taste sense which is usually associated with meats. To the pan she adds butter and some boot polish aka Vegemite and then the pasta and grates over some parmesan and voila, it is done!
Alistair McLeod asks her the difference between Vegemite and Marmite and she says that nowadays it's more textural. Marmite is gloss whereas Vegemite is matte and Marmite is now less strong than it used to be although you an buy a strong version which she does. And she doesn't quite understand why people, apart from nationalistic loyalty prefer one over another. She confesses "I feel like a traitor now that I've moved over to Vegemite".
She pauses and spying the remaining butter in the glass picks it up and pops it into the sauce "It's winking at me I cant resist it!" she says and everyone laughs at another classic Nigella moment. She tells us that she likes it when people tweak her recipes. It starts a conversation and she invites any of us to tell her when they've revised one of her recipes.
Back to the chicken. This, she says, is a very Lawson family dish. This is the dish that she cooked her brother on his last day as a single man and it's a dish she makes for sibling gatherings. "I didn't want to make it for anyone outside of the family because I didn't know if it was our own food vocab." She shows us some bunches of herbs in a vase and tells us how her mother used to use fruit and vegetables to decorate the table as they would be a practical and visually lovely looking centrepiece.
The last item that she will make today is the coffee and walnut cake. Although it comes from her grandmother she never ever made it but they always ate it for tea when they visited so it reminds her of her grandmother. Nigella loves baking because "people think you've performed some kind of miracle... Since I cant show you mastery I can give you the benefits of impatience and laziness." The crowd love the self deprecating manner and the slight fumbles. She proceeds to tear off some baking paper trying to make a circle instead tearing off a crumpled square. She sighs and says "Oh look at that" as the camera points at a rather sorry looking square shaped crumpled piece of baking paper and the audience loves it. She then drops a piece and says "That's the one second rule!" gaily. When she forgets something she apologises saying "Sorry I'm getting on a bit!" This audience is wrapped around her finger.
She makes the cake batter in the food processor and the only reason is because she wants to avoid making more to washing up as she will also do the icing in  it which earns her a round of applause. "I cook in a shambolic fashion...I try not to add enormously to the washing up". When the time comes to making the icing she  professes to loathe sifting (ugh, me too!). "It's just too boring " she says so she makes icing in the food processor to whiz out the lumps. When asked whether she listens to music when she is cooking she answers in the negative saying that "I find silence rather hard to come by..."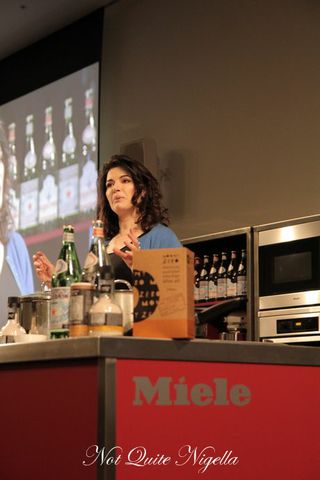 She brushes off some icing from her eyebrow and apologises for cooking with her hair in her face saying "My whole life I've eaten food with my mother's hair in it." She then finishes off the cake by spreading the icing like a bricklayer and tops the cake with walnut halves. When an audience member asks to lick the spatula she  gently tells them that she would let them but health and safety concerns means that they aren't insured to let people taste things and then cheekily adds "If you died, imagine how awful that would be...for me!"
The show is coming to a close and it still feels like we've just started. We had managed to hear our share of Nigellaisms such as "One of the best things about life is that you can eat more than one dessert!"  While in Melbourne she tells us of eating some delicious son in law eggs at Ginger Boy as a recent favourite and exclaims "How on earth can deep fried be wrong?"
Finally there is a Q&A with the audience including one prize winner who was flown to this event and excitedly gets to ask Nigella two questions. Her latest obsessions is ice cream and in fact she looked at purchasing a very expensive ice cream machine on ebay and almost ended up buying an ice cream van. "I wish I were making this up!" she says.
The session ends off with an auction off for the Breast Cancer Association for a Nigella signed Kitchenaid mixer with accessories. Prices go up to $2,000 with two men bidding against each other. Matt Preston who is the moderator (although he mostly kept silent, who would interrupt her?), asks Kitchenaid if they will give away two and they can then give one each to the men and they agree. When Nigella asks them "What colour do you want?" one man answers "What colour do you want me to have?"
She finishes off the session with a short book signing in the theatre before she signs outside the theatre. And as I leave I spot a female fan (it wasn't me!) getting overcome with emotion and teary at the sight of being so close to The Domestic Goddess herself.
So tell me Dear Reader, who would send you teary eyed and excited?
Theatre of Ideas at the Melbourne Food & Wine Festival
Melbourne Convention & Exhibition Centre, 2 Clarendon Street South Wharf, Melbourne