When I was a teenager I was obsessed with magazines. My obsession started when I had to do a project on magazines during High School which necessitated my father buying me one and I was hooked on them every since.My preference was for fashion magazines like Cleo, Cosmopolitan and Dolly. There I was standing in the queue one morning before school trying to buy Dolly magazine when a man in the queue looked down at the cover and said, not unkindly, "Wouldn't you like to look like her?".
I paused and looked down at the cover. No offence to supermodel Sonia Klein but I actually didn't want to look like her. Truth be told I wanted to look like Wonder Woman. But the point was there weren't many people around on magazine covers and on tv that looked like me back then. In fact I can remember very few indeed. I just smiled at him but the thought niggled at me on the ride to school. I suppose he thought that everyone wanted to look like a model but the chances of me turning into a 6 foot tall freckled blonde were entirely remote-we're talking alien abduction from a crowded shopping centre likely. Now when I turn on the television there there are lots of people that do look like me and in newspaper and magazines (although perhaps not the covers! ;) )
Things are also very different in terms of food. When I was growing up there was simply Chinese and Italian food but now we have a plethora of different cuisines and Asian cuisine seems particularly popular in Australia. Items such as palm sugar are now easily available at the supermarket as are all sorts of unusual items that would have only been available at speciality shops a couple of decades ago.
The palm sugar caramel recipe is a simple one given to us from the chef Wayan at Villa Sungai. It was so moreishly good that I found myself quietly licking the little bowl clean like a cat. I couldn't let a drop go to waste and I pleaded for the recipe which is a wonderful three ingredients long. It's wonderfully easy to make and is ideal to give as gifts-in fact I gave some away to friends over Christmas. It is delicious poured over ice cream or to accompany crepes or pancakes which is how we first ate it. The sago pearls are another way to serve them in an Asian style dessert. Sago is best cooked in a very large pot of water so that it doesn't stick to the bottom. Adding a pinch of salt to the water is another hint I learned from a cooking class which helps the sago cook all the way through. Just promise me you'll make this caramel for yourself for either a Slothful Sunday pancake brunch or to eat by the spoonful.
So tell me Dear Reader, who did you want to look like when you grew up?
P.S. I still don't want to look like Sonia Klein who went on to get married to an Wall Street hedge fund billionaire and philanthropist Paul Tudor Jones although I would love her shoe allowance  :)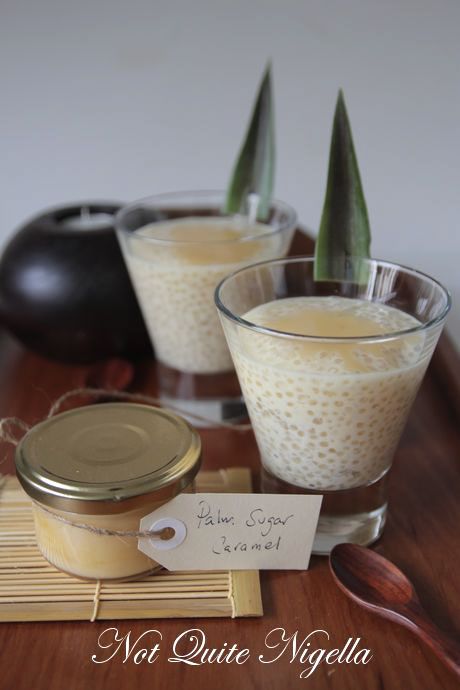 Coconut Sago Pearls With Palm Sugar Caramel
For palm sugar caramel
For sago pearls
100ml/3.5fl ozs. coconut milk
Step 1 - Make the palm sugar caramel by combining all of the ingredients in a small saucepan stirring constantly. When the sugar has melted boil for 5 minutes until thickened and then cool. Strain through a sieve and keep aside.
Step 2 - Meanwhile while this is cooking, make the sago pearls. Put a very large pot of water to the boil and add a fat pinch of salt (this is to help the sago cook all the way through). Simmer for 15-20 minutes until the balls become translucent stirring to ensure that it doesn't stick to the base of the pot (the bigger the pot the better for this). When done, drain in a sieve under cold running water. Set aside to cool. If you are in a hurry you can put it in a metal bowl sitting within another metal bowl full of ice to cool it down quickly.
Step 3 - Mix the coconut milk and about 1 -1.5 cups of the palm sugar caramel depending on how sweet you like it and serve chilled.