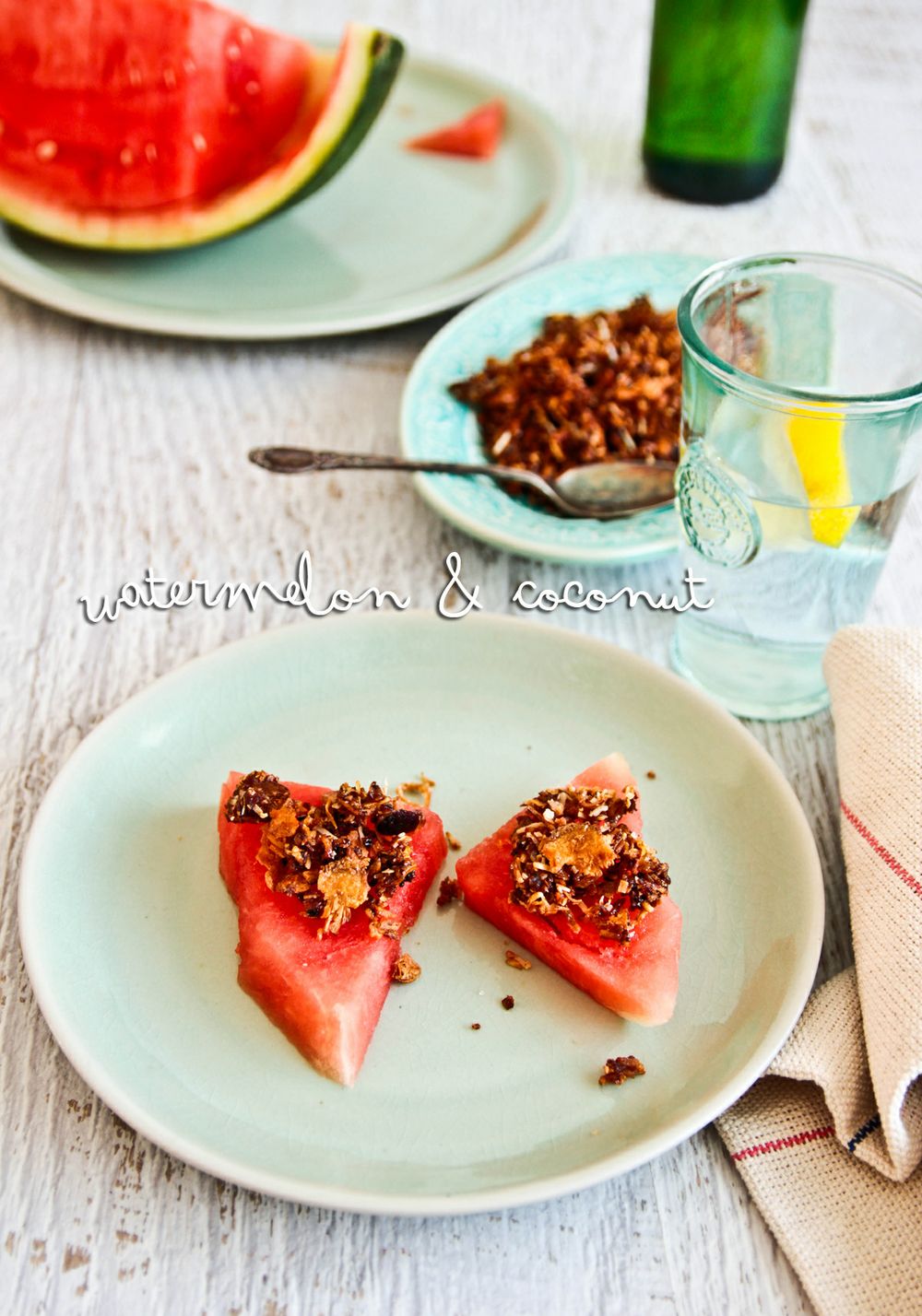 Dear Reader, did you see how sneaky I was? I called this watermelon with coconut topping. You see I deliberately missed out one item in the title of the post because I thought that it might scare people. Allow me to explain as I'm sure I'm sounding very annoyingly mysterious. When I visited acclaimed Thai chef David Thompson's restaurant Nahm in Bangkok we had a course there that was fabulous. It was one of the canapes and you know those times where a child plays with the box instead of what's in the box or at dinner you fill up on bread but don't mean to but it's so good that you can't help it? Well I did it with this canape. I kind of focused on the canape instead of the main event.
It was a simple enough canape. It was made up of a plate watermelon and mango served in slices. In a separate bowl sat a toasted mixture of shredded coconut, fried shallots and palm sugar. After the first mouthful I was completely smitten. The fruit was refreshing but the coconut topping had a perfect balance of crispy, toasted coconut and savoury from the fried shallots and sweetness from the palm sugar. We were all so enamoured of it that we asked Nahm's head chef Chris Miller for the recipe. According to Chris, it was simple-just toast coconut, fried shallots and palm sugar together and you have what has to be the very best way to eat watermelon and mango.
I couldn't wait to get home to try it and without having any measurements to hand I improvised it, quite honestly just doing proportions based on how many fried shallots I had left in the packet. Joyously, it worked out perfectly and as I was cooking it the smell of the toasting coconut and palm sugar told my nose that we were on the right track. I tried a little, it was good but it needed a bit of salt. I added some and suddenly it was perfect. I promise that if you like Thai or Asian flavours or are just curious to try a different take on fruit then you'll perhaps love this as much as we do. Plus, it's so simple to make up that it takes less than 10 minutes from beginning to end (and that's probably including the eating ;)). Case in point Mr NQN happily scoffed down the whole wedge of watermelon with the topping only leaving me the two pieces set aside for the photo.
So tell me Dear Reader, do you gravitate towards unusual food combinations or do they turn you off?
DID YOU MAKE THIS RECIPE? Share your creations by tagging @notquitenigella on Instagram with the hashtag #notquitenigella
Watermelon With Coconut Topping
1 large wedge of watermelon, 1 mango or 1 pineapple, cut into slices
Buyer's tip: I've only found dark palm sugar at Asian grocery stores, the light is found at the supermarket. Dark palm sugar is generally sold in logs, mysteriously wrapped up in white so that you can't see it how dark it is.
Step 1 - Slice up the palm sugar finely-I sliced mine slightly too large as shown, it's easier to melt if it is in smaller pieces. Heat a frypan on low to medium heat and add the coconut, shallots and palm sugar. Stir to toast the coconut and melt the palm sugar. Cook until fragrant. Don't turn too high or the sugar will burn.
Step 2 - Serve in a separate bowl alongside slices of watermelon, mango or pinepple.