Mr NQN and I usually spend our weekends researching and eating food. Lots of it I should add. And sometimes, if we're very lucky the weekend will involve getting out and seeing our fair city as well as foraging for food. Sometimes we're lucky enough to combine the two.
Allow me to rewind. RedBalloon were kind enough to offer Mr NQN and I a spot in the McIntosh Bowman cheese and wine tasting workshops on picturesque Fort Denison. Within the space of two hours we would be taught all sorts of fascinating things about cheese and wine and be introduced or reacquainted with twelve of Australia's best farmhouse cheeses.
We meet at 11:45am by the sign and Claudia introduces herself. She is the McIntosh half of McIntosh & Bowman the cheesemongers  and a self confessed "curd nerd" who has travelled the world making cheese with some of the top names in the cheese world (and did you know that there is a Cheese Olympics in Lyon?). She explains that we will be catching the noon ferry over to Fort Denison where we will taste cheeses and wines against the historical setting of Fort Denison. The last time Mr NQN and I visited Fort Denison was for Mother's Day and we had taken a peek inside the cheese tasting room after lunch.
The sun isn't quite cooperating today and we take the very short 5 minute boat trip across the water past the Harbour Bridge on the left and the Opera House to the right. We arrive at Fort Denison to a glass of sparkling wine and there is at first a run down on Fort Denison etiquette by the National Parks person as the entire island is heritage listed and then it's onto the canapes!
Today's canapes are had in the main grassy area at the top. To one side is the tower and to the other side is the lovely albeit rainy and windy harbour view. We start with some fresh Sydney rock oysters with lemon which are just the best way to orient yourself with the harbour.
Our next canape is the beetroot cured salmon on crouton toasts which is utterly moreish. In fact if we weren't about to go back in to start the tasting I might have asked for more!
We make our way down to the tasting room. At each of our places is a plate of 12 cheeses-11 Australian and 1 Italian cheese. There are also two discs of "Pastilla Nash" which is a prune and walnut log which is handmade in Sydney and sells in 14 countries around the world. There are also freshly baked Infinity sourdough bread rolls in the centre of the table and four glasses of wine to have with the cheeses as well as a water and a glass for beer. All of the cheeses that we are tasting are top of the range with none less than $90 a kilo.
We're asked to introduce ourselves to everyone and name our favourite cheeses. Everyone's answers vary from tasty to triple brie and I find it hard to narrow it down to just one cheese or even two so I mention the Holy Goat La Luna cheese and burrata which is my current obsession. And fortuitously a sister to the Holy Goat La Luna is on the menu today! All of the cheeses are classified as farmhouse cheese and in this case, it means that they're made in small, artisinal batches. They are a mix of the four types of milk: cow, goat, sheep and buffalo. There are also large batch farmhouse cheeses like roquefort and parmesan but these are also made to strict standards and regulations but these weren't part of this tasting.
And why Fort Denison as a setting? Well cattle of course are not indigenous to Australia and in 1788  when they were first brought over, there were five cows (apparently some pregnant) and two bulls. They were loaded onto the sandbank which is now known as Bennelong Point but was then called Cattle Point. The cattle were here in make shift enclosures where the Opera House now stands. They did get loose and ended up wandering away and were found as far away as Camden which was then called "cow pasture" because Claudia tells us "cows were found fat and happy, feeding on green pastures having multiplied to a herd of 40 in the time in which they had gone missing!"
Claudia tells us that there are theories as to how cheese was originally discovered and one holds that a shepherd accidentally discovered cheese. Back in the day, every part of an animal was used including it's stomach which was washed, dried and oiled and the shepherd may have used that to store some of his herd's milk. The heat from the sun, the movement of the walking and the enzymes present in the stomach would have quite possbily given the first taste of cheese!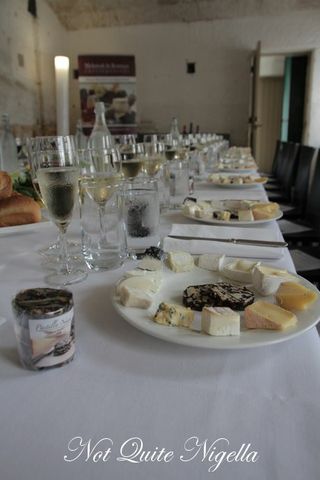 There are essentially seven types of cheese: fresh (mozzarella, ricotta), bloomy (brie or camembert), washed (fire engine red), semi hard (Jarlsberg), hard pressed (reggiano), blue veined (gorgonzola) and processed (in this case one rolled in ash or fruit, they're not going to serve us Kraft singles!).  Claudia suggests that we try the cheeses using our fingers for the full experience although a knife is given to us.
The four wines are a NZ Semillon Sauignon Blanc, a Mudgee Pinot Gris, a Langham Creek Moscato (which is very light and lightly sparkling) and a Margaret River Two Brothers Cabernet Merlot.
The first three cheeses we are given are fresh cheeses and they are a Paesanella mozzarella made of buffalo milk which is made in Marrickville in Sydney. With each cheese she asks us to pick them up with our hands and smell them before tasting them.  Interestingly, she tells us that this cheese is made for melting and the best way to tell if a cheese is made for melting is if there is an oily residue that comes out from it once it is melted then it is not made for melting!
The second cheese the Meredith feta made with sheep's milk from Meredith Valley in Victoria. It has that distinct lanoliney aroma to a sheep milk cheese and pairs nicely with the sauvignon blanc and moscato. Claudia tells us that in Greece, they eat the feta less salty than we do. When they export it over here they add extra salt to preserve it and that we should rinse our feta before consuming it. Overseas they remark that we seem to like our feta salty!
The third fresh cheese is called Jannei Buche Noir made of goat's milk in Lidsdale in NSW. Jannei is simply a combining of the two farmers names Janet and Neil and they have 120 goats on their Lidsdale property in the Blue Mountains. It has a "faux rind" in that it is rolled in vegetable ash to give it flavour. Interestingly it is wonderful paired with the moscato and made the lightly sparkling dessert wine even more effervescent.
Claudia then brings out the Pale Ale Coopers beer as she tells us that beer and cheese is also a good match. Our fourth cheese is the Holy Goat Matured Skyla goat's milk cheese with the bloomy, wrinkled rind and soft, even interior. It is also the most expensive cheese in Australia. It's wonderfully creamy and moreish and I accidentally ate my whole piece before I realise that we are to keep one half to have with chocolate. Yes cheese and chocolate together! These bloomy cheeses are the oppposite to blue cheeses in that they ripen from the outside in whereas with blue cheeses, the ripening is done on the inside out.
Our next three cheeses are all camemberts. Now can you see the difference between the camemberts? If you said that two are white and one is yellow then you're right. All cow's milk cheeses are yellow where goat, buffalo and sheep cheeses are white.  The first camembert is an Udder Delights goat's milk camembert. The second is a Barossa Valley Cheese Co. La Petit Prince goats milk cheese from Angaston in SA and the third is a Woodside McLaren camembert cheese made from jersey cow milk. The Australian camemberts usually have a more sterile and chloriney flavour than the French camemberts which have an aroma akin to steamed cauliflower.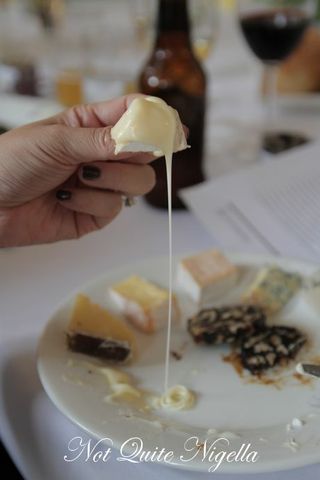 Which brings us to the question what's the difference between brie and camembert? Well in Australia very little difference at all. Claudia tells us of Normandy cheese makers being horrified when they saw how camembert was made here. But in France there are huge differences between the two and Claudia cites the difference between a camembert from Normandy "to be far more vegetal, mushroomy, meaty with a defined aroma and flavour of cauliflower than the wonderful, lactic, grassy farmhouse milky- ness of a classic brie." Like Champagne, that is how we aren't allowed to call anything made outside the strictures of French Champagne that name, in the future camembert will change too.
Our next cheese is another favourite that I discovered in Tasmania recently. It's a Pyengana cheddar made from cow's milk which is wrapped in cloth so that the cloth goes moldy. It goes well with the beer and the bread it is almost what you would consider a Ploughman's lunch. And can we eat the rind of cheeses? Absolutely, with the exception of wax cheeses and cloth bound cheeses and it's up to you whether you want to eat the very hard rind of a reggiano cheese.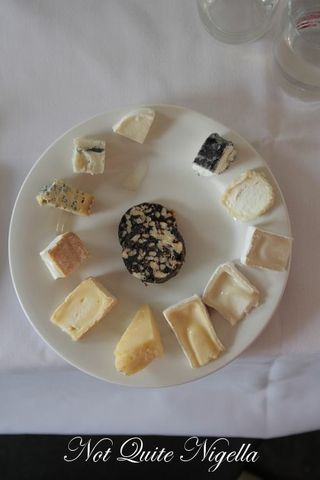 Another thing to consider is ageing your own cheese or becoming an affineur. This is a job in France where people buy  cheeses from the cheesemakers and then age it themselves. They are the ones that you may have seen inserting the metal tool into the cheese and taking it out with a small taste of the cheese. Currently there aren't any well known affineurs here in Australia.
Our next cheese before we get to the blues is a washed rind cheese called Old Telegraph Road Fire Engine Red made with cow's milk. The most common reaction when smelling this cheese is "It smells like the Easter show!" which in fact it truly does.  Claudia also recommends sipping water after trying a cheese as it can also help to identity the different flavour profiles of the bacteria.
She brings us a square of buttery chocolate ganache which we are to cut into quarters. First to taste on its own and then each piece in equal sizes to have with the Holy Goat matured Skyla cheese and the last two cheeses which are the two blues. One is a Tarwin blue cow's milk cheese from Berry's Creek in Victoria and the other is an Italian gorgonzola matured in limestone caves with a pineapple aroma to it. I really enjoy the ganache with the holy goat cheese but I find it packs too much of a punch with the blues which I prefer with something sweet like a quince paste and crackers. The pastilla nash is stronger in walnuts than prunes so this doesn't quite showcase the blue cheeses as I like to eat them.
Well that was a lot of cheese wasn't it? Some people walk off the cheese by going on a tour of the island, some stay and chat to each other and Claudia. So what did we think of it? If you're into the history and background of cheese in addition to the tasting then this event could be worth your while. Tickets are $170 per person (including ferry tickets) so it isn't the an inexpensive experience but as far as cheese eating pleasure and knowledge and eating cheese of this calibre goes it is a treat.
So tell me Dear Reader, what is your favourite cheese?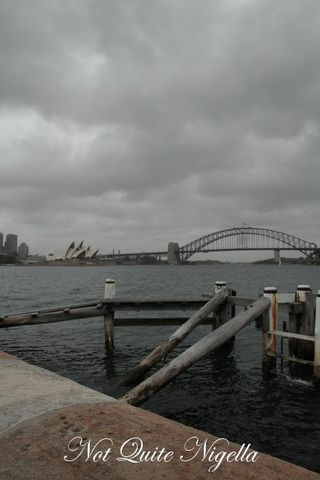 RedBalloon
[
](http://www.redballoon.com.au/gourmet-gifts/food-tasting/cheese-tasting-on-fort-denison)