There is the "normal" way that one usually visits a restaurant. That is, to make a dinner booking for say 7:30pm or 8pm, arrive and sit down and have a meal. I think it's safe to say that normal is not a word I hear to describe myself and when Cafe Sydney asked me if Christie and I would like to have a Behind The Scenes view of the Cafe Sydney where we'd get to explore every nook and cranny of the restaurant and the kitchen we instantly said yes.
It had been years and years since I last visited there. I used to go there for corporate lunches and would always order the tandoori salmon (this was way B.B. aka Before Blog ) . One time I dined in the private dining room for a friend's birthday and had some of the most enormous prawns I've ever laid eyes on.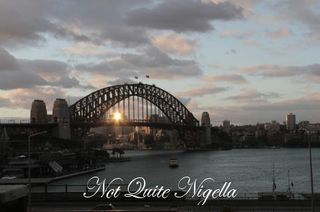 Christie and I front up at Cafe Sydney at 4:45pm. We're doing an evening shift starting with the staff meal. Around us some staff are busy setting up while others eat their staff meals. Jan the Operations Director whose idea this was, greets us and gives us a tour of the premises. We have free reign to go anywhere at any time. The restaurant all looks very familiar and I am instantly transported to my advertising days and I wonder whether the tandoori salmon dish still features on the menu (it does but in a different version!).
"How many people do we have tonight?" Jan asks.
"240" answers the front of house staff as we learn out of a possible 300 diners.
Christie and I are amazed. It's a Tuesday night and restaurants usually are much quieter at the beginning of the week but they are operating at 80% capacity on this cold, Wintry Tuesday night. As it is a chilly evening the outdoor terrace area is reduced so that diners don't feel the chill too much. There are outdoor heaters as well as  but nothing can distract us from the view. Ah that view. The Harbour Bridge on the left and East Circular Quay on the right with the Opera House peeking out from behind it.
Back to the staff meal. I've always been interested in staff meals ever since I got my copy of the Buon Ricordo cookbook where there is a section on the staff meals. Tonight it's a penne pasta bake with a meat sauce and cheese as well as a vegetarian option which is baked polenta. There is a large rocket salad with pear as well. Each night has a different type of meal but the same staff meal is served for lunch and dinner that day. Monday nights are curry night as the Tandoori chef Ram cooks.
_Ram the tandoori chef
_
Jan is handed a kitchen preparation sheet. On it are the number of diners (pax), special requests (like birthdays) and there is also a number for "amuses". Each evening Cafe Sydney holds a table for 2 and a table for 4 (a "2 top" and a "4 top" in restaurant speak) for each of the 5 star hotel concierges in the area. These are held until around 7:30pm and each table is also given an amuse bouche with "compliments of the hotel" . There is no percentage of the meal or fee for this for either party and twice a year they host the concierges for dinner. Their clientele is mostly corporate and repeat customers and they can get up to 50 walk ins an evening and they usually try and accommodate them as best as possible. Seating is done on a first come first served basis and your seat depends on the date that you booked.  Seating arrangements are done at 3pm each day.
Staff meals finished all of the wait staff go to the private dining room (where from 3-5pm that day all the oysters are shucked) for a front of house briefing which are held at 11:30am and 5:30pm. Tonight there are 25 front of house staff including waiters, runners and reservations people and 14 chefs.  Tim runs through the details of the specials and the items that they need to push and talks through the cheese, amuses and petit fours. He quizzes them about where certain ingredients come from and asks them about what makes certain ingredients different or special.
Tom the head bar man explains the latest cocktail which is a Staten Island. This is a cocktail that has a mix of Rittenhouse rye whisky, fresh lemon juice, egg white, Canadian maple syrup and a dash of angostura. Each staff member takes a straw and pokes it into the drink and then samples it.
We are given our chef's whites and some removable buttons and we go into the bathroom to change (the motion sensing bathroom lights are on a power saving feature). The Dinosaur Design lights are also charged up every evening after service and the lights for the restaurant are powered automatically by detecting the amount of light there is and gradually activating the lighting. There are three levels to the dining area of Cafe Sydney and they are all designed so that each level has a view of the harbour.
We make our way to the kitchen where we meet the executive chef Matt Bates. We see them getting ready for the onslaught and we take our chance to observe things before we truly become an annoyance. At the front is the pass which is where Matt stands. There is the POS system that spits out the dockets and he will direct the orders to his team of chefs.
Then there is the grill area where they grill and also make their own jus, the sauce section and the cold larder. Desserts are made by the pastry chefs who come in at 6am and these are then plated up to order by the cold larder in the evenings.
Then there are the three stewards Papsa, Soyaz and Masi who do the cleaning and they're much lauded for being able to clean in such a small space. As the building is heritage listed, there are not a large number of changes that can be made and the guys do an efficient job cleaning everything for a 300 capacity restaurant.
The waiters gather at the other side of the pass to try the specials of the day. They each take a set of cutlery and dig in. "It's normally everyone digging in but they're behaving themselves today" Matt says. We try the dishes. The specials are: confit duck leg with duck cigar, pickled cherry, savoy cabbage, speck and jus for $40 which is my favourite, dry aged striploin with Swiss brown mushrooms, braised short rib pithivier and jus for $58  and octopus with pancetta. They are all delicious but the crispy duck and plump pickled cherries have won my heart.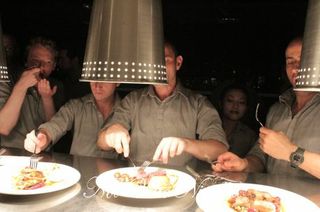 Matt takes us for a little tour and what is surprising is that there is only one cool room for the whole restaurant. The supplies in the coolroom will last the restaurant just 24 hours and every day they get deliveries (twice a day for fish). And does the cool room break down? Yes it does but they have preventative measures and their cool room company visits the restaurant at least twice a week to maintain it.
The cold larder is definitely the coolest place in the kitchen temperature wise and second year apprentice Jake is  busy preparing some of the cold seafood.
There is also a paging system for when Matt needs to speak to any of the key floor staff. "Press Tim" Matt says. "Press it twice to make him think its an emergency". I do and Tim arrives within seconds-thankfully not upset that we've just paged him for nothing ;)
The first dockets come through and the first thing is a tenderloin well done. I ask Matt if people still often order their meat well done and he says that they do and of course they will cook it to order although medium rare is most popular. However a cut like venison or kangaroo is just not suited to being cooked well done as it would make it tough so in that case he would suggest a tenderloin or another cut for the diner.
There are three levels to the docket system. When they first come through and Matt tells the kitchen the order they start at the top, once their entrees are given to them they are moved to the next tier down and once their mains are given they are moved to the last tier. The dessert orders go directly to the cold larder section. When the waitstaff have collected the entree plates, a docket with the table number comes through and says "Mains Away" signalling to the kitchen that the diners are ready for their mains.
Apart from waiters there are also runners who run the food to the table. These are waiters in training and aren't allowed to take orders but will gradually work their way up to becoming a waiter. One role that is crucial for the runners is the "expediter" Greg. He has a look at all of the dockets and instructs the runners on which item to take to which table and at which table position. He also tells them if finger bowls are needed as well as any other special instructions (i.e. whether to put two sets of cutlery for a seafood platter).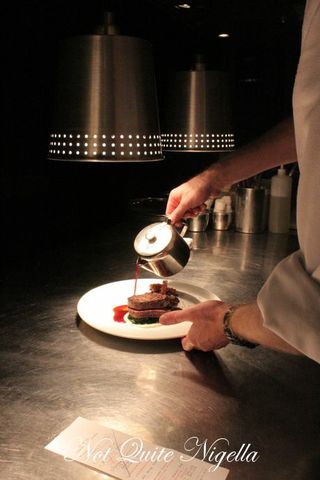 The table positions are important as they tell the runner who ordered what and where to set down the plates and thus avoiding that awkward moment where people forget what they've ordered. And are there any codes for diners? I remember reading that some places sometimes put unflattering codes for diners according to their appearance. No,  it is number based and the number 1 position at any table is the person whose back is to the kitchen.
We watch as Matt and Greg clean the rims of the plates with a scrolled up wet teatowel with a touch of vinegar in the solution. I am SO using this tip when doing it at home as a dry teatowel doesn't do the trick and in fact Matt tells us that if the staff are caught using the dry teatowels around their waist they get into trouble. He also shows us the proper way to carry a plate to minimise finger prints.
A docket comes through and it says on the octopus dish "No cheese". There is no cheese in the octopus dish so Matt calls the waiter over who explains that the customer wanted to ensure that there was no cheese and asked him to let the kitchen know. Do they get many eaters with allergies or special food requests? They have a separate vegan menu with two entrees and two mains. They also get a lot of gluten free eaters. And famous diners? Ashton Kutcher recently dined here on his last promotional visit to Australia. Pauley Perrette (Abby from NCIS) recently ate here as did Robert De Niro with his large family. He entered through the back entrance and sat with his back to the restaurant.
And what about tips? They kitchen gets a percentage of the tips and these are divided up amongst the kitchen staff depending on the their level and can change month on month. On average people tip about 10% here. I ask one waiter Woody whether he can tell a good tipper from a bad one and and he says generally not although corporates can splash out.
We're sensing that the kitchen is heating up as the dockets spill in so we go for a walk around the restaurant. There is a lot of activity on the floor and it is packed except for a few tables. We go the the dispensary bar where some of the more standard drinks are made. The cocktails are made at the Havana bar which is also open to customers but the soft drinks and drinks like scotch and cokes are made here.
We check out the Havana Bar where Tom Bulmer and Tom Wood are mixing cocktails. We opt for a mocktail each. I adore my peach and vanilla iced tea which is a frappe of T2 Madagascan vanilla tea, white peach, cloudy apple juice and sugar syrup.
The Elderflower Smash is fresh and bitter with mint and coriander with organic elderflower, clear apple juice and tonic water. Fortified with liquid (it's easy to get dehydrated in those temperatures), we are curious to see the system where they enter the meals.
Supervisor David shows us and it's interesting to see how much information that they can put in. There is also the "See Me" button which is for extremely complicated orders that need to be communicated directly to the kitchen in person. He tells us that they are all trained in food safety standards and how to ascertain a customer's allergies or needs and they put in as much information as they can to give the kitchen the best idea of the customer's needs.
We're back in the kitchen and they're busy plating up desserts. I spy a dessert that I've just got to have. It is a cheesecake with glazed pineapple and coconut tuile on top. We spend some time in the grill section and the sauce section and it is going at full blast. It is incredibly hot and action packed.
Chefs whizz past us chiming "Behind!" "Behind!" "Behind!" and like two chickens trying to cross a highway we wait cautiously and dodge bodies to get to the other side where it is clearer. It's definitely not a a great place to be wielding a camera or being a stray person so when Jan says "We've got a table ready for you whenever you are ready" Christie and I change out of our chef's whites and make our way to the table. Being around food for this many hours is making us hungry.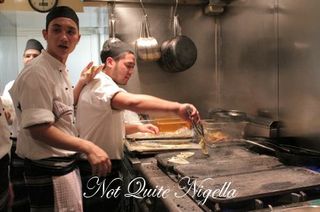 We start off with some naan bread. We choose two types: a spiced caramelised naan and a goat's cheese and spinach naan. I especially adore the goat's cheese and spinach one as it's fluffier and delicious, particularly when you bite into a pocket of cheese. And please excuse the photos, the light is very, very dark and tinged a glowing orange. Very romantic but a challenge to photograph in.
Tom the head bar man comes over and makes some suggestions. We both want to start with something non alcoholic so I opt for a drink that he makes using home-made Carribean spice syrup with raisins, vanilla, cardamom, cinnamon and star anise. The alcoholic version would be a Bardaban milk punch. I adore this drink, it's just the right amount of aromatics to refreshment. Christie gets a Kiwi Crush which is kiwifruit, lime, passionfruit and apple soda drink which is satisfying lip smacking drink strong with lime and soda.
I'm walking down memory lane tonight and so I've chose to start with a small serve of their chilled Mooloolaba prawns with mayonnaise and lemon. Our friendly waiter Michael asks me if I would like them peeled. I usually don't mind peeling them but since I spent one hour peeling two kilos of prawns this afternoon I opt out of peeling these. They come fresh and cold and delicious when dipped in the garlicky mayonnaise and lemon.
I try some of Christie's scallops with salt cod stuffed zucchini flowers. These are Canadian scallops cut in half (although I like them fat and juicy and whole) and I do like the generously filled zucchini flowers which are expensive to buy at the moment. Matt tells us that they are $1.50 per flower to buy. The salt cod stuffing is gorgeously rich and soft against the crispy outer.
The twice cooked pork belly is sweet and unctuous. The pork belly is ringed with soft, yielding jellied fat (yum!) and is accompanied by a caramelised pear, speck, pistachio and jus. It's for those cold, rainy Winter nights when you just need comfort and utter richness with a bit of sweetness.
Ahh Tandoori salmon, how I remember you and am pleasantly surprised that you are still on the menu! Apparently this dish is so popular they cannot take it off and whilst the accompaniments may change and it may be salmon or trout, it still tastes great. The salmon although it is cooked through (as Christie had requested it to be as she is pregnant) is still wonderfully moist and juicy without a hint of dryness. The lentils are a nice accompaniment to it along with the tangy buffalo yogurt raita. A chargrilled globe artichoke tops it off.
_Chips-how we love thee...
_
I do love a baked cheesecake and fruit desserts so this is a welcome sight. It's not inexpensive for the size admittedly but we enjoy the coconut biscuit base, the coconut tuile on top and the rich vanilla cheesecake especially when combined with the glazed pineapple pieces. The pineapple sorbet is refreshingly good and tastes of pure, fresh pineapple with just about the right amount of sweetness.
We took our waiter Michael's recommendation. We were expecting a chocolate hazelnut sort of dessert but this appears to be like a warm toffee pudding. It comes in a pool of caramel butterscotch sauce, a nutty ice cream and a quenelle of thick unsweetened cream that sits on top a fantastic nutty toffee praline crunch. During the night the friendly reservations staff come over and say hello including the lovely twitter gal @sharonpiggott.
I finish off with a dessert cocktail, the Creme Blanc which is white chocolate melted with Belvedere vodka , creme de cacao and vanilla liqueurs. It's creamy and potent and slips down my throat easily.
We're reluctant to leave-it certainly was an action packed night full of surprises and we were made to feel welcome like we were part of the family here. We waddle out well fed and well educated about life in a successful 300 seater restaurant with a new appreciation for the theatre of it all.
You can also check out Christie's post is here for her view on our view from the top!
Cafe Sydney
Fifth floor, Customs House
31 Alfred Street, Circular Quay, NSW
Tel: +61 (02) 9251 8683
Open Monday to Friday Noon until late
Saturday from 5pm until late
Sunday from 12 noon until lunch