Despite being born and bred in Sydney, I still find the Harbour one of the most spectacular places to be on a sunny day and my hearts swells with pride at the sight of the beauty of Sydney. I am truly a Sydneysider through and through. And today, for Mother's Day, we're playing tourist in our own city with my parents. If you remember Mother's Day in Sydney on the Sunday, you might be puzzled, recalling a day filled with intermittent rain and you'd be right, it certainly was a so so day for weather. However the day before on the Saturday was a picture perfect day with not a cloud in the sky and only the gentlest breeze blowing. As we try and avoid restaurants on Mother's Day (and Father's Day and Valentines Day) through bad experiences in the past with harried, stressed venues being understaffed and trying to push us out in order to get the next seating in place, we simply celebrate it the day before and we're lucky we did so weather-wise.
Fort Denison is on Pinchgut Island, a small Island in the middle of the Harbour. Formerly a prison when Sydney was itself a penal colony, it was a prison within a prison. Nowadays, it serves as a tide marker and is Sydney's only Island cafe.
Accessible by boat, we board at Jetty No 6 at Circular Quay at 12:45pm for the 5 minute boat ride. Within 5 minutes, we arrive at Fort Denison which is a lot smaller that you'd expect (you can walk from end to end in less than 5 minutes) and are greeted at the cafe. The waiter is friendly and polite and lets us know that in a few minutes at 1pm they will be firing the canons which they do once a day, every day on the dot at that time.
Why 1pm? Since 1906 it allowed ship to set their chronometers i.e. watches and the practise only stopped during World War II due to alarmed residents and resumed in 1986. Today a young boy gets to do it and we all cover our ears (it's loud!) and after some view gazing and a chat with the friendly woman that oversees it we head back to our table under a huge marquee.
My mother and I order a couple of items to share while my dad who doesn't like sharing orders the battered flathead and chips and my husband orders the lamb shanks. Prices are extremely reasonable considering the unique Harbour setting. We also see that they have a New Year's Eve Celebration here for $1,000 a person-I wish!
A generously sized plate I think this could have done both my mother and I for a main. There are three types of bread: Turkish bread, breadsticks and dry toasted round of bageutte and 3 dips: hummous, guacamole and babaganoush as well as a bowl of fat black and green olives and an ambrosial sheep's feta and sun dried tomatoes. The Turkish bread is wonderful and lightly brushed with oil and very lightly toasted and is a huge hit with the whole table. Likewise the dips which are all wonderful along with the fantastic sheep's feta, sundried tomatoes and olives.
The serving size for this dish is generous with 3-4 pieces of fish. The batter isn't quite as fluffy and crispy as I like or flavoursome though but the garlic aioli is a nice accompaniment (although it could be a bit more garlicky).
The fish pie is comforting and delicious with a blanket of piped mash (if it was powdered, it didn't taste like it) and a bed of salmon in a creamy white wine sauce. The accompanying leaf salad is also well dressed and flavoured with a vinaigrette.
The lank shank eases off the bone with the slightest nudge and my husband adores the tomato and olive sauce that accompanies it and the soft, meltingly tender meat. For once, there are no complaints for size and taste for him which is a bonus.
We're too full for dessert but there is a selection of things such as scones which are a Pinchgut Island tradition down to things such as ice creams (Magnums, Golden Gaytimes etc) for very reasonable prices.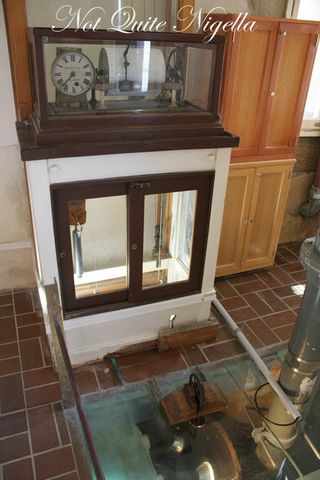 The Tide Room: Original tide measure from 1908 and the modern one from 1996. The original one is about as accurate as the modern one!
We walk around the museum and it's actually quite interesting reading about the history of the Island and its grisly past. There are also tours of the tower available ($10 extra).
We catch the 3:05 ferry after having soaked up the beautiful Harbour for an afternoon which only serves to reaffirm that we live in one of the most beautiful cities in the world. Plans are made to take all tourists here by my parents but we're just plotting to come back ourselves. And if you're in the area before June 8th, do check out the Yayoi Kusama exhibit at the nearby Museum of Contemporary Art. Her Infinity Mirror Room-Phalli's Field and the flourescent dot room are amazing.
Fort Denison Cafe and Restaurant
Fort Denison
Sydney Harbour
Access via ferry from Jetty No 6 at Circular Quay, return ferry ride $17 per person.
Using your Enliven card allows you to bring 1 guest to have a free main course (one card per table).