There's nothing I love more than discovering a new place and telling you about it Dear Reader. One such instance is a recent visit to Blackwattle Cafe, in Blackwattle Bay Glebe open since December last year. I know that waterside dining is usually the area of restaurants although sometimes, just sometimes, a cafe can sneak into the picture. And in turn it is usually embraced and loved by locals.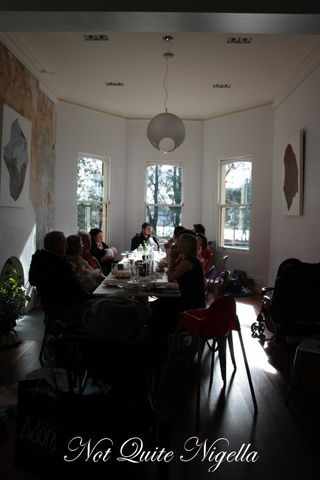 After the deluge of rain we've been having recently, a sunny day seems cause enough for celebration. I mean it's not like we're going to take our shirts off like they do in other cities when the weather turns warm but quite honestly I was shaking my fist at the sky every day while my laundry piled up demanding that the rain stop. So when Buxom Wench, Silver Fox and I find ourselves looking for a lunch date one gorgeously sunny Autumn Friday afternoon we decided to head towards the water. We arrive at Blackwattle Bay and following the map we drive as far as we can down the street.
"Where is it?" Buxom Wench says.
"I have no idea" I answer, completely clueless.
There's perhaps really only one place it can be and approaching it from the street it isn't immediately obvious as there is no signage so we head towards the water where sparkling Blackwattle Bay is giving us a prime view of its wares on this beautiful day. The Anzac bridge sits suspended up above and we pass a sandwich board for the Blackwattle Cafe as we take the long way round via the front. There are gaggles of mums with their babies who are playing with the toys provided (Buxom Wench notes with approval that they are good toys).
The cafe is housed in an 1896 Victorian house with Italianate features called Bellevue House. It is very busy this Friday afternoon with two large groups of diners in two semi private rooms and everyone else scattered among the rooms and outdoor area. The building is nicely restored with interesting treatments on the walls and a warm, cozy atmosphere. The menu is compact with about half a dozen offerings in total but it does encompass a bit of everything: a pate, a pie, a salad, a sandwich and a slow cooked dish. Coffee is by The Little Marionette and bread is by Sonoma but everything else is said to be made on the premises.
I try my chai. I'm not a huge fan of hot drinks in glasses and it always seems so counter intuitive to serve a hot drink in a glass without a handle but it seems most places are insistent on serving lattes like this. The chai itself isn't a standout nor is it bad but I don't think I would order it again.
The pate comes out first as requested and it comes with caper berries and five generous slices of toasted Sonoma ciabatta bread and a sweet jellied top. The actual texture of the pate is firm, like fridge hardened ganache, perhaps too firm but the flavour is excellent without any bitterness and the overly firm texture is forgiven with the lovely flavour.
The pork and pistachio pie arrives in a pithivier form. Inside it is all hues of pink studded with green pistachios and we marvel at its prettiness. We take a bite and the filling and pastry is just like a sausage roll rather than a pie filling. Of all of the dishes, this is a favourite of the table. The tomato relish is very sweet, a bit too sweet for the pie as I'm hankering for some regular tomato sauce to go with my sausage roll ...ahem pie!
The beef cheeks arrive looking quite unlike beef cheeks that you usually see (I suppose we're used to seeing them in pommes puree with a rich jus). These come rolled in crumbs and fried and sitting in a rich tomato and onion based sauce, creme fraiche and some slices of roasted parsnip. The beef cheeks have an almost offally flavour but they come together nicely when you add the creme fraiche and thick stewed tomatoes although I didn't really go for this without the creme fraiche.
The Autumnal salad has a bit of everything for the new season. There are chickpeas, tomato, radish and Persian feta amongst the leaves and it is dressed in a simple tangy vinaigrette dressing.
Now if you had asked any one of us what we thought a tipsy cake might have looked like it would not resemble this. We had expected a version of a tea cake whereas this is a trifle made with crushed Italian biscuits, fresh figs, kiwifruit and the piece de resistance-twinkly, sparkly sauternes jelly. Some of the biscuits haven't soaked up the alcohol so they give a dry crunch which I don't know really go for but the jelly and the sherry soaked biscuits and cream are a lovely touch We all vow to make sauternes jelly at home we're so taken with it. However one thing to note is that the desserts did seem quite expensive for a cafe especially when you compare them to the prices of the mains.
Curiously, Buxom Wench's pot of tea comes without a lid - odd and without explanation. Nevertheless, given the view and the sterling company we couldn't imagine a better way to settle in for the weekend. We slowly amble off after eating where our table is snaffled shortly after.
So tell me Dear Reader, how do you ease into a weekend?
Blackwattle Cafe
55 Leichhardt Street, Glebe, NSW 2037
Tel: +61 (02) 9692 9785
Daylight saving hours:  7 days 6:30am-8pm
Non daylight saving hours: 6 days 6:30am-6pm
http://blackwattlecafe.com/