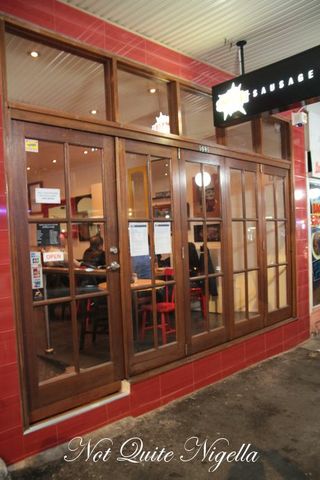 This restaurant has closed permanently.
It was a day smack bang in the middle of Winter. I was at home working and watching the temperature like a hawk and by midday it hadn't climbed over 11.1°C/52°F. Then by that afternoon it flicked over to show 12°C/53.6°F. I let out a "Yaaay!" before realising how ludicrous it sounded. Getting excited over a mere 12°C degrees? Welcome to Winter.
I was just thankful because Mr NQN and I were seeing my two fabulous friends Queen Viv and Miss America that evening and we were going to a place most appropriate for the weather. Our destination was Smash Sausage Kitchen, a place that specialises in delicious sausages and mash with gravy among many other comforting foods. Originally a tip from tweeter @sarcasmcupcakes I was intrigued by the mix and match sausage concept.
We walk in and there's banquette seating to the right and regular table seating on the left. A pop art collage takes up prime position on one wall with cartoon characters (superhero "Smash Man" it seems), Elizabeth Taylor and other sultry movie stars and starlets. A gigantic luminous picture of Marilyn Monroe sits on another wall. Cute mismatched chairs and colourful cushions are for sitting on and against and the waitress has a silver skeleton necklace to die for. And did I mention it's warm too. We settle right in.
The menu has starters and hearty mains but there is also a mix and match section where you can order from one of nine varieties of sausage including one vegetarian one, several kinds of mash and four types of gravy and you can choose from either two or three sausages with your mash and gravy. We pick and choose and our original plans to have three different types are foiled. Apparently you used to be able to have different varieties of sausage but now you can only choose the one type. My face falls, we're all of the sharing to try as much as possible variety so the waitress suggests that we try the sausage tasting plate whose selection changes daily.
Each table is given a plentiful bowl of sweet potato and parsnip crisps, shaved thinly and every curly tendril or piece well salted.
I love real fish fingers (and admittedly the frozen supermarket ones do hold a certain kitsch value although they always taste a tad watery). These come out first, four to a serve, all crunchy golden with proper fish inside. Along with it comes an excellent aioli and a wedge of lemon to accompany them.
We ended up making our own sausages and mash meal with this tasting plate and the sides. The three sausages on the tasting plate today are the chicken, cheese & baby spinach, smokey Texan and old English pork sausage. These are smaller than the serve that you would normally get in a mix and match sausage meal and each sausage looks about a third of the size of the full sized sausages. I liked the smokey Texan with a teeny hint of spice although I was less taken with the chicken & cheese sausage which was a little watery and the English pork was good but I'm after a more exciting sausage. They're served with a tomato chutney which is flavoured with spices and is strong in clove and fragrant with spices.
_Full sized sausages _
Our waitress, and service is really warm and personable here, suggests that if we want more sausages that we can order them and sausage fanatic Miss America's eyes light up and he wants some more. So an order is put in for three more sausages of different flavours than what we have tried on their recommendation. Now these are the types of sausages that we were hoping for-perhaps it's these flavour or perhaps it's the larger size that lends an advantage. Mr NQN cuts them into quarters and we take a chunk of each and bite into them. They're juicy and fat and delicious, the Moroccan lamb is sweet with raisins and cinnamon and is a favourite-if we could have ordered some to take home with us we would have. The beef with wild mushrooms and garlic has chopped up mushroom in it. The lamb, mint and rosemary has a good balance of flavours but all we're thinking about is the Moroccan sausage.
"My what big bowls you have!" Goldilocks would have said. They have regular mash but why have regular when you can have bacon and leek (or caramelised onion, our backup choice)? The mash is smooth and delicious with pieces of bacon and leek studded throughout it.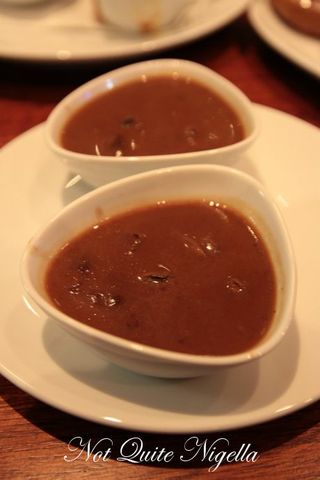 We opted for the mushroom gravy which comes out in two bowls (if you order the plate of sausages then you get one of these). The mushroom gravy is excellent, smooth and full bodied with pieces of mushroom throughout it. And yes perfect for pouring over the mash.
I've had some really average mushy peas so I wasn't sure what to expect but these are well seasoned and moreish with the soft, mashed peas and their burst shells helping to alleviate the meat heavy mains. And this too is a gigantic serve.
The pie of the day was Shepherd's pie and we hadn't realised that we were going a bit overboard in the mash and pea arena. The shepherd's pie is a flavoursome tomato based mince underneath a topping of mashed potato on top and on the side were peas. It was quite good although I don't think we ordered wisely given how much mash and peas we had already consumed.
Both salads sounded great and it was just the roasted pumpkin and goat's cheese that swayed us. It's a generous serve of rocket, sweet roasted pumpkin chunks, a very generous sprinkling of toasted macadamias and a smidgen of goat's cheese and a very good balance of flavours and textures.
Why have one dessert when you could have a whole tasting plate? Thankfully everyone is of the same thinking and so we order the tasting plate which has a bit of the three desserts. We start with a delicious caramelly sweet sticky date pudding with macadamias drenched in hot butterscotch sauce which is served warm. Then we move onto the gluten free flourless chocolate cake, rich and dense with chocolate sauce poured over it and last but not least is everyone's favourite the apple crumble with a nutty, buttery topping and deliciously sweet apples underneath it and vanilla custard on top. A pot of vanilla ice cream completes our Winter food fest for the evening.
It may not the kind of place that gets chef's hats but for us it fits the bill perfectly for a Winter warming dinner with warm service and comforting meals. And just a tip, do book as it gets busy - the secret seems out in Newtown! And the bill? Stuffed to the gills and less than $30 a person. Worth braving 12 degrees for!
So tell me Dear Reader, what are you loving eating this Winter?
Smash Sausage Kitchen
This restaurant has closed permanently.
512 King Street, Newtown, NSW
Tel: +61 (02) 9516 5424
Open Tuesday to Friday 5:30pm until late
Saturday to Sunday 10am-3pm and 5:30pm until late
Closed Mondays
Corkage $5 per bottle