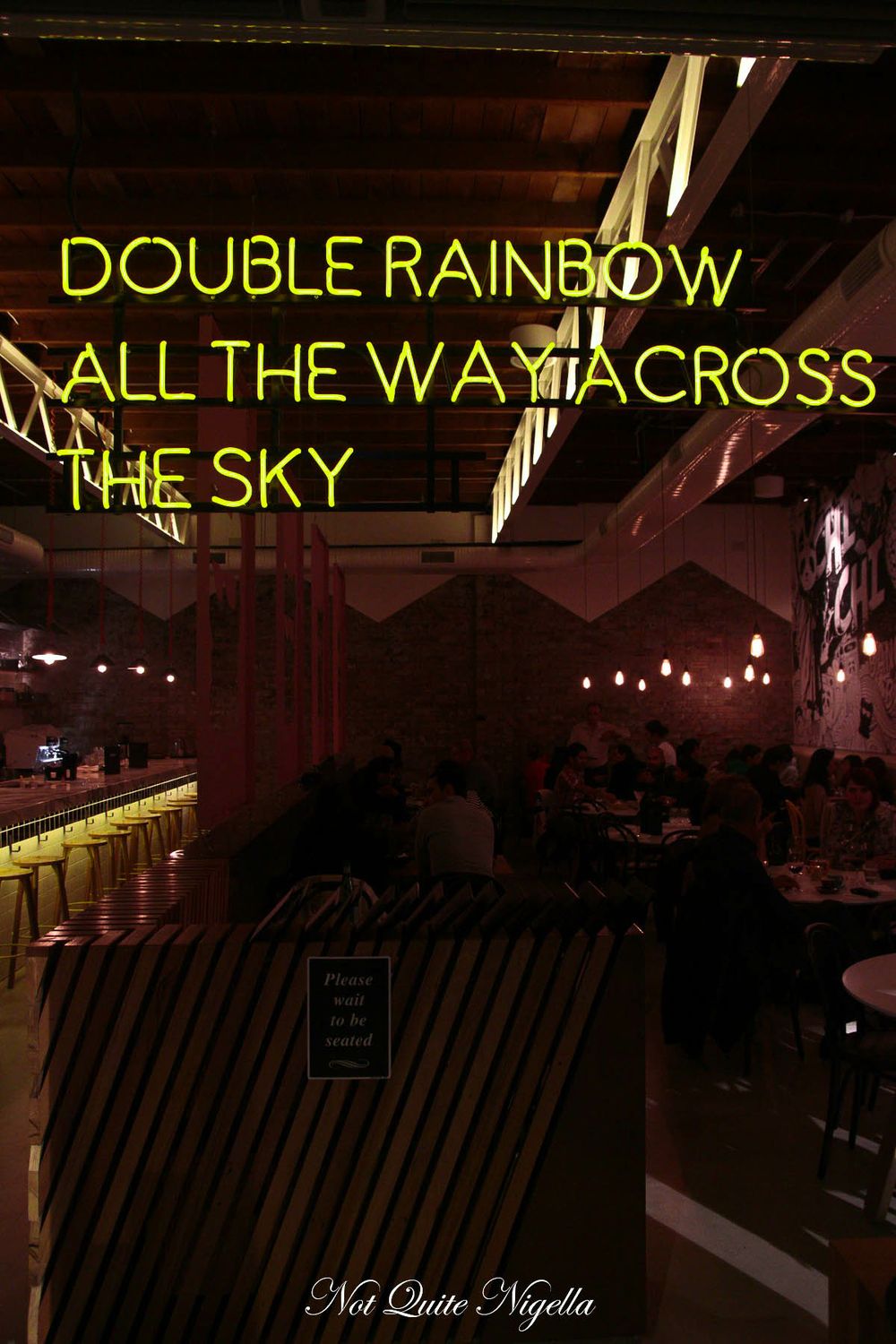 Whenever it's raining, I always see rainbows as a sign of something good to come. Symbolic perhaps of a lesson learnt after a hardship or a silver lining in a cloud. Rainbow themed anything from cakes, biscuits and cupcakes adorn my blog and when I see a sign saying "Double Rainbows All the Way Across the Sky" beaming at me from a yellow neon sign as soon as we walk into Chi Chi Asian Kitchen, I see it as the reward at the end of a long drive.
I was with my usual partners in crime Mr NQN, Miss America and Queen Viv. The latter two are the friends that best like an adventure to a far flung suburb and on this torrentially rainy Sydney Saturday, Mr NQN and I bundled into the car avoiding fat drops of rain and picked up Miss America from Potts Point and Queen Viv from St Peters and went on our way to Canley Heights (on the way buying twelve blocks of butter but that's nothing new). We were running a touch late and perhaps we were over optimistic with the travel time to Canley Heights. The rain doesn't help traffic conditions and Chi Chi isn't actually on Canley Vale road as the address says but we stumble upon it on Derby Street while trying to find a park in this busy little suburb.
Inside, it's quite different from the large number of Vietnamese eateries that line Canley Vale road. There's a large Manga style wall complete with a waving lucky panda alongside an exposed brick wall and pink metal cut outs of pandas in sunglasses partition off the marble bar from the main restaurant. They tell us that Chi Chi just means chic and the idea was to introduce a Melbourne sort of vibe to Canley Vale. One of the owners Les Huynh of Chi Chi also owns Blue Ginger in Balmain. Every table is taken this evening and I'm glad that they take bookings. Service is very friendly and they take time to explain things to us and give us recommendations.
Liquid Pavlova $18 (left) and Hello Chi Chi $8
It's funny how one ingredient can evoke a whole dish. The passionfruit in this cocktail and fluffy top brought forth memories of pavlova immediately. My choice was the Hello Chi Chi which was a delicious mocktail tasting of sweet strawberry and lychee. The only complaint was that there was a lot of ice in both drinks and they were gone rather quickly within a few gulps.
Spanner crab, pomelo, caramelised coconut, galangal and peanuts on betel leaf $4.80 each
It's a short wait for the entrees that arrive all at once. We start with the two betel leaf items which are always crowd pleasers. The spanner crab, pomelo, caramelised coconut, galangal and peanuts on the betel leaf are perfectly balanced, with just the right amount of sour pomelo and rich, sweet caramelised coconut never overpowering the crab.
Smoked trout, galangal, roasted chilli and fried shallots on betel leaf $3.90 each
We follow the crab with the smoked trout (on their recommendation) and it's also good with the strong smoked trout flavour dominating but out of the two betel leaf toppings, the crab ones were just that touch more balanced.
Son-in-law eggs with house XO sauce $5.90
I originally found Chi Chi from Tina's blog Bitemeshowme and I recall that she was smitten by these on her blog and I'm in total agreement. They're simple enough, boiled eggs lightly dredged in cornflour and deep fried so that the outside gets a crispish coating. Inside the yolk is runny and golden and topped with house made XO sauce, that powerhouse spicy sauce flavoured with dried scallops and pork. "I could have eaten a dozen" Miss America says to eating lifting the last mouthful to his mouth.
Steamed dumplings of seafood and vegetables with ginger soya sauce (5) $11.90
On the drive here Miss America had made several requests for us to stop in Ashfield for dumplings. It was rainy weather after all and that means holing up with a plate of steaming dumplings. These were filled with seafood and vegetables with an egg pastry wrapper. Drizzled on top was a ginger soy sauce. They weren't bad but they also weren't very distinctive in flavour in terms of the seafood and I couldn't tell what seafood it contained.
Crispy skin baby chicken with house satay sauce $20.90
This was a recommendation from our friendly waitress and I was sold on the fact that it sounded like two dishes in one that I had never tried together: a crispy skinned chicken topped with satay sauce. This gives the satay chicken an added dimension of crunch which is satisfying and the satay sauce is flavoursome and moreish, especially with the rice. One nice note was that rice was $3 for a very generously sized bowl.
Slow braised boneless beef ribs with chilli, tamarind sauce served with pickled vegetables $20.80
This was quite small for a main and some of the main sizes are on the small side. The slow braised boneless beef ribs are cooked for four hours and then fried for a crispier texture and coated with a  chilli and tamarind sauce. The texture of this is a little on the dry side, even when you get a saucy piece and the pickled cucumber was refreshing against the sweet sauce.
_Steamed wild barramundi fillet with ginger soya & shallot sauce $21.90
_
This was Queen Viv's dish as she was detoxing so I didn't try it but she said that she really enjoyed it.
Fried wild barramundi fillets with green apple salad and fried shallots $21.80
This was a surprising dish and was small pieces of deep fried barramundi pieces with matchsticks of green apple, coriander, mint and fried shallots and a sweet sauce. The more we ate of it the more we liked it and by the end, it ended up being a refreshingly good salad.
ChiChi's Tapioca Shot $3.90
Miss America's heart was won by the shot glass and I must admit that I wanted my very own of this simple but delicious tapioca coconut custard pudding with a layer of palm sugar syrup and pomegranate and sesame seeds on top.
Black Sticky rice $8.90
Queen Viv was very happy with her choice, a black sticky rice with coconut cream, coconut shavings and peanuts and sesame seeds. I usually just like this with the rice and the coconut cream but she likes the additional flavour from the nuts.
Fried Banana Sesame Roll $9.20
Like spring rolls filled with banana, these banana fritters aren't floury at all and come with a house made caramel sauce and a scoop of vanilla ice cream. It was supposed to be salted nut ice cream but it wasn't until we got home and I started writing this story that we noticed that we were given vanilla.
Now if only we lived closer! Sounds like an excuse for another adventure really...
So tell me Dear Reader, how long is the furthest that you will travel for a meal?
All images taken on a Sigma 17-50mm F2.8 EX DC OS lens
Chi Chi
Shop 3/264 Canley Vale Rd (Entrance via Derby St), Canley Heights NSW 2166
Tel: +61 (02) 9727 2068
Closed Mondays
Friday to Sundays 12pm – 3pm
Tuesdays to Sundays 5pm till late