I don't get to Pyrmont much, the parking situation means that I often stay away but when I do go there I am often rewarded with good food. On the recent public holiday weekend I was meeting up with Reem and looking for somewhere to go. Many of the usual suspects were closed, who could blame them, a public holiday weekend is nothing to sniff at. And I consulted my list of "to eat" places and gave The Persian Room a call.
A female voice answered and when I asked her whether they were open over the weekend she said that indeed they were open every single day. She added for good measure that the food that they make takes so long to cook that they're open from the early morning. So with that little bit of a sales pitch we booked in for lunch at The Persian Room.
A jug of rosewater flavoured water is brought to the table and the woman who answered the phone is very hospitable. In fact although we want to order a bit of everything she discourages us from ordering too much.  She tells another table that they can't have a drink because it's too late in the day.
Kufteh $12
Our first dish is brought to us and it's a single meatball. But don't think that it's a golf ball sized meatball it's more a softball sized one and one that we both have trouble finishing. "It has a plum inside" she tells us and sure enough once you burrow inside the enormous orb there is a plum inside. The meat is soft and the meatball sits in a rich tomato based sauce and it comes to the table steam rising off it.
Eggplant dip with Persian home baked bread $9
The eggplant dip full of soft ripples of eggplant and a serve of thick yogurt and crushed walnuts on top is moreish and smokey. The bread is similar to a flattened, thin  naan bread with sesame seeds which is oven toasted and sturdy enough to scoop the dip out of with although I mostly spread it on top.
Fig salad with persian feta dressing $12
We ordered the fig salad as it has figs and Persian feta which we both adore. When it is first put down we don't see any Persian feta so the owner brings us more. I would have enjoyed the salad with more of the Persian feta and less of the tinned beetroot slices which didn't really seem to suit the rest of the food or the restaurant. The dressing was a very tangy vinaigrette which I also didn't really go for.
Fesenjun and rice $22
One of their signature dishes is the Fesenjun which is an 8 hour cooked chicken drumsticks with pomegranate and walnuts so dark that the sauce looks almost black. The chicken is wondrously soft and the sauce, which is quite thin is slightly tangy from the pomegranate and rich from ground walnuts. It is served with a plain saffron rice. I see some of the exotic Persian rices coming past and coo as I've had these before and they're wonderful. But the owner tells us that they would be all wrong for this dish as there would be too many flavours. She adds that if a diner comes here for the first time and they're not Persian she will give them advice on what to eat but if they are Persian or with a Persian friend she doesn't say anything.
Majoon $8
This is a drink that she tells us is popular with early morning runners. It's so packed with energy that it is the drink that she refused to serve it to another table as it was too late in the day for them to burn off the energy. Since Reem is going out she consents to serving it to us. It is a frothy, rich concoction with fig, sultana, walnut and pistachio blended with ice cream to make a milkshake. It has a definite oaty flavour from the walnuts and is just the right amount of sweetness. It is as she says, a meal in itself.
Saffron and Rosewater ice cream $7
The saffron and rosewater ice cream is made in house and comes out in three scoops. They're both good although the saffron is not particularly saffrony flavoured whilst the rosewater one has a good rose flavour.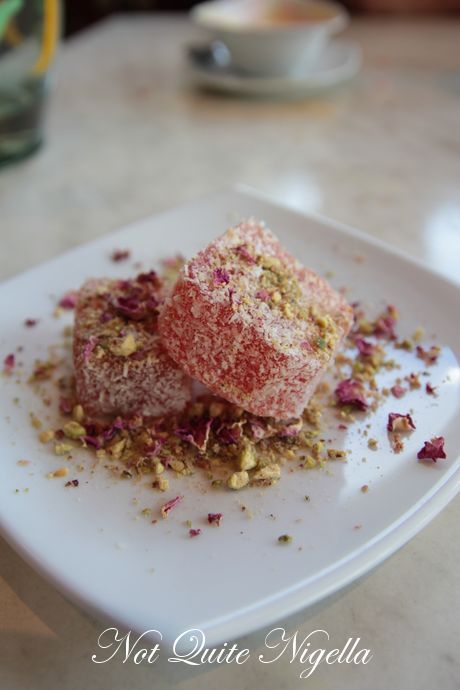 Persian Delight $4.50
The Persian Delight is a gift from the owner as she wants us to try it. She makes it with Tasmanian honey and it is a rosewater flavoured. Without thinking I say "Oh Turkish Delight!" but am corrected "No, _Persian _Delight" although the two are the same in concept. It is sticky and sweet and moreish. Perhaps it's the richness of the majoon but we can't finish it try as we might and sadly we have to leave a bit of it behind. Perhaps we should have listened to her advice and paced ourselves!
So tell me Dear Reader, do you ask for recommendations on what to order?
The Persian Room
52 Harris Street, Pyrmont NSW
Tel: +61 (02) 9692 9299