With bonus shin bruising! ;)
Good Sunday to you Dear Reader! So from my earlier story on Thredbo, where was I? Oh yes my shins were bleeding and bruised from my morning ski lesson and incorrectly put on boots (that would be my own fault). I have managed to slowly hobble my way onto the shuttle bus and back to The Peak where we are staying. I punch in my number and slowly remove my boots and clothing. My thermals which seem to cling tightly to my shins and ankles feel like peeling off a bandaid from a wound and I hobble around the apartment like I'm starring in the movie Misery and Kathy Bates is slowly chasing me around the house with an axe.
I hang everything wet (and it's _all _pretty much wet from the rain) up in the drying cupboard which is a huge cupboard with a heater blowing in there that dries all the ski gear. High heeled boots would not do for the night and I make the quick decision to suspend my "no ugg boots out of doors" rule and wear my fluffy new fur tipped ugg boots and outfit from Birdsnest.com.au and we are going to drive down to dinner. But not before the crackle of fireworks are heard and we watch skiers with red lights shushing down the mountain to the burst of fireworks.
The skiers heading down
Fireworks display
We make our way to our dinner degustation for the evening, Segreto restaurant at The Thredbo Alpine Hotel. The restaurant itself is tiny and when I walk I to the door I have to ask if I am entering through the right entrance (I am, it just doesn't look like the correct entrance) and I take a seat and wait for Chris from Toyota and his partner Charles. After not being able to find a park Mr NQN drives back to The Peak to park the Toyota Prado Kakadu and walks down. And this is where you rally feel sorry for me as I have the second Veuve Clicquot degustation dinner that weekend.
There are five courses including one amuse bouche so really it is more of a slightly more comprehensive dinner than a full blown degustation. Service is generally good although from one waitperson it borders on brusque and alternates between pleasant to curt within the one interaction which is just all kinds of odd. However we do notice that our champagnes are regularly topped up whereas the other night they weren't. A Veuve Clicquot representative gets up to speak about the brand and it is a similar speech to what she told us but this time she also tells us that they invented the riddling table where the champagne rests so that the yeast settles to one end and is then extracted from the champagne. Veuve Clicquot is also a Pinot Noir dominated champagne which is a signature trait of theirs.
Raspberry juice acidule, wasabi emulsion served with Veuve Clicquot Yellow Label Brut NV
Served in a shot glass our amuse is a raspberry juice acidule with a wasabi foam on top. The first sip of course yields much wasabi foam while the second and third are more balanced with the chilled raspberry juice sweeten with mirin. The wasabi foam is nicely balanced and not too sinus clearing.
Tuna and scampish with puffed cereals, mustard seed sorbet, miring dressing served with Veuve Clicquot Vintage 2002
This was undoubtedly a favorite with everyone at the table. A large tuna fillet seared on the outside was topped with a multitude of things. At first thought to be too many, and even though there were many components, they all did blend together nicely. There were little puffed cereal pieces, sorrel and celery leaf salad, what appeared to be crab salad (scampi was mentioned on the menu and there was no correction given but I would say that it was certainly crab), as well as the piece de resistance, mustard seed sorbet which was divine. It was sweet most certainly but there was just the right amount of mustard seed so that it wasn't hot but had the trademark mustard taste.
Iodized asparagus, mollusc juice, roasted pork belly, celeriac mousse served with Veuve Clicquot Rose NV
Sadly this dish in contrast wasn't a favorite. The iodized asparagus and mollusc juice ended up becoming a semi set jelly that dissolved easily and became quite watery. The pork belly as a result ended up tasting quite wet and losing all of it's juicy unctuousness.
Roast Duck Magret, savoy cabbage purée, preserved lemon mayonnaise, cardamom crumble, chestnut beignet served with Veuve Clicquot Vintage Rose 2004
_
_
This dish also had quite a few components with the roast duck including a slice of herby, juicy duck sausage, a savoy cabbage purée, deep fried duck crackling and a sweet cardamom crumble and topping of lemon mayonnaise. I liked how the lemon lifted the dark meat of the duck and the cardamom crumble sweetened it slightly although I didn't see the chestnut beignet which was the part I was looking forward to.
Croustillant apple and per, parfait of salted butter, vanilla espuma, caramel sauce served with a Veuve Clicquot La Grande Dame, 1998
Our final course was the dessert. It was a apple and pear filled brick pastry cigar which had large chunks of roasted hazelnuts in it. I found the halved hazelnuts too large for the finely diced apple and pear and it a a little unevenly distributed. The frozen parfait of salted butter however was delicious and was made using Lescure butter and tasted almost like salted caramel but with a distinct butter flavor. And yes it was gorgeous especially when combined with the praline on top. The dish is finished with some vanilla espuma which was like a vanilla whipped cream and a thick caramel sauce. It was served with the Veuve Clicquot La Grande Dame which matched it well.
Waking up the next morning I experience a completely unfamiliar sensation. I open my eyes a bit discombobulated and look around. Why are my legs hurting so much? Oh yes that's right, I have a sporting injury! A perverse smile spreads across my face (I've never had a sporting injury!) before I try and walk and it's ouches all the way down the stairs. Light snow is falling which is thankfully a nice change from the rain of yesterday and Mr NQN wakes up happy and eager to get snowboarding.
Check out at The Peak is early at 9.30am and they do require you to dispose of your rubbish and put the cups in the dishwasher and set it on, which is fine but a little odd given the $3,300 for two night tariff. Mr NQN spirngs into action, the faster we check out the faster he can get back on the snow and snowboard.
So this is what I saw when I was snowboarding...
Just kidding! That was Mr NQN. This is what I saw...Roasted corn, salsa, avocado and soft feta on Turkish bread $15.90
Back at Friday Flats I swap my transformers ski boots for some more comfortable après ski boots. As much as I wanted to ski again today my shins doth protest most vocally and so it is après ski for me this morning while everyone else skis and snowboards. Thredbo village is quite compact and I find a seat at the Altitude 1380 cafe nearby. I sit down and order a pot of tea and breakfast and take advantage of the warmth and nearby chatter. It's full at this time and there are only a couple of tables free.
The waitress takes my order of a pot of tea and I'm blaming the cold alpine air for my slight hunger this morning. OK I probably wasn't hungry but I always feel terrible about taking up a place in a cafe on a pot of tea so I order something to eat. The breakfast is served until 11:30am and I choose the roasted corn, salsa, avocado and soft feta on Turkish toast. It comes out as a large square of split toasted Turkish bread with whipped avocado and juicy sweet and slightly blackened corn kernels with flavour from the salsa and creamy feta which is like a Persian feta. It's a generous sized and very tasty indeed with a nice contrast of flavours and textures.
After whiling a couple of hours away and watching the snow drift down outside I do a little spot of shopping at Michelle's next door buying an owl (well how often do you see an owl for sale?)  and I spot this faaabulous sled coffee table made from a traditional European sled at JK Gallery & Mountain Shop. Plus I wanted to buy this chair but knew Mr NQN would like it but perhaps not quite appreciate me adding a $3,900+ chair to the car load.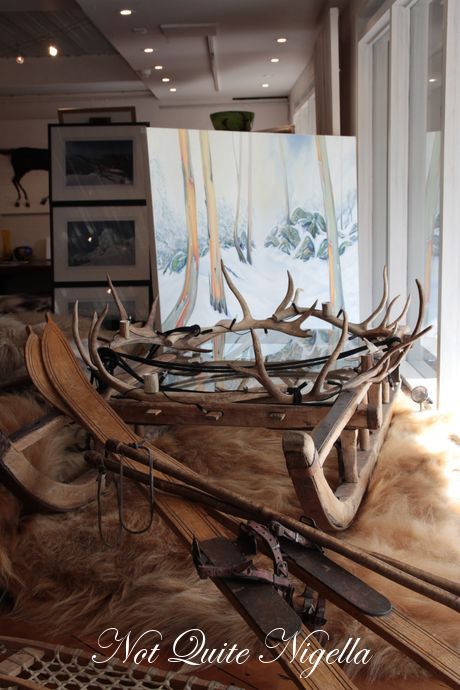 Planning your next trip? Ensure you have the right coverage with HeyMondo travel insurance that includes COVID-19 protection. Plus, if you use our link, you'll receive 5% off the price. Find the best deals on flights from all airlines in various currencies with SkyScanner and set up alerts to get notified when prices drop. For reliable transportation options, look no further than 12Go Asia, offering train, bus, ferry, and flight transfers worldwide. Book your transportation now and enjoy a stress-free journey.
When you purchase through these links I will get a small commission at no cost to you. Thank you for supporting me! :)
I walk down to the Valley terminal where light snow is falling and meet Chris, Charles and Mr NQN who have rosy cheeks from being on the slopes all morning. We board the chair lift to Merritt's which was the first chair lift built in the area and it goes slowly but it's nice to be on it while it is snowing rather than raining.
"The challenge here at Merritt's is actually getting a table" Chris says to us and when we enter the alpine hut we can see why. Thredbo experts Chris and Charles quickly branch out into two directions in search for a table. Merritt's is an institution here and clearly one of the most popular places to have lunch. The location is one reason and the food is another. Even though it is all done cafeteria style and you may end up having to share a booth with another group of people (as was our case) the food and atmosphere somehow conspires to hook you in.
Mr NQN and Charles stake a claim on our half of the booth (and apparently that there was plenty of people wanting the two free spots!) while Chris and I line up for food. It's controlled chaos as it is cash only and the ATM seems to have run out of cash. We're standing in the queue for about 15 minutes while it edges forward. Grabbing a tray we pass the displays of oranges and mandarins while looking at the menu.
The menu is distinctly Germanic or Austrian with a range of schnitzel, sausages, goulash etc with some laksa, nachos and burgers. And to make us feel even more hungry everything going past us looks delicious. On display there are examples of the food and we watch as they ladle up plate after plate from cast iron enameled pots and a large,  segmented cast iron pot.
As we arrived at almost 2pm the main dishes were running out and our first choices of pork knuckle or lamb shank weren't available. Just for good measure as everything including the apple strudel seems to be running out, Chris gets a plate of slices for dessert and we go through the counter to pay. The total adds up to over $100 and we carry the food back to the table. I am one of those people that hates carrying trays in crowded places as I always think that I'm going to knock something over. We gingerly make our way back to the table and unload our trays.
Belgian sausages with Czech potatoes and sauerkraut $17
This was my choice as I love sausages. There were two sausages, a weisswurst which was juicy and fat and a kransky which was also delicious. This is a generous serve and it comes with slightly spicy Czech potatoes which are like baked wedges, roast onion and carrots although the potato and carrots are slightly underdone. But overall it's a warming dish and probably the pick from what was available.
Nachos
The beef and bean nachos are actually quite delicious with crunchy corn chips and a lightly spicy beef and bean stew. It was finished off with guacamole and sour cream although slightly more melted cheese would have been great.
Chicken burger $15
The chicken burger looks a bit strange and I was going to order Mr NQN a chicken schnitzel burger until I saw the size of the chicken burger which wasn't anywhere near as sizeable as the other main dishes. Although it looks like they're two bread loaf ends sandwiching the flattened chicken pieces it's actually a split thin roll. Everything in the burger is quite unusual and the overall impression is that of flatness although I didn't try this.
Wedges with sweet chilli sauce and sour cream
It has been a long time since I had potato wedges with sweet chilli sauce and sour cream and I'm reminded how good they are especially when there is a generous amount of sour cream. Well skiing is calorie burning work right? Ok what I did this morning doesn't really qualify as calorie burning I admit...
Chips
The chips were well seasoned but not quite piping hot enough-things get cold quickly here!
And because you know that the snow works up an appetite, we give the three slices a try. The marshmallow slice is actually more a soft, light chocolate cake layer base at the bottom with a layer of chocolate mini marshmallows and white chocolate on top. The lamington is quite fresh but the chocolate caramel slice with a silky, thick caramel layer is the pic out of the three.
Hot Chocolates and honey tea with schnapps
Merritt's is known for its hot chocolate and when you have it, you'll know what the fuss is all about. It's worth it for the chairlift ride. Said to be made with Lindt chocolate flakes there is a generous amount of melting marshmallows and a decadent head of cream sprinkled with chocolate on top. It's sweet and rich and most importantly warming! The honey tea was supposed to be made with honey schnapps but they had run out so it was made with butterscotch schnapps (not a bad thing). Another warming hot toddy but after trying Mr NQN's hot chocolate I found it hard to give up.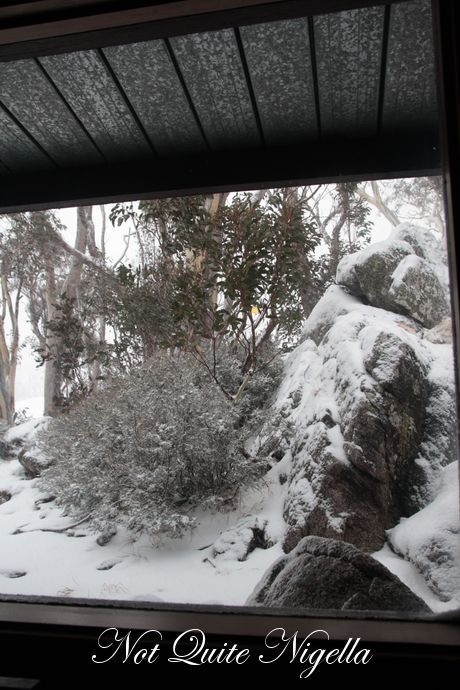 Sipping the hot chocolate and looking outside we see the snow falling and it's a postcard of loveliness. Merritt's has worked its charm and I'm already making mental plans to come back next year. We take the drive back and I nod off to sleep in the passenger's seat as the Prado Kakadu gently rocks me back and forth and before we know it, we are back in Sydney. As for Mr NQN? He says with a definite smile that this year at the snow was his best birthday ever.
So tell me Dear Reader, where is the best hot chocolate you've ever had? And have you ever had a sporting injury?
NQN and Mr NQN visited and explored Thredbo as a guest of Toyota and Thredbo PR. Apres ski outfit provided by www.birdsnest.com.au
The Peak
8 Bobuck Lane, Thredbo NSW
Tel: +61 1300 799 130
Segreto
Thredbo Alpine Hotel
Friday Drive & Mowamba Place, Thredbo Village NSW
Tel: +61 (02) 6459 4200
Merritt's Mountain House
Base of The Cruiser Chair Also accessible for non-skiers via Merritts Chairlift
Tel:+61 (02) 6457 6084