"Look at all the snow up there!" Mr NQN points out to me.
"Mmm yes and see the hot donut stand just underneath it?" I say the falling snow reminding me of icing sugar on the aromatic donuts that have assaulted my olfactory senses.
It was Mr NQN's birthday weekend and one of his dearest wishes for any birthday is to go snowboarding. Yes he's one of those sporty types. As for me, I'm still using the excuse that I have one leg shorter than the other and hence apres ski is more my thing (and yes I'm conveniently ignoring the fact that most people have one leg shorter than the other ;) ). But as long as there is such a thing as apres ski then I am happy to cater for his wishes because I get to explore the food at the snow. And I am determined to make him love birthdays. The poor thing has received such things as toilet cleaner, rocks from the river or recently a Dr Phil self help book from his family so I wanted him to look forward to his birthday every year.
We had just driven six hours from Sydney in our Toyota Prado Kakadu. We are travelling with Toyota who are a major sponsor of Thredbo who have also kindly loaned us the Prado so that we would have a nice comfortable ride (Mr NQN was driving and I managed to nod off several times) and wouldn't have to worry about snow chains. Thredbo is a ski area six hours south of Sydney and about three hours south of Canberra where you can stay right on the snow without having to drive a lengthy distance to get there.
On the way we stopped at 3 seeds in Fyshwick which is a gourmet canteen and cooking school about three hours out of Sydney and about half way along the drive to Thredbo. The owners Catherine and Andrew are the former owners of Pod Food where I enjoyed a meal a while back. They're about to move a few minutes away to the Fyshwick markets where they'll conduct their very popular school and serve freshly made pre packaged goods for people who want good home style food without having to go out to a restaurant.
Pan seared mushrooms with Persian feta, truffle oil and roasted tomato on toast $15.50
We're here for breakfast and we're starving considering the early hour of departure. The mushrooms came as a recommendation from Catherine as they are a popular item and when you sink your teeth into the first bite you are hooked. Despite the fact that I bake so many sweet things, I'm more of a savoury person and this is a crunchy, soft, spongey, savoury umami mix of flavours. The Persian feta gives the seared mushrooms a richness while the spongey toast soaks up all of the flavours while still remaining slightly crunchy on the outside.
French toast with berries, maple syrup and vanilla yogurt $15
"This French toast isn't any good" Mr NQN says before looking up at me mischievously.  "OK hand it over" I tell him and he reluctantly does so. It's lip smackingly good, the same bread used in the mushroom dish above absorbs the eggs while still remaining texture and it is paired with a generous serve of berries and fresh medjool dates. The quenelle in the centre isn't the vanilla yogurt, it tastes mostly of butter but I think there was enough tanginess from the berries. Our tummies happily full we get back on the road to drive the remaining three hours or so to Thredbo.
On the way we stop by Bird's Nest boutique which is one of my favourite online boutiques. I recently bought a cape from them and tweeted about how happy I was with their next day delivery service just because I really think online stores in Australia should have next day delivery. It annoys me that I often get overseas packages faster than packages from Australian stores and they wonder why we shop overseas! Oops I did go on for a bit. Rant over. Anyway lo and behold a month later I was there getting outfitted for some apres ski clothes.
Why don't all dressing rooms have rules like this?
Staple the Label kimono wrap-big love for this. I've worn this loads of times and always get compliments.
Bird's Nest have 30 full time and part time staff and 80% of  their business is done online.  The reason for their success is that they have 150 brands and 3,000 items rather than a small selection of clothes that a lot of online stores have along with a next day postage guarantee and a no questions asked returns policy.
We check into our accommodation at The Peak which sits on a road parallel and above to the main village street. The view is stunning and looks out straight onto the ski slopes. Our penthouse apartment (apartment # 8) is enormous with two bedrooms and a loft with two queen sized beds and two single beds. And a sign tells us that it is for sale at a reduced price ($1.4 million if you're curious ;) ).
A large balcony sits outside waiting for guests and there are two spacious marble bathrooms each with baths and heated floors-oh joy!  I do love heated floors in cold climates. Design wise it is just how we'd love to have an apartment even down to the furnishings. Soap, shampoo and conditioner is provided although tea, coffee, sugar and milk and any food or drinks are not. A warm fireplace roars in the living room and we are enveloped with welcome hug of warmth. A good thing as the thermometer reads 11 degrees!
Most things around Thredbo Village are within walking distance of each other (and when I say walking distance, I mean it, I'm not one to walk for more than a few minutes). We walk down the hill to The Denman hotel where we are going to try a Veuve Clicquot degustation which hopefully includes chef Hayden Ellerton's famous pork dish! Crossing fingers at this point we walk through the warm bar with photogenic patrons enjoying the warmth.
We've arrived just in time for the Clicquot in the Snow event. This is where there is free flowing Veuve (did you know that "veuve" actually means widow?) available to anyone that goes to the Thredbo Alpine Hotel between 3-6:30pm. Yes free flowing French champagne! For anyone!
Tartar of scampi, wasabi cress, avruga, pink grapgefruit and sea salt served with Veuve Clicquot Yellow Label Brut NV
The scampi tartar is lovely and creamy with little wasabi cress seeds and a contrasting pink grapefruit granita which is refreshing. Restaurants and places here in Thredbo are very well heated so eating a granita in the cold isn't such a strange concept I promise! :P
Marron poached in Veuve Clicquot and butter emulsion, baby gem and local truffles served with Veuve Clicquot Vintage Rose 2004
Our second course after the amuse is the marron poached in Veuve Clicquot with a butter sauce, crunchy baby gem lettuce halves and artichoke with Bredbo truffles which fill the air with their distinctive scent. The marron is cooked well and tender but I find the ratio of lettuce and greenery to marron a bit out as I finish the marron before I get halfway through the greens.
Veuve Clicquot rose and Veuve Clicquot sorbet served with Veuve Clicquot rose NV
A refreshing but alcoholic sorbet signals a break between entrees and mains. It is a rose sorbet in Veuve Clicquot.
Squab leg farci with foie gras and spinach served with Veuve Clicquot Vintage 2002
The squab (pigeon) leg had changed slightly from the menu and was paired with spinach filled with a pigeon meat like a confit whilst the pigeon leg is wonderfully pink. It is paired with rich foie gras.
Pork belly, thistles, marjoram, breakfast radish, crackling and borage served with Veuve Clicquot La Grande Dame 1998
The last main is a cracker of a dish. A half moon shaped piece of pork belly is incredibly soft. Charles remarks that he is glad that it isn't a thick layer of fat and a little meat, instead it is mostly tender meat with some melt in the mouth fat. It is paired with Veuve Clicquot's La Grande Dame champagne which is said to be one of their quintessential champagnes with two thirds of pinot noir and is said to have great potential for ageing. Created in the 1970's it was of course named after Widow Clicquot!
St Agur, Walnut puree, walnut bread and guava paste served with Campbell's Rutherglen Tokay
A nice break in the courses the St Agur is a relatively mild blue cheese despite the amount of molding in the appearance making us think that it was a stronger blue. It is served with a warm walnut roll, a quenelle of walnut puree and a square of guava paste. The cheese and wine match with this is sublime.
White peach souffle, basil and peach sorbet and almond cream served with Veuve Clicquot Rose NV
I'm not a huge souffle person and this is quite lightly flavoured with white peach. The sorbet is a strong, verdant basil flavour at first with a peach aftertaste which is much stronger than the souffle but they go well together. There is also a pot of cream with chopped, toasted almonds on top.
Petit Fours
An assortment of petit fours finishes off the meal. Oddly, they don't bring enough petit fours for all of us to try them so we ask our lovely waitress for some and she sets them down smiling saying that she begged the chef. Service throughout the evening is thoughtful and lovely and it's good to see regional areas like this having good service. There are four petit fours including a nostalgia inducing chocolate covered honeycomb, a lemon meringue tartlet with a crispy tart shell, tart lemon curd and airy fluffy meringue. Then there is a sesame tuile with mashed banana stuffed in each end but everyone's favourite is the scorched almond and salted caramel squares which straddle that delicious balance between sweet and salty.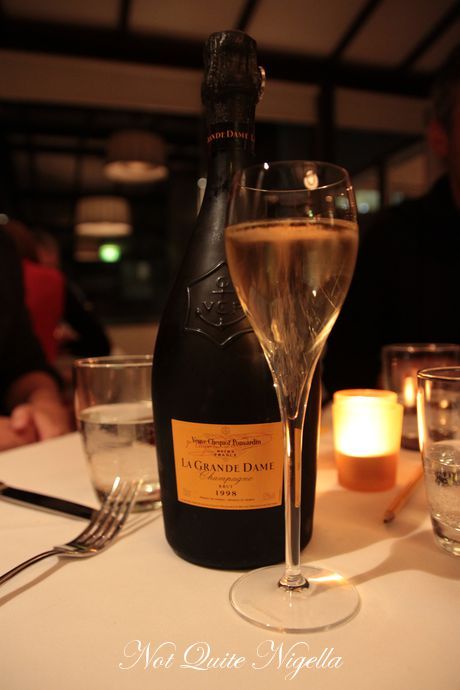 OK for all of your non skiiers out there (before today myself included) how can I convince you that skiing is fun? By way of food of course! Because skiing is the sport that gets so cold that you actually need to take chocolate with you when you go skiing just in case you get lost and need energy. So not only do you need to eat chocolate, it works up such an appetite that you can eat more. And I hate to admit that that was how it was sold to me and I practically bought shares in the idea. Thankfully Birds Nest set me up with my own freckle chocolates in NQN! I haven't eaten freckles in the longest time and whilst this is milk chocolate it is better milk chocolate than what they use in the freckles chocolates and the hundreds and thousands are (and I know this sounds bizarre) but they are crunchier and lighter!
So where was I? Oh yes well we woke up bright and early-it was Mr NQN's actual birthday and he was delighted to go  snowboarding. We put on our thermals and then our ski gear and headed down on the free Toyota shuttle bus (which happened to be waiting outside thankfully as we were running late). The carrot at the end of my hook was the fresh donut just at the base of the hill at Friday Flats. We've got the first serve of the day and they are fresh, light and fluffy and I couldn't imagine a better breakfast at the time.
Now a tip if you're going to ski and hire gear. Get there before 8:45am because around 9am all the buses from the other areas arrive and converge and you could spend precious skiing time standing in a queue. We were lucky because we had our gear yesterday so we all stand outside near the alphabetical markers to find our private ski instructors. I have one of my own as does Chris and Mr NQN whilst Charles is off on the black runs being a ski expert.
My instructor Roger is great having skied for 50 years. I warn him that I am a few steps back from a beginner (as in I have never done any balance sports like surfing, ice skating etc) and so he takes it a bit slowly. He also re fits my boots which were quite painful around the shins and replaces the skis that I was given saying that they were far too long for my height and gets me easier, shorter ones.
The lesson goes for three hours and in that time I manage to do more than I had ever anticipated including side stepping, gliding, snow plough manoeuvres and even gliding down a hill (albeit not a huge one with a steep incline). I had honestly expected to only be able to do that after the second day (I told you, I'm really slow as far as physical challenges go). And of course during the three hours as it was raining and my gloves were wet, we stopped for a cup of Milo and some cookies while the gloves dried (shhh don't tell Mr NQN! He thought I was skiing the whole time ;) ).
Well after all of that activity and using muscles that I am positive that I've never used before we make our way to the ski lift where we are headed to Australia's highest restaurant at 1,937 metres high called Eagles Nest. We board the chairlift to a very chilly ride especially when we get to the top. And I did mention how uncoordinated I was right? Well I kind of fell off the chairlift while disembarking at the top! I wasn't drinking I promise...
We make our way upstairs to the restaurant clomping our ski boots in along with many other people. everyone peels off their wet jackets and stands by the fireplace in their thermals trying to dry as many clothes as possible. The service here isn't quite like the Denman and they are more efficient than cheerful or polite.
Cheese and brie croquettes with smoked, cured beef and romesco sauce $16.90
We did ask for four of these as there were four of us but apparently that wasn't possible with either the kitchen or the waitress so we split these up. The croquettes are actually very crunchy and well seasoned and the romesco sauce gives it a light piquancy while the air dried beef is delicious, I could have eaten much more of this.
Tartiflette: sauteed kipflers, speck, onion and melted cheese $16.90
This was nothing like what we expected. It ends up being a potato, cream, brie and bacon bake with onion. It's actually very tasty and there's so much creamy cheese at the bottom so we ask for some bread. Bread is extra and comes in serves of two very thin slices and quite honestly I would say not really worth ordering as they are so thin.
Duck cassoulet with speck, shallots, white beans and crusty sourdough $32.90
Now I've had really amazing, authentic cassoulet. And I know that it is too rich for many and often find other lighter versions being served in restaurants so I was curious to see what this was like. This one was lighter than other ones that I've eaten with duck pieces, not quite soft enough to be confit and cannellini beans and some sausage slices. It's not quite as dark or as hearty that I've had it although it's quite pleasant.
Beef cheek bourguignonne $30.90
_ _The beef cheek stroganoff has delicious pieces of soft and tender beef cheek along with a buttery creamy mash and button mushrooms. It's rich and full bodied and wonderfully comforting and although the serve doesn't look as big as others, it's very filling with the rich slow cooked meat and wine jus.
Roasted salmon with potato, bay leaf, sauce vierge, lemon $29.90
_
_
Goulash stew with sourdough $24.90
We're asked if we want anything else and answering no she says that she'll bring us the bill. So much for lingering but Mr NQN is chomping at the bit to snowboard some more. I go back to the Peak where I daydream of taking off the ginormously clumpy ski boots that make me feel and walk like a Transformer and take a hot shower and settle my feet into my fur lined Uggs instead of hard, bulky ski boots. I can feel the bruises on my shins already but as they say no pain no gain!
So tell me Dear Reader, are you a snow bunny? And are you more a skier or an apres skier? And is there a sport you didn't expect to like but you do?
NQN and Mr NQN visited and explored Thredbo as a guest of Toyota and Thredbo PR. They dined at The Terrace at guests of the Denman and at 3 seeds as guests of 3 seeds. Apres ski outfit provided by Birds Nest.
3 Seeds
Dalby Street, Fyshwick, Australian Capital Territory
Tel: +61 (02) 6295 060
Bird's Nest
104 Sharp Street, Cooma, NSW
www.birdsnest.com.au
The Peak
8 Bobuck Lane, Thredbo NSW
Tel: +61 1300 799 130
The Terrace at the Denman
Diggings Terrace, Thredbo Village,NSW
Tel: +61 (02) 6457 6222
Eagle's Nest
top of Kosciuszko Express Chairlift, Thredbo, NSW
Tel: +61 (02) 6457 6019